Commentary
Marchant's winner saves Ducks' season
DETROIT -- There hasn't been a bigger goal scored for the Anaheim Ducks since they were sipping champagne out of the Stanley Cup two years ago.
It may seem too early in the second round to make such a statement, but going down 2-0 to the defending-champion Detroit Red Wings would have been a near impossible hill to climb. In fact, the Ducks have never come back from a 2-0 series deficit in franchise history, let alone against a team of Detroit's caliber.
"I don't know any of those stats. Never thought about them," said Ducks captain Scott Niedermayer. "But it's good to be on the board."
[+] Enlarge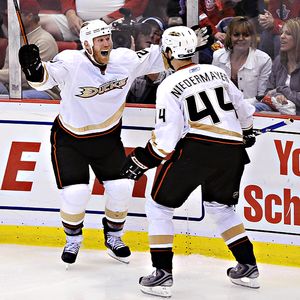 Gregory Shamus/Getty ImagesTodd Marchant scored early in triple overtime to help the Ducks beat the Wings and tie their series at 1.
This was a must win. No matter how tired the Ducks felt, and certainly looked, they had to somehow pull this one out of the hat. So the elation from Anaheim's bench after Todd Marchant's goal 1:15 into triple overtime was deeply felt. Now, we've got a series.
"It's awesome," Marchant said after Sunday's marathon 4-3 triple-overtime win. "This is why we play. This is why we train all season long and all summer, is for opportunities like this. You've got to suck it up, find a little extra energy and the biggest thing is to stay mentally focused. Physically, you're going to be able to go and push yourself. It's got to come mentally; this group is able to do that."
Marchant, a defensive specialist with only 13 goals in 84 career playoff games, sure knows how to make them count. His only other overtime goal in the playoffs was a Game 7 decider for the underdog Edmonton Oilers against the Dallas Stars in 1997.
Twelve years later, another biggie.
"Not many games get decided off my stick, that's for sure," said Marchant. "It's a tremendous feeling, but again, it's a team effort. Everyone has to be held accountable. Everyone has to contribute. We got contributions from everyone tonight. That's what it takes in the playoffs."
And therein lies the acid test for this Ducks team, getting actual contributions from forwards not named Ryan Getzlaf or Corey Perry. Once again, Ducks coach Randy Carlyle leaned heavily on his star duo, both players getting more than 38 minutes of ice time, more than any other forwards on the ice for either team Sunday afternoon/evening.
Getzlaf had one goal and two assists and leads the team with 13 points in eight playoff games. Perry had a pair of assists to give him seven points in the playoffs. But the Ducks need more from the rest of the gang.
"We're hoping that the more they play Getzy that eventually he's just going to run out of gas," said Red Wings coach Mike Babcock. "That's what you try to do in a series, wear the other team out."
Getzlaf and Perry looked tired in the third period and were on the ice for Johan Franzen's tying goal, which made it 3-3. But the Ducks' top-line forwards found another gear in overtime. Carlyle took Bobby Ryan off that top line in overtime and put in Ryan Carter.
"The third period was a little tough for us," said Perry. "But then, all of sudden, you catch your wind, you're in the moment. If you lose, you're down 2-0 and you're heading home. It's not where we wanted to be. We wanted to step it up a little bit."
Through two games, Getzlaf and Perry have been the team's only offensive threats, so the fact Marchant's checking line scored the big goal is important on many levels. They can't win this series if only one line is scoring. Carter's power-play goal in the second period was also a bonus.
On the flip side, the Wings are waiting for one of their big lines to wake up. Pavel Datsyuk and Marian Hossa were blanked in Game 2. All they have to show for the series is a power-play assist by Datsyuk in Game 1.
"There's no question about it. Your best players have to be your best players," said Babcock. "The good thing about those guys is that they know what's taking place thus far in the playoffs and thus far in this series. They know they have to be better, but we all can be better."
Jonas Hiller knew he could be better after allowing a softie backhand shot through his legs from Mikael Samuelsson in the first period. The Ducks goalie was better all right, he was downright amazing. He stopped 49 of 50 shots in the final four periods, including a clutch pad save on Hossa in the first overtime.
"I felt comfortable, I felt good out there," said Hiller, who recorded his first triple-overtime win.
"Because back home, there's always a shootout after the first overtime," he said with a smile.
Oh, there was a shootout Sunday, as in a shooting gallery. But 62 Detroit shots weren't enough.
"Yeah, they had more shots on net," said Hiller. "But I think we played pretty solid. We were patient enough. Sometimes it takes three overtimes before you win."
He said he ate some bananas between periods and drank lots of fluid, but honestly never felt that tired.
"That's the benefit of all the hard work I did in the summer and all year long," said Hiller. "That prepared me for these kinds of moments."
Chris Osgood is usually the fall guy for a Wings defeat. Not in this game. Detroit's first postseason loss can't be pinned on him. He stopped 42 of 46 shots and deserved a better fate.
"Ozzie was playing outstanding," said Hossa. "Too bad we didn't win the game for him. He made some huge saves for us."
Now, it's off to Southern California, where you know the Honda Center will be rocking Tuesday night. The No. 8 seeds are now 5-3 in these playoffs against the top two seeds in the West. Impressive.
"It's a resilient group, ever since we were put together basically at the trade deadline, we keep moving forward," said Marchant.
If the Ducks win another Stanley Cup this spring, they'll look back at Sunday's triple-overtime affair and realize that may have saved their season.
"Maybe when it's all said and done at the end of the year, this could be the biggest win," said Perry. "But we're not thinking about that right now."
They can't. Beating the mighty Red Wings three more times will take everything they have.
Pierre LeBrun covers the NHL for ESPN.com.
ESPN Senior Writer
Covers the NHL for ESPN.com and TSN in Canada
Six years on the "Hockey Night In Canada" Hotstove panel
13 years at The Canadian Press national news agency
EDITORS' PICKS
Boston dealt a blow to Florida, while other Eastern playoff contenders looked to keep pace.
Inside the NHL

While it's too late for this season, the Blue Jackets are getting healthy and showing how tough they will be moving forward.
LeBrun »

Marc-Andre Fleruy has to prove he can dominate in the playoffs before anyone will expect the Penguins to make noise this spring.
Inside the NHL