Commentary
Wings' first loss exposes poor PK unit
PITTSBURGH -- There are so few weaknesses on the Detroit Red Wings that when you actually stumble upon one, you scratch your head wondering how it could even be.
But a quick glance at the penalty-killing statistics in the NHL playoffs reveals a stunning truth -- the Wings rank 14th out of the 16 playoff teams with a measly 71.4-percent kill rate.
It's a statistic that has been easily ignored because of Detroit's romp through the postseason. But on Tuesday night, in Game 3 of the Stanley Cup finals, it reared its ugly head as Detroit gave up a pair of goals on three power-play chances, including Sergei Gonchar's winner 10:29 into the third period.
[+] Enlarge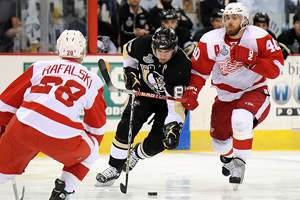 Harry How/Getty ImagesHenrik Zetterberg and the Red Wings have given up 18 goals on 63 penalty kills this postseason.
"Tonight, we couldn't get the puck out, especially the third goal," said Wings star Henrik Zetterberg, who was among the four Detroit skaters trapped on the long short-handed shift. "We did a lot of good things but we ended up being there for almost 90 seconds. It gets tiring. They had good players out there, and they'll make a play eventually."
The Wings have given up 18 goals on 63 penalty kills this playoff season, continuing an alarming trend from the regular season (the team ranked 25th in the NHL at 78.3 percent). We asked defenseman Brad Stuart, who was also on the ice for Gonchar's winner, if he could explain such a strange statistic for a team that does everything else so well.
"No, I don't know," Stuart said. "For whatever reason, we've had some trouble with it. If we knew exactly why, we would have corrected it. We're getting some bad breaks. The last goal, we just got caught out there and we're a little gassed. We've come up with some timely kills, but definitely, statistically this doesn't look too good."
Mikael Samuelsson, another member of the ill-fated penalty-killing crew on Gonchar's goal, looked stunned when we told him his team's short-handed ranking in the playoffs.
"I don't know what to say about that," said the veteran Swede. "We're trying to do our best and it's not going our way right now. ... I don't know how to answer that question. It's just numbers. It is what it is."
Well, yes, it is what it is: Pittsburgh's best chance at hanging on in this series. The Pens' power play is clicking at a 21.4 percent rate, sixth in the playoffs and very much a weapon. It's the only time of the night Sidney Crosby has more space to breathe and not have Zetterberg draped all over him. So as much as Samuelsson may want to shrug it off, it's not a mere footnote. The Pens know this is where they can exploit an otherwise juggernaut Wings team.
"I think one of the things the Wings do well in their PK is they pressure initial pucks into the zone," said Penguins coach Dan Bylsma. "They shrink those first few seconds very well. We feel we have to break that. Get that possession time and establish that zone time to kind of break them down.
"Our guys did a great job tonight," added Bylsma. "We broke the pressure when they did have loose pucks and did start to be aggressive again. We came up with good sticks and kept that thing alive. And I don't know what time it was on the clock when we scored that, but it was well past 1:20 into that PK. They were tired. Our guys were tired. But the determination with the sticks and guys in front, because of that, we got the big goal."
Wings star forward Johan Franzen had a unique perspective on his team's PK problems.
"I don't know, maybe because we play so solid five-on-five, maybe the other team gives their all when they finally get a power play and really make sure they create a lot of chances because they don't get as many chances during five-on-five," he said. "Maybe that's a reason."
Whatever the reason(s), it's mind-boggling for a team with so much talent and, in our view, the best coaching staff in the NHL.
At times this postseason, Wings coach Mike Babcock has deftly deflected the PK issue, pointing out that some of those goals were not really because of breakdowns, but rather bad breaks, and he was right on a couple of them in the Chicago series.
But Tuesday night, he acknowledged breakdowns on both power-play goals by the Penguins; although, in our mind, Kris Letang's blast in the first period should have been stopped by Wings goalie Chris Osgood.
"They went on the one goal [Letang], they went half wall across, which is a mistake by us," said Babcock. "We can't let it go there. OK, so it was an ugly goal, but it still went across; we should have cut it off. On the second power-play goal, to me, they worked real hard. I thought we worked real hard. We didn't get our stick on it good enough to get it 200 feet. That's the way it goes. They got the power play in the third period, we did not get it."
Ah, yes, a subtle message at the end there by the Wings coach. His team got two power plays on the night, scoring once, and the Pens got three. There was clearly frustration there, especially since the Penguins had six skaters on the ice for 21 seconds in the first period and none of the four on-ice officials caught it.
"I mean, what do you want me to say?" Babcock said before ending his news conference, likely wanting to avoid a league fine.
Stuart didn't hide his disappointment in his team having one extra penalty in the game.
"I think the calls we got were borderline, but you just have to keep your feet moving and make sure you don't put yourself in a position to let them have the liberty to make those calls," said the Wings blueliner.
That's a good idea for the Wings right now -- stay out of the box.
Pierre LeBrun covers the NHL for ESPN.com.
ESPN Senior Writer
Covers the NHL for ESPN.com and TSN in Canada
Six years on the "Hockey Night In Canada" Hotstove panel
13 years at The Canadian Press national news agency
EDITORS' PICKS
Boston dealt a blow to Florida, while other Eastern playoff contenders looked to keep pace.
Inside the NHL

While it's too late for this season, the Blue Jackets are getting healthy and showing how tough they will be moving forward.
LeBrun »

Marc-Andre Fleruy has to prove he can dominate in the playoffs before anyone will expect the Penguins to make noise this spring.
Inside the NHL