Commentary
Wings miss chance to close out series
PITTSBURGH -- The home team is 6-0 in the Stanley Cup finals, so you can't blame the Detroit Red Wings for still seeing the bright side Tuesday night despite losing Game 6 to the Pittsburgh Penguins.
"You can't ask for anything more than Game 7 at home," Wings star center Henrik Zetterberg said after the 2-1 loss. "We're looking forward to it. We've played well in front of our fans."
Yes, they have, to the tune of an 11-1 record in these playoffs; their only loss was a triple-overtime affair in the second round against the Anaheim Ducks.
[+] Enlarge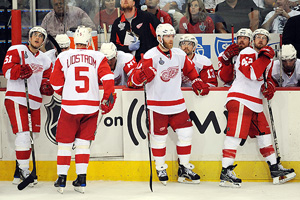 Harry How/Getty ImagesThe Red Wings lost Game 6, but have a chance to win it all at The Joe, where they are 11-1 this postseason.
But let's look past all the happy talk in the Wings' dressing room for a moment. The fact is, they failed to close it out Tuesday night, falling into a winner-take-all situation that leaves no room for error.
And they didn't just lose Tuesday night, they fell asleep for the opening half of the game. Does anyone remember the last time the mighty Red Wings were being outshot 21-8 halfway through a playoff game? Yikes.
"I thought they were better than us at the start of the game, probably for the first 32 minutes," Red Wings coach Mike Babcock said. "They won more races and more battles, had more play, were on top of us more, and they kept us to the outside."
It's a dangerous trend the Wings have had in this series, allowing the Penguins to jump out to better starts in nearly every game. Even in Saturday's 5-0 Wings win, the Penguins came out flying, but Detroit netminder Chris Osgood held them in before his team took over.
This time, it didn't work. Osgood was still fantastic, stopping 23 of 24 shots in the opening 40 minutes, but his team responded too late. Sure, the Wings outshot the Pens 14-7 in the third period, but that was mostly after they fell behind 2-0.
The Wings are dynamite at home and figure to be great again Friday night, but they need to find a way to come out of the gates when the puck drops for the opening faceoff.
"We have to jump right away at them," star Detroit winger Marian Hossa agreed. "We have to make sure we have the momentum."
Ah, yes, Mr. Hossa. Figure he'll be sleeping pretty well the next few nights leading up to Friday? Who can forget his decision 11 months ago to dump the Penguins for a hotter date. Now the jilted ex-girlfriend is coming to the prom with a chance to ruin his night.
A reporter asked Hossa after Tuesday night's game whether he could have believed in July, when he signed with the Wings after turning down a better contract offer from the Penguins, that it would come down to a single game for the Cup between those two same teams.
"Would you?" Hossa asked back. "But the situation is how it is, and I, we, have to deal with it, and just make sure we are focused and ready for Friday."
Here's the thing that makes matters worse for Hossa right now: He ain't playing all that well. He hasn't scored in seven games and has but three measly assists in the Cup finals. On Tuesday night, he was limited to one shot on goal. One shot.
We asked Hossa point blank after Tuesday night's game whether he was pressing.
"Well, definitely," Hossa said. "When you haven't scored for several games, you try to do maybe too much instead of relax more. Maybe I could do more, just forget about everything and just play, but at the same time, just keep working hard."
Babcock gave Hossa a shift with Pavel Datsyuk in the second period to try to get him going, but that didn't work either. It may well be that Hossa is still feeling the effects of that injury from Game 5 of the Western Conference finals, when he banged up his right knee.
It was taped up in ice after that game May 27. Before that injury, he was flying in the last two games of that series, and he hasn't looked the same since. He has spent most of his time on the perimeter and hasn't been a very dangerous player.
All of which may well be a moot point Friday night at a rocking Joe Louis Arena, where the Wings quite simply play their very best hockey.
"We're confident going back to our home building and playing in front of our own fans, so it will be a fun game going back for Game 7," Detroit captain Nicklas Lidstrom said.
"We're looking forward to it," he added. "It's something we fought for all year to get that home-ice advantage. You want to have that at the end of the season, and now we have that advantage."
Pierre LeBrun covers the NHL for ESPN.com.
ESPN Senior Writer
Covers the NHL for ESPN.com and TSN in Canada
Six years on the "Hockey Night In Canada" Hotstove panel
13 years at The Canadian Press national news agency
EDITORS' PICKS
Boston dealt a blow to Florida, while other Eastern playoff contenders looked to keep pace.
Inside the NHL

While it's too late for this season, the Blue Jackets are getting healthy and showing how tough they will be moving forward.
LeBrun »

Marc-Andre Fleruy has to prove he can dominate in the playoffs before anyone will expect the Penguins to make noise this spring.
Inside the NHL