The following observations were made in real time. The time reflects time remaining in the period of Game 5 of the Eastern Conference finals Wednesday between the Rangers and the Devils. Game on.
FIRST PERIOD
20:00 As the puck is dropped to start the game, a large, blue balloon gently falls vertically down my TV screen. If the Rangers win this game, I assume many more will drop. And lasers will fire. And explosions will occur. And monkeys will fly. I'm not sure about the monkeys but it would be really cool.
18:34 Ilya Kovalchuk lugs the puck up the ice. Kovalchuk is clearly hurting. Half the man he used to be. This might actually be a good thing. When he has his turbo jets on, he tends to try to do too much.
17:17 Goal, Stephen Gionta. He has one goal in 13 career regular season games. Gionta is 28 and has played well this postseason. It's been a great Stanley Cup playoffs for American players.
15:47 Goal, Patrik Elias. 2-0 Devils. My opinion of Elias continues to improve. I've always thought he fell just short of the Hall of Fame, but my position is evolving. He is so solid and consistent. John Tortorella calls time out and calmly talks to his team. The Devils have become the faster team in this series, much like they were in the Flyers series. The faster team almost always wins.
15:05 Mike Emrick says "skittered." He's the only human to have ever uttered that word. It sounds like English slang for an overserved welder's walk out of a London pub. "Oliver skittered onto the street before hurling all over the Queen."
13:35 Marian Gaborik misses a bunny. The Rangers have very little chance to win if Gaborik can't deliver. He has been brutal in the postseason for the Rangers: five goals in 23 games entering this one and eight goals in his last 34 playoff games. The legends of the game get better in the posteason, not worse.
11:47 The Devils' Ryan Carter-Gionta-Steve Bernier line is noticeable just about every shift.
10:30 The Rangers are in full desperation mode. Sometimes when that happens and the other team scores another one, a team can completely deflate.
10:11 As I was typing the word "completely" in the previous entry, Travis Zajac snipes one by Henrik Lundqvist, blocker side. Let's see if the Rangers deflate. North Dakota and Boston College products have two of the three goals. #cawlidgehawwwkey
7:00 There is referee Wes McCauley. He is No. 4. At ESPN, the buildings are identified by signs with uniform numbers outside of the entrances. Building 4 at ESPN has a picture of Wes McCauley on the sign.
5:31 It's been humid in the Northeast this week. The ice will not be good as the game goes on and especially late in the period. This will help the Devils when they clear the puck out of their zone and try to avoid icings.
4:19 Huge goal, Brandon Prust. Prust never sleeps. Martin Brodeur's silly, almost lazy, stack-the-pad that he does completely opens the ice and the puck skitters under his armpit. That's a goal Jonathan Quick would never give up. If I'm the Los Angeles Kings, I want the Devils. The Kings are good around the net and that's where Marty isn't real strong.
2:01 My 12-year-old son, Jackson, just had a great idea. HBO should do 24/7 during the Stanley Cup finals one year. You could hide some of the injuries until after the series is over but imagine how good that TV would be.
Score: Devils 3, Rangers 1
SECOND PERIOD
19:28 Goal, Ryan Callahan. Another American tally. Brodeur's stand-up style makes him very susceptible to bad-angle goals. Hmmmm. This goal might not count; they are looking at it in Toronto. This one is close. I would say good goal. It is ruled a goal. I could see that one either way. And now it's 3-2. I would bet my kid's head the Rangers win this game now. David Clarkson hasn't been noticed much.
14:08 Zach Parise is having a substandard game. I know negative words are usually saved for Russian, Europeans or Sidney Crosby by North American media members, but it is what it is. He has to be better for the Devils to win this game.
10:21 Mr. Embellishment, Brandon Prust, strikes again. He gets a diving penalty on Peter Harrold's minor shove. Both hit the sin bin. Hockey fans have to stop the soccer jokes. Hockey players are now embellishing just as much. Prust has more than one on his résumé.
8:04 Another bad pass by Parise in his own zone. He's making bad decisions exiting the Devils zone. It's costing the Devils puck possession. The Rangers have had the puck more since it's been 3-0.
7:02 What a skater Ryan McDonagh is. Born in Minnesota, played Minnesota high school hockey, college hockey at Wisconsin and was acquired from Montreal in the Scott Gomez deal. McDonagh will be on the U.S. Olympic team in 2014. He turns 23 on June 13.
4:08 Big power play for the Devils. The game has settled a bit. If the Devils can pop in the next one, that might bury the Rangers. Again, not much Clarkson and Parise. They need to make the third period their best of this game. Elias and Adam Henrique have been very good so far.
Score: Devils 3, Rangers 2
THIRD PERIOD
19:43 That didn't take long. It's a new game. Marty's awkward style costs his team a bad-angle goal again. Maybe this will free up the Devils to play better. Especially Parise. Elias and Henrique remain the Devils' best players.
19:02 Ranger fans have never screamed "Marty!!!" louder than they are right now. If he was in Kansas on a John Deere listening to the new Tenacious D album, Brodeur could hear Vinny from Queens screaming his name.
11:26 Brad Richards has his best scoring chance of the game ... on Henrik Lundqvist. That would have been a Not Top 10 multiple champion. But those close calls that don't turn out bad happen to people like Brad Richards. Wouldn't be surprised if he got the winner. We are now in #bucciovertimechallenge alert.
10:06 Do you think Lou Lamoriello, in the least possible way, knows what Twitter is?
7:44 Overtime has kind of started now. You sense we are in next-goal-wins territory. I like what Peter DeBoer is doing. He is mixing the lines to get the players who are playing the best together. That's a great move in a game where only half of his forwards are playing well.
4:25 Goal, Ryan Carter. Another American college hockey player. White Bear Lake, Minn. Stephen Gionta has had the best jump of all the Devils and he made the pass in front. Peter DeBoer's line-juggling works. The bad ice will help the Devils in multiple ways down the stretch. Tougher to pass and easier to clear the zone without icing the puck.
1:24 John Tortorella has always been one of the more aggressive coaches in pulling his goalie. As soon as the puck gets into the Devils' zone, Henrik Lundqvist will be out.
0:31 Of course. Parise, another American player, scores the empty netter. He was invisible most of the night but his team still wins. That bodes well for the Devils.
Final score: Devils 5, Rangers 3
This Devils team is very likeable. It's pesky, fast and talented. The Devils don't trap anymore. They attack like the Kings do. That would be a great matchup, if it happens.
Marty is a little shaky at times on bad-angle plays, but he also made some real quality saves and he's so calm with the puck, this has to help the Devils' blueliners. Ilya Kovalchuk is playing with a lot of heart. You hope Alex Ovechkin is watching this. Say what you want about Kovalchuk but he has always been a "serious" player. He's not a big-smile guy. He can taste it. He is hurt but he is giving max effort. Like I said, I think that's good for him. He can't rely on his talent. It's all heart and he should be applauded for that. Russians get slammed in the media. Too much, in my mind. Sometimes it's deserved, but every nationality has players that act like tools.
And, finally, Peter DeBoer is really coaching well in this series and has his team in a great spot.
The Rangers are still in it. If they win Game 6, you have to love their chances in Game 7. Gaborik was a little better and Callahan played with gigantic heart but the rest of the team has to pull together for two more games. You sense they are running out of gas fast and even if they can pull out these last two games, how much will they have left for the Stanley Cup finals?
Game 6 is Friday, 8 ET.
Mother of All Mailbags
Alan Apfel @AKApfel
@Buccigross What did you think of Shane Doan's reaction during the handshake?

Wow, what an indelible playoff moment at the end of Game 5 in Arizona. It was one of the best games of this playoff season and it ended dramatically, violently and jubilantly for Kings fans. It had it all. It is a great testament to the NHL and the growth of the game that a competition like that could take place in Arizona between a team from Glendale, Ariz., and Los Angeles, Calif.
First of all, I don't have a major problem with the Dustin Brown hit. Current NHL players are still programmed to raise their adrenaline and accelerate their heartbeat when a player crosses a red or blue line and makes a move to the middle of the ice, especially in the offensive zone. The heartbeat instantly rises to "Oh, my God, there's a bear in the back seat of my Camry" levels, and the instinct is to eliminate the player like Dustin Brown did because it eliminates the play. I have been critical of NHL players for not playing the puck enough and instead going for high and dangerous hits along the boards. Pavel Datsyuk proves beautiful, slick stickwork is just as thrilling. We should be teaching our kids that skill and not telling them to go out and hit everything that moves. That's why Europeans and Russians produce such highly skilled players.
But in Brown's case, it's a good hockey play because it's tactically the best way to break up a play that could lead to a scoring chance. Brown's knees were bent, his skates were on the ice and his elbow tucked. He didn't launch himself and wasn't hunting down the player like a Raffi Torres. It was sudden and instinctive. The play was offside and the whistle was close to the hit but I don't believe Brown could sense if the play was offside or not. And no way he could have held up in time.
And, finally, Shane Doan would have done the exact same thing in my mind if that was Drew Doughty in the identical situation. Doan's handshake reaction is understandable from a human level but he probably could have composed himself because he is basically the same player that Brown is. It is very important to put everything aside during the handshake line. The instant sportsmanship is one of the pillars of the game. Everyone is watching and much should be expected.
That being stated, there is no more emotional game than hockey and with the end of the Coyotes' season being so close to the Brown hit, one can understand Doan's reaction after the abrupt end to his season. The reaction was human, honest and natural. And he at least kept moving. Doan made his point and kept going. I'm OK with that. It was a unique ending to an emotional game. I've seen way worse in a handshake line of 12-year-olds.
With the Kings moving on to the Stanley Cup finals, that means the three remaining NHL teams are all captained by American players. The only time the Stanley Cup-winning team was captained by an American was when Derian Hatcher of the Dallas Stars won in 1999. A great accomplishment, yes; however, USA Hockey is still trying to increase the number of elite players produced in the U.S. USA Hockey feels for the number of skaters and rinks in the U.S., more elite players should be in decorating the NHL.
Billy Charlebois @pakman888
@Buccigross As a minnesota parent I can tell you that youth hockey/sports is overdoing the time commitment. Kids need to be well-rounded athletes.

Absolutely. My son plays hockey, baseball, basketball, golf and lacrosse. He doesn't skate from March to July. He will be probably be a solid-to-good high school player and that's all we should hope for for our kids that are not protégés. That's a terrific accomplishment. Anything else is a bonus. My kid might be better, he might be worse.
Your kid will not fall behind if he fails to play hockey 12 months a year. Players playing year-round, 100-game schedules, especially before puberty, is way more harmful than beneficial. All it does is line adults' pockets with money. The more sports your kid plays before high school, the better athlete he or she will be and the better hockey player he or she will be.
Ryan Wilson @GunnerStaal
@Buccigross Ur boy Shjon Podein has his reservations about the starting age of physical contact @ bantams

I respectfully disagree with my boy, Podes. Look at all the unethical, unsportsmanlike hits in the NHL by players who have been hitting since they were probably 9, some younger. I disagree with the notion that delaying hitting will result in more injuries. All of the data is not in, but I am sure there will be fewer broken bones and fewer concussions by delaying hitting until bantams.
Plus, I put much of the responsibility on the coaches. They set the tone for sportsmanship and fair play. The end-of-the-game gong shows and coaching to hit without concern for the puck is child abuse. The behavior of some of the coaches I have come across is stunning. The last two years I have helped coach my son's pee-wee team. We had no power-play units or penalty kills. We never got a bench minor and certainly never got kicked out of a game. As the doorman for the forwards, I would offer occasional advice but spent 95 percent of my time telling the players how great they were and how well they played, citing specific instances.
We should promote our pre-high school kids to take chance and to not be afraid of failure. And the chances of that happening increase when kids don't have to worry about getting run into the boards. The pee-wee years are the greatest opportunity to develop and increase skill level at an exponential level. Wins should be way down the list of priorities.
Patrick @PLeen7
@Buccigross in the Central PA area, coaches spend more time working on systems then they do on teaching the basic skills needed to play.
This happens everywhere. Kids should be playing less and practicing more. Skating, shooting, passing. Over and over again. They should learn to get along, love the feeling of improving, understand the joy of sacrifice for others and the absolute necessity to cooperate. Those values will be way more useful for 99 percent of young athletes than winning and losing. Only then are youth sports doing anything to help our children. And as I've said a million times over the years, my No. 1 priority in signing my kids up to play sports is exercise.

Jake Ibey @unejakey
@Buccigross After reading the article, who is the greatest US-born NHLer? Mullen, Modano, Roenick, other?
Pat LaFontaine gets my vote. 468 goals in just 865 games. He would have been a 600-goal scorer if healthy and if he didn't have to retire at 33. He could do it all.
Steve Craft @Gambit616
@Buccigross Who do you think the Bruins should trade/go after for another Cup run next year?

The Bruins are set up to be contenders for at least the next five years. They are strong and young up the middle and appear to have good organizational depth. The Phil Kessel trade is the gift that keeps on giving. If they did nothing, they would be a contender to win the East.
Nathan Horton's health is a concern and he was missed during the playoffs. The big question is, do the Bruins trade Tim Thomas and hand over the goaltender job to Tuukka Rask? Rask is a restricted free agent and will be getting a raise. The Bruins might want to lock him up long term at a manageable cap number, like $4 million. Thomas is due $5 million this season, the final year of his contract. The Bruins could clear the $5 million and get assets in a Thomas trade. There are NHL teams desperate for goaltending. This could be a great opportunity to trade high.
Ryan Patingale @Patingale
@Buccigross What do you think the Blue Jackets' biggest needs are in the upcoming years? #CBJ
A new GM. This organization has become downright bizarre. Can't wait to see how they manage the Rick Nash situation.
TJ Weber @CitizenWeber
@Buccigross What free agents are the Red Wings most likely to land? Parise? Suter? Someone else?
The Wings will go hard after both free agents. They have loads of cap room and they need both players. The Wings have too many one-dimensional players; that's their biggest problem. They need players who are good at multiple things. Parise and Suter are both exactly what they need: Young players who are well-rounded on the ice and great teammates off the ice. Low maintenance and highly productive is a great way to go through life.
Hey, Bucci:
I've been reading your columns for a long time now and I always appreciated the pictures of the next generation of hockey fans at the end of every mailbag. Now I wanted to pass along the next generation of Devils fans, Olivia and Ethan.
Dave Pekarchik

Cute little Devils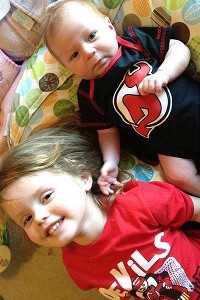 Bucci,
My wife and I took these with our 4-day-old daughter, Adley, in prep for Game 2 of the Wings-Preds series. Go Wings!
Matt Colvin
3rd Winged Wheel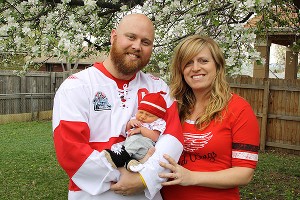 Bucci,
I'm a longtime reader (and I must say I prefer blogumn to vlogumn), and I've always been impressed with your baby-naming skills. Although I didn't ask your advice for a name, I'd like you to meet Henry William Horton (or Hank the Tank, as he is already called). He was born just in time for a killer Ranger season. This is him at 6 months. Can't wait to get him on skates. Hope the Northeast ponds freeze sometime this decade.
Dan Horton
King Henry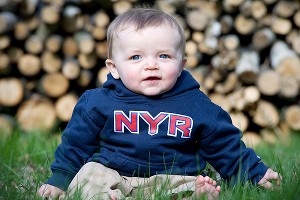 BUCCI BONUS:
This is Ray Bourque's first grandchild. His son and wife Kim have a new baby.
Kingston Ray Bourque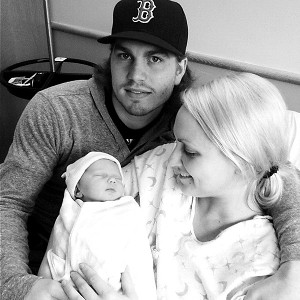 John Buccigross' email address -- for questions, comments or crosschecks -- is john.buccigross@espn.com.