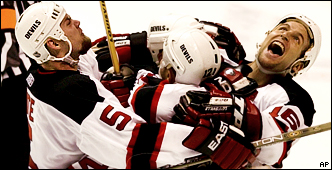 Devils Dance Again


The Devils played their game and won their third Stanley Cup on Monday, shutting out the Mighty Ducks 3-0 in Game 7.

Drehs: Scott feels Rob's pain
The Niedermayer brothers have been opponents for 12 days, but the family can't stay divided.


Both Martin Brodeur and Jean-Sebastien Giguere ended up with hardware, but it was Brodeur who got the bigger prize. More…


The Devils have established a formula that will allow them to keep winning for years to come. More…


---
"This makes up for that bad time against the Colorado Avalanche."
— Devils captain Scott Stevens. The Devils would have had a fourth Cup if they hadn't lost a 3-2 series lead and the Cup to Colorado in 2001.
---

Stevenson: Will there be a Mighty Ducks II?
Anaheim's run to the Stanley Cup finals may have been a surprise, but there is reason to believe they'll be back.

Skalko: Burns does things Devils' way
Pat Burns does things the Devils' way, and that's why the old-school coach and club hoisted the Cup.

Giguere takes no solace in Conn Smythe honor
Jean-Sebastien Giguere couldn't deliver the Stanley Cup for the Mighty Ducks, although he took home his own trophy.

Analysis: Devils win playing Devils hockey
ESPN's hockey analysts break down the Devils' Game 7 win in the Stanley Cup finals.



More Headlines | More Features


More Audio/Video




BILL CLEMENT
---
The Devils were machine-like good. They played smart, they played hard, and they played big-game mentality hockey. They played absolutely to their potential and they played their style. There was nothing Anaheim could do to get any kind of sustained attack going and when Martin Brodeur had to make a save, he did.
•
Complete Game 7 breakdown

ANA
NJ
203
GOALS
216
2.35
GAA
2.02
56/348
PP
36/303
87.4
PK%
87.9
27.4
SPG
31.7
11.6
AVG. PIM
11.4
INDIVIDUAL LEADERS
n/a
GOALS
n/a
n/a
ASTS
n/a
n/a
PTS
n/a
GAA
• Series stats: ANA | NJ
• Playoff stats: ANA | NJ
• Season stats: ANA | NJ
• Comparisons: Player | Team