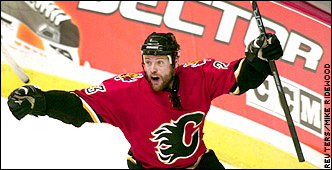 Jarome Iginla scored his 10th playoff goal as the host Flames advanced to their first Cup finals in 15 years with a 3-1 victory over the Sharks on Wednesday.
More...
Johnson: Home improvement
The wacky West finals have come down to this: If a team can win at home, it will advance to the Stanley Cup finals.
INDIVIDUAL LEADERS (Postseason)
CGY
SJ
Goals
Iginla
13
Marleau
8
Assists
Conroy
11
Dimitrakos
8
Points
Iginla
22
Damphousse
14
GAA
Turek
0.00
Nabokov
1.71
SPct.
Turek
1.000
Nabokov
.935
TEAM STATS (Postseason)
CGY
SJ
Goals Scored
60
38
Goals Against
53
32
Power Play %
13.9
13.6
Penalty Kill %
82.6
91.7
Shots on Goal
26.8
24.4
More from ESPN
Canada rooting for a first Cup finalist in 10 years
Canada is ready to celebrate its first Stanley Cup finalist in a decade. For the celebration to start at Game 6, the Flames will have to do something right at home.
Flames regain lead as home ice stays sour
Jarome Iginla got things started with a short-handed goal and Miikka Kiprusoff got his fourth shutout as the Flames beat the Sharks 3-0 in Monday's Game 5.
Sharks suffer breakdown from blue line out
From Rob Davison's step-slow skating to Kyle McLaren's half-hearted effort at a key point, the Sharks' blueliners had only themselves to blame for Monday's loss.
Ratto: Flames barely flickering
The Flames took control of the West finals in San Jose. The Sharks attacked in Calgary. Now it's the Flames' turn to prove the series isn't over.
Sharks score four in second, drown Flames
Jonathan Cheechoo and Vincent Damphousse scored 89 seconds apart during a four-goal second period as the Sharks beat the Flames 4-2 Sunday.
Johnson: Second that emotion
The Sharks and Flames going at it in Game 3 wasn't malicious. It was two young teams learning about the Stanley Cup playoffs.
Team Canada calls both West finals captains
Captains Jarome Iginla and Patrick Marleau learned Saturday that they'll be on Team Canada this summer, but they're both focused on the West finals right now.
Home is where Calgary's pressure is
Though Calgary claims its hometown fans are the NHL's best, that adoration has brought out the worst in the Flames recently.
Nabokov, Sharks shut out Flames
Evgeni Nabokov made 34 saves for his third shutout of the playoffs, and Alex Korolyuk had two goals and an assist in the Sharks' 3-0 victory over the Flames.
Korolyuk: No hotdogging intended on EN goal
Alex Korolyuk doesn't know the meaning of the word "hotdogging."
Ratto: Sharks almost meat
For the Sharks, winning four of the next five games isn't impossible. But here's why it seems that way.
Ferraro: Calgary in control
The Sharks need a huge turnaround in order to beat the Flames in the Western Conference final.
Even the Flames seem surprised they're up 2-0
Who expected the sixth-seeded Flames to be two wins from their first Cup finals in 15 years going into Game 3? "Nooooobody," Andrew Ference said with a grin.
Just like that, Flames control game and series
Like a flash Tuesday, the Flames took control of the game and the West final, scoring 20 seconds in en route to a 4-1 win over the Sharks and a 2-0 series lead.
INCH: Praise Warren-ted
Sharks goalie coach Warren Strelow watches two of his pupils duel in Western Conference final.
Ratto: Sharks fans coming of age
Once just happy to be hockey fans, Sharks followers are now eager to impress their Canadian counterparts.
Flames aim for mere simmer
Though Darryl Sutter enjoys full-tilt hockey as much as the next fan, the Calgary coach hopes the rest of the West finals is much less exciting than the opener.
Montador scores in OT as Flames win opener
Steve Montador scored 18:43 into OT and Miikka Kiprusoff stopped 49 shots in the Flames' 4-3 victory over the Sharks in Game 1 of the West finals Sunday.
Sharks disappointed with result, not with effort
For most of Game 1, the Sharks were the more aggressive team, creating chances and pressuring the Flames relentlessly. But it wasn't enough.
Who knew? Flames, Sharks flourish in playoffs
The Flames and Sharks have low payrolls, low-profile rosters and not much postseason experience -- yet here they are in the West finals, which start Sunday.
Kiprusoff faces off against former team
Nobody thought trading Miikka Kiprusoff to Calgary might haunt the Sharks come playoff time -- not Kiprusoff, and not the goalie he couldn't unseat in San Jose.
Breakdown: Flames vs. Sharks
Calgary is riding a wave of emotion, but injury problems and San Jose's timely power play should help the Sharks overcome the Flames.
Johnson: The Big Hurt
Note to Sharks forwards: Venture down Robyn Regehr's side of the ice and be prepared to enter a world of pain.
Ratto: The hot topic
Are Ron Wilson and Darryl Sutter sexy? If you're talking Sharks vs. Flames in the West finals they are.
Sutter left lasting impression
The Sharks still feel Darryl Sutter's influence, even while new coach Ron Wilson leads them to heights Sutter never reached.
Sutter says he holds no grudges against Sharks
Darryl Sutter says playing his former team in the Western Conference final is irrelevant.
Goal spree, solid goalie lift Sharks in West
Evgeni Nabokov stopped 28 shots, and the Sharks scored three goals in the second period to beat the Avs 3-1 in Tuesday's Game 6 and reach the West finals.
Gelinas again clinches series for Flames in OT
Martin Gelinas scored his second series-clinching OT goal of 2004 Monday, lifting the the sixth-seeded Flames to a 1-0 victory over the Red Wings.
Johnson: The same but different ... very different
Darryl Sutter may win coach of the year for his work in Calgary. But so may Ron Wilson, who replaced him in San Jose.