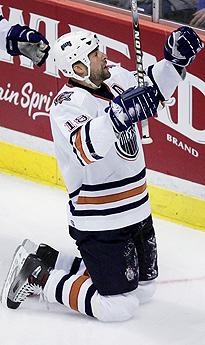 Duck Hunt
It wasn't exactly an Oil spill, but Edmonton proved to be quite the quail killers. The Oilers, behind 32 saves from Dwayne Roloson, beat the Ducks 2-1 to advance to their first Stanley Cup finals since 1990, becoming the first No. 8 seed ever to do so.
Story

• Burnside: Return to glory


2019 PLAYOFF LEADERS
GOALS
ASSISTS
PTS
Logan Couture
G: 14

Erik Karlsson
A: 14

Logan Couture
Pts: 20

Complete Leaders
GAA
SAVE %
WINS
Andrei Vasilevskiy
GAA: 3.82

Tuukka Rask
SV: .942

Tuukka Rask
W: 12

Complete Leaders
Team Stats
Team
GF
GA
GFA
GAA
PP%
PK%
Ducks
46
36
2.88
2.25
10.8
88.5
Senators
36
29
3.60
2.90
25.0
87.3
Flames
16
17
2.29
2.43
14.0
86.4
Oilers
70
61
2.92
2.54
17.0
86.1
Avalanche
22
31
2.44
3.44
09.6
86.0
Hurricanes
73
60
2.92
2.40
24.0
85.4
Flyers
14
27
2.33
4.50
10.3
82.9
Sabres
60
49
3.33
2.72
16.2
82.6
INJURY REPORT
Jordan Martinook - LW - May 21
Martinook underwent surgery to repair a core muscle injury Tuesday, which will sideline him 4-6 weeks.

Calvin de Haan - D - May 21
De Haan will be sidelined 4-6 months after having surgery on his shoulder Tuesday.


No significant injuries
EXPERT PICKS

Melrose

Buccigross

Hradek

Burnside

Amber
Oilers in 7
Ducks in 5
Oilers in 6
Ducks in 6
Ducks in 7
ELIAS SAYS ...
Fernando Pisani of the Oilers scored his ninth goal Tuesday, tying him for the NHL lead with the Sharks' Patrick Marleau, who was eliminated. Pisani, who scored 18 goals during the regular season, could become the first player to lead all playoff goal scorers after a sub-20 goal season since Sergei Fedorov in 1998.


MORE FROM ESPN.com
Friday, May 26
As the Oilers threatened to sweep, Anaheim coach Randy Carlyle made a goalie switch -- going back to Jean-Sebastien Giguere -- and did some line-mixing. Both worked, with the Ducks taking a 6-3 victory in Edmonton on Thursday.
Sunday, May 22
After taking the first two games of the Western Conference final in Anaheim, the Oilers returned to Edmonton on Monday two victories from their first Stanley Cup final since 1990. Edmonton has won six straight games entering Tuesday night's Game 3.
Saturday, May 20
To avoid sinking into a deep hole, the Mighty Ducks figure they must put heavy traffic in front of Edmonton's Dwayne Roloson.
End text -------------------------
Tuesday, May 16
The Sharks are down 3-2 in their second-round playoff series after three consecutive losses to the Oilers.
Monday, May 15
San Jose's mayor apologized Monday for the behavior of Sharks fans who loudly booed the Canadian national anthem before Game 5 of a second-round playoff series against the Edmonton Oilers.
San Jose coach Ron Wilson wants the Sharks to stop coasting and start hustling against the Edmonton Oilers.
Sunday, May 14
San Jose Sharks fans loudly booed the Canadian national anthem Sunday night before Game 5 of their team's second-round playoff series with the Edmonton Oilers.
Saturday, May 13
Joe Thornton figured his first playoff run with the Sharks had been almost too easy. Two tough losses in Edmonton brought the big center back to postseason reality.
While San Jose and Edmonton play on in the Western Conference semifinals, the Mighty Ducks rest and wait.
Friday, May 12
Coach Randy Carlyle likes to draw on his experiences as a former NHL player to motivate the Mighty Ducks.
Thursday, May 11
The Oilers and Sharks are going full-tilt in what is quickly becoming a playoff series that'll be talked about for years.
Tuesday, May 9
Ilya Bryzgalov gave up a first-period goal, ending his scoreless streak at 249 minutes, 15 seconds.
The beleaguered Oilers returned home with their surprising playoff run in danger of coming to an abrupt end.