Playing golf alone on a calm, 72-degree New England April day, with Wilco's "Muzzle of Bees" on the MP3 player as you walk your nine holes, will lead a man to do some thinking:
• Maybe a small part of Chris Drury wishes a small part of him was like Sean Avery, and maybe a small part of Sean Avery wishes a small part of him was like Chris Drury. It is then that I realize Avery does not think like that. He's thinking about what next designer T-shirt would look best on him and what he can say that will offend Sidney Crosby and Gary Roberts the most. Sadly, those two things have actual value to the New York Rangers.
Shot of the Week
You know how it works. We present an NHL photo, and Bucci provides a caption. E-mail him your suggestions (include your name and town/state), and we will use the best ones and provide a new photo the following week.
LAST WEEK:
Jaromir Jagr: "Don't look at him, don't look at him, don't look at him." (Getty Images)
Your captions:
I just love "Swan Lake on Ice!"
--
Mike Mahady (Austin, Texas)
I used to be Avery's ice dance partner, then he went solo.
-- Shaun Ennis (Derby, Conn.)
"I'd rather be playing 'Guitar Hero.'"
-- Costa Galanis
"Sean Avery: Ironman. Coming to a rink near you."
-- Zakk (New York City)
"Time for a little Chazzle Dazzle."
--
Jim (Washington, D.C.)
THIS WEEK: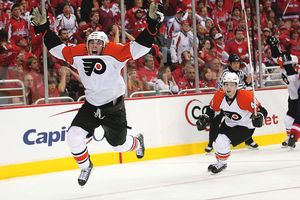 PF Flyers working overtime. (Getty Image)
• Why didn't Alexander Ovechkin shoot?
• Why wasn't Sergei Fedorov expecting a possible pass? He had his man beaten. Well, Fedorov had 446 reasons not to expect a pass. That's how many shots on goal Ovechkin had during the regular season. In the end, it's probably better Ovechkin didn't score. The noise and energy from the Washington crowd would have given his postgoal leap such a boost, he would have burst through the arena roof. With those sweet Capitals jerseys, I see No. 8 flying around the ice and I see his true nickname -- "The Red Bull." Commence the T-shirt and endorsement deal. Alex, you don't have an agent, so I'll be yours pro bono. For the record, I am also pro-Bono.
Washington, D.C., finally caught on to what I've been saying here for two seasons: Ovechkin is the most talented, exciting and compelling athlete in Washington, D.C. There is no Redskin, Wizard or National who comes close. If there is one unsold ticket to any Caps home game next season, the team should immediately be moved to Winnipeg. Owner Ted Leonsis could get 16,000 15-year season-ticket agreements in one day from NHL-hungry Manitobans if Ovechkin came to town. Money and jobs are tight, so I hope the Caps can get creative in their sales office; but their goal should be to sell every ticket before opening night in October. Go door to door, set up a booth at the mall, have a bake sale. SELL EVERY TICKET BEFORE OPENING NIGHT!
• Brian Burke will take the Toronto job. It is a natural fit. Burke is the Ovechkin of NHL suits. We need him in Toronto.
• It's pretty obvious now that Evgeni Nabokov should win the Vezina Trophy as the league's top netminder. And it seems like Patrick Marleau and the Sharks have turned a corner. They have tons of speed, grit and Jeremy Roenick.
• Yes, the power of personality is the most undervalued and unreported side of sports. Sabermetrics and the scouting-combine mentality will never quantify the value of personality and how it lifts and energizes a group of athletes. Roenick and that No. 27 are a rush of good ol' late hockey nostalgia from the 1980s-early '90s, when anything and everything seemed possible -- from Wayne Gretzky's Lewis and Clark expedition out West to an embarrassment of hockey riches around the NHL as the game became the first to mature into an international league of outrageous talent. All of that hope was stamped out twice by lockouts, and somehow the game hasn't only survived, it's actually never been better. The passion and desperation have always been there, and always will; but now we have unparalleled speed and skating, as well as an arena fan base that makes every game sound like U2's opening night in Dublin. And people are watching. And you know what? They will continue to do so. As Tuesday's Game 7s showed, we have the best game, the best players and the best fans. It's not even close.
I highly recommend listening to "Muzzle Of Bees" while you engage in your favorite soul-dredging activity. And then, enjoy the second round.
Eastern Conference predictions
I went 4-0 in predicting the opening round of the Eastern Conference. Now, we are on to two very difficult semifinal matchups.
Montreal versus Philadelphia
You really have to respect the Flyers. The Capitals were the better team in good stretches of that first-round series and really looked like they were going to win Game 7. But the Flyers really showed a complete team resolve, and that was why I picked them to win that series. Montreal almost blew its series against Boston, but it really showed a lot in Game 7. Saku Koivu is an important personality that needs to be in the lineup every night. If he is, I like Montreal.
After Ovechkin and Alexander Semin, the Flyers had little to worry about from the Capitals' forwards. Montreal has two very good lines and a much better group of defensemen. This is a series that is going to be very difficult for the Flyers, and I don't know if Martin Biron can stand on his head for an entire series, but that's what it is going to take. Mike Richards has that Brad Richards-Chris Drury "it" thing going for him, and I hate betting against that. Still, Montreal looks a little better to me. Pick: Montreal in six
Pittsburgh versus New York
Every sign says to take the Rangers in this series. They have the goalie that everyone would pick first in a game of choosing sides. They have Stanley Cup experience and a good balance of young and old. They have a motivated Jaromir Jagr, who is playing for one more nice contract. Additionally, this Penguins group is led by two players whose combined age is younger than Chris Chelios. This normally would be a concern. And the goalie will have to continue to hold up. That's also a concern. But I'm going to take the Penguins for two reasons: 1) They are better, and 2) They play like old souls. The Penguins are a responsible team and have been a tighter group longer than any of the other current playoff teams. The addition of Marian Hossa and Pascal Dupuis has given them two well-schooled two-way players. Their speed should blow up a lot of Rangers rushes up the ice. The Penguins better be ready, because the Rangers are nothing like the Senators. It the Penguins are ready, they should be confident. They are the better team. Pick: Pittsburgh in seven
Western Conference predictions
The Stars' manhandling of the Ducks kept me from an 8-0 first round. I'll settle for 3-1 in the West and 7-1 overall.
Detroit versus Colorado
Wow. Detroit-Colorado. Can't Patrick Roy and his son come back for Game 3 in Denver and start some big ruckus or something? No rivalry during the past 20 years was richer than this one was back in the "I can't believe I shook his freakin' hand" days. Things are different now. There is no bully factor for either team. This means it will be a game of skill, which should favor Detroit. Colorado has enough to win this series, and it should be able to stay out of the penalty box if it makes a concerted effort. That will make it harder on Detroit. But if you strip away the names, Colorado has similarities to Nashville, and that is why I'm taking Detroit. Pick: Detroit in seven
San Jose versus Dallas
I think this will be the best series. It should be long and difficult for both teams. Multiple overtimes. Two great American players going head-to-head in Mike Modano and Roenick. Two goaltenders, Marty Turco and Evgeni Nabokov, who are a blast to watch. I think these games' comfortable style will benefit Patrick Marleau, and I think he will come up big in this series for the Sharks. Anaheim played with the passion and energy of a can of brown paint. San Jose comes at Dallas with much to prove and more desperation. That might catch the Stars off guard for a period. This is a tough series to peg, but Joe Thornton is playing his best hockey and is primed for an explosion, along with Marleau. I'll ride those two horses in Texas and take my chances. Pick: San Jose in six
Mother of All Mailbags
John,
Jaromir Jagr -- first-ballot Hall of Famer?
John Chadd
Denver
Jagr, who has played all 82 games in each of his past three seasons, is 36 years old. He probably has three years left in him with a projected production of 20-25 goals and 40-50 assists. If we project on the conservative end, it would give him 62 more goals and 120 more assists. That means Jagr would retire with 708 goals, 1,073 assists and 1,781 points.
That gives Jagr these career rankings -- fifth-most goals, seventh-most assists, and fifth-most points. Throw in five scoring titles, one MVP, two Stanley Cups and very good playoff numbers, Jagr is not only a first-ballot Hall of Famer, he also should be one of your right wingers if you were to devise an all-time four-line team.
---
Bucci,
Devils broadcaster Chico Resch had an interesting idea for a rule twist after John Madden failed to score on his penalty shot attempt against the Rangers. His idea was this: The offended team should have the option of taking the penalty shot or taking the two-minute power play. What do you think?
John
I love it. Any time a coach is forced to make a decision, like the two-point conversion in college football and the NFL, it makes for more compelling theater. This past season, the penalty-shot success rate was 30 percent (19 out of 63 attempts), much higher than your average power play. So, I would think coaches would opt for the penalty shot most times.
---
Bucci,
Love your column and your passion for the NHL; however, I have to disagree with you on Sean Avery. Since acquiring him last season, the Rangers are 50-20-16 with him and 9-13-3 without him. How does that make him a "drain" on the Rangers? He is an agitator and is great at taking the opposition's players out of their game. Granted, I would hate him were he not on the Rangers, but that is not the case. If you want to talk about unsportsmanlike, what about the dives Marty Brodeur has been taking any time a Ranger even comes close to the crease?
Phil Folta
New Haven, Conn.
John,
Take a look at the video of Avery doing his whole dance routine with Martin Brodeur in Game 3. At one point, Drury glides next to him and clearly says something. What are the odds that something is along the lines of "Knock it off, you moron!"? That display was easily one of the most arrogant displays of unsportsmanlike conduct I've ever seen. I've heard people compare Avery to Esa Tikkanen and Claude Lemieux and, to me, that is an insult to Tikkanen and Lemieux. Those guys were longtime contributors to multiple Stanley Cup teams (not to mention Lemieux won a Conn Smythe Trophy in '95). Can we please stop comparing this idiot to people who were actual contributors to winning teams other than just sideshows?
Josh
New York
While Avery's self-absorbed arrogance and lack of respect for his fellow players is a turnoff to neutral observers, he clearly is contributing to the Rangers' cause. You can't argue with three goals and two assists in five games. The playoffs historically have been about nastiness, and after two playoff seasons where I believed that was taken out of the game, it clearly is back. And it is good. The front of the net is now like a mosh pit at a Disturbed concert. Some can't handle that truth. Avery can. That adds value to the Rangers.
---
John,
I want to talk about the shameful behavior of Martin Brodeur. We talk about Patrick Roy "tarnishing" his legacy and the lack of gentlemanly play from Sean Avery. To me, this is worse than anything I ever saw Roy do. Is Sean Avery a dirty player? Does he hit people from behind or take cheap shots? I've never seen him do it. So, people don't like him because he talks a bunch, fine. I saw every Devil shake his hand at the end of that series except Brodeur, possibly the greatest goaltender in the game's history. How could he do that, John? Is it possible, as I wrote earlier, that we've all missed the boat on Avery? If the guy were a thug or a skilless mucker who's more danger than ability, I could get it. But he has five points in five games in the series. Shake his hand; he beat you fair and square, despite what the rule book adjustments might indicate. That's hockey, one of its most hallowed traditions. Brodeur embarrassed himself and the game in a way Avery never has.
Paul
All I can say is, if I were Martin Brodeur, I probably would have done the same thing. I'm not saying that is the right thing to do, and I'll assume that it's not. But there is no way I could shake the hand of someone whom I obviously don't respect just seconds after I lost a playoff series. Brodeur was taking a stand, and the words of Dino Ciccarelli ("I can't believe I shook his freakin' hand") were probably in his head. Veteran players in every sport become nauseated and enraged when they see other athletes come along, and so what they believe offends the values of the game. That's just the way it is. Brodeur probably believed he would have been a phony if he shook Avery's hand. It's a fine line to play hard and play competitively and still have the respect of your opponent.
---
Hey John,
Props to Brandt Snedeker's caddie, who was wearing a Leafs shirt under his traditional whites on the last day of the Masters in the final pairing. Way to put hockey on the board on the biggest stage.
James
Santa Barbara, Calif.
Brandt Snedeker also failed to make the playoff.
---
John,
I take issue with your statement that the Caps crowds have been "amazing."
Capitals fans are like Hurricanes fans were a few years ago. They jump on the bandwagon when the team gets hot, and the games become a trendy place to be. Lots of looking around at each other, smiling, "Hey, we're at a hockey game, and everyone's yelling! Wow, that guy got a Mohawk like one of the players! This must be cool!"
Fast-forward two seasons. Team misses the playoffs, the place is half-empty, no one cares anymore and the fans have moved on to the next trendy thing (I am predicting it will be roller derby). To Capitals fans, going to an NHL game is like going to an indoor lacrosse game -- lots of action, loud music, a fun time. But I guarantee that over half the crowd could not tell you who Mike Ridley was.
Andrew Gallagher
Andrew, put down your cup of hate.
---
Hi Bucci,
I love the playoffs. All the games are great and so far the Avs-Wild series has been intense. I attended the game at the Pepsi Center last Tuesday and picked up a program. In it are comments from some of the Avs players about their playoff memories as a kid. Peter Forsberg states: "They didn't show many games in Sweden back in the day. But the thing that sticks out was when Hakan Loob won it with Calgary. He was my idol growing up." Classic!
Earl Ingalls
Longmont, Colo.
Chuck Norris wears Hakan Loob pajamas to bed.
---
Bucci,
I know you addressed this in one of your blogs, but it seems as though the refs are allowing a lot more penalties than they did last season. A prime example is how apparently it is no longer a penalty for players to leave their feet when checking (Niklas Kronwall). That is a penalty, is it not?
Jason
Michigan
Referees are letting more go in terms of physical play, and I say "amen" to that. The league might want to look at some of these players leaving their feet and send out one of its famous memos or something, but the NHL has let more scrums go, and that has energized players and fans.
---
John,
Why go there? You know there is more to Nashville than rednecks and cheap beer.
Steve
Steve, you read me wrong! I love Toby Keith and cheap beer! I was singing to my choir. My five favorite Toby Keith songs:
"Should've Been a Cowboy"
"How Do You Like Me Now?"
"Stays in Mexico"
"Beer for My Horses"
"Upstairs, Downtown" (most underrated T.K. song)
---
John,
Why haven't any Canadian cities shown more interest in acquiring another team? I miss seeing the old Jets and their white-out crowd in the playoffs (just not the same with the Coyotes, if they actually made the playoffs, of course). Do you see Winnipeg or any other Canadian cities making a push for a team any time soon?
Kenny
San Jose, Calif.
Oh, Winnipeg and Ontario would love another team. Commissioner Gary Bettman recently said relocation and expansion are not on the menu right now. One concern for Winnipeg is, as the salary cap rises, can it produce the revenue to keep up? And if it can't, do high-revenue teams want to support another NHL team through revenue sharing? In any future relocation or expansion situation, current owners may want the new team to be able to create enough revenue where they don't have to subsidize them.
---
John,
Cereal and music -- two essentials to any playoff run (or late-night fans). Which are you currently supporting? I've always been a huge fan of Honey Nut Cheerios. As for music, I'm a little slow on what's new, so I'm still rocking with Tool ("10,000 Days") and Muse ("Black Holes & Revelations"). What's spinning in your bowl/iPod?
Shaun
The new R.E.M., new Editors, Sufjan Stevens, and I recently found two cases of my old cassette tapes. And since my Maxima, which has 180,000 miles on it, has a cassette player (presumably the last 21st century car that does), I've been listening to mix tapes I made in the '80s and '90s.
---
Hi John,
I really enjoy your columns every week. I know that it is playoff time and neither the Sabres nor the Leafs are in the playoffs, but if you could post the story below in your column for everyone to see, that would be the ultimate revenge against my friend Chris, and a great laugh! Thanks so much!
OK, I'll play along ...
John,
My husband and I are faithful Sabres fans, but my girlfriend's husband, Chris, is a big Leafs fan. So, when our son was born in January, Chris thought he would help welcome him to this world with a nice Toronto Maple Leafs shirt. When we first received the "gift," my husband and I wanted to shred it, burn it, blow it up -- you name it we thought of it. But then, we thought that it actually could be put to good use after all. This is our son, Bryce, with his brand new custom diaper! Bryce had no problems putting it to use right away. That's our boy!
Kristy
Rochester, N.Y.
Boy, the poop is gonna hit the fan.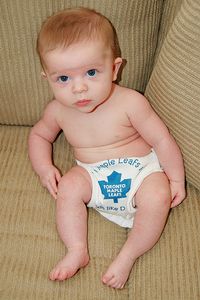 John Buccigross is an anchorman for "SportsCenter" and ESPNEWS. For questions, comments or crosschecks, e-mail him at john.buccigross@espn.com. To check out his new book, "Jonesy: Put Your Head Down & Skate," click here.