When I am 83 years old and hopefully splitting my time between Miami Beach and Truro, Mass., I will ponder.
Since I was 7, I have pondered, so I don't see much changing there. When I ponder about my time at ESPN, I will first think of this hockey column on ESPN.com. It has provided me with the highest level of satisfaction here at ESPN. I will then think of the annual season preview column that runs every year in late September, when I incorporate two of the driving forces in my life: sports and music.
Shot of the Week
You know how it works. We present an NHL photo, and Bucci provides a caption. E-mail him your suggestions (include your name and town/state), and we will use the best ones and provide a new photo the next week.
LAST WEEK: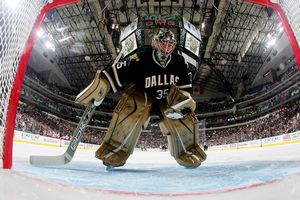 Marty Turco's last resort: A bowl of baked beans, a box of Raisin Bran and let nature take its course. (Getty)
Your captions:

"Has anyone seen my stapler?"
--
Brett Wolgemuth (Albany, N.Y.)
"Hey, Holmstrom, get outta there. You've backed in far enough!"
-- Glen Wollenberg (Massanutten, Va.)
"Seven, eight, nine, 10! Ready or not, here I come!"
-- Paul Liadis (Bellefonte, Pa.)
"So that's where all the pucks keep going."
-- Stephen Hay (Rockville, Md.)
THIS WEEK: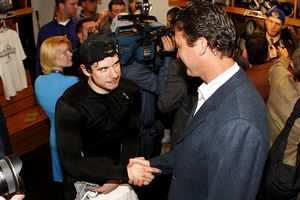 Would you like to mow my lawn? Hmm? (Getty)
September has always been my favorite month. My two lifetime holes-in-one have come in September. I loved the anticipation, mystery and excitement of going back to school every September. I fell in love every September, usually with an upperclassman who looked like Penelope Cruz and found me as exciting as a stapler (if she had actually taken the time to waste a gaze on me). Thank God I had Hakan Loob.
My second favorite month is May. I have similar energies in May. And now that we are down to two NHL teams in May, I thought I would bring back the energy of the September season previews for the Red Wings and Penguins and throw in parenthetical comments on those forecasts from today. Combining the energies of September and May with the energies of the Stanley Cup playoffs might be unhealthy.
My ears are already bleeding.
Revisiting the Penguins' season preview …
Go out and tell the society
The talk of the town is on its way
This is not bad only serious
Do understand, don't turn your back on me

-- "Sometimes in the Fall" by Phoenix
Phoenix is a French band that sings in English. Some of you are aware of this. Don't be ashamed if you are not. I wasn't until this past Thursday.
A friend here at ESPN made a compilation of various bands, three or four songs to a band, and the leader in the clubhouse so far, just ahead of Sufjan Stevens (he has now taken the lead) and Pinback, is the French quartet Phoenix. I recommend their 2006 CD "It's Never Been Like That," based on the three songs I heard. I will purchase the entire CD soon. (I still haven't. I feel shame.)
The Rangers, Sabres and Flyers were the "talk of the town" in the Eastern Conference over the summer because of what the Rangers and Flyers gained and the Sabres lost.
Meanwhile, the Penguins, a team with players who likely have Phoenix on their iPods, stayed on course and refused to overpay for an over-30 player.
The Pens added experience and Stanley Cup rings in Petr Sykora and Darryl Sydor ($2.5 million annually for both players). They gave Mark Recchi and Gary Roberts, probably playing their final NHL seasons, one-year deals totaling $4.5 million. The one-year deals give Pittsburgh financial room ($4.5 million) for next summer if they want to give Sidney Crosby a raise (they already did) or Marc-Andre Fleury a long-term deal (they will have to).
Fleury is in the final year of a two-year deal. Also, the likelihood of Sydor and Sykora being on the team after next season is remote, providing a potential $5 million more to help keep Evgeni Malkin. (They will probably try to trade Sydor to try to keep Brooks Orpik.) This is good, smart managing by GM Ray Shero, the kind of managing that will soon lead to a Stanley Cup. (Sykora: 28 goals for $2.5 million.)
This season's burning question is not whether they will make the playoffs (of course, they did). The question is whether Pittsburgh will have the best record in the Eastern Conference and/or the NHL (second in the East, fourth in the NHL; Crosby missed 29 games). The big challenge in clinching the Presidents' Trophy is inexperience in net and lack of depth on the blue line. How well rookie defenseman Kris Letang plays will go a long way toward determining their depth (he's averaging 17:00 of composed ice time a night, giving the Penguins' blue-line depth). Letang was captain of Canada's 2007 gold medal winning World Junior team. He has jam, can produce and will be another dynamic piece of these Penguins. It may also be advantageous if the black and gold had a little more snarl on the back end. (Hello, Hall Gill. Gill, Orpik, and yes, Sergei Gonchar, give the Penguins enough snarl to go along with their skill.)
The Penguins are loaded up front. They have the best player in the NHL -- I predict 45-91-136 this season for No. 87. (Crosby missed 29 missed games due to a high-ankle sprain; the ankle possibly is still not 100 percent.)
They have plenty of speed, size, jam, experience and depth. They will make the jump to be among the NHL's top five teams (tied for fourth with the injuries to Fleury and Crosby). Whether the Penguins lead that pack or are at the tail end will be determined by the maturation of Fleury's game (it has matured with a 12-2 record, .938 save percentage, 1.70 goals-against average and three shutouts in the playoffs) and the health and progress of the blue line (it is healthy and has progressed into a solid unit with offensive-minded players in Gonchar, Ryan Whitney, and Letang). Everything else is set up for another 100-point season and at least one playoff series win (102 points and three series wins). A deadline deal for more blue-line help could be the epoxy that keeps everything connected in Western Pennsylvania (that deal was for Gill). The talk of the town is on its way.
Revisiting the Red Wings' season preview …
Did you get all you want?
Did you see the whole show?
So where's all the fun
That we used to know?
As the memories fade
Way out of view
I'd love those old days
To come back to you

-- "Waiting So Long" by Supertramp
The waiting since the Red Wings' last trip to the Stanley Cup finals in 2002 must seem like seven Supertramp albums ago for Red Wings fans. (Supertramp doesn't make new music anymore. Its lead singers, Roger Hodgson, the high-pitched-voice dude, and Rick Davies, the lower-pitched singer, are 58 and 63, respectively.) From afar, it seems even longer because of the change in personnel and some of the lost magic at Joe Louis Arena. Things have changed.
The NBA's Pistons didn't win a playoff series from 1992 to 2001. The NFL's Lions last won a playoff game in 1992, when they beat the Cowboys 38-6. Prior to last season's World Series appearance, the Tigers hadn't been to the playoffs since 1987. Sports in Detroit during the 1990s were rancid. Then, there were the Red Wings. (The Tigers are rancid again; the Lions should be a little better; the Pistons are in the Eastern Conference finals against the Celtics.)
Despite not having won a championship since 1955, the Wings had pushed aside the vapid 1970s and '80s and arrived by the early '90s. The Red Wings won 43 games in 1991-92 and their era of excellence, which continues to this day, was under way. The Wings have not missed the playoffs since 1990 and have won three Stanley Cups. They've won the Central Division the past six seasons (make it seven in a row).
Any franchise would have basked in that success, but the Red Wings augmented the winning with interesting characters. Steve Yzerman is a once-in-a-half-century knight. Brendan Shanahan, Sergei Fedorov, Darren McCarty, Nicklas Lidstrom, Igor Larionov, Brett Hull, Luc Robitaille, Dominik Hasek, Scotty Bowman, Chris Chelios, Tomas Holmstrom, Martin Lapointe, Joey Kocur, Vladimir Konstantinov, and so on. This was an interesting group of characters who gave the Red Wings' success texture and depth to last a lifetime. Theirs was an interesting story. Talented, physical, mysterious, confrontational, comedic -- this team had it all. (Watching that amazing 2002 team skate around with the Cup is my most indelible moment to date. That, and watching the Wings take the ice for Game 3 in Raleigh. What presence.)
Today's Red Wings have been nothing like that of late. They are almost as successful, but far less interesting. They have lacked physical, confrontational players and are not as difficult to play against (Dallas Drake, Daniel Cleary and Niklas Kronwall are no picnics). You can't win a championship unless opponents are uncomfortable playing against you (or if you are as efficient as a snowplow). No Red Wing had 100 minutes in penalties last season. (They had one this season! Aaron Downey.) In their Stanley Cup years, the team always had at least two. In 1996-97, the Wings had five. The champion Ducks, who beat the Wings in the conference finals last spring, had three players over the 100-minute mark. (The Penguins had three this season: Georges Laraque, Jarkko Ruutu and Ryan Malone.)
Between that more passive style of play and the success of the Pistons, Tigers and possibly now Lions, the Red Wings are sharing the sporting dollar instead of owning it. Ticket prices and the local economy are small factors, as well, but I believe it is mostly because the Red Wings are not as interesting to Detroit fans as they used to be. From "Happy Days" to "Joanie Loves Chachi." (E-mails from Michigan seem to indicate that the ticket prices, economy, success of other sports teams, repetition of Wings success and aging arena combine to explain the empty playoff seats. TV ratings are still good.)
Can that change this season? Bringing in Drake is a shot of caffeine for Red Wings fans, but he is 38. He'll be able to run around only so much. (He's playing 11 minutes a playoff game. He's played in all 16 playoff games so far.) At first glance, the Red Wings' roster again appears a little old, a little small, and, yes, a little boring. The majesty of Pavel Datsyuk and Henrik Zetterberg is still worth the price of admission for the hard-core hockey fan. (Right there with Crosby and Malkin. See e-mail bag below for more.) They take your breath away on occasion. But the rest of the story appears to be lacking zest and the casual fan has a hard time latching on. The Red Wings will win the Central Division and make the playoffs. (Thanks, Tips!)
But unless we see a rise from an unexpected source or a perfect deadline deal, I think we will see more of the same. A few empty seats in the lower bowl of the Joe and another spring without Stanley. (We did see a rise from an unexpected source -- Johan Franzen. Franzen scored 15 goals in the last 16 regular-season games and Detroit won 12 of those final 15 games. He carried it over to the playoffs. "The Mule" makes them a dominant team if he is in the lineup. Right now, he's status is uncertain for the Cup finals as he deals with post-concussion symptoms. Brad Stuart might have been the perfect deadline deal for this team. A mobile, 20-minute-a-night defenseman. There are still empty seats at The Joe, but Detroit is just four wins away from the 11th Cup in Wings history.)
Stanley Cup finals -- Prediction
We have an 11-3 record in playoff predictions so far. I have picked the Red Wings and Penguins to win each of their three rounds, as well.
The Wings and Pens did not play each other during the regular season, marking the third straight season in which the Stanley Cup finalists didn't face off before meeting in the finals. These two teams are clearly the two best in the NHL. Both should be able to score on the other, especially on the power play. Whomever scores more on the power play will likely win the series. The Penguins have not seen a power play remotely close to the Red Wings. Same goes for Detroit. Chris Osgood is playing maybe the best hockey of his career, which should help him prepare for Crosby and Malkin. Fleury has faced Dany Heatley, Jason Spezza, Jaromir Jagr, Daniel Briere, along with the likes of Chris Neil, Scott Hartnell and Sean Avery.
What happens in the first two games in Detroit will go a long way in determining the series. Most of the Wings' lineup has been in this spot before; most of the Penguins have not. But that doesn't matter if one team is simply better. If the Penguins are to win it all, they have to simply believe they are better and then go out and work harder. If they have any doubt, they will get manhandled.
I'm sure I am in the minority here. Most Web-perts are probably taking the Red Wings. If you go back to ESPN.com's preseason predictions, you'll see my preseason Stanley Cup winner in black text: "Pittsburgh Penguins."
I'm sticking with that. Black and bold. Penguins in six.
Mother of All Mailbags
Hello John,
My name is Rick Jones. I work as a firefighter in the Detroit area. Can I pick your brain? I'm trying to make a case here.
Who would you rather have -- Crosby/Malkin or Datsyuk/Zetterberg? Try not to use age as the deciding factor. I don't watch enough Pens games, so I can't give a straight-shooter answer without being biased. Please give a few reasons, like Datsyuk's Selke Trophy or Malkin's size.
Rick
Detroit
This is an excellent and difficult question, Rick. In the end, it would probably come down to personal preference of styles and intangibles, since the talent level is so close.
I still believe Sidney Crosby is the NHL's most perfect union of raw skill, intellect and desire. That being the case, when it is close, I would be inclined to take the equation that involves No. 87. Inexperience is simply not a factor when you are more evolved than everyone else. See: Tiger Woods.
Back Crosby up with a one-on-one talent like Malkin, who has one of the hardest shots in the league and also has a high hockey IQ, and that is a difficult tandem to top. Datsyuk and Zetterberg are right in that ballpark, if not neck and neck. Datsyuk has the uniqueness and flair of Crosby. He lacks the physical play Crosby exhibits around the net of the opposing goalie, but he is better at defensively stripping opponents of the puck and has that knack to know when to hover and when to pounce. Datsyuk would be very adept at killing wild game if he put his mind to it. I could see him killing raccoons with ease.
Malkin is actually very good at puck stripping, as well; his long reach will one day make him one of the league's best two-way players. Malkin is like Manny Ramirez in that he doesn't really have a desperation button, so there are times he appears to disappear or to not be giving his all-out best. Malkin took a pounding in the Flyers series. The Red Wings have tough players, but I think Malkin will be more comfortable against Detroit. Still, the talent level of the Red Wings' defense is light years ahead of the Flyers'.
Zetterberg is a complete player who is hybrid efficient. He can create, score and provide the spectacular. His goal-scoring rate does not change in the postseason. I love that. That means his game has depth. The Penguins must have Sergei Gonchar on the ice as much as possible against Zetterberg and Datsyuk.
The snippet that makes this discussion a bit frayed is Zetterberg and Datsyuk largely play together, which perhaps doesn't give us a true measurement of how much they make teammates better. Crosby and Malkin occasionally are put on the same line to give the Penguins a different look, but the Penguins are most dynamic when these two players are rolling shift after shift, making their linemates better and getting good matchups with the opposing team's defensemen. Because of their youth and ability to heal and stay energetic, this is a potent twosome, especially at home.
I know you said not to take age in account, but energy, health and speed are such an integral part of playoff hockey, it has to be considered. Hockey is a young man's game. Maurice Richard was 23 when he scored 50 goals in 50 games in the 1944-45 season. Bobby Orr was 22 when he scored 120 points and flew through the air to win his first Stanley Cup in 1970. Wayne Gretzky was 21 when he went 92-120-212 in the 1981-82 campaign.
Additionally, young players today have so much big-time experience in high-pressure situations like the world juniors, they are better trained at not letting big-time moments bother them. My preference is the Penguins' duo because of No. 87, but for the most part, these four players cancel each other out as their identical playoff point totals show. The Cup will be won by the supporting cast.
---
Hey John,
What do you think the Pens will do with Marian Hossa at the end of the playoffs? I'm hoping, badly, they re-sign him and let Malone go, but I've heard a lot of conflicting opinions. He's a huge help and a great player, and I think he really put the criticism to bed this postseason. Besides that, we gave up a lot to get him and Pascal Dupuis. What are the chances we re-sign him?
Dan
To review, here is what I wrote in this space after the Penguins acquired Hossa at the trade deadline:
"Holy Shhhnikees! I've been pushing for this move in this space all season! Hossa is now the best winger on the Penguins. When you can add a player like that, it is huge. The Penguins now have to be thinking Stanley Cup finals. No team can match their offensive output from the top two lines. I know some are concerned about Hossa's playoff numbers. But if you take out last season's four-game sweep by the Rangers and his teenage playoff years, Hossa went 12-18-30 in 37 games over a three-year playoff stretch. That is slightly lower than his regular-season production, but it's not obscene. Do not worry about Hossa in the postseason. The Penguins are perfect for him. Even if this is a rental, it is a good deal. But I would think if Crosby and Hossa do click, Hossa would hopefully ignore his agent's advice to get the most he can and take a deal from the Penguins in the six-year, $36 million range."
With the postseason Hossa is having, he will attract huge free-agent contract offers. He turns 30 next January, so one will get a player who will slowly become less durable and less productive. That being said, Hossa will likely attract offers in the neighborhood of seven years, $50-60 million. The Rangers, Bruins, Blackhawks, Blues, Kings and Wild are some teams that come to mind. But let's face it, a player like Hossa would look good on any team if they could afford him.
The bigger question with the Penguins: Will other players sacrifice money to give the Penguins the chance to keep as much talent as possible? Crosby has already led the way in this regard. This past season is the last of his $850,000 entry-level contract. The Penguins have him for the next five years at a cap rate of $8.7 million a year. (For each of the first four seasons of the extension, Crosby will be paid $9 million, including a $5 million bonus the first year. He'll get $7.5 million in 2012-13.) If Crosby chose to play out his entry-level deal, he would have received a 20-year, $200 million offer sheet from some team. He sacrificed about a million a year by not taking the maximum and about $150 million in guaranteed money. To be fair, Crosby's off-ice income makes this move easier for him to do.
But if the rest of the Penguins' big-ticket players sacrifice more than a million a year, there is an outside chance they can keep this great team together. If Hossa, Malkin, Fleury, Staal and Malone all sacrificed $1-1.5 million annually, that's close to $7 million in cap savings.
For the sake of this argument, let's say the Penguins have all of these players on their roster two years from now, when the contract extension years for Malkin and Staal kick in. Let's assume the following cap numbers with the first three contracts already being signed and the rest being my contracts for the players:
Crosby -- $8.7 million ($43.5 million for five years)
Gonchar -- $5 million (last year of his five-year, $25.5 million deal)
Whitney -- $4 million (signed for six years, $24 million before this season)
Malkin -- $8.5 million ($85 million for 10 years)
Hossa -- $6 million ($36 million for six years)
Malone -- $4.5 million ($27 million for six years)
Fleury -- $4.5 million ($36 million for eight years)
Staal -- $4.5 million ($18 million for four years)
That is $45.7 million for eight players.
Next season, the salary cap is reportedly expected to rise to about $53 million. There is a good chance there will be added television revenue by the 2009-10 season and more guaranteed money after that as the NHL rides the wave of all of this young talent. The NHL should continue to see its revenues rise, which will likely include expanding by two teams. Let's be bullish in regard to revenues and say the salary cap reaches $60 million by the 2009-10 season. Suddenly, the Penguins are $15 million under the cap and could rely on rookies and veterans willing to come to a great team for short money/years for the other 10 or so spots (players at about $1.5 million average). This is all very doable.
Now, let's look at my "take one for the team" contracts versus what the Penguins' unrestricted and restricted free agents would realistically get on the open and offer sheet markets:
Malkin -- (My deal: $85 million, 10 years) -- (Real deal: $150 million, 15 years)
Hossa -- ($36 million, six years) -- ($60 million, seven years)
Malone -- ($27 million, six years) -- ($34 million, six years)
Fleury -- ($36 million, eight years) -- ($45 million, eight years)
Staal -- ($18 million, four years) -- ($50 million, 10 years)
So, this is how I would approach it if I were the Penguins. I would bring all of the players in and try to get this all done at the same time. With Crosby leading the way, perhaps the others can be sold on sacrificing a little (still being set for life) and to be part of a possible mini-dynasty.
For the most part, however, agents and athletes don't think like that. So, looking at the Penguins' situation, I would be very surprised if they will be able to re-sign Hossa. Knowing that, I still would have made the deadline deal, even if the Penguins don't win the Cup.
---
Bucci,
Just wanted to let you know that I finished "Jonesy" in about three days; excellent book. As a 24 year old who has been following/playing hockey for as long as I can remember, I really liked reading about the "behind the scenes" of hockey life that a casual player doesn't get to experience. It was also great to follow Jonesy's journey, hear him talk about guys like Peter Forsberg and Eric Lindros, and see that NHLers are normal guys. Thanks for writing it. Let me know when the next one is coming out!
Josh Liggett
Los Angeles
Hockey fact: 2K Sports announced this week that Columbus Blue Jackets captain Rick Nash will be featured as the cover athlete and spokesman for this year's highly anticipated hockey video game, NHL 2K9. The game will be available this fall.
---
John,
With the playoffs winding down, I was wondering if you could put together a list of the Top 5 playoff beards for this postseason, and of all time. Also, any speculation on how this tradition got started?
Brett
Charlotte, N.C.
Scott Hartnell is first, second, third, fourth and fifth. If actor Jonah Hill covered his entire head in molasses and then placed his face into a bowl of hair, he would look like Scott Hartnell. You are a hairy wonder, Scott Hartnell!
---
John,
Incensed. Outraged. Embarrassed for the league. A few of my feelings on the inconsistent rulings on goalie interference that culminated in throwing a coaster at the TV over Tomas Holmstrom's goal was ruled a "no goal." Let's get it together here, people. In a game this fast, we need instant replay, or at the least a coach's challenge to review the play. He was not in the crease and never touched Marty Turco.
Scott
I agree on that one, Scott. In both instances in the Stars-Red Wings series, the officials got it wrong. The first time Holmstrom was clearly interfering with Turco. In the second close call, he was not. Call it the ol' even up.
---
John,
There is a simple explanation for the empty seats in Detroit. Detroit sports fans would rather spend their money to visit Comerica Park, Ford Field, or The Palace. I know it's hard to reason building a new arena when you can't fill seats, but fans would much rather visit the more friendly confines of the other Detroit sports stadiums. Joe Louis has a lot of history and I love going there, but maybe it's time for a change. Another possibility is that fans have been spoiled by the Wings' success and forget how great of a team Detroit has.
Kyle
Adrian, Mich.
John,
Now that we have a Wings-Pens Stanley Cup finals, there will be no empty seats at The Joe. That is because Pens fans will absolutely buy the tickets and drive from Pittsburgh. I am a die-hard Pens fan living in Rhode Island and drove 20 hours round trip to see Game 2 against Ottawa at the Igloo.
Jesse J. Swanko
Marine Staff Scientist
Newport, R.I.
---
Bucci,
I am a huge fan of your columns, but please tell me how you mention the St. Louis Blues and not mention Brett Hull, or at the very least, Hull & Oates. You weren't in a coma for the late '80s, were you?
Seriously,
Josh McKee
St. Louis
Good point. My bad. I wasn't in a coma, but I did have hair in the late '80s that made me look like the third member of Wham! And for that, I will always feel shame.
---
Hey John,
I just read your most recent column with the "___ makes me think of ___" list. Very good. I was wondering if for your next column you could do one in honor of defunct franchises or, if you don't have the time, maybe just one for Yoooouuurrrrr Hartford Whalers. Maybe the list could look something like this:
Hartford: The Howe Line, The Mall, Ronnie F., a.k.a. The Captain, "Horrid" Torrie Robertson, the least appreciated logo in sports, the Sanderson-Cassels-Verbeek line,
Kevin Dineen going top shelf in 1986 (give or take a year), winning the Adams Division.
Dave
You must add Joel Quenneville and Ray Ferraro's 'stache.
Dear Mr. Buccigross,
I just finished reading your "___ makes me think of ___" article and something in it struck a chord with me. You mentioned three separate instances of a team bringing to mind the singing of a national anthem. They were all Canadian cities. This really makes me a bit sad. You see sir, I'm a United States Marine. I wake up every morning, put on my uniform and I go to work. What I actually do while I'm there doesn't matter, it's the reason I do it that is the key. I do my job so that the men, women and children of this great country can live their lives as they see fit, free from tyranny. I do it so that when a U.S. citizen exercises their right to vote, they don't have to worry about being killed for doing so. Finally, I do it so that I know that my family can sleep through the night without fear for their safety.
One day, hopefully many years from now, I will be buried under the flag of the United States of America. So every time I sing the national anthem, I look at the flag, thinking of what it represents and those who have passed under its guard. With that on my mind, I stand at attention and sing as loud as I can "Oh say, can you see?" But what I see is my fellow Americans looking around and maybe mumbling the words. But "O Canada!" they shake the rafters with their loud and dedicated paean to their flag and country. Why the difference? Are Americans less proud of their country? I don't think so, at least I truly hope not. Maybe if Bucci commands, the loyal will follow. What do you say Mr. B? Can we start a trend of Americans belting out our national anthem so as to make the thunder jealous? The way I see it, it's not what you do while you're listening to the anthem being played, it's the reason that matters.
Most respectfully,
1st Lt. Eileen C. Donovan
USMC
Two things:
1. "O Canada" is just a better song. I've been singing it since I was 5. That's part of it.
2. I feel your pain, Eileen. I've always sung the anthem. In high school before the game began, me and my teammate Don Goodpaster would harmonize the anthem with our uniforms on. Like Don Cherry and Barry Melrose, examples of camaraderie, courage, teamwork, protection and sacrifice make me emotional and no person shows that more than a soldier. At the end of "Coach's Corner," Cherry would show a picture of any Canadian soldier who had died in battle, mostly those serving in Afghanistan. I work nearly every Saturday, so for most of the season I would be in the ESPN newsroom, watching the end of "Coach's Corner" with tears running down my cheeks as Don "eulogized" fallen soldiers as only he can. They all deserve my attention.
It would be great for Detroit and Pittsburgh to inscribe "Sing The Anthem, Please" on the white towels and/or T-shirts they place on the seats before the playoff games. It would be nice for this to happen organically like in Canada, but a little push is sometimes needed. I always sing, Eileen, and I always think of you and your brothers and sisters when I do it. Know there are many like me.
---
John,
Widespread Panic would be nothing but a giant waste of your time. You'd be much better served to get into The North Mississippi Allstars, Grace Potter and the Nocturnals or The Avett Brothers. On their worst nights, any of these bands would absolutely blow the doors off Widespread Panic.
In other news, I am extremely impressed that you can call out Rick Jeanneret, The French Connection and The Aud. As a Buffalo native, I am always extraordinarily pleased to know that there are people in the national media who know and understand the lore of Buffalo sports. You're a good man, John Buccigross.
Dan Jackson
New Orleans
John,
Tell Brian Senkowski that Widespread Panic is nothing more than a generic jam band. I've seen them live. Feh. No, not feh, just eh. Seriously, the guy is obviously entitled to his (wrong) opinion. But what a great topic he raises. Best rock band on tour right now, huh? The Hold Steady are great live, and back stateside in support of the new album in June. Okkervil River is awesome. But I'd probably pick My Morning Jacket. They're ridiculously good live.
Garson
I can't stop playing R.E.M.'s "Man Sized Wreath" in my car CD player right now. I then anticipate a lot of The Hold Steady.
---
John,
My husband is an insane hockey fan and reads your column religiously. I myself enjoy watching hockey quite a bit, but not to the extent he does. Anyway, when I heard that your book was coming out, I preordered a copy for him and got it when it first came out last fall. I really am a great wife. Here's the problem. He's not a reader (although he is literate and all, he just doesn't read for fun). When "Jonesy" first arrived, he read the first dozen pages and then decided to save the rest for a long airline flight we had coming up. He still hasn't picked it back up, although I've since read it twice -- it is that good. Now, every time Jonesy mentions something during a broadcast, that reminds me of a story in the book. I have no one to talk to about it since my husband hasn't finished the damn thing.
If you would tell my husband to pick up the book and finish reading it in your column, I promise to go out and buy another copy so we can each have one. Otherwise, you need to start a book club so I have someone to call with my insights.
Michelle Gauger
Madison, Wis.
Oh, husband of Michelle Gauger! Heed your woman's longings! Succumb to her desires! Be her knight in shining armor, coming to her emotional rescue. For the love of God, man -- READ "JONESY"!
Hockey fact: Michelle Gauger is a hockey goddess.
And three more hockey facts:
Chris Osgood improved to 10-2 this postseason and won his 48th career playoff game for Detroit, passing Hall of Famer Terry Sawchuk for the franchise record.
This will be the first Detroit-Pittsburgh finals, and it also will be the first all-American finals since 2003, when New Jersey faced Anaheim.
Detroit is the last team to win the Presidents' Trophy and Stanley Cup in the same season (2002).
---
Hey Bucci,
I have a man-crush on Mike Richards. My buddy has a similar man-crush on Chase Utley. All things considered, who wins in a Philadelphia man-crush faceoff? Please consider categories such as long-term potential, likelihood of winning a championship, heart and (most importantly) hair thickness!
Tim
Philly
I'll take Mike Richards on long-term potential (Chase Utley turns 30 in December; he will start his decline in a couple of years) and likelihood of a championship. Heart is a push and Utley is a first-ballot hair Hall of Famer. He has the hair follicle capacity of ESPN field reporter Darren Lyn. Utley has more hair follicles than five Kennedys.
---
John,
As a lifelong Islanders fan, I am patiently waiting for the return to glory. I am happy with the youth movement and trust in Ted Nolan and Garth Snow's new plan to get young and quit signing castoffs. I can wait a few more years for a team we can buy into. So can my son Owen, who hopes, even at five months old, that we can find someone to light the lamp with pick No. 5.
Jon Peluso
Chesapeake, Va.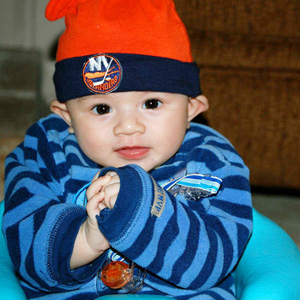 Baby steps.
John Buccigross is an anchorman for "SportsCenter" and ESPNEWS. For questions, comments or crosschecks, e-mail him at john.buccigross@espn.com. To check out his new book, "Jonesy: Put Your Head Down & Skate," click here.