Anyone who has driven through the 3,600-foot Fort Pitt Tunnel in Pittsburgh like a burrowing badger in a Buick knows what awaits him or her on the other side of Mount Washington.
Shot of the Week
You know how it works. We present an NHL photo, and Bucci provides a caption. E-mail him your suggestions (include your name and town/state), and we will use the best ones and provide a new photo the next week.
LAST WEEK: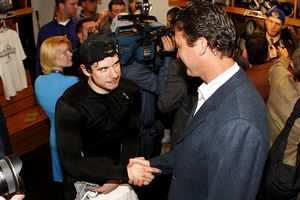 Would you like to mow my lawn? Hmm? (Getty Images)
Your captions:

"Alright then, it's a deal. If I bring home the Cup, I get my summer curfew bumped up to midnight."
-- Chiara Walters (Louisville)
"Sid, I know you just won the Eastern Conference for the first time since I did it in '92, but you forgot to unload the dishwasher last night. DON'T let it happen again, or you are OUT!"
-- Gordon E. McKercher
"Good job, but I want you home by 10 p.m. and in bed by 11 p.m."
--
Rocco Vallecorsa (Pittsburgh)
"1, 2, 3, 4, I declare a thumb war!"
-- Brad Pietropola (Export, Pa.)
THIS WEEK: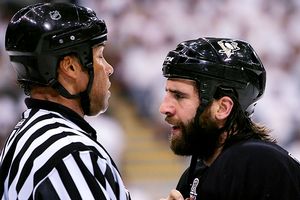 THIS IS IT!
Make no mistake where you are.
THIS IS IT! Your back's to the corner. THIS IS IT! Don't be a fool anymore. THIS IS IT! The waiting is over. (Getty)
But that's getting ahead of things.
The last Stanley Cup finals game I had attended was June 7, 2004. Ruslan Fedotenko scored two goals in Game 7, and the Tampa Bay Lightning beat the Calgary Flames 2-1. No one mentioned that the Lightning did not have enough Canadian-born players. Ukrainians can come in handy, too. That's the day the music died for me. It was the last game ESPN televised as an NHL rights holder, which meant no more "NHL 2Night," no more All-Star Games and no more Stanley Cup finals road trips. Since then, my job has not had the same joy.
I covered the NHL All-Star Game from 1999 to 2004 and the Stanley Cup finals from 2001 to '04. Couple that with "NHL 2Night" and this column, and my job was never better. Hanging around hockey fans, players, coaches and media members made me feel alive. But then the lockout hit, and ESPN got out of the business of broadcasting NHL games. I attempted to seek employment at places that did broadcast the NHL, but their interest in me did not equal my interest in them. I am no Jim Nantz. (That will make more sense soon. Keep reading.)
So, once this season's Stanley Cup finals matchup was set, I had to find a way to relive some of the magic that filled me with so much energy (energy that helped me actually drive through an entire Cup finals series in 2002, when the Red Wings and Hurricanes met; check the archives for that). How else to explain why I have 182,000 miles on a car that is 5½ years old. (The Penguins-Red Wings matchup is a dream Stanley Cup finals for a drive. I think I would have actually commuted by unicycle between Pittsburgh and Detroit. I would have been guilty of driving in these finals, avoiding airport security checkpoints, baggage claim and the gas coming from the guy in seat 17B.)
My "SportsCenter" schedule for May was already out in April, so I had to hope my off days coincided with a Stanley Cup finals game. When the Red Wings and Penguins advanced, I waited for the finals schedule to be released. Game 3 would be the game. Since I had to work the day after Game 3, I had to fly from Hartford to Pittsburgh. ESPN.com flew me out and put me up at the Omni William Penn, the kind of old-school hotel I love. I bought two game tickets because I always sit with the fans, whether I'm in Philly, New York, Florida or Columbus.
So, I got up at 4:30 a.m. Wednesday, took a quick shower and headed to Bradley International Airport, a fine departure point just 17 minutes from my house; and it's not named after Bart, Brian, Lyle or Matt Bradley, the four Bradleys to play in the NHL. My flight left at 6:05 a.m. and, as on all my flights, I had R.E.M.'s "The Lifting" playing and a Starburst in my mouth at takeoff.
During the flight, I continued to read the autobiography of CBS broadcaster Jim Nantz. The book continually told me how successful Nantz is and how many famous people he has met along the way. For example, his golf outings with George Bush No. 41, Bill Clinton and Tom Brady. Nantz was 26 when he was hired by CBS. When I was 26, I was making $17,000 a year at a place called Cape 11 News. I qualified for government assistance because I had two children and was below poverty levels in Massachusetts. But Nantz never received free cheese or ate pasta five nights a week; he never had a hole-in-one on a par 4; never golfed with Ray Bourque or Barry Melrose and never slept with an NHL player who painted himself red and blue in a one-week span. (Please check archives for a full explanation of that last "accomplishment.")
A little more than an hour later, with me feeling like a complete failure after reading about the wonderful life of Jim Nantz, we landed in Pittsburgh. I headed to my rental car. The air was cool, so cool I could see my breath. Hockey weather. Game 3 of the Stanley Cup finals was on tap.
I had 13 hours until the opening faceoff, so I had plenty of time for two of my favorite things: golf and catching up with old friends. I headed to Steubenville, Ohio, to do both.
Golf was first. I'm a sentimental fart, so if I have a chance to play a round of golf on the course that I basically learned the game on, I will do that. Plus, Mario did not invite me to Oakmont. I teed off at 9 a.m. and played 18 holes in two-and-a-half hours. I shot a Mikael Samuelsson-Jeff Taffe. I took a shower in the locker room and proceeded to bang my eyebrow on the shower head because I am 6-foot-4 and the shower head was 6-2. Obviously, it was installed in 1958, when people were shorter. My scar wasn't quite the caliber of Ryan Malone's, but it put me in even more of a hockey mood. If I gained 20 pounds of muscle and waxed my body, I would have felt like a fighting Persian led by a man with a Scottish accent.
At this point, after making a quick stop at Tim Hortons (it's a hockey day, after all), my mind screamed, "Must … eat … meatball … sandwich." So, I headed over to an old friend-since-sixth-grade's sandwich, sub and pizza carryout place called "Gina's," named in honor of Al's beautiful wife. My buddy severely outshot in the contest of love, if you know what I mean, but he still made enough kick saves to come out with the win, a marriage, two kids and one on the way. That's why Al is the king. Al also does the greatest impression of Myron Cope, the late Steelers announcer. So much so that Al's brother and friends persuaded Cope to come to Al's wedding reception and make a surprise visit as Al was reluctantly in the middle of a Cope impression on the microphone. Cope was the last one to leave.
After eating the greatest meatball sandwich of my life (Al makes them like mom -- from scratch), another old friend arrived, Mike Florak. We all have a friend who does things better than any other friend we had, and Mike was that guy in high school. In high school, he played defensive end, shooting guard in basketball as pure as Chris Mullin, hit a baseball more than 400 feet, and was the MVP and scoring champion of our infamous street hockey league in the winter of 1982. At 31, Mike became the baseball coach at Youngstown State. He also had a horrific battle with Crohn's disease and, as a result, depression. If you or someone you know is battling Crohn's, Mike wrote an amazing book called "Healthier Than Normal." You should get it. He would sit next to me at the game that night.
Mike followed me in his car for the 40-minute drive from Steubenville to downtown Pittsburgh, the trip culminating with that familiar visual once the automotive burrowing of Mount Washington is complete -- the Pittsburgh skyline that appears like a giant pop-up book.
It almost looks artificial, it is so overwhelming. One goes from a claustrophobic, dingy tunnel to an explosion of ideas, commerce, water and life. To make the trip more exciting, you now have 2.7 seconds to decide which road to take on your journey. I enjoy these kinds of death-defying moments. You'd better be good in the corners to drive in downtown Pittsburgh. It's a dump-and-chase city.
I checked in to the hotel and took my third shower of the day. I like me some clean. The Omni is a short walk to the Pens' arena, a rink I instinctively refer to as the Civic Arena. It's the kind of rink I prefer -- a place with character and low ceilings and one that actually shakes when the home team does something exciting.
The night was picture perfect. Sunny and in the high 60s. Even Steve Levy wasn't sweating. The vibe was guarded from the perspective of the Penguins faithful and ultraconfident from the few Red Wings jerseys snaking their way through the crowds. But, as the people made their way to the arena, the excitement slowly built.
Flashback …
One of the last times I was walking toward the arena was in high school. Me and two friends who shall remain nameless (Gibby and Steve D) carjacked the car of one of our parents, who were out of town. We drove to the game without a ticket, scalped one outside the arena, gave it to some shady-looking dude for free. That dude walked around the perimeter of the arena (we could see him through the glass) until he saw no one looking inside. He then opened an exit door, and the three of us snuck in. No wonder this team went bankrupt! Three geeks from Ohio were able to sneak into the arena with no problem! This was before Mario Lemieux arrived. The Penguins were playing the Minnesota North Stars, coached by Glen Sonmor. The Stars won the Norris Division that season, but lost in the first round of the playoffs. The free entrance in 1982 is why I had no problem paying for my ticket Wednesday. Call it even?
On the way home from that excursion, we paid for gas by using rolls of pennies provided by Steve D. This was no Millionaire Boys Club. I have no idea how any of us survived in the 1980s with no airbags, no sense of proportion and no televised hockey when the NHL went to SportsChannel in 1988.
Back to the future …
The world is very different now. The Penguins were irrelevant in my younger years, became relevant upon Lemieux's arrival, became irrelevant again and now are in position to enjoy their longest run of success in franchise history. During the Lemieux-as-a-player era, Pittsburgh won Stanley Cups in 1991 and 1992 and played in four conference championships. Injuries and finances prevented more of each. The Penguins should at least match that over the next decade, and they have a new arena coming that I hope will be cozier than the behemoths that have been built recently.
I got into the arena, and Game 3 was about to begin. The fans were clearly nervous. I tried to settle them down by saying, "While I love all 30 teams equally, I think the Penguins will win this game." It is a Game 7 for them and it isn't for Detroit. I told them Sid will have a big night, the Penguins will get the first power-play chance and will win 3-1 or 4-2. (I sound like Nantz now. Sorry.) This seemed to make them feel better, but two straight shutouts has given these people the confidence of a 16-year-old boy entering a room full of Maxim models.
And the game began …
First period
• Johan Franzen gets called for a neutral-zone hold 64 seconds into the game.
• Detroit continues to do an unbelievable job of clogging the middle, stepping up with its defensemen to confront along the red-line boards and moving the puck up the ice at will. The Wings have the first 15 minutes under control. The Penguins had just one shot on goal for much of the period. They have to work so hard for everything they get.
• Crosby scores with 2:35 left in the first period to give the Penguins a 1-0 lead, which they take to the locker room.
Second period
• This is the best period of the series for Pittsburgh. The Pens get off to a great start with another goal by Crosby just 2:34 in. From there, the Penguins pretty much control the period until the Red Wings turn it up late. Franzen goes right around Adam Hall, walks in and scores. I understand Hall's size and shot-blocking presence, but skating is not his strength, and I'm surprised how much penalty-kill time he gets (4:26) compared with say Crosby (three seconds) and Malkin (zero). Crosby and Malkin are two of your best skaters and smartest players with the best hands. I would have them play more on the kill to win puck races and deal with attacking skaters.
• Franzen is off the charts when you see him in person. The Wings have him for $1.15 million next season, and he will be a 29-year-old free agent next summer. I expect the Wings will try to extend him after July 1 with a four- to five-year extension at $4-5 million per year. He is a great skater with amazing hands and a big body (6-3, 220 pounds). He reminds me of Todd Bertuzzi in his prime, without the aloof attitude. Players such as Bertuzzi and Franzen, who will play a contact game, usually drop off after turning 30. That's why it probably behooves Franzen to take an extension now, especially considering his concussion issues. It's a tough call, more so for the Wings.
I could see Franzen scoring 30-40 goals going into his unrestricted free agency next season. That would set him up for a $6 million a year payday. But what if he continues to battle injuries? He missed 13 games in 2006-07, 10 this season and some playoff games. You would think it would make sense for both sides to sign an extension this summer. The Wings could set up Franzen for life by getting him at under market value if he continues to perform the way he has the past three months. But they also assume a lot of risk if Franzen misses time. So, do you sign him now or wait to see how Franzen plays next season when it could cost you more? And, if you are Franzen, do you take the security now or gamble for a huge payday in 2009? Fascinating and important decisions in the salary-cap era. But back to the original premise -- Franzen is fun to watch and way more impressive in person. I saw him play last season against the Islanders, and I can't believe how much better he is. His confidence is exploding right now.
Third period
• Detroit once again went into its domination mode in the third period. Hall took advantage of a scrambling situation and banked one in off Chris Osgood's butt to give the Penguins an important two-goal lead. It was the kind of goal the Penguins did not get in Detroit in similarly frenetic situations. The will of the people will do that. But, before the Hall goal and after the Penguins were just trying to hold on, Crosby curiously would go long stretches without touching the ice, which I couldn't understand. He ended up playing 19:41. Unless his ankle is less than 100 percent and the Penguins are doing the right thing by not overextending him and risking his future, playing him less than 22 minutes is detrimental to the team. That has to change, or the Penguins will not win this series. They might not anyway, but playing your best player less than a third of the game won't get it done. I know Don Cherry won't give Crosby his due because he plays to the masses and only Pittsburgh has No. 87, but it's obvious the Penguins need to use their best player like the Wings use their best player, Henrik Zetterberg.
• The Wings are obviously shooting high on Marc-Andre Fleury. Samuelsson's goal had the velocity of a Woodie Fryman curve ball. Fryman played for the Pirates and the Tigers. Fleury has the strange inability to catch the puck. He can save the slap shots that are shot into his glove, and he can do the ol' flash-the-leather move to sell it. But on basic ear-high shots, he looks as if he never played a game of catch in his life. He looked like Ray Liotta in "Field of Dreams." I would have him play catch all summer long until he understands objects are to be caught, not grabbed at.
• Detroit simply moves the puck up the ice at will. The Penguins send one forechecker in, and the rest of the Pittsburgh skaters passively sag back on their heels, which gives the Wings time and space. Detroit's passing is unbelievable to watch. Red Wings fans still have to like their chances if Detroit keeps playing like this. They are getting plenty of chances, and these chances eventually will go in. Fleury was very good, but he won't be able to stop all of them. The Penguins will have to keep improving and making adjustments to slow the Wings down and get back in this series. The Pens have to win Game 4.
• Brooks Orpik made a lot of money with his sequence of hits in the third period that will be talked about in Pittsburgh for a very long time. It was the closest thing to Jack Lambert on skates at a Penguins game. Four hits in 15 seconds. Orpik will turn 28 in September with 297 games and a Cup finals appearance under his belt; some GM will overpay for him. Now, Orpik doesn't score at all -- he has six fewer NHL career goals than Barry Melrose -- but he is physical and dependable. He will get offered about $4 million a year on the open market. Another tough decision for Pittsburgh.
Final: Penguins win 3-2.
As Mike and I walked out of the arena, fireworks exploded above our heads. It was a perfect late-spring evening, and the city was alive with excitement and hope. We hit the Marriott bar to meet up with some more Steubenville friends. The interaction is always the best part of this job.
The first thing people say is, "When is 'NHL 2Night' coming back?!" It's been four years since the show went off the air, but people still act as if it had been canceled yesterday. One fan of the show pulled out a little plastic bottle of Jack Daniel's and offered me a shot for that Tragically Hip reference I made in 2002. I politely declined and later wondered, "What was I thinking?!" The guys from Scott Township didn't like it when I said I thought the Wings were the better team for most of the game, but I have to call them like I see them. The Penguins have to be better to win Game 4 or it will be a 3-1 lead for Detroit and the series will be over.
I contacted Melrose to see where the ESPN gang would be, and Mike and I headed over to the Westin. Once we got there, the whole hockey media community was there. Kelly Hrudey, Craig Simpson, Elliotte Friedman, Scott Oake, Mike Milbury, Pierre McGuire, Bob McKenzie and so on.
Barry then arrived with his wife, Cindy, Mr. Levy and producer Tony Florkowski. It was like old times. Good food, good drinks and good friends. All in the glow of a Stanley Cup playoff game. I had been up for 21 straight hours and the day still felt young. Ten years ago, I started this NHL journey with Melrose and "NHL 2Night" that evolved into All-Star Games, Stanley Cup finals and this column. A lot has changed; a lot more will change in the future.
As with the Penguins, it was good to live for one more day.
Mother of All Mailbags
John,
Way to use your "hockey sense" and make it to the game last night. You just knew it was going to be a classic, didn't you? If you make it to Saturday's game, let me know. We're going to have a killer tailgate and you're invited.
Jim
I'll be doing the 11 p.m. ET SportsCenter. Send me a case of Iron, 10 pounds of roast beef and a block of cheese the size of Jean-Sebastien Giguere's goalie pads so I feel like I'm there.
---
John,
Hopefully you are able to hear once again. What a game you got to see last night! I can't remember the last time I saw a game go back and forth the way it did in the third period. It must have been around 1994. Hopefully, there were a lot of casual viewers who will now become fans as a result of that 6-7 minutes of greatness! Please go to Games 4, 5, 6 and 7 so we can see similar games because you must be good luck.
Warren Kelly
I love all 30 teams equally, Warren.
From Sportsmediawatch.blogspot.com:
"The Penguins' victory (on Wednesday) over the Red Wings drew a 2.4 final national rating with 4.0 million viewers, up 118 percent and 144 percent, respectively, from a 1.1 with 1.7 million viewers last year. Keep in mind Game 3 last year aired on a Saturday night, the lowest rated night of the week.
The 2.4 rating is the highest for Game 3 of the Stanley Cup finals since 2002, when Red Wings/Hurricanes Game 3 drew a 3.3 rating. The 2.4 is also higher than the rating for any game from the 2007 Stanley Cup finals.
---
JB,
It was nice meeting you last night after the game. Hopefully, we didn't bother you too badly. Looking forward to hearing "Scott Township" tonight on SC. And get those pines planted next to your rink before it's too late. Take care and hopefully we run into each other next Wednesday celebrating another Cup in the 'Burgh.
Gerald W. Auld
This series will be Red Wings in 5, Penguins in 6 or Red Wings in 7.
---
Bucci,
When are we gonna see the much deserved "NHL 2Night" with Buccigross, Melrose and Don Cherry?
Max
Columbus, Ohio
The FCC has ruled that such a show would be unfair to all other TV shows. The FCC believes all television sets would be tuned to "NHL 2Night," and we can't afford to have Lou Dobbs roaming the streets unemployed.
---
Mr. Buccigross,
Thank you so much for being so kind to us tonight at the Pens game. I definitely think that they are back in this series now, especially if they can win on Saturday. Teddy and I have been big fans of yours since your days on ESPNEWS and now we read your weekly articles that come out on ESPN.com (and we would even watch your live tapings of SportsCenter if our mom allowed us to). Thanks again and we enjoyed meeting you.
All the best,
Ben (and Teddy) Ross
If my sons grow up to resemble Ben and Teddy Ross, I'll be proud. Not because of their impeccable taste in hockey coverage but because of their manners, disposition, smarts, conversation and kindness. The best Western Pa. has to offer. They will have a great life.
---
John,
I've been enjoying your column (and mourning the loss of "NHL 2Night") for the past few years. Keep up the good work. Attached is a picture of my 5-month-old son, Ethan James Trana. We've been enjoying watching Detroit Red Wings playoff games together. I think his first word might be Lidstrom.
Matthew Trana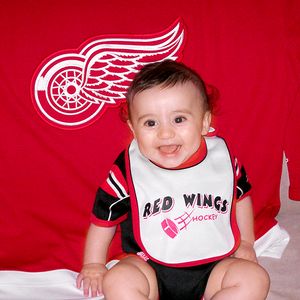 Kid Winger.
John Buccigross is an anchorman for "SportsCenter" and ESPNEWS. For questions, comments or crosschecks, e-mail him at john.buccigross@espn.com. To check out his new book, "Jonesy: Put Your Head Down & Skate," click here.