Thoughts on the eight playoff series:
Eastern Conference
Shot of the Week
You know how it works. We present an NHL photo, and Bucci provides a caption. E-mail him your suggestions (include your name and town/state), and we will use the best ones and provide a new photo the following week.
LAST WEEK: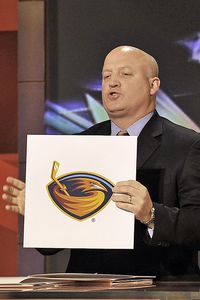 Bill Daly giving the bird (Getty Images)
Your captions:

"Now for your Rorschach test. What do you see?"
-- Elizabeth Kraatz (Leesburg, Va.)
"OK, Atlanta, who can tell me what this is?"
-- Andre Francoeur (Boston, Mass.)
"Hey guys, get me up a little higher. Oh, there it is. I see it! I see it!"
-- Mike (Arlington, Vt.)
"I will now demonstrate the call of the Atlanta Thrasher: (descending slide whistle sound)."
-- Dave Ellis (Eagle Harbor, Mich.)
"Playoff team? No deal."
-- Dave Foley (Fairfield, Conn.)
"And we'll start the bidding at $50 million … $10 million … $1 million? … Oh, Jim Balsillie, you still want to move a team to Canada? FREE to Jim Balsillie."
-- Adam Hauptli (Still in Boston)
"Mini-me all grown up."
-- Skip Longen (St. Paul, Minn.)
THIS WEEK:
Jaromir Jagr: "Don't look at him, don't look at him, don't look at him." (Getty Images)
Montreal vs. Boston
How can you not be happy for a great player like the Bruins' Marc Savard? Finally getting to play in the postseason for the first time and scoring the game winner in Game 3. The Bruins are a very inspiring story. The belief and passion with which they play is contagious. I don't see how they can beat Montreal three more times, but Boston's play tells me the organization is starting to get its footing and there is hope the Bruins will be relevant again. They will be major players for Marian Hossa this summer, and he is what they really need. Yes, Montreal has dominated the Bruins this season and still is the favorite to win this series, but this rivalry is regenerating and should continue to build in the coming years.
Pittsburgh vs. Ottawa
This series is a great example of one team pulling together and the other team pulling apart. The Penguins are a very close team with no drama. With each playoff win, they get closer, get more committed and have more belief they actually can win the Stanley Cup this spring. Sergei Gonchar is not getting enough credit for the Norris Trophy-caliber season he is having. He is a gigantic presence on the ice for Pittsburgh. This also has been the perfect first-round matchup for the young Penguins. And if the Flyers knock off the Caps and Montreal beats Boston, the Penguins will get the Devils-Rangers winner -- another good matchup. The Senators were the most obvious choice for a quick exit coming into the playoffs. Hockey is a very difficult game, and if not everyone is pulling, it's just cold and stinky.
Washington vs. Philadelphia
This one seems to have seven games written all over it. The crowd in Washington has been unreal, and it sure would be nice to see that excitement carry over into the next regular season as it has in Pittsburgh and Buffalo the past couple of seasons. I'm the only ESPN.com prognosticator to pick the Flyers, and going home should benefit them and their style. Obviously, the Capitals' No. 8 can blow up any plan, but the Flyers should be confident that their style is a nice match for the gambling Capitals. However, to seal the deal, the Flyers have to get great goaltending from Martin Biron. I sure would love to see captain Chris Clark come back in this series. He is exactly what the Caps need more of in the playoffs.
New Jersey vs. New York Rangers
What stands out in this series is Sean Avery's bizarre "Dancing With The Stars" routine with Martin Brodeur in Game 3. There is a term for him -- clown. That kind of stuff, coupled with the detached demeanor Avery seems to have toward the rest of the team's battles, has the potential to drain the Rangers. Maybe I'm reading too much into it, and maybe his teammates are largely ignoring him, but playoff hockey is difficult enough without having to try to manage some out-of-control, fall-out frat boy. It's even worse when he drags Brodeur into his sideshow. He's the Terrell Owens of the NHL, polluting the Rangers with his individuality. Can you imagine what Scott Stevens would have done had he seen Avery waving his stick like a giant windshield wiper in Brodeur's face? That also is partially an indictment of the contruction of the Devils' roster.
Western Conference
Detroit vs. Nashville
So far, this one is going as I thought it might. The home team has won each game. I picked the Red Wings in seven because Nashville's fans just go bonkers when the Red Wings come to town. It's like they are at a Toby Keith concert with free Milwaukee's Best. This should be a long series because Nashville does not fear Detroit. Of course, Wednesday is key for Nashville. Detroit has some veterans who have been in plenty of big games, and they at least know how to manage themselves and the game. That counts for a lot in the playoffs, unless you aren't as hungry.
San Jose vs. Calgary
Every time the Sharks suck you in with their promise and potential, they pull what they pulled in Game 3, when they inexplicably lost to Calgary. They simply don't know how to manage a game like that, and frankly, I thought Brian Campbell's effort on the Owen Nolan goal was weak. He should have done everything he could to block that shot. Even though San Jose lost Game 1, I felt good about its chances. The Sharks appeared to be the better team. Then they went out and proved it in Game 2 and early in Game 3. The Stanley Cup playoffs are about hunger and togetherness. That's it! The Sharks need to make that commitment to each other right now. I expect them to bounce back strong, but they need someone with presence to stand up and say, "Don't disappoint me!" Part of being a leader is convincing people that if you let THEM down, they might never talk to you again and might lose all respect for you. Who wanted Steve Yzerman to lose even a little respect for them as a result of not giving everything they had to the cause?
Minnesota vs. Colorado
Prior to the start of the series, I thought Minnesota was the better team, but I had a hunch Colorado could sneak out a series win. That's still possible, but after watching Game 3, one thing is blatantly clear: The Wild are much quicker than the Avalanche. That speed should wear the Avs down as the series progresses. 2001 was seven years ago. That was such a great time in Denver and a great time to be an Avs fans. It might never be that way again, and it's sad. We are talking about iconic players who wore that jersey. I'm so glad I got to experience it firsthand. Watching from the outside, it gave me an energy that only the pre-salary cap days probably provided.
Anaheim vs. Dallas
This should not be a surprise. I wrote this last week: "The Ducks had 102 points and all of that defensive prowess. They seem to lack a theme or purpose, but one playoff series win changes everything. I'll give the Ducks the benefit of the doubt and say they win, but Dallas is dangerous because the Stars can score." I should have seen the signs. I watched the Ducks a lot this regular season, and I never got a sense of a spark or electricity running through the team. I don't want to say it was joyless, but it certainly wasn't last year. Teams not following up on Stanley Cup success has been a recent trend. On top of that, the Ducks just are not a dangerous offensive team. Corey Perry's injury hurt them a lot, but even with him, they lacked firepower. Of all the teams to make the playoffs, the Ducks scored the fewest regular-season goals. If they want to win this series, they have to turn it into an ugly, desperation-filled sequence of events. They really haven't shown that resolve and buzz all year. It's time to turn on the switch, Anaheim.
Mother of All Mailbags
John,
Let's say Cristobal Huet has a good showing in the playoffs, do you think the Red Wings would make a push to get him on their team? Instead of getting an aging but elite goalie, they go for the younger Huet and hopefully have him around producing for years.
Josh
Three Rivers, Mich.
Cristobal Huet will be an attractive free agent this summer. He will turn 33 in September, a good age for a goaltender. He has three solid years of sample material to build on. His free-agent deal will end up being around four years, $18-20 million. An incredible playoff run could get Huet into J.S. Giguere territory, $5.5 million year. Obviously, if someone wants him badly, they will go five years. Three years probably is the most fiscally prudent, four years is acceptable and five years would be a reach.
The Red Wings certainly fall into a group of teams that could be interested at $4-5 million. The Capitals probably are the favorites to keep him if they like what they see up close.
---
Hey Bucci,
It may just be me, but I'm pretty angry about the lack of coverage and respect that Keith Tkachuk received after scoring his 500th career goal on the final day of the regular season. Mike Modano got way more media and it took him 2 more years of playing than Tkachuk. Tkachuk will pass Modano to be the American born player with the most goals. Why do you think that he got less coverage than Modano?
Go Sharks (only for the playoffs)
Brett
Lansing, Mich.
That's a good point, Brett. Keith Tkachuk's 500th career goal was an understated event. Some possible reasons, and how it compares to Modano's:
Tkachuk's happened on a Sunday during the final game of the regular season in Columbus, Ohio, between two non-playoff teams. Modano recorded his at home in Dallas on a Tuesday night in March.
Modano has been with the same organization his entire career. Initially in Minnesota, the heartbeat of hockey in the United States. And then on to Dallas -- a big market that took to hockey right away, aided by the fact that the Stars were good and entertaining. One uniform for one man always has been a rarity. And he won a Stanley Cup while playing with a broken wrist.
Modano is very likeable. His game and even his name are graceful and friendly. Think Jean Beliveau.
Modano televises well. His blades appear to hover over the ice as he gallops about like a thoroughbred. His single-digit No. 9 is clean and unobtrusive.
Tkachuk has played in Winnipeg, Arizona, Atlanta and St. Louis. Only twice in his career has Tkachuk been on a team good enough to get to the second round. He hasn't had any monster playoff moments.
Tkachuk is a Hall of Famer. To score 500 goals without playing any years in the 70s or 80s is quite an accomplishment. But perhaps some of the reasons above are why his career lacks the traction of Modano's.
---
John,
Please tell me you have heard the greatness that is the new REM record? How awesome is it that the boys from Athens are back rocking again? Also in case you haven't checked out the new Black Keys record, do so as well. Awesome stuff. One more question: Do you think the Thrashers will be able to get an impact player in the draft this season? They should have a top 3 pick with Tampa probably getting the No. 1 pick, but do you think they will be able to get a player that will help them in 2008-2009 season?
Thanks,
Scott
Atlanta
I love the new REM disc, but I also liked the previous three.
The Thrashers are in position to select a very good young defenseman with the third overall pick. Alex Pietrangelo or Zach Bogosian will be sitting there. But as we know, young defensemen usually need a year or two to have any effect. Dion Phaneuf was 20 years old during his rookie season. Pietrangelo and Bogosian will be 18 in the fall. There is no reason to play them until they are 20 years old in order to develop them correctly and delay their restrictive free agency.
---
John,
Two questions: First, who do you think is the Rangers most important young player (after the King)? I say Marc Staal because he is going to be a top-line, All-Star defensemen. A close second has to be Ryan Callahan for his energy and potential.
What do you think of the Rangers future overall? After the old guard of Jagr/Shanny retire, how do you think Big Blue (Life-long Jets fan, forget the Giants) will do in MSG?
Ben Berk
The Rangers are positioned to be a good team for a long time. They have a 26-year-old franchise goalie with a couple of good young defensemen (Marc Staal, Fedor Tyutin) whom they can reasonably project to improve. They likely will be one of many teams to fish for Brian Campbell if he doesn't re-sign with the Sharks before going to unrestricted free agency.
Up front, there have to be some concerns with the offense. This time next year, Brendan Shanahan will be 40, Jaromir Jagr 37 and Martin Straka 36. Chris Drury will be 32. Scott Gomez will be only 29, but he is not an elite, $7-million-a-year player. I always have liked Gomez as a player and still do, but he had 16 goals this season and was tied for 38th in scoring. Part of that is the Rangers lack a big-time scoring winger and need one badly.
In a conference in which other teams have Crosby, Malkin, Ovechkin, Kovalchuk, Lecavalier and plenty of other young players, the Rangers have to be concerned about their ability to generate offense as some key players age. They also need to determine whether their young players will develop into goal scorers.
One would expect the Rangers to bid adieu to Jagr and Shanahan and use their cap numbers to go after Campbell or Marian Hossa. And they have to decide if they are going to pay Sean Avery $4 million a year. To me, Campbell seems better suited to a smaller market. Hossa would fit in perfectly, as he would on any team, because he is smart, fast and productive, and he doesn't compromise a team's defense.
---
Bucci,
Great season of articles yet again! Also, Jonesy kicks butt. Wonderful read. Loved hearing the stories about all the old Caps.
Just read your playoff column and in the e-mail section you talked about Melrose coaching the Thrashers. I was at Game 4 of the final between the Caps and Wings and bumped into Melrose. This was a year or two before the Thrashers existence (but we knew we were getting a team). I offered him the coaching job and he turned it down saying, "You guys don't even have a GM yet!"
Can you even imagine a mullet like that coaching hockey in Georgia!?!? Attendance would go through the roof. Please tell him the offer is still on the table.
Taylor
Dahlonega, Ga.
Thanks for reading "Jonesy: Put Your Head Down and Skate. The Improbable NHL Career of Keith Jones." Forward by Raymond Bourque. Available online where all good books are available! Great for Capitals, Avalanche and Flyers fans! What better way to supplement your playoff passion and excitement than to pick up a copy of "Jonesy" today? C'mon, only one more month of tiresome, self-serving plugs! Although, remember, proceeds from the book do go to Alex's Lemonade Stand Foundation, which raises money to fight childhood cancer.
Hockey Fact: All-time playoff goal leaders: Wayne Gretzky 122, Mark Messier 109, Jari Kurri 106, Brett Hull 103, Glenn Anderson 93.
---
John,
I am a dyed-in-the-wool Rangers fan. I have been to 67 Rangers games at Madison Square Garden and one at the TD Banknorth Garden in Boston since the lockout ended. In addition to individual game tickets and the occasional purchase from a ticket "broker," I have shelled out for mini-plans each season (seven games first year, 11 games the next three). With the plans, I received a pre-sale for postseason tickets allowing up to two games at the same prices full-season ticket holders pay. Through the pre-sale last year, I was able to see Michal Rozsival send the MSG to the moon in double overtime against the Sabres. This year, the MSG brass increased the price of postseason tickets for mini-plan holders 180 percent!!! They went from $30.00 in the upper deck to $84.00! The full-season ticket holders had an increase of $25.00, or "only" 83 percent. The other sections' prices were raised, but not nearly as much percentage wise. I could go on a rant about the Rangers unfairly exploiting the loyalty of the most passionate sector of their fan base, but rather I am simply bitter that the Rangers have put me in an impossible situation between affording rent or going to hockey games. I realize that cheering for a professional sports team must be kept in the proper perspective, but I didn't need to be reminded by the Rangers with all the subtlety of a Dion Phaneuf slap shot to the groin. The Devils raised ticket prices over 100 percent in some sections of their new arena, and a small but extremely vocal section of one of these two fan bases, is going to say at the end of the series when they see their team lose, "The "expletive" deserved it."
(Hopefully Devils' fans)
Sincerely,
Giles Mitchell
New York
Interesting stuff from John Vogl of The Buffalo News:
Part of the reason the NHL went through a lockout in 2004-05 was because teams said they were spending 76 percent of their revenue on salaries. Managing partner Larry Quinn said the Sabres are almost back to their pre-lockout days. He said the Sabres spent about $46.5 million on salaries, though that total includes the $2.6 million not given to Teppo Numminen after he failed his physical.
"The whole basis of the collective bargaining agreement is to spend about 56 percent of your revenues on hockey players," Quinn said. "We spent about 65, almost 70 percent of our revenues on hockey players last year. We've been able to keep ourselves in the black because, quite frankly, we operate very efficiently here and we've gotten some tremendous support for our fans."
Quinn said not making the playoffs will ding the team's bottom line, but not as much as people believe.
"During the playoffs, you're contributing about half of your money back to the league in this new system," Quinn said. "So although it's important and you make money on it, it's not what it used to be."
---
Bucci,
Turns out Bill Berry's LT girlfriend and lovechild live three doors down from me. I just learned this when he drove by the other day and a neighbor filled me in. He has TWICE been at the door handing out Halloween candy to MY kiddos. Of course he dressed up to hand out the candy because he is cool. Guess what he dressed as last October? Three guesses.
A. Willie Plett
B. A bucket of cole slaw
C. Michael Stipe
Carolyn Dehring
University of Georgia
C.
---
Hi John,
My husband and I read your column faithfully. Although he is a Flyers fan, and I love the Penguins, we have managed to make our marriage work. As we live in the 'Burgh, my husband graciously agreed to raise our first-born, Brooks (yeah, as in Herb) as a Pens fan. Here he is a few hours before tonight's game one of the Pens-Sens series, dreaming of a long run for our team!
Thanks for a terrific column!
Deb Brady
PS -- We have another baby on the way, so I suppose I'll have to buy some Flyers gear for him/her. Sigh.
Bawl point Pen.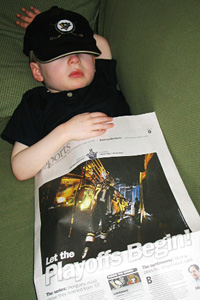 John Buccigross is an anchorman for "SportsCenter" and ESPNEWS. For questions, comments or crosschecks, e-mail him at john.buccigross@espn.com. To check out his new book, "Jonesy: Put Your Head Down & Skate," click here.