PRAGUE, Czech Republic -- When Cap Raeder first worked as an assistant coach for Barry Melrose, he barely heard a word from the then-Los Angeles Kings bench boss.
Melrose hadn't had an assistant before earning the Kings job and inherited Raeder from the Kings' previous regime.
"Things didn't start out too well," Raeder recalled.
A Team Can Dream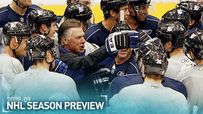 First, it was Phoenix (not so good). Then, it was Washington (very good). Now, our third "Team Can Dream" project is ... Tampa Bay. With a revamped staff and team, can the Bolts rebound from the NHL basement? Burnside
• Burnside: Bolts team preview
Frustrated at the lack of communication between the two, Raeder suggested they go out one night. They were watching the Little League World Series, and the Far East team was pounding the United States. Raeder complained that it looked as if the Far East team wasn't as young as it was supposed to be, and Melrose responded that it was just like an American to complain if the U.S. was getting beat. The debate got a bit heated.
The next day, Raeder had a phony news release drawn up, announcing that the team had forfeited the game for using overage players. He left the release on Melrose's desk. After reading it, Melrose apologized to Raeder and headed off to share the breaking news with the training staff and team.
Raeder thought briefly about letting the gag run on but stopped Melrose before he said anything.
But things got worse a few weeks later, when Raeder cracked Melrose's luxury sedan.
The two coaches and their wives had been invited to dinner at Kings owner Bruce McNall's mansion in Beverly Hills. Raeder told Melrose he wasn't a great driver, but Melrose insisted he should drive.
"I'm a terrible driver. I'm a Boston driver," Raeder explained.
Raeder found McNall's home but didn't know how to broach the imposing gates that fronted the property. When the gates finally opened, Raeder tried to drive through, but they began to close just as he was passing them and scraped the sides of Melrose's shiny Lincoln Town Car from front to back.
"It looked like a skunk," Raeder recalled.
And it had a flat tire.
Raeder survived the gaffes, and the two became good friends. But he later asked Melrose how two opposites could have reached that point. Melrose told him it started with the baseball prank.
"He said, 'From then on, I trusted you,'" Raeder recalled. "I'd forgotten all about it, but he said, 'You didn't let me hang myself.'"
It was no surprise, then, that one of the first calls Melrose made when he was hired to coach the Tampa Bay Lightning this past summer was to Raeder. Accepting the assistant coach position wasn't an easy decision for the 54-year-old Raeder. He had been with the San Jose Sharks as a goalie consultant and scout for 11 years, a job he took shortly after he and Melrose were fired from the Kings at the end of the 1995 season. He was based mostly in the Boston area. He had family there. He was comfortable.
"But there's only so many people that you want to work with," he said.
Evaluating NHL coaches and their relative importance is a bit of a mug's game.
How do you explain why current Leafs head coach Ron Wilson, generally accepted as one of the game's bright coaching minds, couldn't get San Jose past the second round of the playoffs for three straight seasons? Or why Bruce Boudreau was buried in the minors for years only to earn NHL coach of the year honors in less than one full season in Washington?
Still, there is a consistent belief in the hockey community that the decision to hire Melrose after a 13½-year absence from the coaching scene runs somewhere between risky and foolhardy.
"That's a big question mark for them," national hockey analyst and former NHL netminder Darren Eliot said recently.
Other hockey sources, including current NHL general managers, questioned Melrose's ability to stay current on trends in penalty killing, power plays and defensive schemes.
One of the Lightning's new owners, former NHLer Len Barrie, rolls his eyes at the oft-repeated questions surrounding the team's coaching choice. He said he's amazed at the number of coaches who are regularly hired or rehired who have sub-.500 records.
"We went outside the box to a certain extent with Barry," Barrie said.
Melrose, 52, is aware of the tittering his hiring caused throughout the hockey world. He also is aware of the skepticism.
"I've been on the other side of the fence," said Melrose, who was a full-time ESPN analyst from 1996 until this past summer. "That's their job."
It used to be his. But he said he's back where he feels most comfortable.
"I'm in my element," he said. "It's like riding a bike. From my point of view, it's what I love to do. A hockey guy, this is what he does."
The Lightning's ownership group immediately surrounded Melrose with a solid group of hockey people, including Rick Tocchet, former Minnesota Wild forward Wes Walz and Raeder, a former goaltender and collegiate coach.
Although Melrose has asserted that the game has come full circle since he last coached, Barrie said he's made sure that Melrose is open to suggestions from his staff. "No matter what anyone says, the game's not what it was 15 years ago," Barrie said.
Melrose said he needs to work at delegating responsibility. But Walz, who has been working with a penalty-killing group that has been a pleasant surprise early on in training camp, said that the group checked its egos at the door and that there has been an open discussion of ideas.
Tocchet, a prized assistant with Wayne Gretzky's Phoenix Coyotes coaching staff before a gambling scandal cost him two years of work, has been working with the power play. Raeder works with the team's netminders and offers overall assessments.
"[Melrose] wants you to throw ideas out. Not that he's going to take them all, but he wants you to throw them out," Raeder said.
What can you tell from watching practice and exhibition games? Hard to say just yet, but an at-ease feeling surrounds the coaching staff. Melrose has worked his players hard and the practices have been long, yet there remains an upbeat feeling about the team. If there were issues of credibility, if Melrose hadn't established some sort of connection with his coaches and players, they would almost have surfaced by now.
Captain Vincent Lecavalier has known only the demanding, sometimes abrasive way of John Tortorella for the past six seasons.
"I'm used to only one way, really," he said. "I think Barry's first of all been working really hard to get us together, and he's been doing a great job at it."
Melrose's staff also has contributed to the evolution in Tampa. "They know things. They've played in the league. They definitely bring some very big things to the table," Lecavalier added.
As Melrose's Bolts close in on their first regular-season test Saturday and Sunday here against the New York Rangers, Melrose the coach is asserting himself.
Young defensemen Mike Lundin and 6-foot-7 Vladimir Mihalik have both seized opportunities and played themselves onto the team and up the depth chart.
"This is a kid no one had given a chance of playing in the NHL this year -- no one," Melrose said of Mihalik. Yet the 21-year-old Slovak has played in four games and made few mistakes in the biggest surprise story of camp, according to Melrose. The coach also has adjusted his forward lines, moving Jussi Jokinen from wing to center.
"The first two days of camp, he never touched the puck. Now, he's probably been our best center in camp," Melrose said of the Finnish forward. Jokinen was part of the package returned from Dallas in February in the Brad Richards deal.
Are there disappointments?
Sure, Melrose said. "We've got guys that aren't playing the way we've envisioned." He added that his job, and the job of his coaching staff, is to change that.
In the coming days and weeks, the hockey world will watch closely to see just how well Melrose does the second time around.
Scott Burnside covers the NHL for ESPN.com.