Len Redkoles/NHLI/Getty Images The Thrashers are hoping for more scoring from Evander Kane.
Thrashers: 10 Things You Need To Know
By Scott Burnside
It's been a full decade of NHL hockey in Atlanta, and the city and its dwindling number of fans still await the team's first playoff victory. A decade of hockey and not one single playoff victory. That's not all that surprising given that the team has qualified for the postseason just once.
But that is about to change.
With veteran talent prospector Rick Dudley taking over for longtime pal Don Waddell as GM and Dudley's former minor league roommate Craig Ramsay taking over behind the bench, there is a sense in talking to other coaches and GMs that this is a team about to turn a corner.
Dudley has stocked the Thrashers with a handful of recent Cup winners from Chicago and a solid No. 1 netminder who should mesh nicely with a promising group of young players already in house. If this group pays attention to Ramsay's "safe is death" mantra -- first uttered in Tampa, where he helped guide the Bolts to a Cup in 2004 -- this may be the start of something entertaining, if not special, in Atlanta.
1. The Chicago Four
If you believe experience counts for something, then being able to bring four members of a Cup-winning team into your lineup should be a good thing. Ben Eager will add some toughness up front and Andrew Ladd (see below) has 20-goal potential and boasts two Cup rings from two different teams (he won with Carolina in 2006 before joining the Blackhawks). Brent Sopel brings some nice depth to the blue line, while the wild card will be playoff hero Dustin Byfuglien, who started training camp back on defense, the position he played when drafted by Chicago.
2. Adding Ladd
With captain Ilya Kovalchuk long gone, there is some debate as to who will wear the "C." We're guessing newcomer Ladd will get a serious look from management and coaching staff. Ladd had 17 goals last season with Chicago in a mostly checking role. He'll get more offensive opportunity with the Thrashers and could/should top the 20-goal mark. More importantly, he will be asked to do what he did in Chicago, and that's to be a calming influence in the dressing room.
3. Big Buff
Of all the new additions, none comes with as many expectations or question marks as the big man from Northern Minnesota. Byfuglien came into the league as a defenseman, but was converted to forward by the defense-rich Blackhawks. He flourished there, even though there were issues about his conditioning and focus. Those issues disappeared in the playoffs last spring, when Byfuglien scored 11 times, including a league-best five game winners.
It looks as though Byfuglien will return to defense, at least to start the season, in a move that has others in the hockey world a little puzzled. Dudley said Byfuglien is a rare specimen given his size (6-foot-4, 257 pounds) combined with good quickness and a big shot. His adjustment will be key to the Thrashers getting off to a good start.
"Buff can do anything he wants to do," Dudley said. The Thrashers are hoping he wants to do it in Atlanta.
4. The blue line
With Zach Bogosian presumably fully recovered from a wrist injury that limited his mobility and strength last season, the top four appears solid with him, Swedish Olympians Tobias Enstrom and Johnny Oduya, and Ron Hainsey. If Byfuglien adjusts, he will compete for ice time with those guys, while Sopel likely will round out the top six.
5. In the crease
Chris Mason was made expendable when he couldn't come to terms with the St. Louis Blues and they scooped up playoff hero Jaroslav Halak from Montreal. The Thrashers then scooped up Mason for the relatively inexpensive price tag of $1.85 million per year. Mason collected 57 wins over the past two seasons and should give the Thrashers the kind of consistency they have lacked. He will push young netminder Ondrej Pavelec to be more consistent. When he's good, Pavelec is very good. He just needs to be good more often. Mason should prove to be an upgrade over the long haul.
6. Who's gonna score?
The question coming into training camp was, who will replace the 45-50 goals Kovalchuk accounted for every season? With Ramsay's new puck-possession, go-after-it offense, the hope is that scoring will be equitably distributed among the team's top three lines. That means Bryan Little, awarded a three-year deal worth $7.15 million in the offseason, will have to bounce back after a 13-goal effort last season. He had 31 goals the year before and will return to his natural position as a center.
Niclas Bergfors will compete for top-six minutes along with Nik Antropov, sophomore Evander Kane and Rich Peverley. Fredrik Modin, once upon a time a 30-goal guy, is in the mix. Patrice Cormier broke his foot before camp started and won't be available until after the season starts. In his absence, Alexander Burmistrov, the team's top pick from June, may get a longer look.
7. Who's gonna score on the power play?
Last season, the Thrashers were 25th on the power play. Since much of the criticism of departing coach John Anderson was a lack of structure, the idea is that the Thrashers' power play should be much more dynamic under Ramsay. It better be.
8. Meanwhile ...
The Thrashers were actually respectable on the penalty kill, something that hasn't always been the case. They finished 16th overall and spent much of the season in the top 10. The Thrash also managed to collect nine short-handed goals, tied for second-most in the league. That's a good start for a squad that promises to be aggressive.
9. Rumor mongers
What's the over/under on the number of times the Thrashers will come up in discussion about possible relocation to Winnipeg? Or Quebec City? We're guessing 50. People always point to Atlanta as a bad hockey market, but how can anyone tell whether the market's bad or not given the failure of the product on the ice?
"No one can tell me Washington's a better hockey market than Atlanta," Dudley said.
It's an interesting point. It wasn't that many years ago that the Verizon Center was a dust magnet. But the Caps got real good and marketed themselves properly and now hockey is the hottest ticket in town. Could Atlanta replicate that kind of success?
10. Team smarts?
Do the Thrashers have enough collective hockey IQ to assimilate what Ramsay will want them to do? The squad is young enough and should be motivated enough. But the question is whether the team can collect enough points in the first weeks of the season -- when the system will truly be put to the test -- to keep from being buried early.
PREDICTION: The Thrashers will battle the new-look Tampa Bay Lightning for second place in the suddenly improved Southeast Division, but will fall short. But not short enough to miss the playoffs again; they'll sneak in as the eighth seed.
Scott Burnside covers the NHL for ESPN.com.
More From The Magazine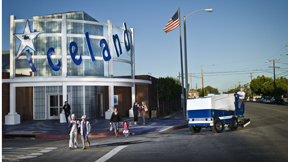 ESPN The Magazine's "Ice Issue" provides even more in-depth coverage of the upcoming NHL season:
• Smith: What is Gary Bettman's legacy?
• Fleming: Most beloved machine in sports
• Berra: The Red Wings' scouting edge
Coach's Corner
Coach:
Craig Ramsay
Experience:
Entering first full season as NHL coach (he was an interim head coach in Buffalo and Philly)
Record:
16-27-6
Stanley Cup titles:
N/A
• Craig Ramsay is among the most respected coaches in the game, and this head-coaching gig comes late in the going for him. But he may have the perfect temperament, not to mention game plan, for a young Thrashers team that has struggled to find an identity.
As GM Rick Dudley told us, he always comes away from a discussion with Ramsay with something to think about, something he hadn't necessarily considered before. Will it translate into success for the Thrashers? Many around the hockey world believe it will.
The Fab Five
Burnside's top positional players for the Thrashers:

F -- Nik Antropov: While the Thrashers are a bit unsettled down the middle, coach Craig Ramsay thinks Antropov could be a dominant player.

F -- Niclas Bergfors: Needs to take another step forward this season after notching 21 goals last season.

F -- Evander Kane: An injury disrupted his promising rookie season, but he should thrive under Ramsay.

D -- Zach Bogosian: Can he be as good as Drew Doughty?

D -- Tobias Enstrom: Small but skilled, Enstrom should thrive in the new system.
Fantasy Focus

Best bet: Tobias Enstrom
A breakout season was expected in 2009-10 and Enstrom delivered. The 25-year-old Swede managed 50 points through a complete 82-game schedule, including 19 on the power play. The Thrashers' offense will take a mild hit this season with the departure of Ilya Kovalchuk, but there's enough young talent up front to ensure Enstrom will have another chance to put up points consistently. -- Victoria Matiash

Risky pick: Chris Mason
Mason does well when he's frequently pelted with vulcanized rubber. In games in which he faced 34 shots or more, Mason had a 10-3-5 record and .932 save percentage last season. This makes sense: face more shots, make more saves. But Mason gets it done. He is a reliable No. 2 option for your team. -- Tim Kavanagh

Sleeper pick: Niclas Bergfors
Bergfors didn't look out of place as a first-line forward after he was acquired from New Jersey in the Kovalchuk trade last season. He scored 17 points in 27 games with the Thrashers and looked like he deserved even more time as a top-line guy. He'll get his chance this season. Bergfors could secure 25 goals and 50 points. Given that as a basement, he certainly appears to be a nice pick as your last starter. -- Sean Allen
More Fantasy: Join now! » Draft kit » Ranks »
Insider: NHL
The Rankings
See how all 30 NHL teams stack up for the coming campaign in The Magazine's 2010-11 Rankings. Story