Elsa/Getty Images Tyler Seguin, the No. 2 overall pick in this past June's draft, is already making an impact in Boston.
Bruins: 10 Things You Need To Know
By Pierre LeBrun
We'll find out a lot about the Boston Bruins this season. The way in which they recover from last spring's second-round meltdown will be paramount to their success.
"It sits with you all summer," Bruins GM Peter Chiarelli told ESPN.com. "You never forget about it. It makes you stronger. You can't ignore it. It's the elephant in the room, but you can minimize it and build from it."
No, you certainly can't ignore it: The Bruins became the first team in 35 years to blow a 3-0 lead and lose a series. Ouch.
The Blackhawks snapped a 49-year Stanley Cup drought last season. The Bruins have gone 38 years and counting. Can Boston follow in Chicago's footsteps? The Bruins finished first in the East two seasons ago and were one win away from the conference finals this past spring. From the front office to the dressing room, the Bruins believe they belong in the same class as contenders Washington, Pittsburgh, Philadelphia and New Jersey.
"I look at last year as part of a larger learning curve," Chiarelli said. "With the talent level, we should be back in the top echelon in the East. I expect it to take a little time to heal the wounds from last year, but I know our group is a strong bunch."
The Bruins added forwards Tyler Seguin, Nathan Horton and Gregory Campbell in the offseason and cut ties with forwards Vladimir Sobotka, Steve Begin and Miroslav Satan, as well as blueliner Dennis Wideman.
1. The Horton trade
It was Chiarelli's offseason blockbuster. The Bruins acquired a 25-year-old power forward who has 35-goal potential and hope the change of scenery from Florida will give him a boost. They gave up a valuable top-four defenseman in Wideman, but the B's hope it's worth it.
"He brings size and scoring," Chiarelli said. "I know there are questions that people have asked about him in Florida about underachieving, but he's young and he's a great player. How many times have we seen a change of scenery impact a player? You can't deny his talent, his size and his skill."
2. Another move
And don't forget Gregory Campbell from that same trade. The gritty and intelligent Campbell solidifies Boston's third line.
"Gregory is a very good defensive player who's great on faceoffs," Patrice Bergeron said.
3. Savard's status
The Bruins begin the season without the services of top center Marc Savard, who revealed during camp that he was still suffering from post-concussion syndrome as a result of a hit he took from Matt Cooke last season. Savard came back in the playoffs (he shouldn't have) and then began to have problems during his offseason workouts. Chiarelli confirmed to ESPN.com during camp that he had "minimal" trade talks with "two or three" teams during the summer for Savard, but nothing ever came close.
Savard's return to the Bruins' lineup is up in the air as the regular season approaches. His absence means center David Krejci has been asked to step up, and he appeared set to begin the season playing between Horton and David Krejci, while Bergeron centered Seguin and Mark Recchi.
4. Another void
Winger Marco Sturm (knee) also begins the season on the shelf.
"He's scheduled to come back anywhere from mid-November to the end of November," Chiarelli told ESPN.com at the onset of training camp.
Once both Sturm and Savard are back in the lineup this season, the Bruins will need to make salary-cap room. But for now, especially given the uncertainty of Savard, that's on the back burner.
5. No offense
The Bruins were 30th last season in offense, averaging only 2.39 goals per game.
"I look at that as an anomaly because I have to look at the year before, too," said Chiarelli, whose team was second in the NHL in offense in 2008-09. "We had some injuries last season. Our personnel was depleted from the injury perspective but also from the performance perspective. I think we will improve our scoring. I would have thought that even had we maintained the same lineup, so I expect we'll be even better with the additions to the lineup."
6. Draft picks pay off
Thanks to the Phil Kessel trade with Toronto in September 2009, the Bruins had the Maple Leafs' second overall pick this past June and took Seguin, who has franchise player written all over him.
"I think Boston should be excited about getting a player like him," Bergeron said. "He seems like a very smart and down-to-earth kid. Bruins fans should be happy."
The Bruins want to make sure not to raise expectations too high during the 18-year-old's first season.
"I think you've seen over history that it's not often players of his age and pedigree make a huge impact right away in their first year," Chiarelli said. "I think it'll be a slow and gradual process."
7. Lucic's back?
Milan Lucic's offensive production was cut in half last season, as an injury-filled season limited his ability and kept him out 32 games. The Bruins need him back to his 2008-09 form.
"With Milan, it's about re-establishing his identity, what gives him the time and space," Chiarelli said. "He's got a new contract. There's a little more pressure to perform, but he's a clutch player. With Milan, it's about the physical play first. We've told him that's his bread and butter."
8. The goaltending
The Bruins have quite the tandem in net. Two years ago, Tim Thomas won the Vezina Trophy. Last season, Tuukka Rask wrestled most of the starts and posted the lowest goals-against average (1.97) and save percentage (.931) in the NHL. Thomas came to camp eager to reclaim his pride.
"I've never seen Tim more motivated right now," Chiarelli said. "There's no reason why we shouldn't be in the top two or three in goals against between the two of them. ... I thought Tuukka tired at the end of last year. Tim had injury issues last year. But he's motivated and we're going to have a really good tandem there."
The Bruins looked at the trade market for Thomas during the summer, and a good start by the veteran might reignite those talks.
9. Big man on the blue line
Zdeno Chara followed up a Norris trophy season in 2008-09 with a good campaign in 2009-10, but not a great one. He dipped from 19 goals the season before to only seven last season, partly because he played through a finger injury. He still totaled 44 points, not bad for a so-called "down" year. But with Wideman gone, Chara needs to pick up the offensive slack from the back end. Look for him to do just that.
10. Road trip
The Bruins open the regular season in Prague with a pair of games against the Phoenix Coyotes. They hope to join a recent trend -- Pittsburgh began the 2008-09 season in Stockholm en route to a Stanley Cup, and Chicago turned the trick last season after beginning the campaign in Helsinki.
PREDICTION: The Bruins will overcome their springtime nightmare, as well as Savard's setback, to win the Northeast Division and place third in the Eastern Conference.
Pierre LeBrun covers the NHL for ESPN.com.
More From The Magazine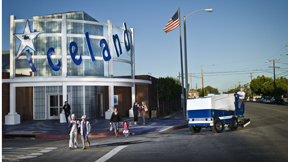 ESPN The Magazine's "Ice Issue" provides even more in-depth coverage of the upcoming NHL season:
• Smith: What is Gary Bettman's legacy?
• Fleming: Most beloved machine in sports
• Berra: The Red Wings' scouting edge
Coach's Corner
Coach:
Claude Julien
Experience:
6½ seasons
Record:
252-164-24
Stanley Cup titles:
0
• Claude Julien enters his fourth year behind the Bruins' bench, having guided his team to the playoffs in each of his seasons in Beantown. And you know the Bruins will play well defensively.
Under Julien's defense-first system, the Bruins have given up the second-fewest goals in the NHL for two straight seasons. One of his challenges early this season is to make sure there are no mental wounds from last spring's historical collapse.
The Fab Five
LeBrun's top positional players for the Bruins:

F -- Nathan Horton: Is this the Cam Neely trade revisited two decades later?

F -- Patrice Bergeron: The team's most complete forward, Bergeron looks to best the 52 points he put up last season.

F -- Marc Savard: The most gifted playmaker on the team is shelved by post-concussion syndrome as the season opens. How long he's out is a big X factor for the Bruins.

D -- Zdeno Chara: The Bruins captain produced a bit less offensively last season, but his 44 points, amazingly, were still third overall on the team.

D -- Dennis Seidenberg: The German defender was able to post a plus-9 rating in only 17 regular-season games with the Bruins after his trade from Florida last season.
Fantasy Focus

Best bet: Zdeno Chara
If Chara doesn't collect 50 points with 100 penalty minutes while skating more than 25 minutes per game, his season is considered a disappointment. Therefore, last season was a bit of a letdown. His past play suggests this season should be better, especially considering Chara is a free agent next summer and might put forth a little more effort. -- Victoria Matiash

Risky pick: Marc Savard
Savard can make the perfect pass no matter what team he is on or how much money he is making, so the biggest question is whether the concussion he sustained from Matt Cooke's elbow will have a lasting impact. He won't be ready to start the season, so draft him later than you usually would a top-20 forward. -- Sean Allen

Sleeper pick: Tyler Seguin
Seguin looked terrific in rookie camp and seems poised for a strong rookie season. Seguin, the No. 2 overall pick, has remained focused on becoming the best player he can. His 48 goals for the OHL's Plymouth Whalers were more than twice as many as anyone else on that team last season. Considering the number of skilled wingers the Bruins have and the trouble young players have transferring their skills to the NHL, there is no reason to make Seguin an early draft pick. He should definitely be a reserve pick in shallow leagues. -- SA
More Fantasy: Join now! » Draft kit » Ranks »
Insider: NHL
The Rankings
See how all 30 NHL teams stack up for the coming campaign in The Magazine's 2010-11 Rankings. Story