Bill Wippert/NHLI/Getty Images Tyler Myers -- a.k.a. "The Big Easy" -- won rookie of the year honors last season.
Sabres: 10 Things You Need To Know
By Pierre LeBrun
The Buffalo Sabres rebounded from missing the playoffs in 2008-09 by roaring back to win the Northeast Division last season.
The turnaround was fueled by a Vezina Trophy season from Ryan Miller and the sparkling emergence of Calder Memorial Trophy winner Tyler Myers on Buffalo's blue line. But a first-round loss to Boston sent the Sabres home in a foul mood. Then the fans got grumpier when the offseason didn't see much improvement to the roster.
Still, Miller believes his team turned the corner last season and is ready for bigger things.
"We did lose some players, but we have a core that knows what's going on," the Sabres' star goalie told ESPN.com. "I think we do have a great amount of talent and the guys on the team are very smart. We play a good system. That's what does it for you, if consistently every night guys know where they have to be shift to shift. From there, they can be creative and you can be a great team."
The goal this season?
"Stanley Cup," Miller said. "You have to set the bar high. You can't just be happy trying to make it to the second or third round of the playoffs."
1. The defense
The blue line underwent some changes. Henrik Tallinder and Toni Lydman left via free agency and were replaced by Jordan Leopold and Shaone Morrisonn. Sabres fans weren't generally enamored with the swap, but Buffalo believes there will be improvement from within.
"[Craig] Rivet went through a shoulder problem all last year and had offseason shoulder surgery," Buffalo coach Lindy Ruff told ESPN.com during camp. "He's doing really well, and we would hope his play would be a lot better since he had the surgery. We've got [Chris] Butler and [Andrej] Sekera that will battle for ice time. I think there's a good mix there. ... Leopold can really help on the offensive side, and Morrison can be like a Tallinder."
The Sabres need Sekera or Butler to take that next step this season for this group to improve from last season.
2. The secret is out
Myers deservedly won the Calder Memorial Trophy last season as rookie of the year, making the jump from Canadian junior hockey, delivering 48 points (11-37) and averaging a whopping 23:44 minutes a night in 82 regular-season games. But now the secret is out. Opposing teams know all about Myers and will key in on him during pregame meetings.
"They're going to know your tendencies," Ruff said of Myers. "It's going to be a harder year for you. You get a bit of a free ride that first year. I would just echo to him that it'll be more difficult this year. You'll have to pay more attention to detail."
3. Who's under the radar?
"Drew Stafford," Miller said of his teammate. "I just get the feeling from him; he cares so much about the way he plays. I think he's a very creative player. Sometimes creative players get frustrated when things aren't clicking for them, but I think he's been building his game. He's slimmed down a bit, he looks real fast, and he's still got the great hands and the great shot."
The Sabres hope to get more offense from several players, notably leading scorer Derek Roy, sniper Thomas Vanek and, yes, Stafford. Roy led the team with 69 points (26-43) last season, while Vanek, a two-time 40-goal scorer, sunk to 28 goals. Stafford, who seemed to figure it out with a 20-goal campaign in 2008-09, slipped to 14 last season, as well as dropping 11 fewer points overall.
4. The right balance
Ruff wants just 20 more goals overall because last season the team showed tremendous balance by placing 10th overall in NHL offense and fourth in defense. That's the kind of mix all coaches strive for.
"It's important that we see us maintain similar numbers defensively," Ruff said. "I'd like to see our team maybe climb up a little bit on the offensive side. Those are good numbers, but you'd still like to improve that offensive side."
5. The two-way game
Those stellar defensive numbers last season came thanks in part to Sabres players being willing to embrace a better two-way game, shedding their fire-wagon ways that had seen them come out of the lockout guns a-blazing. But let's be honest -- Mr. Team USA had a pretty big part in it, too. Ryan Miller was superb last season and easily won his first career Vezina Trophy.
That will present a challenge, Ruff said.
"That's not an easy job," the coach said. "We would like to be a better team around [Miller] and continue to improve in that area. And for him, it's just trying to maintain. It's not easy to maintain when people are telling you you're the best goalie in the league. That's a high pedestal he's standing on. His work load last year was tremendous. I think it's about getting back into form and putting last year behind him. That's important."
6. Niedermayer in Buffalo
Rob Niedermayer was the most important addition up front this offseason, as the 35-year-old center signed a one-year deal worth $1.25 million. He brings stability to the Sabres' checking line and a little more muscle to a forward group missing a bit of grit.
7. The new kid in town
Tyler Ennis could be a dark-horse threat in the NHL's rookie race. The 20-year-old combined for 13 points (4-9) in 16 games (playoffs and regular season) last season after a late call-up. He has wheels and soft hands, and could be an important offensive contributor this season.
8. Connolly's status
Tim Connolly played 73 regular-season games last season, the most in seven years. His 65 points (17-48) were second on the team, and he showed just how valuable he can be when he stays healthy. He's eligible for unrestricted free agency in July, so he should be hungry for another big campaign.
9. Special teams
Having Miller as the last line of defense certainly helps, but the Sabres had the second-best penalty-killing unit in the NHL last season, a marked improvement from the 17th-place ranking in 2008-09.
10. Stay or go?
Zack Kassian has had a strong camp/preseason as he tries to stick around the big club. Buffalo's first pick in 2009 (13th overall) plays a physical game, as he should with a 6-foot-3, 226-pound frame. Since he's only 19, his only options are either going back to Canadian junior hockey or staying in the NHL. Myers stayed with the big club last season, so it's not impossible. [Editor's update: Kassian was sent down to his junior team in Windsor on Saturday.]
PREDICTION: The Sabres' best bet for improvement has to come from internal growth. The blue line doesn't look as good to us. Buffalo will finish second in the weak Northeast Division and make the playoffs.
Pierre LeBrun covers the NHL for ESPN.com.
More From The Magazine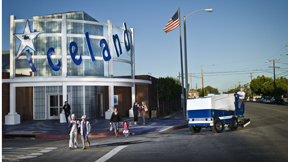 ESPN The Magazine's "Ice Issue" provides even more in-depth coverage of the upcoming NHL season:
• Smith: What is Gary Bettman's legacy?
• Fleming: Most beloved machine in sports
• Berra: The Red Wings' scouting edge
Coach's Corner
Coach:
Lindy Ruff
Experience:
Entering 14th NHL season
Record:
482-361-78-62
Stanley Cup titles:
0
• Lindy Ruff enters his 14th year and 13th season as coach of the Sabres, the NHL's longest-tenured head coach. But he sounded like it was all new again during an interview with ESPN.com early in camp.
"I'm excited," he said. "Last year was such a fun year. ... I'm really looking forward to getting it going again. This was a great team to be around last year, and I really feel it's a team with upside which can challenge up there for the top spot in the East."
The Fab Five
LeBrun's top positional players for the Sabres:

F -- Derek Roy: A year ago, he was invited to Canada's Olympic camp. That tells you what Steve Yzerman thinks of him. Now he needs to bring it more consistently.

F -- Tim Connolly: He proved, for the most part, he could stay healthy last season after playing in 73 games. He now enters a contract year looking to build on a 65-point season.

F -- Thomas Vanek: Where did the 40-goal man disappear to last season?

D -- Tyler Myers: The Sabres kept waiting for him to hit the wall last season, and it never happened. Can he avoid the sophomore slump?

D -- Jordan Leopold: The solid two-way blueliner is on his fifth NHL club in just two-plus years.
Fantasy Focus

Best bet: Ryan Miller
Miller put up career bests in goals-against average (2.22) and save percentage (.929). This offseason, the Sabres lost defensemen Toni Lydman and Henrik Tallinder, but Jordan Leopold and Shaone Morrisonn were added. With little roster turnover and Miller still in his prime, another stellar season should be in the works. One other factor is the schedule -- the Sabres play back-to-back games 22 times, so Miller may need more games off. Even so, he's a legit first-rounder. -- Tim Kavanagh

Risky pick: Tim Connolly
Connolly is one of the best playmakers in the NHL when he is healthy, but staying healthy has been the bane of his career. He put in close to a full season in 2009-10 with 73 games and had 65 points to show for it. But how high can you select a guy who hasn't played a full season since 2001-02? Drafting him as a No. 2 center certainly seems reasonable enough. -- Sean Allen

Sleeper pick: Tyler Ennis
Ennis has all but locked up a roster spot among the Sabres' top six forwards to start 2010-11. He should be the right winger Thomas Vanek and Derek Roy have been looking for. Ennis is done with the AHL after dominating the league as a rookie with 65 points in 69 games. Now it's a matter of whether he earns top-six minutes or not. -- SA
More Fantasy: Join now! » Draft kit » Ranks »
Insider: NHL
The Rankings
See how all 30 NHL teams stack up for the coming campaign in The Magazine's 2010-11 Rankings. Story