AP Photo/Charles Cherney Marty Turco left Dallas and signed a one-year, $1.3 million deal with Chicago this past summer.
Hawks: 10 Things You Need To Know
By Scott Burnside
The Blackhawks went from a team in celebration to a team under siege almost immediately.
After bringing home their first Stanley Cup since 1961, ending the NHL's longest Cup drought in the process, the Blackhawks began shedding bodies.
Eight regulars from the Cup roster are gone, including netminder Antti Niemi and playoff hero Dustin Byfuglien, as the Hawks struggled to make peace with the salary cap. As if that wasn't tough enough, they had to fend off an offer sheet from conference rival San Jose for the services of defenseman Niklas Hjalmarsson and wait for the NHL to end its investigation into the contract tendered to Marian Hossa more than a year ago.
And you know what? Through it all, the Blackhawks maintained their Stanley Cup core, added a handful of prospects and assets, and look like a team that will mount a serious defense while ensuring it will remain a contender down the road.
GM Stan Bowman has been masterful at adding young assets and plugging holes, like signing Marty Turco to tend goal and adding Fernando Pisani and Ryan Potulny for next to nothing to give the Blackhawks more depth up front.
Fear not, Hawks fans; that Cup run was not a mirage.
1. Net gains?
Only time will tell whether GM Stan Bowman did the right thing in walking away from an arbitrator's ruling on Niemi. San Jose, the team that signed Niemi late in the summer, hopes Bowman's regret will come as early as next spring if the two teams again meet in the postseason (Chicago swept San Jose in the 2010 Western Conference finals). But Bowman had an inkling Niemi wasn't going to fit into his salary structure and found a more than adequate stopgap stopper in Turco.
While Turco doesn't have a Cup ring, he was sensational in the playoffs for Dallas in the spring of 2008 as the Stars advanced to the conference finals. Two non-playoff seasons spelled the end of Turco's time in Dallas, and he bided his time before signing a one-year deal at the bargain price of $1.3 million.
Turco won't be asked to play 70-plus games and won't face a ton of shots (the Hawks allowed a league-low 25.1 shots per game last season). One element of Turco's game coach Joel Quenneville is looking to incorporate into an already-skilled puck-moving squad is the goalie's puck-handling, which has the potential to spring skilled forwards on odd-man breaks and provide opposing teams even more headaches.
2. Plan B?
A year ago, the Blackhawks essentially rolled the dice on keeping Niemi to play with incumbent Cristobal Huet while sending Corey Crawford back to Rockford of the AHL. Now, Huet has been shipped off to Switzerland and Crawford has inherited the backup role to Turco (Crawford will have to show he's NHL-worthy after going 24-16-2 for the Ice Hogs last season). His play, as is the case with that of most NHL backups, might mean the difference between a division title and home ice in the playoffs. It also will go a long way in establishing whether he really is the Hawks' goalie of the future.
3. The captain
By the end of last season's playoffs, captain Jonathan Toews had collected an Olympic gold medal, a Conn Smythe Trophy as playoff MVP and a Stanley Cup ring. Not a bad year's worth of work. Which leads us to ponder the question: Is it now Sidney Crosby, Alex Ovechkin and Toews as the league's Big Three as opposed to the Dynamic Duo?
Toews likely won't put up numbers that will put him in line for a scoring title, but his value far exceeds what shows up on the score sheet every night.
Here is newcomer Turco on what he sees in Toews: "I've been around long enough to know a captain's a pretty big part of your team in order to win. The kid seems like he gets it."
4. Pat's pledge
The conversation of Ovechkin and Crosby came up in a recent interview with the other half of the Hawks' Glimmer Twins, Patrick Kane. It was likewise a season for the ages for Kane, who earned a silver medal at the Olympics and scored the Cup-winning goal in Game 6 against Philly. He talked about wanting to take another step forward as a player and be considered among the game's elite.
Kane had 88 points in the regular season and added 28 in the postseason, so the skill set is definitely there. Physically, Kane is bigger after another offseason of diligent training. Mentally, he appears to have put the embarrassment of last summer's cab driver incident in Buffalo, N.Y., behind him, and during his summer Cup visit, he described how he believes he is maturing and becoming more responsible.
5. Crunching the numbers
How good were the Blackhawks on both sides of the puck? They ranked third in goals per game, sixth in goals allowed per game and fourth on the penalty kill. Those numbers are signposts on the road to the Stanley Cup. Any reason to suggest they won't approach those numbers again? Not with Hossa in the lineup for the entire season and the core of the team in place.
6. What about the power play?
OK, the Hawks aren't perfect (they were a pedestrian 16th on the power play). But having Hossa around for a full season and with both Toews and Kane capable of more offensively, we wouldn't be surprised to see them jump into a top-10 ranking.
7. Motivation?
The reality of defending a Stanley Cup: A team has to be both mentally motivated and physically strong enough to put that motivation into practice. The Hawks are young and enter the season healthy. As for mental motivation, Turco said he was impressed with the team's focus and determination from the get-go at training camp. Talk to Duncan Keith, Toews, Kane and the rest, and they are chomping at the bit to get back at it. Can they sustain it? That's the $64 million question, no?
8. Oilers refugees
No problem finding motivation in the Hawks' lineup when it comes to guys like Fernando Pisani and Ryan Potulny, who spent last season looking at the Blackhawks from the bottom of the hockey world in Edmonton.
Pisani, a major contributor when Edmonton rolled to the 2006 Stanley Cup finals, admitted it often was hard to go to the rink for the last-place Oilers, who haven't qualified for the playoffs in four straight seasons.
"It's hard being positive and being motivated, but you learn a lot from that experience," Pisani told ESPN.com.
As for a chance to go from a franchise in disarray to the defending Cup champs, it is Cinderella stuff for Pisani and Potulny, who had 15 goals for the Oilers last season and played for the U.S. at the World Championships.
"Any chance you can have to be part of something special, you want to take advantage of that," Pisani said.
9. Hogs to Hawks
There was a belief last season that four or five players in the AHL who were NHL-ready didn't get a chance because of the skill in Chicago and the team's cap issues. Now, there are openings for players like Jack Skille, Bryan Bickell and Jake Dowell.
The positive thing for Chicago is that, while the opportunities are there, these players do not have to suddenly carry the team forward, but rather can grow into roles behind the team's established players (a model that has worked exceptionally well for the Detroit Red Wings for many years).
Skille, for instance, was the seventh overall pick in 2005 and is now 23. "He's ready. He's not a kid anymore," Bowman said.
10. Seeding the farm
This past offseason, every trade Bowman made involved sending out more money than he brought back in. He not only managed to address cap issues, but added much-needed young talent and draft picks. Some of the young assets he collected are already creating a stir, as defenseman Nick Leddy and forward Jeremy Morin are making strong pushes out of training camp.
Regardless, Bowman figures the team's affiliate in Rockford will be the youngest in the AHL this season. Depending on who makes the Blackhawks out of camp, the Ice Hogs could boast three 19-year-olds, three 20-year-olds and a couple of 21-year-olds.
PREDICTION: Don't really care about the bodies no longer in Chicago. The ones that are there are pretty special, special enough to return to the top of the Central Division. We also see a return to the Stanley Cup finals in the Hawks' immediate future.
Scott Burnside covers the NHL for ESPN.com.
More From The Magazine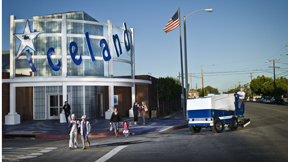 ESPN The Magazine's "Ice Issue" provides even more in-depth coverage of the upcoming NHL season:
• Smith: What is Gary Bettman's legacy?
• Fleming: Most beloved machine in sports
• Berra: The Red Wings' scouting edge
Coach's Corner
Coach:
Joel Quenneville
Experience:
Entering 14th NHL season
Record:
535-327-77-60
Stanley Cup titles:
1
• Quenneville, or Coach Q as he is more commonly known, was rewarded with a three-year contract extension after taking home his first Stanley Cup as a head coach. After taking over for Denis Savard early in the 2008-09 season, Quenneville deserves much credit for helping mold the youthful Hawks into winners in what appears to be the blink of an eye.
Like all coaches defending a title, Quenneville will have to find the balance between pushing too hard and pulling back too much. But one thing is for certain: No one will be taking anything for granted in the Blackhawks' dressing room with Quenneville at the helm.
The Fab Five
Burnside's top positional players for the Hawks:

F -- Jonathan Toews: "Captain Serious" remains the conscience of the defending Stanley Cup champs.

F -- Marian Hossa: The talented winger played in just 57 regular-season games last season due to injury but has 80-game potential.

F -- Patrick Kane: Look for Kane to take another step toward the top of the NHL's scoring charts.

D -- Duncan Keith: The defending Norris trophy champ has nice replacement teeth for the ones he lost in the conference finals … and an appetite for more hardware.

D -- Niklas Hjalmarsson: The Hawks matched a four-year, $14 million offer sheet from San Jose. Look for him to take another step forward as a franchise defender.
Fantasy Focus

Best bet: Duncan Keith
Keith provides the entire fantasy package. Playing a considerable part in the Blackhawks' Stanley Cup-winning season, Keith accumulated 69 points (second among D-men to only Mike Green) and 51 PIM while averaging 26:35 minutes per game (second only to Carolina's Joni Pitkanen) and ending the year at plus-21. What else do you want? Durability? Well, he's missed only six games in five full NHL seasons. In any fantasy league, Keith should go no later than the fourth round overall. -- Victoria Matiash

Risky pick: Marty Turco
With Antti Niemi gone, Turco should get a big share of starts for the Blackhawks, who were gutted this offseason due to salary cap restraints. The core of the Chicago defense is pretty intact, however, and that's the key here. Turco will be playing behind one of the league's best collection of rearguards, and that should help his goals-against average, which was 2.72 last season. Turco will also face fewer shots, which might yield a lower save percentage. One mitigating factor for Turco is his age. At 35, he might not start as many games as he did in the past. Because of the possible reduction in starts, it's hard to project Turco higher than other goalies that will have bigger workloads. -- Tim Kavanagh

Sleeper pick: Dave Bolland
If he can avoid injuries this season, the 24-year-old Bolland is poised for a breakout campaign. As illustrated by his 47 points in 2008-09 and 28 points in 39 career playoff games with the Blackhawks, the skill set is definitely there. Now, as the team's projected second-line center, Bolland has the chance to shine. A ranking among the top 100 forwards may seem bold, but considering the talent he will have to work with, Bolland should live up to the billing. -- Sean Allen
More Fantasy: Join now! » Draft kit » Ranks »
Insider: NHL
The Rankings
See how all 30 NHL teams stack up for the coming campaign in The Magazine's 2010-11 Rankings. Story