Jed Jacobsohn/Getty Images Nicklas Lidstrom and the Red Wings are looking to bounce back from 2009-10.
Red Wings: 10 Things You Need To Know
By Scott Burnside
After Detroit appeared in two straight Stanley Cup finals against the Pittsburgh Penguins -- winning the big mug in 2008, in case you forgot -- the odds seemed to catch up with the NHL's model franchise in 2009-10.
Sort of.
By the time the dust cleared on the regular season, the Red Wings had lost an incredible 312 man games to injury (they lost only 187 the season before). And those injuries weren't to role players, but to their top personnel. Henrik Zetterberg, Tomas Holmstrom, Valtteri Filppula, Niklas Kronwall, Johan Franzen, Daniel Cleary and Jason Williams all missed time.
Still, just when it looked like the injury bug would end the Wings' playoff string at 18 straight seasons, coach Mike Babcock's squad, led by rookie of the year nominee Jimmy Howard, surged through the second half and defeated Phoenix in seven games before dropping a five-game set to San Jose in the second round. It marked the first time since 2006 the Wings failed to advance to at least the conference finals.
This season, the Wings have added a couple of veteran pieces in Mike Modano and Ruslan Salei, while welcoming back erstwhile forward Jiri Hudler. Assuming there's no repeat of the injury plague, Detroit looks poised to jump back into the rarified air of the Western Conference.
1. A breather
No one will ever use a long playoff run as an excuse for things not going well the next season, but when you play as much hockey as the Wings did in 2008 and 2009, fatigue is a cumulative thing. Bodies deteriorate because players aren't spending long offseasons working out and building their bodies back up to peak condition, Babcock said.
So when the Wings' playoff season ended far earlier than usual last spring, the team took advantage of that extra down time to recharge, and that has resulted in a very upbeat training camp.
"I can just tell by the attitude," Babcock told ESPN.com. "We feel this is a huge year for us because we think we have a chance."
2. Old or experienced?
By the time the puck drops on the regular season, the Red Wings could boast 13 players who are 30 or older. That number includes two 40-year-olds, newcomer Modano and captain Nicklas Lidstrom, who is back for at least one more go-round. There's also 37-year-old backup netminder Chris Osgood, 39-year-old Kris Draper, and Kirk Maltby (who signed a two-way contract shortly before training camp), Brian Rafalski and Holmstrom, all 37. Salei will turn 36 in early November.
Nothing is going to come along that this group hasn't seen before. It's not the first time the Wings have been painted as old and decrepit; in fact, the roster reminds us of the veteran group that won a Cup in 2002. But coming off an injury-plagued campaign, it's fair to question the team's durability when many key figures are of an advanced age.
3. Rebound time
All of the injured Red Wings are looking forward to recapturing their games, but it will be interesting to see how defenseman Niklas Kronwall responds, given the tremendous upside to his game.
At some point, Lidstrom will retire (seriously, at some point, he will), and when he does, Kronwall will become "the man" along the blue line. Babcock said Kronwall was playing exceptionally well when he got hurt last season. Can the hard-hitting Swede get back to that level this season? Or beyond?
4. Others from the M.A.S.H. unit
It might be too much to ask for Franzen, Filppula and Cleary to all bounce back to top form after coming off serious injuries. Franzen was slowed with a charley horse courtesy of a controversial hit by Pittsburgh's Brooks Orpik during the preseason, but Filppula "has been skating like crazy," Babcock said.
Filppula is crucial to the Wings' plans because Babcock would like to keep old pals Zetterberg and Pavel Datsyuk together, and that will work only if Filppula will shoulder the load as the team's second-line center. Look for Filppula to start the season flanked by Franzen and Todd Bertuzzi.
5. Scary special teams?
So, the Wings were without a healthy lineup pretty much the entire regular season, and ended up with a ninth-ranked power play and 10th-ranked penalty kill. So imagine what a healthy squad, not to mention the additions of Modano and Hudler, will do for those numbers. Did we mention scary?
6. Jimmy, Part Deux
We recall watching Howard in his first start in Sweden last fall, losing in less than stellar fashion to St. Louis. It looked like the Wings' grand plan to give Howard a shot at being an NHL netminder after four years in the AHL might not have been such a great idea.
Guess what? Per usual, GM Ken Holland knew what he was doing. Howard was instrumental in keeping the Wings in the playoff hunt, at one point starting 25 consecutive games. He finished tied for fourth in the league with a .924 save percentage and fifth with a 2.26 goals-against average. For our money, he should have won the Calder Memorial Trophy.
Can Howard replicate those numbers this season? He might not have to, assuming the team in front of him stays healthy. And while there will be some discussion about a possible sophomore jinx, remember that Howard, 26, was at the outer edge of the rookie age bracket and should be able to ride out whatever bumps he might encounter early on.
7. End of an era?
Is this it for the last members of the Grind Line? Darren McCarty has been retired for a couple of years now, and time appears to be running out for Draper and Maltby. Draper pulled a groin early in camp, and it's hard to see how he will see other than intermittent lineup time. Maltby, meanwhile, signed a two-way contract and might end up in Grand Rapids to start. The two gritty forwards have eight Stanley Cup rings between them and have been good, loyal foot soldiers for many years in Detroit.
8. Welcome home, Mike
Everyone seemed to get a nice, warm, fuzzy feeling from the Wings' signing of longtime Western Conference rival Mike Modano. The Detroit-area native spent his entire career in Minnesota/Dallas, but the Stars didn't want him back. And while everyone is saying the right things about not expecting too much from Modano and how his role will be a complementary one, the fact remains that's exactly what he was doing in Dallas before the end.
It might not mean anything if Modano doesn't chip in 20 goals or help the power play because the Wings are that deep, but Babcock is giving Modano every chance to succeed, putting him between Cleary and Hudler.
9. Welcome back, Jiri
Hudler's return to Detroit after a one-year self-imposed exile to the KHL has been overshadowed by Modano's arrival. Not surprising. Modano is likely headed to the Hall of Fame. But make no mistake, no single roster change is as important to the Wings' chances this season as the return of Hudler.
Two years ago, the shifty forward had 23 goals for the Wings, and chipped in five goals, nine assists and two game winners during the team's 2008 Cup run. He is older and is coming off an experience in Moscow in which he was counted on to do more. Look for Hudler to get lots of power-play time and have a breakout season.
10. How bad was it?
GM Ken Holland recalled how the Red Wings had $27 million worth of salary in the press box one night against Chicago. The stars were too hurt to play.
PREDICTION: It doesn't seem possible that the Wings could suffer a similar rash of injuries this season, which means they'll challenge Chicago for top spot in the Central Division, ultimately finishing second. We see them battling the Hawks in the Western Conference finals.
Scott Burnside covers the NHL for ESPN.com.
More From The Magazine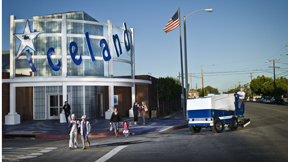 ESPN The Magazine's "Ice Issue" provides even more in-depth coverage of the upcoming NHL season:
• Smith: What is Gary Bettman's legacy?
• Fleming: Most beloved machine in sports
• Berra: The Red Wings' scouting edge
Coach's Corner
Coach:
Mike Babcock
Experience:
Entering 8th NHL season
Record:
326-163-19-68
Stanley Cup titles:
1
• It's been a busy couple of years for Babcock, who also coached Canada to an Olympic gold medal this past February. He admitted it took him more than a month to get fully recharged this past offseason, but he's back in fine form this fall.
With assistants Paul MacLean and Brad McCrimmon and goaltending coach Jim Bedard, it's hard to imagine a more stable, better-prepared coaching staff in the NHL.
The Wings will need all they've got to get back to the top of the ultra-competitive Western Conference, but Babcock and his staff are more than capable of getting the job done -- again.
The Fab Five
Burnside's top positional players for the Wings:

F -- Pavel Datsyuk: He needs to get back to the 80-point level after a 70-point outing last season.

F -- Henrik Zetterberg: Zetterberg likewise had 70 points and needs to pump up that number.

F -- Tomas Holmstrom: No one takes more abuse in front of opposing nets.

D -- Nicklas Lidstrom: If he plays like he did in the playoffs, it wouldn't surprise us if the ageless wonder ends up on more than a few Norris trophy ballots.

D -- Niklas Kronwall: On the verge of becoming an elite NHL defenseman.
Fantasy Focus

Best bet: Pavel Datsyuk
Not many players can put up 70 points and have it be a disappointment to fantasy owners. Datsyuk fell short of the 97 points he put up in the previous two seasons and, as such, was considered a bit of a disappointment by his owners. So what went wrong? The Red Wings tinkered their lines after the loss of Jiri Hudler and additions of Todd Bertuzzi and Jason Williams. The injury to Johan Franzen then eliminated the team's secondary scoring. With no other threats, opponents keyed in on Datsyuk without giving up any ground elsewhere. Now, Hudler is back in the fold, Franzen is healthy and Mike Modano will add more depth. Expect nothing less than a return to elite form from Datsyuk. -- Sean Allen

Risky pick: Tomas Holmstrom
Thanks to his performance on the power play, it's easy to look past the fact Holmstrom may only give you 50 games. In those 50 games, he is a threat to offer 40 points with half of them coming on the man advantage. The Red Wings have a much more talented team with Hudler returning; Holmstrom is no lock to be a top-six forward, but you will be drafting him for his power-play numbers, anyway. Just make sure you make a solid bench pick to take up the slack when Holmstrom spends time in the infirmary. -- SA

Sleeper pick: Valtteri Filppula
Filppula should have little trouble blowing away his previous career high of 40 points since he's expected to be a second-line player from the outset. Given the possible options he has to work with (Franzen, Hudler, Bertuzzi), Filppula should have no trouble approaching 60 points while maintaining a decent plus/minus. While he may fall just outside the realm of being a starter in shallow leagues, he is among the top choices as a reserve. -- SA
More Fantasy: Join now! » Draft kit » Ranks »
Insider: NHL
The Rankings
See how all 30 NHL teams stack up for the coming campaign in The Magazine's 2010-11 Rankings. Story