Andy Devlin/NHLI/Getty Images Shawn Horcoff needs to improve on the paltry 13 goals he scored last season.
Oilers: 10 Things You Need To Know
By Pierre LeBrun
The only thing the Edmonton Oilers didn't change in the offseason was their name.
Sweeping changes followed a dismal, last-place finish in the NHL standings, including scouts, trainers, a new coach and, of course, nearly half the roster.
But there's a positive vibe because of it in the City of Champions. Young faces are fueling the rebuilding effort, led by June's first overall pick, Taylor Hall. The Oilers are selling hope, and their hard-core fans appear to be buying it.
"We did a lot of things on the ice and we did a lot of things off the ice," Oilers GM Steve Tambellini told ESPN.com. "It was a huge spring and summer for the organization. The way we look at it, it gives our organization, really, a chance to begin again from a staffing perspective and from a player perspective. ... It's a good feeling here right now. We're excited."
1. Rookie watch, Part 1: Taylor Hall
The 18-year-old winger has Oilers fans as excited as they've been since No. 99 came to town. Hall even gave the old Wayne Gretzky arm pump after scoring his first goal in the preseason.
"Being the No. 1 pick overall, you can imagine the expectations of the hockey world and the general public," Tambellini said. "But it's interesting, that's one of the questions I asked Taylor: 'Are you ready to be in the National Hockey League as the No. 1 pick overall?' And he says, 'Well, I am that guy.' He's totally comfortable with it. ... I've never seen someone compete for the puck as Taylor does. He's a winner."
2. Rookie watch, Part 2: Magnus Paajarvi
While he crossed the Atlantic from Sweden to Edmonton, the 19-year-old dropped the Svensson part of his last name and nobody complained about it. And they won't complain when they see the moves this guy has.
"We watched him play in the Sweden Games, which is an elite tournament. We watched him play in the World Championships this year," Tambellini said. "It was kind of his coming-out party at the international senior level. From a maturity standpoint, he's been living on his own for a few years, he's been playing against men, he knows what that feels like. I expect good things from him."
3. Rookie watch, Part 3: Jordan Eberle
The 20-year-old forward tore up the Western Hockey League last season with 50 goals and 106 points, while gaining postseason experience in the American Hockey League and playing for Canada's senior squad at the World Championships.
"We were criticized at times last year for not bringing him up to the Oilers," Tambellini said. "He went down the AHL after his junior season last year. There's a reason for that. We wanted him to see how good the American Hockey League is, how many people are fighting for jobs, how many people that have never had a chance to play in the NHL are in that league. And Jordan accepted all that. ... You look at him and wonder how he generates all this offense and these opportunities, and it always comes back to heart and intelligence for me."
4. New look behind the bench
Tambellini made the difficult decision to replace Pat Quinn as coach one year before schedule, promoting associate coach Tom Renney to the job. Quinn, now a consultant with the team, was vocal in his disagreement with the move.
"Pat is a great hockey man, a very successful coach," Tambellini said. "We moved it up one year ahead of the timetable as far as getting to that next step when we realized it was the right thing to do to begin the rebuild of the Oilers. Tom is the right person for us right now."
5. Renney's plan
Renney arrived at training camp with a whole new framework for his players.
"We want to make sure we're fundamentally strong," Renney told ESPN.com. "I don't think we're in a position to tweak here. I think we're in a position where we have to change a number of things in terms of how we just prepare to play hockey, quite honestly."
Renney will push players in all kinds of areas this season.
"In terms of our fitness and nutrition and our game preparation, our accountability, our level of discipline, those types of things have to be kicked up a notch in order to compete at this level," Renney said.
6. A new system
Renney has altered the system from last season.
"Not unlike what most teams try to do, we certainly want to play a pressure game, an attack game vehemently off of that," the coach said. "We want to make sure our defensemen are involved. This is not new stuff, but in terms of the application for our team, it's paramount. And it'll always be with a solid defensive base, there's no question about that."
7. The goaltending
The goaltending situation is in flux to say the least. Veteran Nikolai Khabibulin returned during the preseason, his first action since November after back surgery. But he also faces possible jail time in Arizona for a DUI charge, leaving Jeff Deslauriers, Devan Dubnyk and veteran addition Martin Gerber in the mix. Khabibulin has three years left on his deal, which carries at $3.75 million cap hit.
"Nik's off-ice issues have been well documented," Tambellini said. "But he was brought here to bring elite goaltending and a mature, veteran presence that has always worked well when you look at his history with young goalies. ... We've got four goalies that can play in the National Hockey League. Last year, I was not happy with the depth that we had in the minors, so we have choices now."
8. The Souray situation
Sheldon Souray remained property of the Oilers as the NHL's regular season approached. He asked for a trade after last season, but the Oilers found no takers for a contract that still has two years left at a $5.5 million cap hit. "It's a work in progress," Tambellini said of trade talks.
His best hope is other NHL teams realize they are not as good on defense as they had thought or some teams need help because of sudden injury. In the meantime, Souray was told to go home before camp; Tambellini did not want a disgruntled player around his young core.
9. Shawn Horcoff must be better
The Oilers' No. 1 center dipped to 36 points (13-23) last season and sported a minus-29 rating. That certainly doesn't cut it, given his $6.5 million salary. Expect a bounce-back season from the 32-year-old, who has an array of talented wingers to play with, such as Hall, Ales Hemsky, Dustin Penner and Eberle.
10. The sleeper signing
A somewhat under-the-radar signing was the offseason acquisition of Kurtis Foster. The blueliner exploded for a career-high 42 points (8-34) last season in Tampa Bay. He'll get some power-play time as well in Edmonton and could be a good sleeper pick in fantasy pools.
PREDICTION: The rebuilding Oilers will be last in the Northwest Division again and battle Columbus for the conference basement -- which is a good thing. Another lottery pick would go perfectly with the youth movement. This team could be a powerhouse in two or three seasons.
Pierre LeBrun covers the NHL for ESPN.com.
More From The Magazine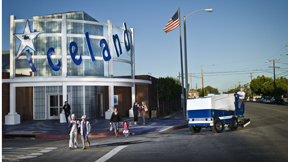 ESPN The Magazine's "Ice Issue" provides even more in-depth coverage of the upcoming NHL season:
• Smith: What is Gary Bettman's legacy?
• Fleming: Most beloved machine in sports
• Berra: The Red Wings' scouting edge
Coach's Corner

Coach:
Tom Renney
Experience:
Entering 7th season as an NHL coach (his first in Edmonton)
Record:
203-170-9-46
Stanley Cup titles:
0
• Tom Renney is at the helm after being the associate coach last season. Throughout his career, which includes a long history with international hockey, Renney has been seen as a great teacher, which is why he's the right man for the rebuilding Oilers.
"We'd all like to think we can coach anybody all the time, but certainly my history suggests a teaching component, if you will," Renney told ESPN.com. "I'm excited about the opportunity. It's a big challenge. There's a real responsibility to make sure that whatever we do with these players is something that really sticks and gives them a chance to win years down the road and years after I'm gone."
The Fab Five
LeBrun's top positional players for the Oilers:

F -- Dustin Penner: All those fat jokes went away last season when the hulking winger produced 32 goals and 63 points.

F -- Shawn Horcoff: It couldn't get any worse for him after last season's 36-point performance in a town that's already hard on him.

F -- Ales Hemsky: An injury-riddled campaign limited him to 22 games last season. He's got dazzling skills and a point-a-game pedigree.

D -- Ryan Whitney: For a guy who gets dumped on so much by pundits, he had 39 points (7-32) last season and should be on the first power-play unit this season.

D -- Tom Gilbert: Had an inconsistent performance on a bad Oilers team last season; he's a solid puck mover who is important to the team's transition game.
Fantasy Focus

Best bet: Dustin Penner
Penner's inconsistency caused him to fall out of favor with fantasy owners. He looked like a changed man out of the gates, but he quickly faded over the course of the season to finish as an average No. 2 winger. Given the raw talent the Oilers will be working with this season, it's not fair to hope for more than what Penner produced last season. In fact, a bit of a dip might be in the offing given that coach Tom Renney leans toward a defensive game. Penner may not be the safest bet until you are filing out your seventh, eighth and ninth forward slots. -- Sean Allen

Risky pick: Sheldon Souray
Between sustaining a concussion in October, busting his hand on Jarome Iginla's face in January, contracting an infection in said hand shortly after and campaigning publicly for a trade in the spring, Souray managed a paltry 13 points in 37 games while hovering well in the red (minus-17). Thank goodness for fresh starts. Healthy, Souray is more than willing to brush 2009-10 under the carpet, and so should you. Souray may very well be traded before the start of the season. It doesn't matter. As long as he's skating somewhere, the veteran has one of the best shots in the league. He racked up 53 points in 2008-09 and easily could match those numbers again. -- Victoria Matiash

Sleeper pick: Jordan Eberle
At every single level of Eberle's career, he has produced at better than a point per game, including the WHL, AHL and world juniors. Eberle was named the CHL player of the year last season for his 106 points in 57 games with the Regina Pats. He also added 13 points in six playoff games. An 11-game assignment in the AHL to finish the season saw Eberle net 14 points, leaving little question this clutch scorer is ready to take on the NHL. It's certainly fair to look for Eberle to deliver 50-60 points. -- SA
More Fantasy: Join now! » Draft kit » Ranks »
Insider: NHL
The Rankings
See how all 30 NHL teams stack up for the coming campaign in The Magazine's 2010-11 Rankings. Story