Eliot J. Schechter/NHLI/Getty Images Scott Burnside believes the playoffs are again out of the picture for Florida.
Panthers: 10 Things You Need To Know
By Scott Burnside
When we went to the Florida Panthers' website a couple of weeks ago, we found a giant football and a reference to the Miami Dolphins' perfect season in 1972. What does that say?
To be fair, there was a tie-in to Panthers' season tickets but, well, it was a bit of a stretch. Still, it does illustrate just how tough a sell hockey has been in South Florida. The tough sell will continue as the Panthers enter yet another rebuilding season. That said, the team is now under the tutelage of new GM Dale Tallon, whose fingerprints were all over the Blackhawks' Stanley Cup win. He will try to follow the same blueprint with the Panthers.
Tallon has already started to stockpile draft picks and assets, as he did in Chicago after the lockout. It is a slow process, but provided the new ownership in Florida is patient and give Tallon some resources as the process moves along, it will get done the right way.
"It's kind of an unknown for us, as well," Tallon recently told ESPN.com. "I like some of the pieces to the puzzle and we need some help in other areas. When we're ready, we'll know we're ready.
1. David Booth
One of the indelible images from last season was Mike Richards' blind-side hit on Booth that left the Panthers' top forward concussed and, along with Matt Cooke's hit on Marc Savard, ultimately led to a change in the NHL rule book regarding hits to unsuspecting players. The rule change didn't help Booth or the Panthers, though, as he appeared in only 28 games. Booth will need to bounce back to the form that saw him lead the Panthers with 31 goals two seasons ago if the Panthers' offense is going to improve from its 28th ranking last season.
2. Popgun offense
Did we mention the Cats' offense was ranked 28th? Things won't get easier. One of the first things Tallon did was ship out Nathan Horton and Gregory Campbell to Boston for defenseman Dennis Wideman and a first- and a third-round draft pick. Tallon almost moved Stephen Weiss, too, but he stayed put.
Weiss had a career year last season with 28 goals and will have to continue to lead the way. Coach Peter DeBoer will need to cobble some offense together from a group that includes newcomers Steve Bernier and Christopher Higgins and holdovers Radek Dvorak, Steven Reinprecht, Michael Frolik and Rostislav Olesz.
3. Stepping up?
Speaking of stepping up, one player to keep an eye on will be Shawn Matthias, a top prospect acquired from Detroit in exchange for Todd Bertuzzi at the 2007 trade deadline. Matthias' evolution has been slow, and this season looms large for the Mississauga native, who had seven goals in 55 games for the Panthers last season.
4. Long gone, Tomas?
If, as many believe, the Panthers will be south of the playoff bubble come February, Tomas Vokoun will most definitely be in play, since he is entering the final year of his contract. His $5.7 million price tag may scare off buyers even late in the season, but he's a top-end netminder who could yield some more assets for Tallon if the Panthers aren't in the mix. Wonder if the Caps might be interested if their youngsters don't answer the bell?
5. McCabe, too?
Both Vokoun and defenseman Bryan McCabe have no-movement clauses that may make trading them more problematic. McCabe, Florida's captain, has previously declined to be moved from Toronto under similar circumstances, so it's not a given he'll be on the move. Like Vokoun, McCabe is in the final year of his contract and will be an unrestricted free agent come July 1. At $5.75 million, McCabe is also a big-ticket item, but he possesses a booming shot and could be a boon to any team's power play. But let's not get too far ahead of ourselves. If the Panthers are to make a surprise postseason bid, they're going to need their captain to bounce back after producing just eight goals in 82 games last year.
6. Power outage
Speaking of the power play, McCabe's lack of production on the man advantage was just one contributing factor to a unit that sputtered all last season (29th in the NHL). Having a healthy lineup that includes Booth and veteran forward Cory Stillman, who missed 24 games to injury, should see those numbers improve significantly.
One issue with the power play was that opposing teams focused on McCabe, taking away the shooting lanes. When no one picked up the slack for the Panthers, it meant defending teams could keep on doing it.
7. And then, there's the penalty kill
On the other side of the special-teams fence, the Panthers weren't all that formidable either (23rd overall). Don't score on the power play and don't stop the opposition on the penalty kill -- the combination is a one-way ticket to an early offseason.
DeBoer admitted the team perhaps underestimated the loss of former franchise defenseman Jay Bouwmeester, who departed for Calgary before the 2009-10 season. This season, though, Wideman is in camp and former Sabre Nathan Paetsch should be a help.
8. Home, sweet home
For the first time in years, and certainly the first time since DeBoer took over as coach, the Panthers did not begin the season with an extended training camp trip. Last year, the Panthers crisscrossed North America before traveling to Finland to start the regular season against Chicago. In all, 22 of the first 23 days, starting in training camp, were spent on the road.
"We've traditionally had slow starts as a team," DeBoer said. "We're trying a different approach this year." Can't hurt.
9. The new face on the blue line
While Weiss and Horton haven't lived up to their billing as franchise forwards, the Panthers hope they've landed their franchise blueliner in Erik Gudbranson, the third overall pick in the June draft. He may not be a factor this season, but he has the kind of tools that could put him in the same class as Jack Johnson, Drew Doughty and Zach Bogosian. Tallon left the door open for Gudbranson to make the squad, but promised not to rush the youngster.
10. Coyotes East?
There won't be many folks picking the Panthers to be playing come mid-April, but DeBoer isn't necessarily upset about that. That kind of external disregard can bring an added element of motivation "and bulletin-board material for us," the coach said.
He noted that nobody picked the
Phoenix Coyotes
to be anywhere but near the bottom of the Western Conference standings last season, and they ended up with 107 points.
"It's just got to be the Florida Panthers this year," he said.
PREDICTION: Too big a bite for the rebuilding Panthers to sneak into the playoffs, even in the mediocre Eastern Conference. They'll finish fifth in Southeast.
Scott Burnside covers the NHL for ESPN.com.
More From The Magazine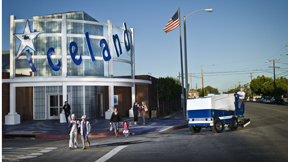 ESPN The Magazine's "Ice Issue" provides even more in-depth coverage of the upcoming NHL season:
• Smith: What is Gary Bettman's legacy?
• Fleming: Most beloved machine in sports
• Berra: The Red Wings' scouting edge
Coach's Corner
Coach:
Peter DeBoer
Experience:
Entering second NHL season
Record:
73-67-24
Stanley Cup titles:
0
• This will be Pete DeBoer's third season behind the Panthers' bench under his third different GM.
People forget the Panthers ended up tied for eighth place in the East two seasons ago and lost out on the final playoff berth in a tiebreaker. But the team took a significant step backward in 2009-10.
DeBoer believes the team perhaps underestimated the loss of Jay Bouwmeester, who signed in Calgary before the 2009-10 season, and other veteran defenders who left. This season, DeBoer will again have to employ all of his considerable coaching skill to keep the rebuilding Panthers in the hunt.
The Fab Five
Burnside's top positional players for the Panthers:

F -- Stephen Weiss: He is looking to build on career season.

F -- David Booth: The talented sniper is hoping to put concussion woes behind him.

F -- Michael Frolik: Posted back-to-back 21-goal campaigns. Is there more from him?

D -- Bryan McCabe: The Panthers' captain is looking to bounce back offensively. Also in final year of his deal.

D -- Eric Gudbranson: Can the team's top pick at the 2010 draft make the jump from junior?
Fantasy Focus

Best bet: Tomas Vokoun
Despite trade rumors this past season, Vokoun remains a central part of the plan for the Panthers. And a goalie of his caliber is essential. Vokoun's .925 save percentage wouldn't be possible if he didn't have a lot of shots to block, but more shots against usually means more goals against (2.55 GAA last season, 15th in the NHL). The Panthers are in flux, but Vokoun is one player who can be counted on. -- Tim Kavanagh

Risky pick: David Booth
Fantasy owners will have to look past Booth's concussion issues from last season if they want to trust him as a No. 2 winger. Given that he has only one season as a 30-goal scorer under his belt, most will take him at a discount later in drafts. Booth will look just fine skating with Stephen Weiss as his first-line center, but the picture is a bit murkier after that. The Panthers may spread out the offense, but, either way, it means Booth will be the focus of opposing defenses for the first time in his career. -- Sean Allen

Sleeper pick: Dennis Wideman
Wideman is better than 30 points, and he'll have the chance to prove it among new teammates as a Florida Panther. You can bet Bryan McCabe will help him flourish, since those two will be paired together on the man advantage and at even strength. Feel free to kiss that awful minus-14 goodbye, as well. This will be Wideman's renaissance season -- just watch. --Victoria Matiash
More Fantasy: Join now! » Draft kit » Ranks »
Insider: NHL
The Rankings
See how all 30 NHL teams stack up for the coming campaign in The Magazine's 2010-11 Rankings. Story