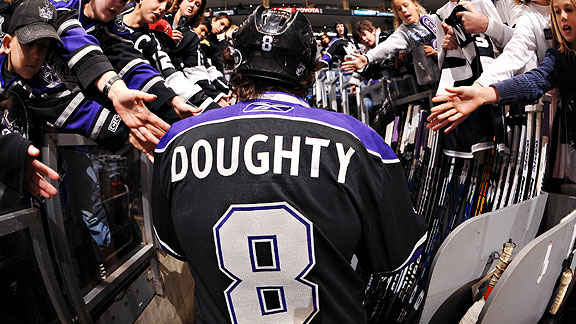 Noah Graham/NHLI/Getty Images Drew Doughty and the L.A. Kings will face bigger expectations in 2010-11.
Kings: 10 Things You Need To Know
By Pierre LeBrun
As the
Los Angeles Kings
entered the offseason, the theory (at least according to some) was that they were one impact forward from being a true Stanley Cup contender.
Like the young Chicago Blackhawks, who acquired Marian Hossa the previous summer to put them over the hump en route to a Stanley Cup, the prevailing thought was the rising Kings were similarly one major move away.
That's why the pursuit of star winger Ilya Kovalchuk made so much sense to so many people. Kovalchuk even flew to L.A. and met with Kings GM Dean Lombardi, Kings captain Dustin Brown and coach Terry Murray, among others.
But Kovalchuk did not sign with the Kings, and Los Angeles enters the 2010-11 season without that true impact winger many believe the team needs. But that doesn't mean the Kings won't acquire one between now and the March trade deadline, and that's exactly what they have in the back of their mind as a possibility. After all, they still have the cap space.
In the meantime, they did add a top-four blueliner in Willie Mitchell, an addition well received in the Kings' locker room. The team believes it can take that next step this season after reaching the playoffs last season with a 101-point season, a sixth-place finish in the competitive Western Conference and a re-energized market.
As for the Chicago comparisons, the Kings don't buy it.
"I don't buy the window theory," Lombardi told ESPN.com. "I'm not going through this to have a one-year run. Do I want to be Chicago and win? Yes. But I don't want to have to blow it up after one year."
"We're going to be even better this year," said 2009-10 Norris Trophy nominee Drew Doughty. "As a team and an organization, we're looking forward to getting further in the playoffs and hopefully being a Stanley Cup contender."
1. Will the failed luring of Kovalchuk have a negative impact in the Kings' locker room?

"Do you want to have Kovalchuk on your team? Absolutely," said No. 1 center Anze Kopitar, who would have benefited the most from such an acquisition. "But things went the way they did and that's unfortunate, but we can't look back. We got Willie Mitchell and Alexei Ponikarovsky, who are both real good players that will fit in well with our team. That's the most important thing right now. We have to look forward and forget about the Kovalchuk stuff."
Doughty agrees.
"It obviously would have been awesome to have him on the team," Doughty said. "No team would be disappointed to have him in our dressing room. He's a great player. But now that we didn't sign him, we made another signing in Willie Mitchell that will be great for our team."
Lombardi said the price for Kovalchuk would have been a detriment to what the Kings are trying to do as a long-term contender. Doughty and other youngsters will need new contracts.
"Would you like to add that element? Yes," Lombardi said of Kovalchuk. "But do we do it at the cost of sacrificing in terms of culture and doing it where we have to throw our whole salary structure out of line? So let's see how it plays out. Somebody will come up [via trade], and it'll be our type [of] guy at our price."
2. Welcome, Mr. Mitchell
From Day 1 of camp, newly acquired blueliner Willie Mitchell was partnered with phenom Doughty. The Kings didn't get Kovalchuk, but they believe they acquired a big-time defender when they signed Mitchell to a two-year, $7 million deal on Aug. 25.
"Once we got Willie Mitchell, every player down the line said, 'This is good for us.' No question about it," Lombardi said. "That was a huge piece missing for us."
He's a perfect fit, Lombardi said.
"There's the saying, 'The whole is greater than the sum of the parts' -- that's clearly the case here with him," the GM said. "His value transcends what he is as a player because it fits so well. He's a veteran presence, he's hard to play against defensively, I think he's underrated with the puck and ... we projected him as a perfect fit for a guy like Doughty."
Mitchell waited so long in free agency to make his decision because he wanted to make sure he was fully recovered from a serious concussion that had derailed his season in Vancouver. He recently told ESPN.com at Kings camp that he felt 100 percent and was raring to go. His health is a big X factor.
3. More experience
Last season's playoff experience was a huge stepping stone. The Kings learned a ton about themselves after finally making the postseason and giving Vancouver all the Canucks could handle in a six-game series loss. Lessons learned in that first-round series?
"I know one of the things that really stood out in my mind in that series is that we had two leads going into the third period, and they ended up winning both games," Doughty told ESPN.com. "We have to learn from that. We have a young team; a lot of guys had never played in a playoff series before. ... We thought we did a pretty good job, and this year, we'll have that experience going into the playoffs."
The key, Lombardi said, is the expectations come from the players themselves, not from the front office or the media or the fans.
"I think this is the first time they have legitimate expectations for themselves," the Kings' GM said. "Until you learn to deal with expectations, you're never going to be a real winner. They're at the stage now where they have legitimate expectations. It's from the room. Because I saw them handle it last year, that's why I have confidence in them."
4. Goaltending
Jonathan Quick was terrific in goal last season, but the Kings don't want him playing 72 regular-season games in 2010-11. Jonathan Bernier and Erik Ersberg were battling it out in training camp/preseason, and the victor would get to play one game a week, according to Kings coach Terry Murray.
Bernier was sensational in the AHL last season with a .936 save percentage and 2.03 goals-against average. It says here the 22-year-old former first-round pick could be a serious challenger to Quick, if not this season, certainly by 2011-12. The Kings are set in goal with the Quick-Bernier tandem. But what's important for the Kings is that Quick and Bernier form a healthy competition and avoid what happened in Montreal, where Jaroslav Halak and Carey Price couldn't share the net and forced the Habs to deal one.
"They're going to compete, but they're good enough kids that they're going to compete the right way," Lombardi said. "You talk about [1980s Oilers Andy] Moog and [Grant] Fuhr, you want to create that thing where they're competing but never happy the other fails."
5. Offense
The Kings didn't generate enough five-on-five scoring last season, ranking 18th in the NHL. That's why trying to sign Kovalchuk was paramount. Alexander Frolov is also gone, replaced by Alexei Ponikarovsky in what should prove to be a pretty even trade of talent. But can the Kings score more at even strength?
"We all agreed our five-on-five scoring wasn't good enough," Lombardi said. "So we're very cognizant we have to generate more offense five-on-five. Now, I think that's going to improve internally in some part. Our defense, for one, is going to be better."
Which means the puck should be in the offensive zone a little more. Lombardi expects big things from Jack Johnson, the U.S. Olympic defender who had a big second half last season. The GM also hopes that Kopitar and linemate Ryan Smyth can maintain their first-half form of last season through the spring. Perhaps a few more goals from Dustin Brown, a bounce-back season from Justin Williams, a 20-goal campaign from Ponikarovsky -- it would all add up. But if that internal improvement in five-on-five production isn't there by the March trade deadline, the Kings likely will work the phones looking for help.
6. Team depth
The Kings have the potential to ice one of the best third lines in the NHL in Michal Handzus centering Ponikarovsky and Wayne Simmonds. It's a line that also could pop in a few goals.
"I think they can be a dynamic third line," said Murray, who credits Handzus for his work in taking on opposing top centers. "Simmonds has really grown. Ponikarovsky is a big guy who plays both ends of the ice real well. We're going to look to those guys to shut down top lines."
7. Just how good is Drew Doughty?
At the tender age of 20, Doughty already has won Olympic gold and been nominated for a Norris Trophy. And he didn't just win gold in Vancouver this past February, he also had a major impact on the biggest stage one can imagine.
"It's happened so fast, only two years in the league, and a lot of good things have happened," Doughty told ESPN.com. "But you have to stay humble and continue to improve. I did everything I could this summer to become a better player. I want to have a better year than last year."
You want humble? Willie Mitchell told ESPN.com that Doughty offered his No. 8 to the new Kings blueliner. Mitchell declined, but it shows you the incredible maturity and respect that Doughty already has developed for the game. You can expect Doughty's name to grace the Norris Trophy one day, perhaps as early as this season.
8. Under the radar
Keep an eye on 26-year-old winger Scott Parse. In the preseason and likely to start the regular season, he will get a look on the second line with Jarret Stoll and Justin Williams. It's a big-time opportunity for Parse, who scored 11 goals last season.
"He was in and out of the lineup last year," Murray said. "He showed me a lot. I like some of the highlight-reel goals that he scored. He's a very high-skilled player, and I think he needs that opportunity to be successful. It's there. The line's got great potential. I hope he comes out on the right side, that he's successful."
9. Can Anze Kopitar avoid a midseason swoon?
The Kings' No. 1 center came out of the gates ablaze last season and was the NHL's leading scorer for a time before slumping in midseason. Can he bring it all season long?
"It's just a matter of being more consistent," said Kopitar, who will begin the season on a line with Smyth and Brown. "I had a pretty good start last year. I dropped a little bit in the middle of the season, but you want to stay on top of your game all season long and try to make something happen every night."
10. No 'I' in team
The Kings are a team. They are a tight-knit group. Many teams claim this, but not all actually are.
"A few years ago, only one or two players trained here in the summer. Now these guys all train together here in the summer," Lombardi said during Kings camp. "I've got a room that cares, there's no doubt in my mind."
That chemistry is a likely product of Lombardi's careful and patient rebuilding.
"We really got put together slowly but surely," Kopitar said. "Every guy on our team has a role, and that's really important. We don't rely on one or two guys. We are a team. That's what made us successful last year, and hopefully we can build on that and go further than we did."
PREDICTION: The Kings will win the Pacific Division and reach at least the second round of the playoffs. This roster isn't done improving. Look for GM Dean Lombardi to add another piece or two before the March trade deadline.
Pierre LeBrun covers the NHL for ESPN.com.
More From The Magazine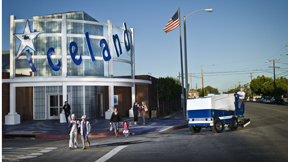 ESPN The Magazine's "Ice Issue" provides even more in-depth coverage of the upcoming NHL season:
• Smith: What is Gary Bettman's legacy?
• Fleming: Most beloved machine in sports
• Berra: The Red Wings' scouting edge
Coach's Corner
Coach:
Terry Murray
Experience:
Entering 13th NHL season, his third with Kings
Record:
440-341-89-31
Stanley Cup titles:
0
• Terry Murray was a surprise choice to replace Marc Crawford two years ago. The Kings were rebuilding, and the recent NHL trend was to pair young, rebuilding teams with young, up-and-coming coaches. But the Kings instead chose Murray, a veteran bench boss who is a terrific teacher. Under his patient approach, the Kings have risen to power and taken huge strides.
"We know we took a big step forward last year, and we want to follow through with that kind of energy and keep pushing in the same direction," Murray said. "I think we're kind of put together for a pretty good run, and hopefully we can live up to our own expectations."
Murray added former Flyers coach John Stevens to his staff this past summer; the two have a long relationship and worked together in Philadelphia.
The Fab Five
LeBrun's top positional players for the Kings:

F -- Ryan Smyth: The veteran winger, aka Captain Canada, was a key addition last offseason and didn't disappoint, providing gritty minutes and soft hands as he jelled with top center Anze Kopitar. He needs an injury-free season and more big goals for the Kings to succeed.

F -- Anze Kopitar: Some NHL executives aren't sold on his status as a true No. 1 center. He flirted with the NHL scoring lead last season before slumping. He's hungry to prove that he belongs among the elite centers in the NHL.

F -- Dustin Brown: The Kings' captain oozes character. His physical, two-way play helps him lead by example. He doesn't take a shift off and has the potential to score 30 goals if he stays on Kopitar's wing.

D -- Drew Doughty: Power-play quarterback, premier puck-mover, terrific defender ... just put a cape on him. Is this the season he wins his first Norris?

D -- Willie Mitchell: If he stays healthy, this could be one of the key offseason signings in the NHL. He is a top shutdown player whose physicality and size blend in perfectly with his star partner, Doughty.
Fantasy Focus

Best bet: Drew Doughty
The unofficial fantasy darling of 2009-10, Doughty wears his crown with a healthy dose of humility. Doughty is so good because, aside from talent, he has a great attitude and works his caboose off, a lovely combination for the L.A. Kings and anyone savvy enough to draft Doughty in fantasy play. Second to only forward Anze Kopitar in team scoring, Doughty is productive on the man advantage. Plus, Doughty has missed only one game in his two seasons in the NHL. -- Victoria Matiash

Risky pick: Jonathan Quick
One of the most durable workhorses in the league last season, Quick started a whopping 72 games and won 39 of them. Unfortunately, that seems to be where he draws much of his fantasy value (his ratios were middle of the pack). While it's undeniable the Kings have one of the best collections of young talent in the league, led by franchise blueliner Doughty, they also have a future superstar netminder waiting in the wings in Jonathan Bernier, who carries first-round pedigree along with glowing scouting reports. Quick is a nice complement to a goalie with good ratios, but he is not complete enough to be a No. 1 on his own. Should the Kings use a time-share with Bernier and Quick, his value will drop quite a bit. -- Tim Kavanagh

Sleeper pick: Wayne Simmonds
How about 40 points, a plus-22 rating and triple-digit penalty minutes from a cheap forward? No fantasy owner would turn down those numbers. Even though Simmonds was far from a regular member of the Kings' top six, he managed to put together a productive 2009-10 season. Even if he skates on the Kings' second line, Simmonds has the potential to have strong linemates. He has to earn that top-six role to make good on his potential, though. -- Sean Allen
More Fantasy: Join now! » Draft kit » Ranks »
Insider: NHL
The Rankings
See how all 30 NHL teams stack up for the coming campaign in The Magazine's 2010-11 Rankings. Story