Andy Devlin/NHLI/Getty Images The Wild are hoping Mikko Koivu continues to play his strong two-way game.
Wild: 10 Things You Need To Know
By Pierre LeBrun
The Minnesota Wild regressed in the standings last season but hope it was one step back in order to take two steps forward this season.
The Wild finished 13th in the Western Conference, 11 points out of a playoff spot, and it didn't play well in a loyal and devoted hockey market.
But the team added more than it lost, signing veteran centers Matt Cullen and John Cullen and young forward Eric Nystrom, trading for rugged winger Brad Staubitz and losing very little off the roster other than aging winger Owen Nolan, depth blueliner Shane Hnidy and tough guys John Scott and Derek Boogaard.
On paper at least, this is a better team, one that will begin the regular season in Helsinki with a pair of games against the Carolina Hurricanes.
"We like our group of players," GM Chuck Fletcher told ESPN.com. "We like the character and the depth. ... Our goal is to make the playoffs. We believe we have a competitive team this year. We feel we have a lot of players that will bounce back this season and will play more to their career norm."
1. New bench boss
Under new coach Todd Richards, the Wild had hoped to become a more offensive club last season, compared to the way the team played under former coach Jacques Lemaire. But Minnesota ranked only 22nd in offense and regressed defensively, allowing 42 more goals against and dropping from the second-best defensive team in 2008-09 to 21st last season.
"We'd like to score more than we scored last year," Richards told ESPN.com. "We'd like to be in the top half of the league. But the other thing we have to do is be better defensively. I think there was growth and adjustment period, especially at the start of the year last season. We really probably didn't become a team, where guys felt comfortable, until mid-November. Then we became a very good team."
2. Avoiding another slow start
The Wild were done nearly before it began last season, winning only seven of their first 21 games and digging a hole that was too big to get out of.
"We clearly had a difficult start to the season last year, and there was a big adjustment for the players to adapt to the new coaching staff and the new system that was put in place," Fletcher said. "This year, we feel the adjustment period is clearly over. I think the players have a much better idea what to expect from the coaches and I think the coaches have a much better idea of what to expect from the players."
3. New faces
Cullen and Madden are key additions for two reasons. First, their veteran leadership will be a welcome ingredient.
"Both of these guys have won Stanley Cups, and to have those guys in the locker room gives those guys credibility right away," Richards said.
Second, they strengthen the lineup down the middle, which was a concern last season.
"I don't think you can consistently win in the NHL without a strong group of centers," Fletcher said. "We didn't feel we were deep enough and felt that was one of our major contributing factors behind our poor road record. ... We are deeper at center this year. We have players that can win faceoffs and check. We feel with [Mikko] Koivu and Cullen, in particular, we have centers that can also contribute offensively."
4. The Bouchard factor
The return of Pierre-Marc Bouchard cannot be underestimated after he missed 81 of 82 games last season with post-concussion syndrome. While it wasn't clear at time of this writing when the offensively gifted forward would return, he was cleared by doctors during training camp to begin working out hard and officially begin his comeback.
"We lost Pierre-Marc Bouchard for the whole year, and going into last season, we had penciled him in as our second-line center," Richards said. "He's really going to be like a free-agent addition for us because he didn't play for us last year. If we get a Pierre-Marc Bouchard who's 90 percent to 100 percent of what he can be, that's adding a guy that can get you anywhere to 40 points, maybe up to 70 points."
The 26-year-old Bouchard averaged 60 points a season three straight years from 2005-06 to 2007-08 before dipping to 46 points in 2008-09.
5. The road record
The Wild were a lousy 13-24-4 on the road last season, and that's just not going to cut it if you're going to be a playoff team. How do you fix that?
"I got asked that question a lot," Richards said. "I wish it was as simple as a math problem. Why didn't we play as well on the road? Was it the matchups? Maybe that had something to do with it, but I don't think it was a huge thing. I think it was a combination of a lot of things, confidence being one of them.
"There were two mentalities -- when we played at home, we came to the rink expecting to win. When we played on the road, I think sometimes we went into buildings hoping to win. There were two different mentalities there. I want it to be the same mentality -- when we come to the rink, we expect to win."
6. Where's Havlat?
The Wild need a bit more from star winger Martin Havlat as he enters his second season in Minnesota. Havlat had 18 goals and 36 assists in 73 games last season.
"The first 20 games last season, he struggled," Fletcher said. "He didn't have a lot of points during that stretch. Then, the next 50 games, he really picked up his game. ... He's a good hockey player, he's one of the better offensive players in the league, he has the ability to score goals and create plays. The thing about Marty over the course of his career is that the bigger the game, the better he's played. So we think he'll be a very productive player for us this season."
7. Where's the beef?
The Wild made a point of improving their overall physical fitness in the offseason and hope that will bear fruit this season.
"Coming into the season last year and doing the testing, I think the previous regime didn't put a lot of emphasis on that," Richards said. "When you fail to reach your goals, you look back and look at certain areas where we can be better, and one of those was putting more emphasis on our players and our summer training program."
8. Mikko Koivu
Captain Mikko Koivu, who led the team in scoring last season with 71 points (22-49), signed a seven-year, $47.25 million contract extension that won't kick in until next season. How will he play now that he has the big-money deal?
"I don't expect Mikko to change," Fletcher said. "He's obviously one of the best offensive players in the game. But personally, I don't want Mikko to get consumed by stats and feel he has to become an 80- or 90-point player. We'd like him to contribute offensively, but the strength of Mikko's game is the balance. ... We just want him to continue to play like he's played. And knowing Mikko and his makeup, I don't expect him to change his ways. I think he'll continue to evolve into one of the better two-way centermen in the game."
9. A sleeper signing
An under-the-radar signing might be winger Eric Nystrom, a castoff from the Calgary Flames.
"We expect that his best days are ahead of him in terms of production," Fletcher said. "He's a player that clearly can climb the depth chart as he goes forward in his career. He's a relentless worker, he's a competitor, he brings a lot of energy to a team, and he's a terrific teammate and person."
10. Sheppard out
James Sheppard was approaching this training camp as the most important of his career. But he never set foot on the ice after a freak ATV accident left him with a serious knee injury (broken left kneecap) a week before camp.
"That's an unfortunate incident to say the least," Fletcher said. "He looked like he was in great shape. Who knows what he would have been able to do. ... Hopefully this is just a temporary setback. It's a serious injury, but hopefully we can get him back at some point."
PREDICTION: The Wild will be a bubble team in the Western Conference playoff race and fall just short, placing third in the Northwest Division and 10th in the conference.
Pierre LeBrun covers the NHL for ESPN.com.
More From The Magazine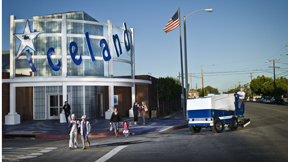 ESPN The Magazine's "Ice Issue" provides even more in-depth coverage of the upcoming NHL season:
• Smith: What is Gary Bettman's legacy?
• Fleming: Most beloved machine in sports
• Berra: The Red Wings' scouting edge
Coach's Corner

Coach:
Todd Richards
Experience:
Entering 2nd NHL season
Record:
38-36-8
Stanley Cup titles:
0
• Todd Richards had big shoes to fill when he replaced the legendary Jacques Lemaire last season, and it didn't go very well in his rookie year behind the bench.
But once his players finally adjusted to his new system, the Wild did have strong stretches in the second half of the season. That's reason to hope for a better result this season. He's feeling the heat in a hockey-mad market.
The Fab Five
LeBrun's top positional players for the Wild:

F -- Martin Havlat: He came on strong in the second half last season but needs to produce more than 18 goals to justify his $5 million salary.

F -- Mikko Koivu: Underwent offseason shoulder surgery, but appears to be back to 100 percent. One of the NHL's most complete players.

F -- Andrew Brunette: He was second on the team with 61 points (25-36) last season, another quietly effective season for a player who has been underrated his entire career.

D -- Marek Zidlicky: The Czech Olympian led Wild blueliners with 43 points (6-37) last season, giving him five 40-plus point seasons in six years.

D -- Nick Schultz: Steady as can be is his game; the team's best defensive defenseman.
Fantasy Focus

Best bet: Mikko Koivu
A legitimate scoring threat and strong playmaker, Koivu wasn't even paired with the best wingers the Wild had to offer last season and still piled up 71 points. With Andrew Brunette and Antti Miettinen by his side the majority of the time, it was even debatable as to whether this was truly the team's top line. Koivu works well with whomever he is paired with and no matter how things shake out this coming season, he represents a well-spent pick on a No. 2 center. -- Sean Allen

Risky pick: Brent Burns
When Burns isn't hurt, he's very good. Unfortunately, he has been forced to deal with concussion and shoulder woes over the past two seasons. On the upside, the former forward is healthy to start the 2010-11 campaign and could explode under coach Todd Richards' free-wheeling, wide-open, offensive style. If you can stomach the shaky health history, Burns could pay out massive fantasy dividends as your No. 3 defenseman. -- Victoria Matiash

Sleeper pick: Guillaume Latendresse
Latendresse didn't find his game until he was traded from the Canadiens to the Wild partway through last season. In 55 games with his new club, Latendresse scored 25 goals and was an offensive leader. We will find out this season if he can reach the 40-goal pace he was on after arriving in Minnesota. Latendresse was a good fit on a line with Martin Havlat and Kyle Brodziak, but with some strong centers coming on board this season, it is hard to envision the team using Brodziak as a top-six forward. It is safe to take Latendresse as a No. 3 winger in your draft, and no more than that. -- SA
More Fantasy: Join now! » Draft kit » Ranks »
Insider: NHL
The Rankings
See how all 30 NHL teams stack up for the coming campaign in The Magazine's 2010-11 Rankings. Story