Bruce Bennett/Getty Images With Jaroslav Halak off to St. Louis, Carey Price is now the man in Montreal's net.
Canadiens: 10 Things You Need To Know
By Pierre LeBrun
The Montreal Canadiens entered last season as a team completely reshaped by outgoing GM Bob Gainey, and the gamble was whether team chemistry could form before it was too late.
The Habs squeezed into the eighth and final playoff spot, and upended Washington and Pittsburgh in gigantic upsets. In the process, Quebec was engulfed on a magic carpet ride, one that finally ended with a loss to Philadelphia in the Eastern Conference finals.
But then, the Canadiens had some business to take care of in the offseason. To the shock of most fans, the Habs dealt playoff hero Jaroslav Halak to the St. Louis Blues, deciding to put their faith in the younger Carey Price. Perhaps because Halak is gone, or maybe because people don't buy into Montreal's surprising run having any lasting impact, the experts aren't too high on the Canadiens to be anything more than a bubble team this season.
"There's nothing wrong with playing the underdog role or exceeding some expectations," Cammalleri said of the outside skepticism. "We were a new group last year, we found some identity and we were able to figure out a way to win some games at the end of the year. I think it's important for us to get right back to it and try to start the season strong and remember the things that it took for us to win games."
1. Carry momentum
The Canadiens believe this past spring's magical and totally unexpected final four run might carry over to this season.
"There's no doubt there was great chemistry," Montreal coach Jacques Martin told ESPN.com. "This year, we have a strong nucleus back, so that should help, and we're counting on some of the younger players to be better."
2. Leaving Montreal
Apart from Halak, the Canadiens also parted ways with forwards Sergei Kostitsyn, Dominic Moore and Glen Metropolit, and defensemen Marc-Andre Bergeron and Paul Mara. New to the fold are backup goalie Alex Auld, promising young forward Lars Eller, and checking forwards Jeff Halpern and Dustin Boyd. Rookie blueliner P.K. Subban joined the team late last season, and now the Habs will benefit from his services throughout the campaign. Young forwards Ryan White, Max Pacioretty, Ben Maxwell and David Desharnais, as well as blueliner Yannick Weber are knocking at the door.
3. Did we really wait this long to touch on Carey Price?
The preseason was minutes old when Price was already getting it from the Bell Centre fans. Sheesh. Relax, people. Still, the question that will hang over the club this season is, "Will the Price be right?"
"We all appreciate what Jaro did and he was a good teammate and he'll do well in St. Louis, but we think Carey is a super-talented individual," Cammalleri said. "The way he handled himself last year in a very difficult situation showed us a lot about his character and endeared himself as a teammate. We're excited for him this year to come in and be the goaltender that we need him to be."
4. Special teams
The power play was once again dynamic for the Canadiens last season, ranking second in the NHL at a nice 21.8 percent clip. That's a big-time asset for a team that isn't overloaded with offensive pieces.
"I think it's really important to have good special teams," Martin said. "With the parity in this league, quite often that's the difference between winning and losing. The power play last year was a big weapon for us and a big factor in us qualifying for the postseason."
5. More offense
On the flip side, the Canadiens ranked only 26th in overall offense last season despite that great power play. That's because they were dead last in the NHL with 132 5-on-5 goals. How do they improve that dreadful statistic?
"Well, it's two-fold," Martin said. "One, I think we need to have more involvement from our defensive core offensively, and hopefully [Andrei] Markov getting healthy and the addition of P.K. Subban on a regular basis will help our offense. Two, we focused more on defense last year. It was my first season with the organization and we wanted to put in a good defensive system. I think this year, not being an Olympic year, we'll have more time in practice to focus on developing the offensive aspect of our play."
6. Big man on the blue line
Markov, 31, is Montreal's most valuable player, and he's on the shelf to begin the season as he recovers from reconstructive knee surgery. If Price is the No. 1 question most asked in Montreal, "When will Markov return?" is a close No. 2.
"Well, hopefully it'll be sometime near the end of October," Martin said. "He seems to be progressing well. He's such an important factor on our team -- 5-on-5, as well as on special teams."
7. Rookie watch, Part 1
Helping ease the burden in Markov's absence is the electrifying P.K. Subban. The 21-year-old blueliner was a late-season call-up last spring and didn't disappoint in the playoffs, collecting eight points (1-7) in 14 pressure-packed games and winning over the Habs faithful.
"I'm impressed with this young man," Cammalleri said. "I think he's going to be a special, special player and I think he already is. ... If you want to have some fun watching hockey, put us on TV when P.K. takes the puck behind the net. He's got a dynamic skill set you don't see every day."
8. Rookie watch, Part 2
Lars Eller was the main attraction in the package Montreal received in exchange for Halak. The Danish forward might have surprised some at camp with the physicality he showed.
"We'll see where he fits in, but he does have some excellent skill and good speed," Martin said. "Hopefully by adding a more skillful player, that will help us in our [offensive] production, as well."
9. The veteran
Scott Gomez finished strong last season in the playoffs with 14 points (2-14) in 19 games, but for a $7.35 million annual cap hit, 59 points (12-47) in 78 regular-season games doesn't cut it.
"I think Scott can give us more production," Martin said. "I thought he was very good for us in the playoffs last year, competed very hard and provided a lot of leadership on our team. I think in his second season here, he's a guy that enjoys playing in Montreal and he's dealt very well with the pressure and media here. I see him progressing."
10. Which Benoit Pouliot will we see this season?
Pouliot, acquired from Minnesota last November, had a torrid stretch for his new team between Dec. 28 and March 9, tallying 14 goals in 23 games. But by springtime, he faded big time. He didn't score a goal in 18 playoff games and was a total non-factor.
"Ben has good skill, good speed and good hands," Martin said. "To me, you just hope that he simplifies his game and gets it back on track. He did help our team and played very well with Gomez and Gionta for a stretch just by going to the net and going into the traffic and being direct with his game. When he does that, he can be very effective."
PREDICTION: The Canadiens and Senators will tie for third place in the Northeast Division and for seventh place in the Eastern Conference. But Ottawa will use the new tiebreaker rule to its advantage, pushing Montreal to eighth in the conference because the Habs will have won more shootout games this season.
Pierre LeBrun covers the NHL for ESPN.com.
More From The Magazine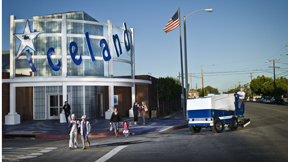 ESPN The Magazine's "Ice Issue" provides even more in-depth coverage of the upcoming NHL season:
• Smith: What is Gary Bettman's legacy?
• Fleming: Most beloved machine in sports
• Berra: The Red Wings' scouting edge
Coach's Corner

Coach:
Jacques Martin
Experience:
Entering 15th NHL season, his second with Montreal
Record:
556-439-119-66
Stanley Cup titles:
0
• Veteran hockey man Jacques Martin enters his second year behind the Canadiens' bench. His first season was a huge success thanks to a surprise trip to the conference finals.
"It's a great privilege to be able to coach this team and work with this organization," he said. "This team has so much history and tradition. It's been nice to work with people like Bob Gainey, who hired me and remains with the organization, and now Pierre Gauthier as GM, a guy I worked with in Ottawa. I enjoy our coaching staff. I look forward to the challenge this season."
The Fab Five
LeBrun's top positional players for the Habs:

F -- Mike Cammalleri: This dude, who had 26 goals and 50 points in 65 games last season, loves the drama-filled market he's playing in.

F -- Tomas Plekanec: The underrated center led the Habs with 70 points (25-45) last season and was rewarded with a $30 million, six-year contract extension.

F -- Brian Gionta: The veteran winger led the Canadiens with 28 goals last season and brought a calming leadership to the dressing room.

D -- Andrei Markov: The stud Russian led the team in plus-minus and ice time, and is key to the power play, penalty kill, 5-on-5, the transition game ... well, you get the picture.

D -- Roman Hamrlik: A reliable, two-way workhorse who was second on the team, averaging 23:26 minutes a game, although his best years are behind him at age 36.
Fantasy Focus

Best bet: Tomas Plekanec
Plekanec finished in the ballpark of 70 assists for the second time in the past three seasons and looks to be established as an elite NHL playmaker. He takes plenty of shots for a set-up guy and also contributes a fair share on the power play. Consider Plekanec one of the better No. 2 centers. -- Sean Allen

Risky pick: Carey Price
The starting goalie job in Montreal is one of the most high-pressure jobs in all of sports, and Price has yet to fully hit the level expected of a top-5 draft pick. His career marks (2.73 GAA and .912 save percentage) are not inspiring. Consistency continues to be a problem, although Proce won't be pushed very hard by Alex Auld or Curtis Sanford. -- Tim Kavanagh

Sleeper pick: P.K. Subban
After he netted eight points in 14 playoff games as a late-season call-up, Canadiens fans are craving more of the same from Subban. The Habs will use him on the power play and penalty kill, and the early Calder Memorial Trophy candidate will learn plenty (and rack up the points) skating alongside Andrei Markov on the man advantage. -- Victoria Matiash
More Fantasy: Join now! » Draft kit » Ranks »
Insider: NHL
The Rankings
See how all 30 NHL teams stack up for the coming campaign in The Magazine's 2010-11 Rankings. Story