Bruce Bennett/Getty Images John Tavares scored 24 goals in 82 games during his rookie season.
Islanders: 10 Things You Need To Know
By Scott Burnside
Never mind the Phoenix Coyotes. Is there a more forgettable and lamentable team in the NHL than the New York Islanders?
Islanders? Islanders? … Anyone? Anyone?
With their future place of residence stuck in limbo -- Queens? Long Island? Kansas City? Do we hear Quebec City? -- the Islanders are likewise in limbo, unable to attract top free agents to their crumbling building and stuck with a goaltender whose 15-year contract remains one of the greatest wastes of time and money in recent hockey history.
The Isles have qualified for the postseason once since the lockout, in 2007. They have not won a playoff round since 1993 and have missed the playoffs entirely 11 times during that span.
This season? It's hard to imagine a playoff berth is possible after a 13th-place finish in the East, especially given training camp injuries to Mark Streit and Kyle Okposo. Wait, you say the Islanders were just nine points out of the postseason last season? And with former No. 1 pick John Tavares and Matt Moulson and some other guys, they aren't all that far off? Sadly, while the rest of the world turns, the Islanders remain the great stone in the NHL solar system, stuck in its own time warp waiting for something to happen to suggest otherwise.
1. Kick in the teeth
Let's get the early bad news out of the way. Before the Islanders played their first preseason game (their schedule was thrown out of whack when a planned trip to China was canceled in the offseason, so they didn't play exhibition games until late in training camp), the Isles found out they would start the season without their best defenseman. Streit ran into Moulson during a scrimmage and is out with a shoulder injury. Okposo, who's slated to play on a line with top center Tavares, has a shoulder injury that could cost him two months or more. By the time both return to action, it's entirely possible the Islanders will be out of the playoff picture.
2. Special teams?
There's nothing special about the way the Islanders approached the penalty kill or the power play last season. The Isles managed the dirty daily double, finishing 27th on the man advantage and 29th while killing penalties. Thank goodness for the Toronto Maple Leafs, else the Islanders would have really stunk. Things don't look to get any easier this season with power-play participants Streit and Okposo on the shelf indefinitely.
3. JT
It will be interesting to see how Tavares fares in his sophomore season after finishing second among all rookies with 54 points, one behind Matt Duchene of Colorado. Tavares said that one of the biggest things he learned in jumping to the NHL was how to manage time.
"Obviously, it's a long season, and there's a lot of games you play," Tavares said in a recent interview. "Just picking my spots when it's time to work on some things and when there's times to maybe shy away a little bit, get your mind away and refresh a little bit."
Isles GM Garth Snow has no worries about Tavares' continued evolution as a top young player.
"One great thing about John is that no one's going to have higher expectations of himself than he is," Snow said. "In that regard, John is an easy player to coach and an easy player to have in the organization."
4. Moulson
Moulson was one of the great hidden gems last season. The 263rd overall pick of the 2003 draft emerged as a scoring force, playing mostly with Tavares and netting 30 goals in his first full NHL season after a couple of stints with the Los Angeles Kings. Moulson, who will turn 27 in November, was the only Islander to hit the 30-goal plateau. His ability to repeat that kind of proficiency around the net will be key to the Isles' chances of staying in the playoff hunt.
5. The veteran
Doug Weight will return to action after playing in just 36 games last season and 53 the season before. With the injuries to Streit and Okposo, Weight will be counted on to log additional power-play minutes. If Weight can regain some of his spark, he could be attractive to a playoff-bound team come trade-deadline time. But given his injury woes, it's hard to believe the end of the road isn't in sight for the classy forward.
6. The return of Ricky D
The former No. 1 overall draft pick (thank former GM Mike Milbury for that gem) and owner of the albatross 15-year contract, Rick DiPietro has appeared in a total of 13 games the past two seasons. Offseason reports indicated that DiPietro's oft-rebuilt knees were, well, rebuilt again. Now, the thinking is if DiPietro is healthy, he and Dwayne Roloson will give the Islanders a pretty decent one-two punch in goal.
But the bigger question is whether a healthy DiPietro actually makes the Isles better. It's been so long since we've seen DiPietro play at a top level for any length of time that it is a giant leap of faith to suggest he could return after essentially two missed seasons. If he does, it will be one of the great comeback stories of the season.
Snow said he has no set idea on how many games he'd like to see DiPietro play. But the GM said DiPietro feels "100 percent" and, with Roloson in place, "we feel we have some really good depth at that position."
7. James W. and the blue line
James Wisniewski was sent out of Anaheim as part of a salary dump in exchange for a third-round draft pick. Wisniewski will be counted on to provide some offensive pop from the back end. He also will add some veteran experience to a group that, with the addition of Mark Eaton and big Milan Jurcina, should improve a defensive unit that ranked 28th in goals allowed per game.
8. Who cares?
Snow knows that the expectations are low for his club, at least externally, but he also points out that this is a team that saw an 18-point improvement over two seasons ago. And now, young players are being counted on to continue that maturation process, whether it's Tavares or Josh Bailey or newcomers expected to make a push for a roster spot like Matt Martin, Nino Niederreiter or defenseman Travis Hamonic. The group in the locker room believes it has a chance to win on any given night, "regardless of what people from the outside feel about it," Snow said.
9. The goals
Defensively, the Isles were bad. But perhaps the revamped blue line and goaltending tandem of Roloson and DiPietro will provide an upgrade. Maybe. Still, without Streit and Okposo to start the season, the Islanders will be desperate for scoring punch. They finished tied for 20th in the league in goals per game last season and likely would need to jump at least five spots to vie for a playoff spot. Where will those goals come from? Good question.
10. Did you know?
The Islanders gave up only three short-handed goals last season, tied for third in the league.
PREDICTION: Sorry, all the best intentions won't get it done on Long Island. Not this season, not any time soon. Fifth in the Atlantic, 14th in the Eastern Conference.
Scott Burnside covers the NHL for ESPN.com.
More From The Magazine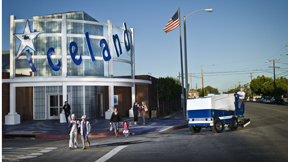 ESPN The Magazine's "Ice Issue" provides even more in-depth coverage of the upcoming NHL season:
• Smith: What is Gary Bettman's legacy?
• Fleming: Most beloved machine in sports
• Berra: The Red Wings' scouting edge
Coach's Corner
Coach:
Scott Gordon
Experience:
Entering 3rd NHL season
Record:
60-84-20
Stanley Cup titles:
0
• There was a bit of a kerfuffle during the offseason when Newsday reported the team had declined to offer coach Scott Gordon a contract extension and he would coach out the final year of his contract. In essence, owner Charles Wang and GM Garth Snow are saying Gordon would be evaluated like everyone else in the organization at the end of the season. Nice.
If they don't think Gordon is the man to get this young team over the hump, they should find someone else. If they do, they should give him a contract that gives him some security and allows him to coach free of the idea that every night is an audition. Unless, of course, they're too cheap to do it that way.
The Fab Five
Burnside's top positional players for the Isles:

F -- John Tavares: The big man has a big set of skills and should build on a solid rookie campaign.

F -- Matt Moulson: A great story that will be looking to add another chapter.

F -- Josh Bailey: With Okposo out indefinitely, the pressure is on Bailey to deliver the goods after he put up 16 goals in his sophomore season.

D -- Mark Eaton: He put in some good nights for the Pittsburgh Penguins during their two straight runs to the Cup finals in 2008 and 2009.

D -- Milan Jurcina: Can he get his big body in gear and become the physical presence that has thus far eluded him?
Fantasy Focus

Best bet: John Tavares
Tavares did not set the world on fire in his rookie season. What he does for Act II is certainly an interesting debate. It's definitely reasonable to see Tavares increasing his overall points and he needs to take more shots on goal, but if he finishes with a minus-15 again, it wouldn't be a shock. He is a terrific choice as a No. 2 center with upside. -- Sean Allen

Risky pick: Matt Moulson
Yes, Moulson scored 30 goals last season. Yes, he will likely start on the same line with Tavares again. But you shouldn't pay for him at your draft like he'll score 30 again. The main concern with Moulson is he's the league's No. 1 example of a star by association. There's no way of knowing how Moulson will be deployed all season, and it's worth pointing out the Isles have a number of other players who will be pushing for first-line duties. -- SA

Sleeper pick: Rob Schremp
His knee injury from last season is healed and the Islanders gave him another one-year deal. He looked strong with 20 points in his final 27 games before hurting his knee. He has been on fantasy radars for years, and you may be tired of prospecting him at your draft, but if the stars were ever aligned for Schremp to break through, it's now (or never). -- SA
More Fantasy: Join now! » Draft kit » Ranks »
Insider: NHL
The Rankings
See how all 30 NHL teams stack up for the coming campaign in The Magazine's 2010-11 Rankings. Story