Eliot J. Schechter/NHLI/Getty Images Henrik Lundqvist had a 2.38 GAA and .921 SV, but only won 35 of his 73 games played last season.
Rangers: 10 Things You Need To Know
By Scott Burnside
It's hard to know what to make of the New York Rangers, which is what we seem to say pretty much every season. Such is life under the tutelage of GM Glen Sather, who continues to make moves that defy logic, let alone the salary cap.
With his team desperate for help down the middle and in need of a power-play quarterback, Sather bestowed a four-year deal worth $1.65 million annually on Minnesota mauler Derek Boogaard, who has tallied exactly two goals in his career.
Speaking of errors, Wade Redden was, as expected, shipped to Hartford to hide another contract mistake. In his absence, the Rangers will boast a young defense corps that will have to take a step forward if the boys in blue want to return to the playoffs.
The offense will again be led by
Marian Gaborik
, who stayed healthy (for the most part, playing in 76 games) and led the team with a career-best 86 points. Secondary scoring should get a boost from
Alexander Frolov
(repatriated from Los Angeles), and veteran Vinny Prospal will again figure into the mix, although he will be out two weeks with a sore knee that limited his action through camp.
1. Special work
Credit John Tortorella with keeping the Rangers' special-teams play at an acceptable level even as his lineup was in transition. The Rangers' penalty kill was seventh overall and the power play was 13th. Still, Tortorella pointed out the PK slumped down the stretch. As for the power play, the Rangers have come a long way in a short period of time (they were 29th two seasons ago). The power play was especially effective at the start and finish of the season. "We showed great improvement, but I thought we were too inconsistent on the power play in the guts of the season," the coach said.
2. The anchors
If the Rangers are going to jump back into the postseason for the fifth time in six post-lockout seasons, it will be because young defensemen Marc Staal and Dan Girardi take a step forward in their on-ice leadership. The two are the anchors of a young blue-line corps and will continue to shoulder a heavy load for the Rangers. Tortorella praised Staal for his composure as the season wore on. "He was really good the last couple of months," he said.
3. The power-play anchor
Michael Del Zotto, the 20th overall pick in 2008, made an impressive jump from junior hockey to the NHL and quickly assumed control of the Rangers' power play. He led all rookies with 18 power-play assists and was second only to first overall pick John Tavares with 22 power-play points. That said, Del Zotto did struggle to master both ends of the ice in his first NHL season.
Roster issues dictated that Tortorella continue to use him. "We didn't have any other options," he said.
4. The new blood
Partly out of necessity, partly out of hard work, the Rangers' lineup will feature a handful of young bucks when the regular season opens. Derek Stepan is battling with Erik Christensen for the No. 1 center job, while Ryan McDonagh, who came in the Scott Gomez deal, has been impressive along the blue line, although he was sent down to the AHL to start the season.
Another youngster who could appear along the blue line some time this season is Pavel Valentenko, another valuable piece from the Gomez trade (who says Sather gets them all wrong?). Valentenko missed much of last season with a shoulder injury, but Tortorella said he was impressed with his composure in camp. Like McDonagh, Valentenko will start the season in the AHL.
5. So, about the middle …
If Tortorella has his way, Prospal and Brandon Dubinsky would play on the wing; he believes that's a better position for those key forwards even though both have spent some time at center. But for that plan to work, Tortorella has to find folks capable of working the middle. Christensen was in a battle with Stepan for the top two spots, while Todd White, not known as a particularly gritty player, was also in camp in the hopes of cracking the lineup down the middle. Captain Chris Drury suffered a finger injury early on, which left the competition wide open.
Regardless of how it pans out, Tortorella is likely going to need a couple of his boys down the middle to take a giant step forward to make it work.
6. The MSG factor
The Rangers were 18-17-6 at Madison Square Garden last season, 25th overall in the NHL.
"We need to be better at home," Tortorella said. "It's a different animal in New York City."
He has sought input from players about how to prepare better at home, changing routines and being in a better mental mindset for games in the city.
"I think it's different at MSG [than other rinks]," he said. "Teams that come in love playing there. I just thought we didn't handle adversity with the games at home very well. It doesn't take long for things to change with the crowd there."
7. The King
It always seems to come down to the man between the pipes for the Rangers, Henrik Lundqvist. He's the only goaltender in NHL history to have won at least 30 games in each of his first five seasons. He'll have to do it for a sixth if the Rangers are going to be playoff bound. But the past couple of seasons have been disappointing for the man they call "The King."
It's not like he hasn't played well; Lundqvist finished with a .921 save percentage and 2.38 GAA. But he seems to take these setbacks personally, as do all great leaders. One of the reasons for optimism this season is the Rangers weren't far off from being a playoff team.
Veteran backup Martin Biron joining the squad adds an interesting dynamic for Lundqvist. Biron will presumably be a more reliable option. Lundqvist has played in 70 or more games in each of the past four seasons.
"If you want to play for another two months [after the regular season], then 72 games might be a little much," Lundqvist said. "We'll see how it plays out. I love to play. It's hard to sit on the side and watch. I definitely want to be out there in the action. But in the long run, it's always good to have a goalie that can back up and maybe play a little bit more."
8. Huh?
Nothing illustrates the shambling, meandering state of the New York Rangers like the mind-numbing signing of Boogaard. How does that make any sense? Boogaard, who has managed to score twice in 255 NHL games, must have thought he had died and gone to contract heaven, which is pretty much how most free agents feel when they meet with Sather. But for a team that had to send Redden to Hartford to get out from yet another whopper contract error, the Boogaard signing suggests this is a team that will never quite get it when it comes to having a master plan about how to best spend ownership's money.
9. The captain
Looking for class? Then look no further than the man behind the "C" in New York, Chris Drury. But these have not been easy times for the one-time Buffalo Sabre, who has struggled to find a role in New York and will begin this season on the injured list (broken finger). Twice a 30-goal scorer, Drury has been relegated to a more defensive role, even though the Rangers are painfully thin at center. Here's hoping he finds something akin to satisfaction this season with the Rangers.
10. Oh, those shootouts
Watch for the Rangers to be more vigilant about trying to pick up points in overtime and shootouts. Losing a playoff berth on the final afternoon of the regular season in a shootout will do that for you. Last season, the Rangers won just three of seven shootout games. In overtime, the news was just as bad; the Rangers were 4-11 in the extra session. That's a lot of points left on the table.
PREDICTION: The reality is the Rangers could end up anywhere between sixth and 12th in the mediocre Eastern Conference. We're guessing a lack of depth down the middle and a too-young defense corps lands the Rangers fourth in the Atlantic Division and 12th in the conference.
Scott Burnside covers the NHL for ESPN.com.
More From The Magazine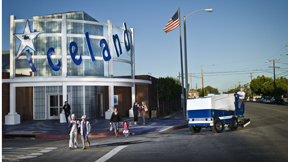 ESPN The Magazine's "Ice Issue" provides even more in-depth coverage of the upcoming NHL season:
• Smith: What is Gary Bettman's legacy?
• Fleming: Most beloved machine in sports
• Berra: The Red Wings' scouting edge
Coach's Corner

John Tortorella
Experience:
Enters second full season with Rangers
Record:
289-265-37-51
Stanley Cup titles:
1
• This will be Tortorella's second full season with the Rangers after taking over for Tom Renney in February 2009. He acknowledged there has been a long period of getting to know and understand each other and what he wants as a coach. It was so in Tampa Bay before the Lightning became an NHL force and won a Stanley Cup in 2004.
No one will mistake these Rangers for that Lightning team, but Tortorella insisted he likes the attitude and feel around his club heading into the season.
"I just have a good feeling about our mindset here," he said. "I think they understand me better, and I admit it does take some time to understand me. I just have a very good feeling about this."
The Fab Five
Burnside's top positional players for the Rangers:

F -- Derek Stepan: The homegrown prospect should see top-six minutes down the middle, where the Rangers are perilously thin.

F -- Marian Gaborik: The Rangers got their money's worth from the skilled Slovak, who put up 86 points. They'll need more of the same this season.

F -- Alexander Frolov: He ended up in Terry Murray's doghouse in Los Angeles and became a Ranger as a result. Has 30-goal potential as long as he doesn't end up in Tortorella's doghouse.

D -- Marc Staal: The young defenseman who earned an invitation to Canada's Olympic orientation camp a year ago signed a new contract late in the offseason and is the future of the blue line.

D -- Michael Del Zotto: How will Del Zotto follow up a terrific rookie season?
Fantasy Focus

Best bet: Henrik Lundqvist
King Henrik got better goal support from the Blueshirts than the two prior seasons and the best save percentage since his rookie campaign in 2005-06, but won only 35 games. Those numbers simply don't compute, and we expect a bit of a rebound. With viable backup Martin Biron in town, Lundqvist may have a night off more often. But even if The King is down to 65 starts, those are enough to keep him in fantasy's top tier. -- Tim Kavanagh

Risky pick: Marian Gaborik
You all know the deal with Gaborik by now. Pro: He is one of the most offensively gifted players in the NHL. Con: He gets hurt a lot. That's pretty much it. The only thing to weigh is whether you believe his body can hold out for a second straight season for the first time since 2003. If you believe he can stay healthy, he could be taken in the first round. If you want to hedge your bets, wait until the third round. -- Sean Allen

Sleeper pick: Evgeny Grachev
If the Rangers have a young player to keep an eye on this season, it's Grachev. While Artem Anisimov may have more experience at the NHL level, Grachev's upside goes well beyond Anisimov's. Using his formidable frame and strong stick-work, Grachev could play his way into a key spot on the depth chart. -- SA
More Fantasy: Join now! » Draft kit » Ranks »
Insider: NHL
The Rankings
See how all 30 NHL teams stack up for the coming campaign in The Magazine's 2010-11 Rankings. Story