Andre Ringuette/Getty Images After a controversial offseason, Jason Spezza is back on good terms with the Senators.
Senators: 10 Things You Need To Know
By Pierre LeBrun
The Ottawa Senators weren't a popular pick to make the playoffs last season but did just that, placing fifth in the Eastern Conference and giving the Pittsburgh Penguins all they could handle in a first-round playoff loss.
But it wouldn't be the offseason if there wasn't some form of controversy in Ottawa. A year after Dany Heatley forced a trade out of Canada's capital, star center Jason Spezza caused a stir when he suggested to GM Bryan Murray in player exit meetings that maybe he should get a change of address (he was hurt that he was the target of boos from Sens fans in the playoffs).
It caused a few weeks of anxiousness and trade rumors before Murray calmed the waters and announced at the June draft that his top center was not going to be dealt.
In the meantime, the Sens surprised many on the first day of free agency by signing veteran star blueliner Sergei Gonchar to a three-year, $16.5 million contract. But on the same day, they lost hard-hitting blueliner Anton Volchenkov to New Jersey.
1. The power play
The Senators were 21st on the power play last season, a real area of concern. Enter Gonchar and his cure-all abilities.
"The back end is always the critical part on a power play, I think," Murray told ESPN.com. "The goals don't always come from there, but how creative the point men are, how they get the puck up the ice, when they get into the zone, how organized they are -- everything can run from there.
"He's so poised and so calm with the puck. He finds the open man. He gives people a chance to do something with the puck when they get it. So now with him, Erik Karlsson and Filip Kuba, we've got some quality back there offensively."
2. The blue line
The defensive corps has shifted its look somewhat. An injured Kuba missed the playoffs last season. Gonchar is a huge new addition. So you're basically looking at Gonchar/Kuba replacing Volchenkov and Andy Sutton. Second-year blueliner Erik Karlsson, an offensive wizard, will get more ice time. So suddenly, Ottawa's blue line has shifted into more of a puck-moving group and less of a banging outfit.
Kuba was sorely missed last season and he won't be back until about two weeks into the regular season.
3. New face in the crowd
Karlsson should become more of a household name around the league this season. The 20-year-old Swede had 26 points (5-21) in 60 games last season and now will get more of a chance, especially on the power play.
"Not a big body, but a big shot. Real smart, skates very well, doesn't defend with strength but with position," Murray said. "And when he gets beaten with position, he gives up a fair amount. But with the puck, and helping forwards getting the attack going, he's going to be one of the better young defensemen in the league, without a doubt."
4. Spezza stays
Spezza is still a Senator. His feelings were hurt a little last spring, but he's apparently over it.
"At the end of the year he was frustrated; he was disappointed," Murray said. "We were short-handed in the playoffs, and he took the brunt of that to an extent. People here expected us to go further, and Jason was the target [from fans]. But then we met midsummer, he was working out and looked great, and I told him he wasn't going to be traded whether he wanted it or not. He didn't really push the point. Since then, he's been terrific; we've talked a number of times."
5. Secondary scoring
Nick Foligno battled two separate injuries last season -- a knee problem and then a broken leg -- limiting him to 61 games. The 22-year-old has come back stronger than ever this fall and looks poised to make a bigger impact on the Sens' second line.
"Nick has come back and proven himself," Murray said. "He's been so good, so quick and good with the puck. So I'm hoping that carries into the regular season and way beyond. He should be in the top six."
6. Drawing the lines
The forward lines, as we see them, would feature Spezza centering Daniel Alfredsson and Milan Michalek on the top unit; Mike Fisher would be between Foligno and Alexei Kovalev on the second line; Chris Kelly would once again center Jarkko Ruutu and Chris Neil; and newcomer Zack Smith might get a chance on the fourth line between Jesse Winchester and Peter Regin.
7. The goaltending
The goaltending is a huge topic among fans and media in Ottawa. Pascal Leclaire looks to redeem himself this season after injuries and inconsistency marred his 2009-10 season, opening the door for unheralded Brian Elliott to take the mantle. Now the job is wide open again.
For Leclaire, there's a lot at stake. He's slated for unrestricted free agency July 1. In the meantime, if neither Leclaire nor Elliott is inspiring confidence by midseason or late season, don't be surprised if 19-year-old Swedish prospect Robin Lehner gets called up. He'll start the season in the AHL, but the Sens are mighty high on him.
8. Injuries
Two-thirds of the top line is coming off notable surgeries -- Alfredsson had hernia surgery, while Michalek had knee surgery.
"Alfie looks great," Murray said. "He doesn't look like he's lost a step. The surgery went well for him. Milan, we were a little concerned, but he's back skating. He's a guy that should get you 20-25 goals a year, and he flies. I think both players will be OK."
9. What's in store for Alexei Kovalev this season?
The enigmatic yet uber-talented 37-year-old dipped to 49 points (18-31) in 77 games last season, his lowest offensive output in four seasons.
"You guys [the media] are lot harder on him than I am," Murray said. "The guys he plays with love to play with him because he really gets them the puck in the right spot. ... He looks like he stands around too much, but for the most part he's been real good. I knew what he was, I think I know what he's going to be, and that's OK."
10. The last word
One of Ottawa's real areas of strength last season was on the penalty kill, which ranked eighth in the NHL. The defection of Volchenkov could hurt in this area; the A-Train was a huge part of the penalty kill during his time in Ottawa.
PREDICTION: The Senators and Canadiens will tie for third place in the Northeast Division and for seventh place in the Eastern Conference. But Ottawa will use the new tiebreaker rule to its advantage, pushing Montreal to eighth because the Habs will win more shootout games this season.
Pierre LeBrun covers the NHL for ESPN.com.
More From The Magazine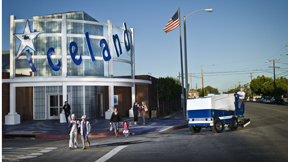 ESPN The Magazine's "Ice Issue" provides even more in-depth coverage of the upcoming NHL season:
• Smith: What is Gary Bettman's legacy?
• Fleming: Most beloved machine in sports
• Berra: The Red Wings' scouting edge
Coach's Corner
Coach:
Cory Clouston
Experience:
Entering second full NHL season
Record:
44-43-10
Stanley Cup titles:
0
• Cory Clouston enters his second full season behind the Ottawa bench. The young, hard-nosed coach brought much-needed discipline to the Sens last season.
"He's done a good job," Murray said. "I think the thing Cory had to do was be a little more open with the players away from the ice, and he's really tried to do that. He's loosened up a little bit. He still has to be strict on the ice. Players seem to be in a real good mood. I think he's an excellent coach."
The Fab Five
LeBrun's top positional players for the Sens:

F -- Mike Fisher: The second-line center is the team's best two-way player. And his wife is famous, too (Carrie Underwood).

F -- Jason Spezza: He worked extremely hard in the offseason after his controversial and timid trade request. He looks hungry.

F -- Daniel Alfredsson: He has fully recovered from offseason hernia surgery and looks ready to deliver another 70-point season.

D -- Chris Phillips: The solid, two-way defender is eligible for unrestricted free agency July 1.

D -- Sergei Gonchar: Need a cure for a power play that struggled last season? Gonch and his pinpoint passing and blast of a shot are the answer.
Fantasy Focus

Best bet: Daniel Alfredsson
While you can't count on Alfredsson to score 40 goals again, he's still a point-per-game player. The Senators also have a legitimate point man for the power play (Sergei Gonchar), and that bodes well for Alfredsson's power-play production. Alfredsson falls just outside the realm of No. 1 centers because you have to account for him missing a handful of games. -- Sean Allen

Risky pick: Alexei Kovalev
There is no question Kovalev can score with the best of them when he is on his game, but unfortunately, that isn't as often as fantasy owners would like. Questions continue to surround his work ethic and he had a knee injury at the end of last season. Still, it's impossible not to think about gambling on a talent this enticing just in case he plays an 82-game slate.
-- SA

Sleeper pick: Peter Regin
The Denmark native finished with 29 points and a plus-10 rating while playing a limited role on the Senators for most of the season. Projected for a scoring-line role this season, Regin could be the catalyst on the second line or even slip in on the first line with Jason Spezza and Alfredsson. -- SA
More Fantasy: Join now! » Draft kit » Ranks »
Insider: NHL
The Rankings
See how all 30 NHL teams stack up for the coming campaign in The Magazine's 2010-11 Rankings. Story