Steve Mitchell/US Presswire Danny Briere had 26 goals and 27 assists in 75 games last season for the Flyers.
Flyers: 10 Things You Need To Know
By Scott Burnside
What a storybook run for the Flyers this past spring.
First, they qualified for the playoffs on the final afternoon of the regular season, in a shootout against division foe New York Rangers, no less. Then, the Flyers dispatched New Jersey in five games before mounting a monumental comeback against Boston, becoming only the third team in NHL history to erase a 3-0 deficit and win a series.
After defeating Montreal in five games in the conference finals, the Flyers lost a heartbreaker to Chicago in the Cup finals, losing in overtime in Game 6 on home ice.
Still, it was a busy offseason for GM Paul Holmgren, who added defensive depth in Andrej Meszaros and Sean O'Donnell and took on talented but inconsistent blueliner Nikolai Zherdev. The move cost them veteran forward Simon Gagne, and injuries may keep Chris Pronger, Ian Laperriere and Michael Leighton out of the opening night roster and beyond. But in all, the Flyers look even more formidable this season.
1. So, how about those goaltenders?
Hey, it's Philadelphia, so there has to be a goaltending controversy (or at least goaltending angst) from the get-go. It goes with the territory. Although we feel a bit small leveling any criticism at the Brian Boucher and Leighton tandem that bested Martin Brodeur, Tuukka Rask and Jaroslav Halak in the postseason, let's be candid. There was a reason Leighton had been on waivers periodically throughout his career, and there's a reason Boucher hadn't been a playoff starter in a decade.
Is it possible the two will push each other and share a Jennings Trophy for allowing the fewest goals? Perhaps. Is it more likely that midway through the season, fans will be clamoring for Holmgren to go out and bring in a battle-tested netminder for the playoffs? Yes.
The picture became even murkier late in training camp when Leighton went down with a back injury. He is out indefinitely but apparently will not need surgery. That puts Boucher back in the crosshairs and opens the door for 22-year-old Sergei Bobrovsky to make a case for himself. Stay tuned for future episodes of "As The Flyers Goalie Turns."
2. Breakthrough Briere
It's been a bit of a roller-coaster ride for Daniel Briere since he signed that big contract in Philadelphia, but last spring was a true coming-out party for the good-natured, skilled center. After playing on the wing for most of the season, Briere moved back to the middle when Jeff Carter was injured and absolutely lit it up. Briere led all playoff performers with 30 points and scored five winning goals. By the time the dust cleared in the Cup finals, Briere was being widely considered for the Conn Smythe Trophy had the Flyers been able to pull out the win against Chicago. And with good reason. There's no reason to suggest that level of production will tail off this season.
3. The puck thief
We will never get tired of covering any hockey event in which Chris Pronger takes part. Olympics, All-Star weekend, media days, pancake breakfasts, playoffs -- they're always a treat. His snaring of the pucks after the first few games of the Cup finals was classic, as was his play throughout most of the playoffs. Pronger averaged 29 minutes, 3 seconds a night in ice time, tops in the NHL. Yes, he was minus-5 in Game 5 of the Cup finals, but so what?
Pronger was absent from preseason games as he continued to rehab his knee after a minor surgical procedure late in the offseason. We're sure this was a real disappointment to the defenseman, who has seen his fair share of training camp exercises since breaking into the NHL in 1993. But for a guy who logs as much ice time as he does and is no spring chicken at age 35, Pronger has to be worried about durability. The Flyers boast a deep and talented blue line, so Pronger doesn't need to carry the team, but both his minutes and his health will bear watching this season.
4. The other boys on the blue line
Regardless of when Pronger returns to the lineup, the Flyers still boast one of the most impressive blue-line corps in the NHL. Although they ranked just 15th in goals allowed per game, we're looking for the Flyers to jump into the top 10 with the addition of Meszaros from Tampa Bay and O'Donnell, a veteran from Los Angeles. They will join a nice blend of skill and size that includes Matt Carle, who was terrific playing alongside Pronger in the playoffs, Braydon Coburn and the underappreciated Kimmo Timonen.
5. The Zherdev enigma
Here's the deal with Zherdev. On some nights, you'll swear you're watching Alex Ovechkin or Sidney Crosby or Ilya Kovalchuk. Then on the next night, or even the next shift, you'll wonder whether he's even in the building. That has been the experience of coaches in Columbus and New York, his first two NHL stops. Now, he's Peter Laviolette's challenge.
"We're going to let him get in here and get used to the system," he said. "He seems to be a good kid. You talk to him, he listens."
A bad attitude? "That I don't see," the coach said.
6. Speaking of firepower …
Yes, the Flyers can bring it. Last season, they ranked eighth in goals per game and third in power-play efficiency. And even without Gagne, they should still bring it again, as players such as Claude Giroux, Ville Leino and Zherdev should continue to bring more to the offensive table to complement a solid nucleus that includes Briere, Carter and captain Mike Richards.
7. Sin bin
Now, how's this for a mindblower? The Flyers have difficulty with discipline. OK, just kidding, but it's true. Maybe it's in the DNA, but only Tampa Bay took more penalties on average than the Flyers last season. Luckily, the Flyers aren't too shabby at killing penalties with a unit ranked 11th overall. Sometimes it is what it is.
8. Hangover?
Laviolette had to guide his Carolina Hurricanes through the choppy waters of a post-Cup season in 2006-07. It was a difficult task, and Carolina missed the playoffs. How about defending a run to the Cup finals?
"I think it is different. The feel is different," Laviolette told ESPN.com during training camp. "Right now, we're not the happy campers we were in Carolina. We've got the bad taste in our mouths. We don't have any roses to smell here."
9. The good news
Still, there is reason to believe that the Flyers can use last season's emotionally jarring run to the Cup finals as motivation. The core of the team is returning, and the Flyers know how hard they worked to get out of 29th place midway through the season. They played a series of playofflike games through the second half just to get into the postseason. In theory, they are a mature team that knows what it is to overcome adversity and bumps in the road.
10. Rookie? Really?
It took us until about midway through the East finals to realize it wasn't an ongoing misprint -- Leino was in fact an NHL rookie. Technically. Having played in Detroit for some of the previous season, he still was considered a rookie last season when the Red Wings sent him to Philadelphia as part of a salary dump. He struggled to get into the Flyers' lineup and wouldn't have seen much in the way of ice time if it weren't for injuries to Carter and Gagne at the end of the first round of the playoffs.
When he got there, though, Leino played lights-out. The big forward had seven goals and 23 points in 26 postseason games with two winners. Look for Leino to continue to get top-six minutes this season. At some point, we're guessing Laviolette will try to rekindle the magic Leino worked with linemates Briere and Scott Hartnell.
PREDICTION: We see the Flyers going toe-to-toe with Pittsburgh for the Atlantic Division crown (and let's throw the Devils in for good measure), but in the end, figure Philadelphia for second in the Atlantic and fourth in the Eastern Conference.
Scott Burnside covers the NHL for ESPN.com.
More From The Magazine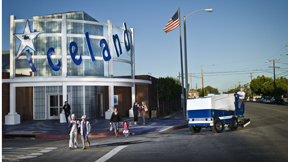 ESPN The Magazine's "Ice Issue" provides even more in-depth coverage of the upcoming NHL season:
• Smith: What is Gary Bettman's legacy?
• Fleming: Most beloved machine in sports
• Berra: The Red Wings' scouting edge
Coach's Corner

Coach:
Peter Laviolette
Experience:
8 years (entering first full season with Flyers)
Record:
272-208-25-39
Stanley Cup titles:
1
• It took a while for the Flyers to adapt to Laviolette's all-motion attack. "Feet always moving" is the mantra, and that's a hard way to play. Laviolette wants more of that this season.
"At the end of games, I would like people to say, 'I can't believe how aggressive they are,'" Laviolette said. He's not talking about punching people but rather being lightning-quick on the forecheck, on loose pucks and while getting back in the defensive zone -- all things the Flyers did exceptionally well en route to the Cup finals.
"My question is, can we do it better?" Our answer is, why not?
The Fab Five
Burnside's top positional players for the Flyers:

F -- Jeff Carter: Injury slowed Carter's production in the playoffs, and although he remains a top-level scoring talent, he needs to take a step forward in the leadership category.

F -- Scott Hartnell: After a miserable regular season, Hartnell was a force in the postseason with 17 points.

F -- Nikolai Zherdev: Did the Flyers hit the jackpot in bringing in the talented winger, or is he the hockey equivalent of fool's gold?

D -- Chris Pronger: His recovery from a knee operation will bear watching, but he is a difference-maker when he's in the lineup.

D -- Kimmo Timonen: Skilled and understated, he remains one of our favorite players.
Fantasy Focus

Best bet: Jeff Carter
Carter takes a ton of shots and his goal totals reflect that. On a team with so many offensive weapons, Carter is one of the few sure things. If he can land on a line with good chemistry, the sky is the limit. As a No. 1 center, he offers good value in the second round of drafts, but he could return more than you invested if everything falls into place. -- Sean Allen

Risky pick: Nikolai Zherdev
Zherdev is one of the most skilled players in the world, but also one of the most inconsistent. He spent last year in the KHL and managed to put up a decent point total (39 points in 52 games). Now back in the NHL, he could be a point-per-game player if he stays driven and the Flyers provide him with adequate ice time on a scoring line. With such big "ifs," Zherdev should come at a huge discount. -- SA

Sleeper pick: Ville Leino
Leino never got a decent amount of ice time with the Red Wings or Flyers after a trade midway through the regular season. Then, in the playoffs, Leino scored 21 points in 19 games while skating on a dominant line with Daniel Briere and Scott Hartnell. Leino has a few years experience in Finland, so he is only a rookie by the technical NHL definition. He is a serious offensive threat and has the skills to be a No. 3 winger. -- SA
More Fantasy: Join now! » Draft kit » Ranks »
Insider: NHL
The Rankings
See how all 30 NHL teams stack up for the coming campaign in The Magazine's 2010-11 Rankings. Story