Christian Petersen/Getty Images Phoenix goalie Ilya Bryzgalov is set to become an unrestricted free agent next summer.
Coyotes: 10 Things You Need To Know
By Pierre LeBrun
A year ago, the Phoenix Coyotes were the overwhelming choice among pundits and fans alike to finish dead last in the Western Conference. Their ownership issues seemed to be a huge distraction, their new coach arrived halfway through camp and players were preoccupied by what was going on around them.
Boy, did they have everyone fooled.
A 107-point season, which included a serious push on San Jose for first place in the Pacific Division, surprised everyone around the hockey world. Dave Tippett won the Jack Adams Award as NHL coach of the year, Don Maloney was awarded the inaugural GM award and Ilya Bryzgalov was nominated for the Vezina Trophy. The Coyotes also pushed powerhouse Detroit in a tough, seven-game series in the first round before finally bowing out.
No one saw any of that coming. Now, the Coyotes won't catch anyone off guard. Now, they have to prove it wasn't a fluke.
"Sneaking up on people is all well and good to get yourself established," Tippett told ESPN.com. "We just don't want to be a one-and-out. We want to be a good team and a good organization. I think if you ask the players right now, they would tell you the training camp was very hard. We have to up the ante here. Just because we made the playoffs one year, we still lost in the first round. ... And it's not about what we did and all those stories about being a Cinderella team."
Tippett said the feeling changed from going into games hoping to win early last season to going into games expecting to win later in the campaign.
"And this year, we're showing up expecting to win," the coach said. "The elite teams in the league, they expect to win every night. If they lose, they look at themselves and say, 'What did we do wrong?' We want to be one of those teams. When Detroit loses, they think about what they did wrong and not about what the other team did right."
1. The forwards
The Coyotes believe that they're a lot deeper at the forward position, and we agree. Sure, they lost Matthew Lombardi, but they added Ray Whitney, Eric Belanger and Kyle Wellwood (on a camp tryout). They also think it will make a difference to get a full season out of Wojtek Wolski, Lee Stempniak and Scottie Upshall, as the first two players came late last season via trades and Upshall missed half the season with a serious knee injury.
"If I look at our forward group, I believe we're as strong, if not stronger, than we were at the end of last season," said Maloney, who deserves credit for another successful offseason.
If youngsters such as Kyle Turris or Viktor Tikhonov make the jump from the AHL, the Coyotes will be even deeper.
2. The defense
The blue line is not as deep after the Coyotes lost top defenseman Zbynek Michalek to free agency and did not replace him.
"Michalek -- that's big minutes right there, that goes without saying," Tippett said. "But we feel we have a pretty good group. Our top four of [Ed] Jovanovski, [Adrian] Aucoin, [Keith] Yandle and [Derek] Morris is pretty good. Sami Lepisto is a quality NHL player. ... He's kind of an unheralded guy but a solid player. He fits in well with what we're doing. But the bottom line is that Michalek's minutes aren't going to be taken by one guy. It's going to have to be a group effort."
The sixth and seventh spots on defense will come from David Schlemko, Oliver Ekman-Larsson, Maxim Goncharov, Shane Hnidy or Kurt Sauer. Ekman-Larsson, 19, is a highly touted prospect.
3. Special teams
The power play was awful last season, ranking 28th in the NHL and dead last in the Western Conference at 14.6 percent.
It did come alive a bit in the playoffs against Detroit, but the Coyotes need to get that straightened out with regularity this season, and the power play was already an area of focus in camp. The addition of Whitney will be huge in this department, as will having Wolski and Stempniak all season long.
"It's got to be able to win you games," Jovanovski, who will anchor one of the two units, told ESPN.com. "It lost us more last year. We have goals on where we want to be as a group on the power play. Definitely adding Ray, he's a crafty player who can play the point and play on the halfboards; that's going to add a lot."
4. Did we mention Ray Whitney?
The addition of Whitney cannot be underestimated. Long underrated during his durable career, the Wizard has been among the most consistent point producers in the NHL since the lockout.
"Adding Ray Whitney -- the puck skills, the power play -- just the first few days of camp, you really saw the difference," Maloney said. "If he's like this all year long, he's really going to be such a good player for us. He's so clever for us."
5. How good is Keith Yandle?
The 24-year-old had a career-high 41 points (12 goals and 29 assists) last season and still has more upside. He's the key figure in the Coyotes' transition game with his puck-moving skills and vision.
"If Yandle was in a big market, he'd be a big-time player [in terms of his profile]," Tippett said. He's just a dynamic player."
6. The ownership drama continues
One year later, the Coyotes still don't have an owner. But it doesn't seem to have the same impact this time around. During a stop in Phoenix during training camp, the players seemed to become numb to it. Everyone just goes on with his business.
"From the hockey side, it's a little out of sight, out of mind," said Maloney, who has done wondrous work icing a competitive team with limited financial means. "We know what we have to do. ... The budget was expanded, it'll still be in the lower third of the league, but that's OK. It's still enough to put a good team on the ice. And I think we will be a good team if the chemistry comes together and the goaltender does his thing."
7. The goalie
The most important player on the team remains Ilya Bryzgalov, who is slated to become an unrestricted free agent on July 1. The Russian netminder, who was nominated for the Vezina Trophy last season, is the glue. The Coyotes again need to rank in the top 10 in goals against to have any chance of returning to the playoffs.
"The key to our success is going to be our goaltending. It's no secret," Maloney said. "Bryz emerged as a top-five goaltender last year. We need him to do it again. If he does it again, that puts him squarely in good position to get the kind of contract those top players get. Until we have our ownership situation clarified, we're just going to sit tight. But that's OK, too. I think he's at a stage now where he's OK with it."
8. That 'no-name' identity
Last season, the Coyotes forged an image of a lunch-bucket crew with no egos. Part of that is because that's really how they approach the game. They really don't have a typical No. 1 line or fourth line. There were nights last season when Vernon Fiddler led all Coyotes centers in ice time. It all depends on matchups. The team depends on all four lines to contribute at both ends of the ice.
"People say Vern Fiddler is a fourth-line center. Well, we don't really have numbers on them," Tippett said. "That's the kind of team we are, and I don't mind that. Everybody in that locker room feels like they're a part of it, and that leads to some very good team chemistry."
9. Will their trip to Europe be a factor?
The Coyotes will begin their regular season in Prague against the Boston Bruins. How will that factor into their campaign?
"We'll have to experience it to see," Jovanovski said. "You hear mixed stories about going over there and coming back and having a week off. [But] we have a lot of Czech players, so they're all excited to play in front of their family and friends."
10. Keep 'em interested
The Coyotes believe they need a quick start to keep their market interested. Fans came out in droves late last season. Will the excitement carry over?
"We have sold 30 percent more tickets to date than at this time last year," a team spokesman told ESPN.com last week.
Of course, the number had nowhere to go but up because the Coyotes were dead last in overall attendance last season.
"By the success we had last year in getting to the playoffs, this city reacted the same way as a Calgary or an Edmonton or a Toronto, any of those hockey cities," Maloney said. "The crowds here were great, the fans were enthusiastic ... but now we're back to doing it again. We need to build on last year. We can't afford a setback in the sense of a slow start. We have to get off to a strong start, and that'll bring the people back."
PREDICTION: The Coyotes lost Zbynek Michalek and Matthew Lombardi, but GM Don Maloney did a marvelous job bringing in other bodies at a cheap rate and keeping his roster otherwise intact. This team won't surprise anyone this season but remains a very good club that will challenge Los Angeles and San Jose before ultimately finishing third in the mighty Pacific and will make the playoffs once again in the Western Conference.
Pierre LeBrun covers the NHL for ESPN.com.
More From The Magazine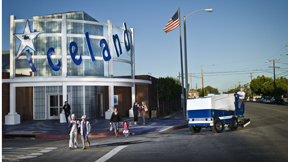 ESPN The Magazine's "Ice Issue" provides even more in-depth coverage of the upcoming NHL season:
• Smith: What is Gary Bettman's legacy?
• Fleming: Most beloved machine in sports
• Berra: The Red Wings' scouting edge
Coach's Corner
Coach:
Dave Tippett
Experience:
Entering 8th NHL season, his second with Phoenix
Record:
321-181-28-44
Stanley Cup titles:
0
• Dave Tippett was unemployed when training camps opened in September 2009. Nine months later, he was in Las Vegas accepting the Jack Adams Award as coach of the year, and the vote wasn't even close.
"It's been rejuvenating, the whole experience here," Tippett recently told ESPN.com. "Don [Maloney] has been excellent to work with. We had a relationship before and were teammates before. ... But sometimes change is good. I was in Dallas for a long time. Sometimes you get frustrated with different things, and just the change of scenery invigorates you. And that's what I found last year."
This season, Tippett got to start with his team from Day 1 of camp, not arrive halfway through as he did last season.
"Yes, just the ability to make sure that things are in order and running the way you want is nice," Tippett said. "But [assistant coach] Ulf Samuelsson did a great job last year before I came on."
The Fab Five
LeBrun's top positional players for the Coyotes:

F -- Wojtek Wolski: So far, the trade with Colorado for Peter Mueller is looking decidedly tilted in Phoenix's favor. Wolski is as close to a star offensive player as the Coyotes have.

F -- Martin Hanzal: The rugged, two-way center does a bit of everything for the Coyotes and really took a giant step forward last season.

F -- Shane Doan: The Coyotes' captain can change a game with a big hit or a clutch goal. Missing the last few games of the playoffs this past spring because of injury has made him incredibly hungry to make sure his team gets back there again.

D -- Ed Jovanovski: The veteran rearguard doesn't rev it up with electrifying, end-to-end rushes as he did in his younger Vancouver days, but he's a big-time defender who is as steady as can be. And he happens to be a UFA on July 1.

D -- Keith Yandle: There's still a lot of upside left for the team's top offensive defenseman who keys the transition game. This guy is a star in the making.
Fantasy Focus

Best bet: Ilya Bryzgalov
After slogging through a few seasons as Jean-Sebastien Giguere's backup in Anaheim, Bryz became the starter in Phoenix. The first full season wasn't too encouraging in 2008-09, but 2009-10 was a revelation. Bryzgalov improved his goals-against average (2.29) and save percentage (.920) and notched 42 wins. There's a concern his ratios will regress to the mean this season, and his streakiness is clear when looking at his monthly splits. Even so, there's an excitement that comes along with owning a feast-or-famine netminder. Bryzgalov can provide that for weekly head-to-head league owners. -- Tim Kavanagh

Risky Pick: Shane Doan
Whether it is because he is slowing down or because he is no longer the focus of the Coyotes' offense, Doan doesn't pack the same punch he used to. Just 55 points and no significant penalty minutes are a far cry from the nice power-forward numbers he used to offer. With young stars like Wojtek Wolski, Mikkel Boedker and Kyle Turris stepping into the spotlight, it's quite possible Doan doesn't have to shine as brightly as he had to in the past. He isn't the sure-fire No. 2 winger he once was, but should be considered a 12th-round pick with little upside. -- Sean Allen

Sleeper pick: Kyle Turris
Finally given a full season of proper development, Turris made huge strides in the AHL last season. He went from being a somewhat directionless young center who had trouble withstanding the rigors of pro hockey to a dominant playmaker and scorer who played at both ends of the ice. Turris scored 63 points in 76 games for the San Antonio Rampage and looks more than ready to step into the NHL this season. He is a must-draft sleeper. -- SA
More Fantasy: Join now! » Draft kit » Ranks »
Insider: NHL
The Rankings
See how all 30 NHL teams stack up for the coming campaign in The Magazine's 2010-11 Rankings. Story