Jeanine Leech/Icon SMI The Penguins picked up defenseman Paul Martin off the free-agent market this past summer.
Penguins: 10 Things You Need To Know
By Scott Burnside
After two straight trips to the Stanley Cup finals, culminating with a championship in 2009, the Pittsburgh Penguins seemed to simply run out of gas.
How else to explain Pittsburgh's second-around loss against eighth-seeded Montreal after taking a 3-2 series lead? Yes, the goaltending wasn't up to Marc-Andre Fleury standards, but the entire team stunk out the joint in Game 7, allowing the plucky Habs to build a 4-0 lead in the first 25 minutes of a game they seemed ill prepared to play.
GM Ray Shero moved quickly to address the departure of classy defenseman Sergei Gonchar by signing two of the top defensemen on the free-agent market, Zbynek Michalek and Paul Martin. He then added skilled center Mike Comrie late in the summer.
There will still be issues about who will play wing for Sidney Crosby and where former scoring champ Evgeni Malkin will play. Jordan Staal must also prove he can come back from surgery to repair a sliced tendon in his foot, an injury that will keep him out of the lineup indefinitely. But this Penguins team has all the tools to jump right back into the Stanley Cup fray.
1. The captain
Every season, there's something Crosby seems to get better at. During the playoffs two years ago, he went to the net more vigorously and came up with a league-leading 15 postseason goals. That carried into last season, when Crosby tied for the league lead with 51 goals. He also worked on his faceoff proficiency and won 137 more faceoffs than the No. 2 faceoff man (Minnesota's Mikko Koivu).
Nominated for the Hart Trophy, he probably deserved it given the offseason endured by former NHL scoring champ Malkin. And, oh yeah, Crosby also found time to score the overtime winner to give Canada the gold medal in the 2010 Vancouver Olympics.
Still, by the time the second round of the playoffs rolled around, Crosby, like many of the Penguins, seemed to have little left in the tank. Crosby spent the summer fishing and working out and hopes last season's experience will be learning tool for everyone in the locker room.
"You've got to prove that you're a contender," Crosby said in a recent interview. "You've got to prove every night consistently that you're going to be tough to beat."
2. A new barn
The Penguins are moving into a new state-of-the-art building, the CONSOL Energy Center. The team will have to get used to the new boards and glass and dressing room, but it's bound to be exciting even if there will be more than a little emotion at closing the doors on Mellon Arena. After all, that weird, shiny reject from a 1960s science fiction movie remains a place where many great franchise moments unfolded.
"I think it's great for both the city and the franchise," Crosby said. "Still, there are mixed emotions. [There are] a lot of great memories in the Mellon." As for the new barn, "I don't think there's a bad seat in the house," he said. "It's going to be loud. It's a brand new building, so it's going to be nice."
3. The way it ended
After giving up a 3-2 series lead against the eighth-seeded Canadiens, does the second-round series loom as an educational tool, or a warning of deeper problems for a team that was so good in the clutch the previous two springs?
"You question things," Crosby said. "For us, I look at Montreal, I think that consistently throughout that series, we didn't really put them away. We kind of let them hang around. … Good teams, great teams have that killer instinct and they make sure that they don't give teams a chance. … And I think whether that was because we were a little tired because of the couple of years that we had, I don't think we really need to make any excuses. We just didn't do it."
Shero doesn't buy the fatigue argument: "I don't think it had anything to do with mental or physical fatigue. The details of our game seemed to slip [in that series]. We didn't have a dominant player in that series for us."
4. The Upside
During a recent training camp visit, Detroit Red Wings coach Mike Babcock made an interesting point about long playoff runs and how they often preclude players from getting into peak shape for the next season. While most players are working out, building up muscle mass, resting and preparing mentally, teams that go the distance are not. Crosby echoed those same kinds of sentiments, not making excuses necessarily, but explaining the dynamics of the reality of playing that much hockey.
"The last couple of years, we just kind of dragged ourselves into camp and tried to maintain and survive. But this year we should be really eager," Crosby said. "Hopefully having gone through last year, that hunger will be there more than ever."
5. Good start, bad finish
The Penguins started the season 9-1-0 last season.
"We were good. We were playing really good hockey," Shero said.
But as the season went along, the team seemed to slip out of its groove. "We never found it," he said.
6. The Fleury factor
We spent most of last season banging the Fleury drum for the 2010 Canadian Olympic team. Our argument was no Canadian goalie had played and won more clutch games the previous two seasons than Fleury. Well, good thing the Olympics aren't this year; we'd have trouble making that argument.
Fleury allowed three or more goals nine times in the Pens' 13 postseason games. Ouch. It's amazing the Pens actually won a round. But Fleury has been down this road of external doubt before and emerged with a Stanley Cup ring to show for it. Is this season any different?
"I'm not worried about this hanging over his head," Shero said. "It's a fresh start for him. He's a good goaltender and he's won a Stanley Cup. I'm not worried about it."
7. The new blue line
There is no disputing the impact Sergei Gonchar had on the Penguins' playoff successes in 2008 and 2009. He was a rock. But in his absence, the Penguins might just ice their best defensive corps since the lockout, adding Martin and Michalek to go along with Kris Letang and Alex Goligoski. Brooks Orpik remains as tough as they come, giving the blue line a lot of bite. It's up to coach Dan Bylsma to find enough ice time for them all.
But the skill set Martin and Michalek bring should be a boon to the skilled forwards in terms of getting the puck cleanly out of the Penguins' zone. The Penguins were a solid ninth on the penalty kill, a number that should be solidified with the addition of Martin and Michalek.
8. Winging it with Malkin
The past three years, the Penguins' dominance has come from their strength down the middle with Crosby, Malkin and Staal forcing other teams to pick their poison in how they defend the Pens. With Comrie in the mix and Staal looking to take a bigger bite offensively (once his bad foot heals), the Penguins are toying with the idea of starting the season with Malkin playing on the wing with Crosby.
The former playoff MVP missed 15 games due to injury last season and still managed to put up 77 points. But when you're that good, it is seen as being "off." The playoffs reinforced Malkin was at a low ebb (he had 11 points in 13 games, but had just one goal in seven games against Montreal). Look for Malkin to bounce back with a monster season, whether he plays alongside Crosby or not.
9. Homegrown help
At some point, it will be nice if the Penguins can produce some homegrown talent to play alongside Malkin, Crosby and Staal. It will certainly make managing the salary cap easier for Shero. There are some interesting pieces in the mix, including Mark Letestu, Dustin Jeffrey and Eric Tangradi, all looking for a chance to play with the big boys after spending time in Wilkes-Barre with the Baby Pens. Other hopefuls, like Nick Johnson and Chris Connor and veteran minor-league scorer Brett Sterling, were dispatched to the AHL late in camp, but could resurface during the season.
10. The Comrie factor
At last season's trade deadline, Shero brought in Alexei Ponikarovsky to do what Marian Hossa, Bill Guerin and Chris Kunitz had done in previous years. This time, it didn't work out, as Ponikarovsky just never got it and ended up a healthy scratch in the postseason. This past offseason, Shero opted not to bring back Guerin (he's with the Flyers now) and instead brought in skilled forward Comrie.
Now, sometimes a player's potential impact can be wildly overstated just because he may end up playing with players like Crosby and Malkin. Could that be the case with Comrie? Maybe. But we like his maturity and ability, and we figure it should be a pretty good fit. Does that mean 30 goals? A lot will depend on Staal's injury and how much power-play time Comrie is afforded, among other things. But we don't think it's out of line to suggest 25-30 goals. For a team that ranked just 19th on the power play despite its talent, Comrie should be a nice fit.
PREDICTION: New building and a new assault on the Stanley Cup for the Penguins, whom we like to win the Atlantic and their second Cup in three seasons.
Scott Burnside covers the NHL for ESPN.com.
More From The Magazine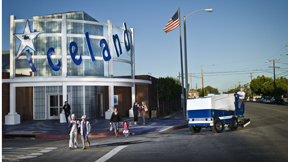 ESPN The Magazine's "Ice Issue" provides even more in-depth coverage of the upcoming NHL season:
• Smith: What is Gary Bettman's legacy?
• Fleming: Most beloved machine in sports
• Berra: The Red Wings' scouting edge
Coach's Corner

Coach:
Dan Bylsma
Experience:
Entering second full season in NHL
Record:
65-31-11
Stanley Cup titles:
1
• It's been a bit of a blur for coach Dan Bylsma, who won a Cup before he took the Penguins to their first training camp.
Now, he's back for his second full season, and the cerebral Michigan native will be trying to map out a strategy that gets the Penguins back in the championship groove.
The overall improved mobility of the defense should play into Bylsma's hands and he's a coach who's not afraid to mix things up in terms of line combinations and giving guys a shot to play out of role. Bylsma showed early on he could get his team beyond the bumps and hurdles of a playoff grind; now he has to show he can get a team on track after a playoff disappointment. We're guessing he can.
The Fab Five
Burnside's top positional players for the Pens:

F -- Sidney Crosby: You might have heard of him.



F -- Evgeni Malkin: Will the experiment to move Malkin to the wing with Crosby work? How long does Bylsma go with it if it doesn't?

F -- Chris Kunitz: Missed 32 regular-season games with injury, but did put up 11 points in 13 postseason contests.

D -- Paul Martin: Smooth-skating, puck-moving defenseman lost most of last year to a broken forearm. A nice pickup for the Pens.

D -- Brooks Orpik: In the absence of Sergei Gonchar, Orpik will be counted on even more to fulfill a leadership role.
Fantasy Focus

Best bet: Sidney Crosby
Crosby remains a close No. 2 when it comes to the most valuable fantasy players in the NHL. The only thing separating him from Alex Ovechkin at the top of the list is Ovi's ridiculous shots total. Still, Crosby is the no-brainer No. 2 choice in any league. He may have to adapt his game (as he did as a goal scorer last season), but in the end, you will get what you paid for. -- Sean Allen

Risky pick: Chris Kunitz
If Kunitz can stay healthy, he may be one of the only choices the Penguins have for a talented winger in the top six. In a 20-game Pittsburgh debut after the trade deadline in 2008-09, Kunitz had 18 points, but last season he was limited to just 50 games and potted 32 points. Just don't invest highly in Kunitz, as his value is tied intrinsically to his role on Crosby or Evgeni Malkin's wing. Durability is also an issue. -- SA

Sleeper pick: Alex Goligoski
With Sergei Gonchar headed to the Ottawa Senators, Goligoski takes over as the big enchilada on the Pittsburgh Penguins' blue line. After one and a half moderately successful years in the NHL, the 25-year-old is poised to break out. If he stays healthy, a 50-point season is within reach. -- Victoria Matiash
More Fantasy: Join now! » Draft kit » Ranks »
Insider: NHL
The Rankings
See how all 30 NHL teams stack up for the coming campaign in The Magazine's 2010-11 Rankings. Story