Jason O. Watson/US Presswire Joe Thornton had 20 goals and 69 assists in 79 games last season for the San Jose Sharks.
Sharks: 10 Things You Need To Know
By Pierre LeBrun
The San Jose Sharks didn't win the Stanley Cup last season, but they kicked the elephant out of the room. A trip to the Western Conference finals went far in rehabilitating their playoff reputation.
The question now is whether this talented club can finish the job.
"The expectations are the same they were last year -- win the Cup," veteran blueliner Dan Boyle told ESPN.com during training camp. "We're not happy with the way things ended last year. We're looking to build on that and take the next step, which is getting in the Cup finals and hopefully winning it."
The club lost the valued leadership of Rob Blake, replaced Evgeni Nabokov in goal with the Finnish tandem of Antero Niittymaki and Antti Niemi, and saw a useful player in Manny Malhotra leave via free agency. Otherwise, led by Boyle, Joe Thornton, Joe Pavelski, Patrick Marleau and Dany Heatley, this is largely the same team that shed some playoff demons this past spring and played a lot better in the Western finals than its four-game sweep against Chicago would indicate.
"Last year wasn't good enough," Boyle said. "I'm proud of what we accomplished, but we want to win it all. You don't get too many opportunities. I feel we have the right guys in this room to get it done."
1. There's fresh blood in goal
Sharks GM Doug Wilson was able to bring in a pair of No. 1 goalies in Niittymaki and Niemi for $2 million apiece in salary, which costs less than what they paid the veteran Nabokov alone last season. It sets up as a nice one-two punch for the Sharks.
But who's the starter?
"We don't know who 'the man' is at this point," Sharks coach Todd McLellan told ESPN.com during camp.
McLellan was more focused on getting both newcomers adjusted to their new team, system and blue-line corps.
Niittymaki, who was signed two months before Niemi was added in early September, told ESPN.com during camp that there were absolutely no hard feelings at the sudden competition for starts.
"There's a lot of good goalies out there," Niittymaki said. "There's competition everywhere. We've got a good group of guys in San Jose, and we're both looking forward to the season."
2. Rob Blake is gone, Part I
Who will replace the leadership void left behind by last season's captain?
"It's not one guy that's going to do it," Boyle said. "It's going to be a group thing."
That's the common refrain in the Sharks' locker room.
"A lot will be made out of who wears that piece of felt [the 'C']," McLellan said. "That's what we do in our game and that's great, but it's not as big an issue in our locker room because it's more of a group thing."
Wilson said the key is that Blake's leadership legacy is still felt.
"What Blakey did as a leader last year is he set the standards -- how to train as a professional, how to handle situations," the GM said. "We will build on what Blakey started and established last year. I think we've got a real strong leadership group. ... Plus, to have five of our guys play in the [Olympic] gold-medal game, being in that environment, they saw other leaders in a very stressful situation."
3. Rob Blake is gone, Part II
Who will replace his 21 minutes, 21 seconds per game from last season? The Sharks signed Niklas Hjalmarsson to an offer sheet only to see Chicago match it. They tried to sign Willie Mitchell but lost out to Los Angeles. So there was no immediate top-four replacement for Blake on the ice.
"I don't think we have one individual that we see stepping in an assuming all of his 21 minutes," McLellan said. "So, collectively, between the seven guys, there has to be some growth to cover what he did."
Douglas Murray, Boyle and Marc-Edouard Vlasic are the top three blueliners; then, the group that follows includes Jason Demers, Niclas Wallin, Kent Huskins, Jay Leach and possibly youngster Derek Joslin or camp tryout invitee Andreas Lilja. It appears Demers likely will benefit the most and slide in on the second pairing with Vlasic, but don't be surprised if Wilson continues to look for blue-line help right up to the trade deadline.
4. Remember the name Jason Demers
We couldn't resist the segue. The 22-year-old native of Dorval, Quebec, combined for 38 points at the AHL and NHL levels last season, including 21 points (4-17) in 51 games at the big league level. He's an offensive blueliner who should get his share of power-play minutes this season. He looks like a young Dan Boyle.
"He's certainly impressed me," Boyle said. "I see a lot of what he's going through, so much of it I went through. I think he's going to be a very good hockey player. He's very smart. I think with added time and added confidence, he's going to get better and better."
5. Mr. Clutch
Pavelski brought his game to another level last season, making a name for himself as a clutch, two-way player. There may not be a more useful player on this team.
"He's very, very important to this team, for a lot of reasons," McLellan said. "He's a great two-way player. The other top-six forwards on this team want to play with him and enjoy playing with him. His versatility is key; he can play up or down on the power play, he's good in the faceoff circle, he contributes in the shootout -- there's not an aspect of the game where we don't consider using him. [Team USA GM] Brian Burke called him a Swiss Army knife. He really is. It's a great analogy."
6. Don't forget Murray
Douglas Murray doesn't get the credit he deserves on a national scale. He's a valuable member of the Sharks' blue-line corps, now more than ever with Blake gone.
"I don't think people realize the impact that he has on our team," McLellan said of Murray. "He likes to play a bull-in-the-china-shop-type game. That's a nice element to have on our team. We've got some puck-movers and some defenders, but he can keep some people honest. He's very solid. His game has improved a lot and even has a bit of offensive flair in it. He's a very important part of our puzzle."
7. Changing lines
The Sharks hope that Devin Setoguchi can bounce back after following up a career-high 31 goals in 2008-09 with 20 tallies last season. Of course, he's only 23. He began camp playing on a line with Thornton, and that can never hurt. Ryane Clowe was on the other side, as McLellan broke up the Olympic line of Thornton, Heatley and Marleau, something he also did during the playoffs.
Thornton, for one, is fine with the change.
"I like playing with a right-hand shot," said Thornton, who once set up a right-handed Jonathan Cheechoo for 56 goals. "I love playing with Heater and Patty, too, and I'm sure we'll end up playing again together this year, but [McLellan] is trying a few things out. We have such a deep forward group that I'm sure we'll see different faces with each other throughout the season."
Setoguchi is hungry to produce. He settled for a one-year, $1.8 million deal in the offseason with the prospect of a bigger payday next summer if he plays well this season.
"We have high expectations for Devin," Wilson said. "He trained really hard this summer. If you looked at the contributions at the last few teams that have won Cups, there's some young players that have stepped up and got it done. We are the sum of all our parts. We need the Devin Setoguchis and Jason Demers and other young players to push to the next level, and we think they can do it."
8. The playoff factor
Are the Sharks mentally fortified by their long playoff run this past spring, or were they satisfied with getting to the conference finals?
"It's only valuable experience if we use it properly this year," McLellan said. "I told my players, 'It's like a car going up a hill and stalling. We stalled against Chicago [in the conference finals]. If we can get the momentum back and grow based on what we did last year and get higher up the hill, then we'll be fine. But if the car starts rolling back down the hill, it's going to be hard to stop that momentum.' So we're at a critical point where growth will be important for our team. ... You're either growing or decaying. You don't ever stay in the same spot."
9. Healthy squad
Torrey Mitchell finally appears to be back from the broken leg he suffered in practice two years ago in September. After missing the entire 2008-09 NHL season, he returned last season and played in 56 games but still wasn't quite there. Another summer of training has Mitchell in fine form.
"He's flying out there," Wilson said. "He was a real important player for us a couple of years ago. He's all the way back now. He looks great."
Mitchell most likely will begin the season on the third line with Jamie McGinn and Logan Couture.
10. Say hello to Frazer McLaren
McLaren got a brief look last season, appearing in 23 NHL games with the Sharks. He's got a shot at patrolling left wing on the fourth line this season, and given his 148 penalty minutes in the AHL last season, you know he can take care of business.
"He's big, 6-foot-5 [and 250 pounds], and you understand that element," McLellan said. "But we believe that you have to have another skill set other than being the policeman. I think he's got that. He gets the game, and he's prepared to work on it. He's improved every year, so he's a candidate for that role."
PREDICTION: The Sharks will battle the Kings for the Pacific Division crown and fall just short with a second-place finish. Not having the first-place spotlight on them for once will be a good thing. We see another very deep run in the playoffs. And yes, we predict a Stanley Cup championship for them.
Pierre LeBrun covers the NHL for ESPN.com.
More From The Magazine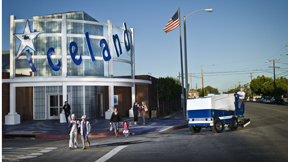 ESPN The Magazine's "Ice Issue" provides even more in-depth coverage of the upcoming NHL season:
• Smith: What is Gary Bettman's legacy?
• Fleming: Most beloved machine in sports
• Berra: The Red Wings' scouting edge
Coach's Corner

Coach:
Todd McLellan
Experience:
Entering 3nd NHL season
Record:
104-38-22
Stanley Cup titles:
0
• Todd McLellan enters his third campaign behind the Sharks' bench. The former Red Wings assistant coach showed tremendous resolve in bouncing back from that first-round upset loss to Anaheim in April 2009 by coaching his team to the conference finals a year later, all while deftly answering questions about his team's postseason hiccups.
"Todd's really important," GM Doug Wilson said. "That coaching staff, they really do honestly hold people to high expectations. Todd demands a lot from these players, but they also know he wants them to succeed. He wants to make them better every day. He wants them to grow, and that's whether it's our star guys or our younger guys. He has the respect of that group."
The Fab Five
LeBrun's top positional players for the Sharks:

F -- Joe Thornton: Jumbo Joe led the Sharks in scoring again last season with 89 points (20-69), but more importantly, he had a solid playoff performance to help silence his critics, putting up 12 points (3-9) in 15 games against tough opposition.

F -- Joe Pavelski: Consider last season the official coming-out party for The Big Pavelski in terms of joining the ranks of star players. His Olympic performance for Team USA was impressive, but he was even more clutch come playoff time, leading the Sharks with 17 points (9-8) in 15 games. He's the real deal.

F -- Patrick Marleau: He led the Sharks with 44 goals last season before going silent in the opening two rounds of the playoffs. But he went out with a bang, scoring five of his team's seven goals in the Western Conference finals.

D -- Marc-Edouard Vlasic: He's the most complete, all-around blueliner on the team. Vlasic is nothing flashy but most often makes the right decision with the puck and has terrific positional play.

D -- Dan Boyle: The veteran rearguard posted another huge offensive season with 58 points (15-43) in 76 games, also winning Olympic gold along the way. Then he stepped it up a notch in the playoffs, placing second in team scoring with 14 points (2-14) in 15 games. He's a workhorse (he averaged a team-high 26:12 last season) and a great team leader.
Fantasy Focus

Best bet: Dany Heatley
Without Evgeni Nabokov to make sure the Sharks stay in most games, Heatley and the other top offensive options in San Jose should be relied upon to increase the Sharks' overall scoring. Twice a 50-goal scorer, Heatley could return to that level with a renewed focus on offense and a reinvigorated Joe Thornton at center. Even without the steep increase to his scoring, Heatley is still an easy first-round pick. The Sharks haven't lost much when it comes to offense, so don't hesitate to hang your hat on Heatley as your top selection this season. -- Sean Allen

Risky pick: Ryane Clowe
Clowe was extremely valuable last season with 57 points and 131 penalty minutes; that combination of skill and toughness is all too rare in the NHL these days. If there were any promise that Clowe would repeat his time in the penalty box, he would be ranked a lot higher. While you can't count on the PIMs, the points should be there again. That makes Clowe a high-upside pick when filling out your bench. He works well with Joe Pavelski as his pivot and actually poses a mild threat from Logan Couture for playing time. -- SA

Sleeper pick: Logan Couture
While he is likely to start out as the third-line center, Couture could slide to a wing in an attempt to earn a spot on the team's second line. A talented goal-scorer at the lower levels, Couture has averaged better than a point per game in both the OHL and AHL. He faces a tall order to supplant either Clowe or Devin Setoguchi on the second line, so the best chance he has of being a fantasy factor this season would be if someone on the top two lines were to get injured. -- SA
More Fantasy: Join now! » Draft kit » Ranks »
Insider: NHL
The Rankings
See how all 30 NHL teams stack up for the coming campaign in The Magazine's 2010-11 Rankings. Story