AP Photo/Jeff Roberson Goalie Jaroslav Halak was traded to St. Louis after Montreal decided to stay with Carey Price as its No. 1.
Blues: 10 Things You Need To Know
By Scott Burnside
The Blues remain a bit of an enigma. After storming into the playoffs with a red-hot stretch run in 2008-09, they looked to build on that momentum last season and prove they were among the up-and-comers in the Western Conference.
Never happened. Or at least not in any meaningful way, until the season was lost.
The Blues struggled, especially at home, where they ranked 28th with just 18 wins. Coach Andy Murray, a nominee for the Jack Adams Award the previous season, was fired after 40 games, and Davis Payne was promoted from the team's AHL affiliate Jan. 2. Payne's work in helping the Blues chart a different course (they were 12-5-2 at home after Payne took over, 23-15-4 overall) provided enough confidence that he was given the job full time.
The offseason saw other significant changes in St. Louis. Veteran GM Larry Pleau retired, and Doug Armstrong took over the post, bringing in new No. 1 goaltender Jaroslav Halak in the team's key offseason move. Veterans Keith Tkachuk (retired) and Paul Kariya (out this season with concussion-related injuries) are gone. Now, the task of getting back into the playoff mix in the tough Western Conference falls to a group of talented young players like U.S. Olympians Erik Johnson and David Backes, fan favorite T.J. Oshie, David Perron and Patrik Berglund.
1. Offense by committee
The Blues will return just three 20-goal scorers from last season. None of them -- Andy McDonald, Alexander Steen, David Perron -- managed to crack the 30-goal plateau, which suggests the Blues once again will rely on scoring by committee (they somehow ranked 17th in goals per game last season). "We have a lot of options, a lot of versatility," Payne said in a recent interview.
2. Boyes scout
If there is one player who will be expected to embrace a larger role, both in terms of leadership and production, it will be Brad Boyes. In the previous two seasons, Boyes collected 76 goals, 27 of them on the power play. Last season, the 28-year-old managed just 14 goals, only two on the man advantage.
Payne said that when things went off the rails for Boyes, the frustration seemed to leak into other parts of his game.
"He's come back with a great attitude," the coach said. And there's nothing better than a guy who wants the puck on his stick and Boyes is that player, the coach said.
3. Solid Steen
If Boyes' production was a disappointment, it surely was offset by the emergence of Steen as a top two-way center. The former Toronto prospect finished with a career-best 24 goals, seven of which came on the power play. Payne is looking for Steen to continue to help out on the power play, working mostly on the blue line. The coach also had high praise for Steen's mental approach to the game and drive to get better after coming over from Toronto.
"He had a lot of internal motivation and he did a great job with it," Payne said. "It's a great feeling in that he is in no way satisfied with what he's accomplished."
4. All hail Halak
When the Blues and starting netminder Chris Mason couldn't get together on a contract, Armstrong moved swiftly and decisively to acquire Montreal playoff hero Jaroslav Halak. It cost the Blues two prospects, including highly regarded forward Lars Eller. But Halak's other-worldly turn between the pipes in leading eighth-seeded Montreal past Washington and Pittsburgh told Armstrong the reward was worth the risk.
Halak, who signed a four-year deal worth $3.75 million annually after the trade, turned in a .923 save percentage in 18 postseason games but has never played in more than 45 regular-season games. Worried? Not the Blues. Ty Conklin, one of the game's steadiest backup netminders, will continue to be a viable Plan B if Halak falters. Ben Bishop continues to try to evolve into NHL material.
5. PK honors
It wasn't all bad news for the Blues in 2009-10. The team had the league's most potent penalty-killing unit. Maintaining that level of efficiency -- a sign of maturity and coaching acumen -- will go a long way toward returning to the postseason. The problem for the Blues was they got a lot of practice playing a man short; they were the third-most penalized team in the NHL and the most penalized team in the West last season.
6. Big Erik
Slowly but surely, Erik Johnson is maturing into the kind of impact defenseman the Blues thought he would be when they made him the first overall pick in 2006. Missing all of the 2006-07 season after a freak preseason golf cart injury stunted his development. Yet, as time went on last season, Johnson showed more poise while eating up more and more minutes. His solid turn on the U.S. Olympic team also was a boon to the 6-foot-4, 236-pounder. His playing with more confidence this season will be important to the Blues' playoff chances.
7. Blues' blue line
Beyond Johnson, there are plenty of interesting parts along the St. Louis blue line, including Alex Pietrangelo, the fourth overall pick in the 2008 draft. Pietrangelo got a taste of NHL life during a nine-game stint (he scored once but was a minus-9) before returning to his junior club. Payne is expecting the 20-year-old will now make a case for being a full-time NHLer. Captain Eric Brewer will be hoping to put two injury-plagued years behind him, as he's managed to suit up for just 87 games the past two seasons. He likely will be the only Blues defenseman older than 30.
The blue-line picture became a little murkier late in camp when Carlo Colaiacovo went down with a hip injury that will likely keep him out of the lineup for the start of the season. Watch for Tyson Strachan, Nathan Oystrick and Nikita Nikitin to battle for Colaiacovo's ice time in his absence.
8. Out of the blocks
One of the challenges for the Blues will be avoiding a third straight poor start to a season. Payne said it would be imprudent for the team to think that somehow its second-half level of play will come automatically. It would have been a feather in the Blues' cap if they had made the playoffs last season, as they did in 2008-09. But in the end, they were a team without a cap at all, and they need to remember that heading into this season.
9. Glass ceiling?
Much will be made of the absences of Kariya and Tkachuk. Yet, as we saw a few years back in Detroit when Brendan Shanahan left and Steve Yzerman retired, it opened the door for players like Henrik Zetterberg and Pavel Datsyuk to bloom. This isn't a knock on Kariya or Tkachuk (just as it wasn't a knock on Shanahan or Yzerman), but will we see the same dynamic in St. Louis with players like Oshie, Perron and Backes? The Blues are counting on it.
10. The Armstrong factor
You have to give the Blues credit for the classy way in which they have handled the transition from longtime GM Pleau to Armstrong. Pleau will spend some well-deserved quality time with wife Wendy, who has battled cancer in recent years. Armstrong bided his time, assessing the Blues' assets. He also has spent a lot of time scouting the league for Hockey Canada in various capacities, including as associate director of player personnel for Canada's gold-medal winning effort in Vancouver. His bold acquisition of Halak suggests he won't sit idly by if there's a move to be made.
PREDICTION: We think the Blues are ready to take a step back into the postseason. They will finish behind Chicago and Detroit in the Central but will keep things interesting. We slot them into the seventh seed in the West.
Scott Burnside covers the NHL for ESPN.com.
More From The Magazine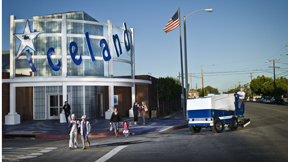 ESPN The Magazine's "Ice Issue" provides even more in-depth coverage of the upcoming NHL season:
• Smith: What is Gary Bettman's legacy?
• Fleming: Most beloved machine in sports
• Berra: The Red Wings' scouting edge
Coach's Corner

Coach:
Davis Payne
Experience:
Entering first NHL season
Record:
N/A
Stanley Cup titles:
N/A
• Payne, a native of Port Alberni, British Columbia, is the second-youngest coach in the NHL at age 39. He spent the summer in Alaska, where he was previously the coach of the ECHL's Alaska Aces. In taking over for Andy Murray midway through last season, Payne acknowledged he wanted to keep things moving forward as opposed to starting from scratch with a whole new system.
With a chance to work through his first training camp, he is hoping the Blues will avoid the pitfalls of the past couple of seasons, when slow starts put them in deep holes early on. The fact that the team played so well down the stretch provides what Payne hopes will be solid building blocks to a season of high expectations.
The Fab Five
Burnside's top positional players for the Blues:

F -- Alex Steen: He's looking to build off a career season.

F -- David Perron: He hit the 20-goal mark in his third NHL season. Can he get to 30?

F -- David Backes: Easily one of the most personable players on the 2010 U.S. Olympic team, he is a captain in waiting.

D -- Erik Johnson: Taking steps toward becoming a dominant NHL defenseman.

D -- Eric Brewer: He must stay healthy to help stabilize a young Blues blue line.
Fantasy Focus

Best bet: Erik Johnson
A smoldering prospect only a few years ago, Johnson is getting better and better. And so is a young St. Louis Blues team. Johnson rebounded well off a lost 2008-09 season by netting 39 points in 79 games last season. If all goes well, the 22-year-old will hit the 50-point mark in 2010-11. As his career is ascending, Johnson is one sparkly fantasy gem. -- Victoria Matiash

Risky pick: David Backes
After a stellar 2008-09 that saw the power forward rank among the most valuable fantasy assets, his goal total was virtually cut in half last season (31 to 17). He still topped triple-digit penalty minutes and was a decent No. 4/bench forward, but it does not appear as though Backes is ready for superstardom. His physical play is what will keep him relevant in fantasy leagues, but he should be considered more for a bench spot -- he's the type of player who is more appealing when you are not forced to start him on a nightly basis. -- Sean Allen

Sleeper pick: Jaroslav Halak
Halak led the Canadiens to a surprisingly deep playoff run in 2009-10, displacing Mr. Lightning Rod of Controversy himself, Carey Price, in the process. For all his hard work, he was shipped to St. Louis. Of course, there are much worse outposts in the NHL world than the blueliner-rich Blues. The streaky Halak is in a good spot to be worthy of fantasy No. 1 status this season. -- Tim Kavanagh
More Fantasy: Join now! » Draft kit » Ranks »
Insider: NHL
The Rankings
See how all 30 NHL teams stack up for the coming campaign in The Magazine's 2010-11 Rankings. Story