Noah Graham/NHLI/Getty Images Henrik Sedin won the Hart Trophy as league MVP last season.
Canucks: 10 Things You Need To Know
By Pierre LeBrun
The 40th NHL season in Vancouver could end with the team's first Stanley Cup championship.
Well, at least that's the prediction from some noteworthy pundits.
"It's very flattering and shows what kind of players we have in this locker room," star goalie Roberto Luongo told ESPN.com. "And we're confident. Other people have expectations for us, and for our own part, we know we have our own expectations, as well."
Indeed, Cup fever has hit Van City, one of the NHL's most passionate and knowledgeable hockey markets.
The Canucks revamped their blue line and checking line, and believe a core led by the Sedin twins (Daniel and Henrik), Ryan Kesler and Luongo is ready to take the next step following back-to-back, second-round playoff losses to the Chicago Blackhawks.
But the hype is making the architect of the team a little nervous.
"Yeah, I also go into it with some trepidation," Canucks GM Mike Gillis said with a smile during a recent interview with ESPN.com. "My first year, some people picked us to be 29th in the league and we won the division. You just have to be balanced in your approach, and not get too high and too low. I really have great confidence in our management staff and our coaching staff; it begins there. I have great confidence in our players. We've made a lot of changes here, but we've managed to keep our core intact."
1. Durable blue line
The Canucks added a pair of top-four blueliners in Dan Hamhuis and Keith Ballard. Willie Mitchell, who missed the second half of last season because of a concussion, left for Los Angeles late in the offseason. Sami Salo is out long term recovering from a torn Achilles tendon. So, essentially, Hamhuis and Ballard replace Mitchell and Salo.
But the big advantage is the two newcomers have been durable NHLers so far in their careers, and that's paramount for a Canucks team that showed an injury-depleted blue line last spring.
"We targeted defensemen in Ballard and Hamhuis, who tend not to get injured and who play a lot of minutes," Gillis said. "It's very difficult in the West to keep a defensive group intact for an entire season because of the travel, the wear and tear, and the speed of play."
The additions were welcomed in the Canucks' dressing room.
"You look at Hamhuis and Ballard, they're both great players and are both really going to help us," Daniel Sedin said. "We've got seven or eight defensemen that can play and do well. That's important because you're going to get injuries and you need guys to step in."
2. The transition game
Vancouver's top four on defense -- Hamhuis, Ballard, Alex Edler and Christian Ehrhoff -- are all gifted puck movers, essential to the transition game. The past three Cup champions -- Chicago, Pittsburgh and Detroit -- were blessed with these type of defensemen, who can lead the attack.
"Two and half years ago, we really changed the methodology of this team and how it was going to play," Gillis said. "I was convinced when I took this job that the only way you were able to be a top-tier team in this league is to score goals. You have to have a system of play that allows for you to score goals. The way we felt it was going to get accomplished is by getting the puck into our forwards as quickly and as often as possible.
"So we've gone out and got players who can do it. Now I think we're better situated."
3. Henrik Sedin
The Hart Memorial Trophy found a home in Vancouver for the first time in team history. How does Henrik Sedin top last season?
"It's going to be tough," he told ESPN.com with a smile. "But it's one of those things that when you look back, you're proud of what you've done. But it's nothing more than that. It's something you remember after your career; it'll always be there for you. But it's a new season."
4. The man in net
Roberto Luongo had a charged offseason, dropping the captaincy, changing goalie coaches, adjusting his playing style and once again dealing with critics who say he was mostly to blame for the Canucks' playoff loss to Chicago. Sink or swim, much of Vancouver's success this season will once again depend on its star goalie.
"Everyone in this room trusts him and knows he's a great goalie," Daniel Sedin said. "We need to support him and play the way we should. Last year, we were an offensive team, but we allowed too many easy goals, too many 3-on-2s and 2-on-1s. We've got to play better defensively and help him out."
5. Scoring depth
The Canucks revamped their third line with the additions of Manny Malhotra and Raffi Torres. Malhotra, in particular, is a shrewd signing, a player the San Jose Sharks greatly appreciated last season for his two-way play and prowess in the faceoff circle.
"On our third line, we really wanted a different look, and we think we got that in Manny Malhotra and Raffi Torres," Gillis said. "We wanted to add some size, and we definitely wanted to get better in the faceoff circle and better on the penalty kill. So far, we think we've accomplished that."
6. The injury list
Talented winger Alex Burrows, the Sedin twins' usual linemate, begins the season on the shelf while recovering from offseason shoulder surgery.
"Alex is a very hard-working guy," Gillis said. "He played throughout the playoffs with that injury, and it was kept quiet throughout that entire time frame. He can handle pain. But that injury is a five- to six-month recovery period. He's in Month 4 now. He hasn't had any contact at all, and he won't have contact until doctors clear him to have it. After that, there's still another solid month of recovery time and gradually getting back into contact. He's got a little ways to go. We're confident that he'll be ready hopefully in November."
7. The cap list
The Canucks are right up against the salary cap, and once Salo comes of the long-term injury list, they'll likely have to make a move. It has led to speculation that Kevin Bieksa could be traded, but Gillis said all of that speculation is just that, for now.
"We went into last year with nine defensemen, and at the end of the season, we didn't have enough," Gillis said. "There's a lot of time, and a lot of things can happen between now and when Sami is able to return. The time frame for [Salo's] injury is five to six months, and that's if everything goes well. So we've got a lot of hockey to play between now and then, and we'll just see where we are at that point in time."
8. The second line
The pairing of Ryan Kesler and Mason Raymond on the second line looks primed for another big season.
"Mason and Ryan have come to this camp really well prepared," Gillis said. "They're in great shape physically and they're flying."
Kesler played through a shoulder injury during the playoffs, but the U.S. Olympian is raring to go.
9. The road less traveled
The Canucks survived the NHL's longest road trip last season, a necessity because of the Olympics invading their home arena. This season, they can look forward to a much better schedule, one in which the longest road trip is five games. That should help minimize the wear and tear on players.
"The league has worked with us to try and consider some of the things that we found in our analysis in how we travel," Gillis said. "The cost of injuries is huge. Last year, we had at one point $23.5 million [of salaries] on LTI. It just becomes unworkable when you have that amount of money sitting in the press box. ... We feel confident this schedule is one of the best ones, if not the best one, in the history of the Canucks."
10. Another new face
Ehrhoff was a sly pickup by the Canucks last season; he produced a career-high 44 points (14-30) and a plus-36 rating in 80 games. He also happens to be eligible for unrestricted free agency in July. Gillis is already on the case.
"We know that he likes playing here a lot," the GM said. "Christian is a guy that got a great opportunity here last year and played in multiple situations. We've had some preliminary discussions. We're confident that we'll get Christian signed. We're beginning the process, and we'll see where it goes."
PREDICTION: The Canucks will romp through the Northwest, finish first in the division and top the tough Western Conference. It's time to get giddy, Canucks fans.
Pierre LeBrun covers the NHL for ESPN.com.
More From The Magazine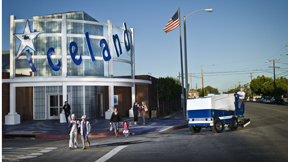 ESPN The Magazine's "Ice Issue" provides even more in-depth coverage of the upcoming NHL season:
• Smith: What is Gary Bettman's legacy?
• Fleming: Most beloved machine in sports
• Berra: The Red Wings' scouting edge
Coach's Corner

Coach:
Alain Vigneault
Experience:
Entering 9th NHL season
Record:
291-232-35-36
Stanley Cup titles:
0
• Alain Vigneault has earned the trust of two GMs during his four-plus years in Vancouver and, in doing so, was able to change his stripes when it came to the team's style of play.
The Canucks were the second highest-scoring team in the NHL last season, just three years after being considered one of the most boring, defensive teams to watch. Mind you, both styles produced results. Still, Vigneault has shown his impressive coaching acumen in adapting to Gillis' demands for a more offensive system, and that's why he's regarded as one of the best coaches in the league.
The Fab Five
LeBrun's top positional players for the Canucks:

F -- Daniel Sedin: Somewhat lost in his brother's Hart trophy campaign was that Daniel put up 85 points (29-56) despite missing 19 games with injury. Impressive.

F -- Henrik Sedin: A career-high 112 points (29-83) and plus-35 rating once and for all silenced his critics.

F -- Ryan Kesler: An excellent two-way forward with sandpaper to boot. Produced a career-high 75 points (25-50) in 82 games and ranked second in the NHL in takeaways.

D -- Dan Hamhuis: He said no to both Philadelphia and Pittsburgh so he could come home and play in his native province. Out from the shadow of Shea Weber and Ryan Suter in Nashville, Hamhuis gets a chance to prove he's 1-A material in Vancouver.

D -- Alex Edler: Had a career-high 42 points (5-37) last season, and there's still upside for the 24-year-old Swede many local observers believe is the most talented defenseman on the team.
Fantasy Focus

Best bet: Henrik Sedin
Henrik Sedin won't need to carry the Canucks on his back this coming season. He has the talent to repeat his 112-point campaign, but he has no need to with a healthy Daniel Sedin and a better-than-ever blue line. Expect the Sedins to settle into the 85-90 point range as things calm down somewhat from the torrid pace they set last season. Mason Raymond and Mikael Samuelsson have proved their ability to score without needing a wing spot alongside the Sedins to do it. Sedin is still a top-10 pick, but expect his numbers to roll back a bit. -- Sean Allen

Risky pick: Alex Burrows
Burrows is a star by association with the Sedin twins. Since he is likely to play that same role again this season, he should not be discounted at the draft table. Because he is on the ice with them, Burrows will naturally rake in at least 50 points through osmosis. Combined with a solid plus/minus and triple-digit penalty minutes, you can quickly see the fantasy appeal. Provided you discount him enough to account for the chance he doesn't play with the twins all season, Burrows will provide ample upside as a No. 2 winger. -- SA

Sleeper pick: Cory Schneider
Schneider is one of the NHL's most promising young netminders; but given the lifetime contract signed by Roberto Luongo, it appears Schneider's best chance at stardom will occur after he's traded. His most recent start was a brilliant, tough-luck 2-1 loss to the Dallas Stars in which he made 45 saves, only to be left unsupported by the Canucks offense. Depending on whether that trade occurs early this season -- and where he's shipped -- Schneider's prospects in fantasy vary greatly. Given that reality, he's one to leave undrafted, except in deep leagues. -- Tim Kavanagh
More Fantasy: Join now! » Draft kit » Ranks »
Insider: NHL
The Rankings
See how all 30 NHL teams stack up for the coming campaign in The Magazine's 2010-11 Rankings. Story