Columbus Blue Jackets: It ain't going to be easy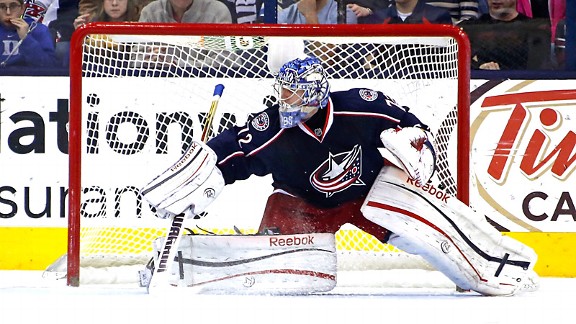 Kirk Irwin/Getty ImagesSergei Bobrovsky carried the Blue Jackets to a fantastic finish late last season, but it is yet to be known if Columbus will carry that momentum into this year.
For the first time in years -- and maybe forever -- there is a palpable buzz surrounding the
Columbus Blue Jackets
and the belief they finally might have stepped from the NHL's dark shadows.
Led by Vezina Trophy winner Sergei Bobrovsky, the Blue Jackets shook off a brutal start that cost general manager Scott Howson his job and produced their best winning percentage in franchise history (.573), turning in the second-best record in the NHL (19-5-4) over March and April. The team's late-season heroics saw them finish tied for eighth in the Western Conference, but it wasn't enough as they lost a tiebreaker to Minnesota and once again finished out of the playoffs.
And that's the rub, GM Jarmo Kekalainen told ESPN.com. The team wants to carry forward with those good feelings, the belief that they can on any given night beat any team in the NHL. But they must also realize that they haven't accomplished anything.
"I think you've got to take the good with you but at the same time we've got to keep in mind that we weren't good enough," said Kekalainen, who took over for Howson midway through last season. Kekalainen was hired by his old boss in St. Louis, John Davidson, who took over as president of hockey operations for the Blue Jackets last October.
The Blue Jackets will take their suddenly impressive show to the Eastern Conference, where they will find the going even tougher in the newly realigned Metropolitan Division. Hey, no one said this was going to be easy.
Perhaps the biggest strength of this team will be the realization that they seem to have turned some sort of corner. Their record in the second half of the season "wasn't a fluke," Kekalainen said.
"They proved that they belong in that group that can challenge for the playoffs."
CHANGES
This is a team that's undergone significant change in the past couple of years, including the arrival of Davidson, Kekalainen and a handful of players acquired from the New York Rangers in a pair of big deals involving former captain Rick Nash (who went to the Rangers in the summer of 2012) and Marian Gaborik (who came to Columbus at the trade deadline last season). In that sense, the team is still sorting through its personnel, so the Blue Jackets' offseason was relatively uneventful beyond locking up Bobrovsky to a two-year deal worth $11.25 million.
The lone significant addition of free agent winger Nathan Horton, who comes from a successful stint in Boston that included a Cup win in 2011 and an appearance in the finals last June, will take some time to bear fruit. Horton is recovering from offseason shoulder surgery and won't be available until sometime in December. And, of course, there is the switch of the team to the Eastern Conference after 13 years in the Central Division, where it made the playoffs just once and failed to win a single playoff game.
STRENGTHS
Let's start with the top goaltender in the world. We loved how Bobrovsky indicated that his Vezina would be the first of many, and he wasn't kidding.
"He was nothing short of incredible in the way he played and in the consistency he showed down the stretch," Kekalainen said.
Bobrovsky was first in save percentage and second in goals against average, but it was his play down the stretch that was so impressive: 18-5-3 with a 1.60 GAA and .946 save percentage in the final two months of the season. The former Flyers netminder said falling just short in the end should be a reminder to the team that they need to be ready every night to fight for those points.
"It was good experience also. Now we know we have to start right away," he told ESPN.com. The playoffs were in their hands, "but you're not there. That gives us I think more respect I think for every game, every point."
Bobrovsky's play allowed a young Columbus blue line to evolve, and that evolution will continue this season as a handful of young blueliners will get a chance to join the big squad full-time after the decision to fill voids internally rather than with veteran free agents.
Tim Erixon (who came over in the Nash deal), Cody Goloubef, Dalton Prout (who played 28 games last season and was plus or even in 26) and David Savard are all in the mix. Ryan Murray deserves special attention, though. The second overall pick in the 2012 draft, Murray missed most of last season with a shoulder injury but was impressive at a recent rookie tournament and joined the Blue Jackets for their main training camp.
Offensively, the team will need Gaborik to return to the 30-40-goal form we've seen from him in the past, although the team's usual offense-by-committee approach will likely be on display again this season.
WEAKNESSES
The Blue Jackets were 25th in goals scored per game last season and their power play ranked a miserable 28th. Improving the offense with the goal of taking pressure off Bobrovsky and defense will be a main priority during camp. To that end, Kekalainen is looking for a number of players to take a bigger bite of the offensive pie, including Cam Atkinson and Matt Calvert, who combined for 18 goals last season. R.J. Umberger, who had what Kekalainen described as a "quiet" season, is also being counted on to chip in more offensively.
"I'm looking for guys that are hungry to get a little more responsibility, a little more ice time," Kekalainen said.
The loss of Horton for the first three months of the season will put even more pressure on those players, and if they cannot answer the bell, the pressure falls squarely on Bobrovsky and the defense, and reduces the margin for error in making the playoffs.
REALIGNMENT EFFECT
In the big picture, the move to the Metropolitan Division is nothing but good news for the Blue Jackets and their fans, who will get to see their team play in their own time zone for much of the season. The move will also be easier on the team itself in terms of travel stress, and should give head coach Todd Richards more time to practice and make his team more competitive. The down side is that the Blue Jackets are going to be in the toughest division in hockey, and shouldering their way into the postseason will be a tall order.
PREDICTIONS
Burnside: We love the direction this team is headed and they seem to be on solid ground from the top on down. But it's just too much to ask this team to find its way into the playoffs. I see them finishing sixth in the Metropolitan Division.
Custance: Sixth in Metropolitan Division.
LeBrun: Sixth in Metropolitan Division.
Melrose: Sixth in Metropolitan Division.
Strang: Fifth in Metropolitan Division.
ESPN Senior Writer
Covers hockey for ESPN.com
10 years at Toronto Sun, Windsor Star and National Post
Wrote best-selling true crime book "Deadly Innocence"
Coach's Corner

Coach: Todd Richards
Experience: Entering fifth NHL season
Record: 119-109-25
Stanley Cup titles: 0
Who's On The Move
The offseason signings/acquisitions and departures for the Blue Jackets:
Signings/Acquisitions
• June 26: Re-signed C Artem Anisimov.
• July 1: Re-signed G Sergei Bobrovsky.
• July 2: Re-signed LW Blake Comeau.
• July 5: Signed RW Nathan Horton.
• July 7: Signed RW Jack Skille.
• July 15: Re-signed D David Savard.
• July 25: Re-signed D Cody Goloubef.

Departures
• D Nick Holden (unrestricted free agent, signed by Colorado)
• C Nick Drazenovic (unrestricted free agent, signed by Pittsburgh)
• D Adrian Aucoin (unrestricted free agent)
• LW Vaclav Prospal (unrestricted free agent)
• C Colton Gillies (unrestricted free agent)
Fantasy Focus

Jack Johnson
Since no Columbus defenseman saw more power-play minutes than Johnson through a lockout-shortened 2013 campaign, it comes as no surprise that no one scored more with the man advantage. Eight of Johnson's 19 points in 44 games were tallied with the extra skater. And the 26-year-old dominated the TOI category by averaging nearly 26 minutes per game. If all goes to plan, James Wisniewski's top power-play unit partner may flirt with the 45-point plateau.
More fantasy: Join now! » Top 250 players »