Winnipeg Jets: Less travel, more competition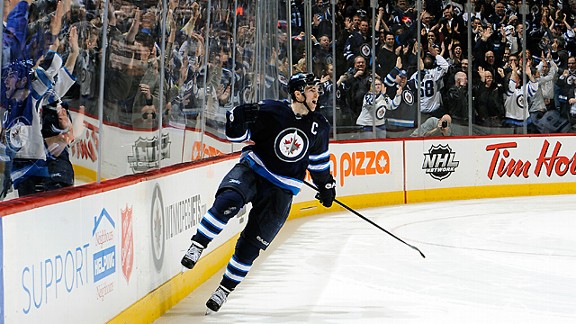 Lance Thomson/NHLI via Getty ImagesAndrew Ladd wants to get the crowd going in Winnipeg, but the Jets will need more consistency if they're to make their first postseason since moving from Atlanta.
New conference, new division and, perhaps for the NHL's best fans, a new result for the Winnipeg Jets this season. The NHL's loudest crowd has yet to host a playoff game since moving to Winnipeg three years ago. Imagine, just imagine, what that would be like. The Jets nearly pulled it off last season, finishing four points out in the Eastern Conference, one spot out of the promised land.
Captain Andrew Ladd said the team must be more consistent this season as it moves into the new Central Division in the Western Conference.
"I think there's growth that needs to be done just in terms of playing a consistent way with an identity," Ladd told ESPN.com. "I thought last year we played a certain way and other games another way. We were just too much all over the map to be consistent enough to get into the playoffs."
Under the guidance of GM Kevin Cheveldayoff since the team moved from Atlanta to Winnipeg, the club has tried to balance the long-term view -- focusing on drafting and developing to restock the organization -- while hopefully trying to make short-term strides as well.
"Just because you're trying to build through the draft and develop from within, that doesn't mean you're not trying to make the playoffs," Cheveldayoff told ESPN.com. "Last year, but for two really bad stretches, we thought we were right on the cusp of making the playoffs."
CHANGES
The new faces this season include forwards Michael Frolik, Devin Setoguchi, Andrew Gordon and Matt Halischuk as well as blueliner Adam Pardy. Veteran D-man Ian White was also invited to camp on a tryout.
Gone are forwards Mike Santorelli, Alexander Burmistrov, Nik Antropov, Kyle Wellwood, Antti Miettinen and defensemen Ron Hainsey and Derek Meech.
The key here is the attempt to upgrade on the right side up front.
"We made no bones last year that we wanted to try and upgrade on the wing," Cheveldayoff said. "We feel that both with the acquisitions of Setoguchi and Frolik we have better options on the right side."
STRENGTHS
Winnipeg's top three on defense -- Dustin Byfuglien, Tobias Enstrom and Zach Bogosian -- is pretty darn solid. Now if they can only get them on the ice at the same time. The three top blueliners played only a handful of games together last season, all three suffering injuries. If they're healthy this season, it dramatically changes the way the Jets can play.
"They're all different type of players, and all bring different dynamic attributes. We're looking for big things from those three," Cheveldayoff said.
The corps is filled out by the likes of Mark Stuart, a dependable veteran, Grant Clitsome, Paul Postma, Zach Redmond, Pardy and intriguing rookie Jacob Trouba, 19, the team's first-round pick -- ninth overall -- from 2012. If Trouba can make the jump comfortably and the team stays healthy, it's not a bad group.
The biggest strength of all for this organization remains the fans. This market has strongly embraced the return of NHL hockey, and the rink is deafening. But for the first time last year, it also became apparent that the novelty is wearing off. The fans don't just want a team anymore; they want to make the playoffs.
"I think you saw last year, there were a couple of games where there were a few boos," said Ladd, who continues to push his game to new heights. "That was new, but that was good. That's great because that pressure has to be there to push guys to get better and to have that effort every night to be consistent. Because that's what it takes to be a playoff team."
WEAKNESSES
Special teams.
"When you look at last year, the tale of the tape came down to special teams," Cheveldayoff said. "We were 30th on the power play and bottom third on the penalty kill. We scored one of the highest ratios of goals at even strength. When you dissect it all, if you're firing on special teams last season, you're a playoff team. We have to find ways to get better with special teams."
The additions of Setoguchi and Frolik, plus just having Byfuglien, Enstrom and Bogosian in the lineup should improve the power play. Another potential weakness on this team is what happens down the middle after top-line center Bryan Little. Little found great chemistry on the team's top line with Ladd and Blake Wheeler. But Olli Jokinen really struggled last season, and it's not clear if youngster Mark Scheifele is ready to take on a No. 2 role, either. Between Jokinen and Scheifele, however, the Jets need to find a consistent No. 2 center to play with star winger Evander Kane.
"If Mark can continue to grow into the role that we think he can, and if Olli can rebound from his season last year, then we think we have some good opportunities there," the GM said.
REALIGNMENT EFFECT
Was there a team that needed realignment more than Winnipeg? The Manitoba club was stuck in the Southeast Division for two seasons, a ridiculous situation. Now it's home in a division that's geographically sensible.
"Being in the same time zone and having the shorter trips to Minnesota and Chicago, where you can play a game and get home after to see your family, that's definitely going to be a bonus," Ladd said.
On the other hand, it's also tougher competition than what the Jets had in the Southeast. Be careful what you wish for.
PREDICTIONS
LeBrun: Sorry, Jets fans, I think your team will place last in the Central Division.
Burnside: Seventh in the Central Division.
Custance: Seventh in the Central Division.
Melrose: Fourth in the Central Division.
Strang: Sixth in the Central Division.
ESPN Senior Writer
Covers the NHL for ESPN.com and TSN in Canada
Six years on the "Hockey Night In Canada" Hotstove panel
13 years at The Canadian Press national news agency
Coach's Corner
Coach: Claude Noel
Experience: Entering 4th NHL season
Record: 71-64-19
Stanley Cup titles: 0
Who's On The Move
The offseason signings/acquisitions and departures for the Jets:
Signings/Acquisitions
• June 30: Acquired RW Michael Frolik from Chicago for a 3rd- and 5th-round pick in the 2013 NHL Draft.
• July 2: Re-signed D Grant Clitsome.
• July 4: Re-signed G Al Montoya.
• July 5: Acquired RW Devin Setoguchi from Minnesota for a 2nd-round pick in the 2014 NHL Draft.
• July 6: Signed RW Andrew Gordon and D Adam Pardy.
• July 11: Signed RW Matt Halischuk.
• July 16: Re-signed C Eric Tangradi and C Patrice Cormier.
• July 19: Re-signed D Paul Postma.
• July 20: Re-signed D Zach Redmond.
• July 22: Re-signed C Bryan Little.
• July 23: Re-signed RW Anthony Peluso.
• July 26: Re-signed RW Blake Wheeler.
• July 29: Re-signed D Zach Bogosian.

Departures
• C Mike Santorelli (unrestricted free agent, signed by Vancouver)
• C Alexander Burmistrov (restricted free agent)
• C Nik Antropov (unrestricted free agent)
• D Ron Hainsey (unrestricted free agent)
• D Derek Meech (unrestricted free agent)
• C Kyle Wellwood (unrestricted free agent)
• C Aaron Gagnon (unrestricted free agent)
• RW Antti Miettinen (unrestricted free agent)
Fantasy Focus

Dustin Byfuglien
Unlike in years gone by, Byfuglien looks positively svelte going in to camp this September. Still physically intimidating, and very "Big Buff"-like, just not sporting as much unnecessary padding as before. This bodes well for the Winnipeg Jets and his fantasy owners, alike. Fitness is a big factor in Byfuglien's case; the more he plays, the more he produces. A full 82-game campaign would conceivably see the imposing 28-year-old flirt with the 60-point mark, all the while racking up nearly 300 shots and around 80 PIM.
More fantasy: Join now! » Top 250 players »