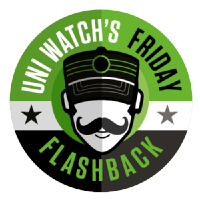 The 2017-18 NHL season was pretty sedate from a uniform standpoint. As part of the league's transition from Reebok to Adidas, teams were restricted to home and road uniforms, with alternate or third jerseys temporarily mothballed. That will change in 2018-19, as third jerseys once again will be back in play. We'll get our first taste of them on Friday night, when several teams plan to unveil their third jerseys during their NHL draft parties.
All of which makes this a good time to review the highs and lows of the NHL third jersey program, which debuted in 1995. Not every team has participated (the Canadiens, Red Wings and Devils are old-school holdouts), but the program has resulted in some of the more notable NHL uniforms of the past generation -- sometimes for better, sometimes for worse.
Here's a rundown of 10 of those designs -- some good, some not so good, but all having made a significant impact on the uni-verse.
1. Mighty Ducks of Anaheim, 1995-96
One of the immutable laws of the uni-verse: There's never a bad time to look at the Mighty Ducks' short-lived "Wild Wing" uniform. pic.twitter.com/7JdvMyytb3

— Paul Lukas (@UniWatch) June 18, 2018
One of the NHL's most legendarily awful designs, the Mighty Ducks' first entry in the third jersey sweepstakes took the team's cartoon "Wild Wing" mascot, made him look even more cartoonish, and depicted him jumping up through a hole in the ice (which meant he lived, uh, in the basement of the arena?). What can you say? It defies even the most "What were they thinking?" thinking. Ridiculed at the time, retired after one season, and a nostalgic favorite today, this is pretty much the poster child for something that's so bad, it's good. Bonus points for the typeface on the back.
---
2. Los Angeles Kings, 1995-96
Another unforgettable chapter in the annals of bad design, the Kings' initial foray into the realm of alternate uniforms quickly became known as the "Burger King" jersey. As fate would have it, Wayne Gretzky himself was playing for the Kings during this time -- here's some video of the Great One scoring a goal while wearing the most embarrassing sweater of his career (and while facing the Wild Wing-clad Mighty Ducks to boot!):
---
3. New York Rangers, 1999-2007
Not all third jerseys have been stinkers. Case in point: The Rangers' Lady Liberty design was deservedly popular with fans and remains fondly remembered today. There was a white version that debuted in 1998, but the navy version that followed a year later is the one that most people recall -- and the one that the team should bring back into circulation.
---
4. Dallas Stars, 2003-06
Question: Does anyone know who first coined the term "Mooterus"? pic.twitter.com/qVGjj0OPQ0

— Paul Lukas (@UniWatch) June 19, 2018
The Stars tried to combine their astronomy-based team name with Texas' steer-based ranching culture by using the constellation Taurus as a jersey crest. But as many fans quickly noticed, the design looked a lot like the female reproductive system, which led to the jersey being nicknamed the "Mooterus" -- a badge of shame from which it never recovered. More recently, the jersey has generated a groundswell of nostalgic support, and the Stars even poked some fun at themselves earlier this year by discussing the jersey in this video:
---
5. Ottawa Senators, 2011-2017
Easily one of the most handsome of all the NHL alternate designs, the Senators' retro uni was inspired by the uniforms worn by the original Ottawa Senators from the 1920s. And in a refreshing twist on the usual storyline of uniforms designed by giant sportswear companies or corporate branding firms, this one was designed by a local Sens fan -- nice.
---
6. Atlanta Thrashers, 2008-11
It's easy to forget about this one because the Thrashers no longer exist (they moved to Winnipeg and became the Jets), but it definitely deserves a spot on this list. What shall we compare it to -- a red San Diego Chargers football jersey? A high school lacrosse uniform? An unsold Halloween costume that gets marked down to $1.99 on Nov. 1? Whatever your preferred metaphor might be, this uniform clearly had no business being on an NHL rink.
---
7. Boston Bruins, 2008-16
The Bruins' first attempt at a bear-themed third jersey was the ill-conceived "Pooh Bear" design, which they wore from 1995 to 2006. That jersey still gets a lot of ridicule today, but let's give credit where it's due: The Bruins got it right with their next ursine design, featuring a retro-style crest and a suitably badass-looking bear on the prowl.
---
8. St. Louis Blues, 2008-16; Florida Panthers, 2009-12; and Columbus Blue Jackets, 2010-17
Did you ever get the feeling that NHL designs just quit trying around 2008? pic.twitter.com/v1rjRLfy7T

— Paul Lukas (@UniWatch) June 19, 2018
During a three-season span beginning in 2008, three NHL teams -- the Blues, Panthers and Blue Jackets -- introduced third jerseys with remarkably similar templates. It's almost like someone said, "Make it blue, slap a roundel-based logo on there, and boom -- done!" Viewed in isolation, any of these designs would come off as uninspired at best. Taken together, they feel like the definition of laziness.
---
9. Edmonton Oilers, 2001-07
Not so many fans seem to care about this one, but it's always been a favorite of your friendly uniform columnist, who feels that it's an underrated and unjustly overlooked design. The crest, designed by comic book artist Todd McFarlane, who was an Oilers minority owner at the time, feels nicely dynamic, and the five rivets on the five-toothed gear (or sprocket, or whatever you want to call it) symbolize the team's five Stanley Cup championships. There's more info on the design here, and you can hear McFarlane talking about the jersey here.
---
10. New York Islanders, 2002-07 and 2011-14
Third jerseys have really been a problem for the Islanders. pic.twitter.com/b4eUqTizXG

— Paul Lukas (@UniWatch) June 19, 2018
It's not every team that can take a terrible third jersey and follow it up a few years later with an even worse third jersey, but the Islanders somehow managed. Of course, it was the team's infamous fisherman design, but that was a primary uniform, not an alternate, so it doesn't qualify for this list.
---
Honorable mentions
No list of notable NHL third jerseys would be complete without the Flames' flaming horsehead, the Lightning's storm design, or the Coyotes' Cubist coyote head.
Will any of this season's alternate uniforms earn a spot on future lists? Stay tuned.
Paul Lukas notes that the Mooterus crest isn't the only sports logo that looks like the female reproductive system. If you like this column, you'll probably like his Uni Watch Blog, plus you can follow him on Twitter and Facebook and sign up for his mailing list so you'll always know when a new column has been posted. Want to learn about his Uni Watch Membership Program, check out his Uni Watch merchandise, or just ask him a question? Contact him here.