America is often inaccurately regarded as indistinguishable and interchangeable in its composition. Far from it. This oversight may be because many people's prisms are retail-orientated, and not ethnic, topographical, linguistic, demographic or weather-related in focus. You know, the details.
When I was a kid, my Coke was a "pop" in Ohio and Pennsylvania, "soda" in New York and "tonic" in South Boston.
If your prism is, say, a Subway restaurant, then life may be one big identical windshield of bread, turkey, cheese and translucent plastic gloves. I've been to a Subway in Northern Ireland, Southern Ontario and probably 14 U.S. cities; and while the mayo-moistness of the tuna slightly varies, you pretty much know what you are going to get. But that is a Subway's function, and not a terrible one. Sometimes, we are too hungry to gamble -- that's the primary purpose of chain restaurants: predictable fulfillment. Land of the free, home of the Philly cheesesteak (now available in all 50 states, Dublin, Cabo and Sarnia).
Now, I readily admit I sometimes can't see the footlongs for the trees. By definition, I am overly concerned with detail; but, to me, that is where the joy of life resides. Maybe it's delusional at times, but I find more answers there than a plus/minus ratio.
I notice tall trees in Oregon, farms in Wisconsin, tattoo parlors in Tampa, Fla., architecturally elaborate overpasses at Mile 37 on the Merritt Parkway in Connecticut driving to weekend pee wee hockey games and, once in 2008, a happy James Spader walking in a hotel lobby at 2 a.m. as I breezed up to my room.
All of these things interest me, so I occasionally miss an exit sign. I like details, and they probably affect my overall judgment, sometimes too much.
For instance, the biggest reason I picked the Colorado Avalanche to make the playoffs this season when most others did not is because I am mesmerized by Matt Duchene's feet. No, not his bare feet (they are likely gnarly and gnasty). No, his feet in hockey skates during NHL games are my fetish. His cool Reebok skates and Duchene's fast-twitch muscles create a blur.
I watched and rewound his shootout goals in Columbus and Montreal 10 times each, over and over again, and just stared at his feet. "Look at his feet, Jack!" I yelled out to my son, and then just laughed a man's laugh as Duchene slid the puck five-hole.
Some players have sick mitts. Some have legit feet. Matty Ice is a Tour de France force on blades. I find his footnotes the most interesting part of his score.
Never mind that Avalanche owner Stan Kroenke has the austerity of James K. Polk (19th century presidential comparisons ... always effective with the kids in 2012), leadership over the long haul is debatable and the capricious workings of youth can be volatile and mercurial; damn it, the fact that Duchene has really fast and stylish feet has to mean something. (The Avs' five straight wins to open the season, all on the road, means something, too.) Hockey sabermetrics can't see or feel the rush of watching Duchene skate.
This is why I do and can watch hockey every night on the NHL Center Ice, the best value of all the sports packages. For seven months, just about every night, I sweat the small things until that joy of multiple, simultaneous game endings at about 9:07 p.m. ET, when five 7 p.m. games have one-goal margins and are within the last two minutes of regulation. Then, the big thing, the only thing, is the will to win. This happens just about every night in the NHL.
It's been only about two weeks, but I have seen at least portions of games for all 30 teams. There have been tons of "little things," details that tend to get blown out of proportion in my mind, but sometimes the signs meet my expectations. Prior to Sidney Crosby's rookie season in the fall of 2005, I predicted his scoring line would be 38 goals, 63 assists and 101 points. His final numbers: 39-63-102. (Here's the link to the column; it also includes a tattoo tip and a Mite coaching/diet lesson.)
Throw enough stuff on the wall and some of the wallop will stick. Here's more stuff I've seen so far and what it might mean down the road. Or not.

• John Tavares has sick mitts: We knew this. If there was one thing that was apparent from the get-go in 2009, it was his hands. His empty-netter against the Rangers on Saturday night (which also gave him a hat trick) was a tasty, saucy, frothy backhander that slithered into the net like a drowsy squirrel. Just delicious.
Tavares is a dangerous, high-volume shooter (243 shots last season), but he also has great hockey sense with deft passing hands (he is a better passer than Tampa Bay's Steven Stamkos in those small areas around the net). No. 91 on the left circle during a power play is the most lethal thing in the NHL. I think you will see Tavares put up some big power-play numbers this season (15-ish). He and Stamkos are both 1990s and it will be fun to track their careers. You can do it Thursday night when the Islanders play the Lightning in where? Tampa Bay. You got it.

• Red Wings' solid start: Detroit's schedule has been favorable, but the Red Wings still have looked good. Colorado, Ottawa and Minnesota missed the playoffs last season, while the Wings' fourth opponent, Vancouver, was playing its third game in four nights and the second of a back-to-back coming from Philly. The Wings' next game is Friday in Columbus. That could mean a 5-0-0 start. Then, they face the Capitals on the road the next night. That will be their first real test. Will their younger, unproven players step up and help out the over-30 crowd?
Eight months from now, someone will raise the Cup, and if it's gonna be the Wings, they need to continue their goal-prevention ways, which betrayed them last season (237 goals allowed), and have the younger group lend a helping hand to Nicklas Lidstrom, Pavel Datsyuk and Henrik Zetterberg.
I talked with Red Wings GM Ken Holland on Monday and he said, "Our focus out of camp was to be better defensively. We were 23rd last year and need/want to be top 10 in goals-against to be a strong playoff team. Our team goals-against in the first four games [five in four games, led league through Sunday] has been the reason for our quick start and that will continue to be our team focus all season."

• Kessel, meet Gartner: Last season, Phil Kessel had a Mike Gartner kind of a year. When Gartner was 37 years old during his 1996-97 campaign, he was 32-31-63 with 38 penalty minutes and was minus-11. Kessel, at 24, was 32-32-64 with 4 PIMs and was minus-20. The Leafs need Kessel to play like Gartner when Gartner was 25 -- 50-52-102 with 71 PIMs and a plus-17. Now, I know that was 1984-85 and 12 teams broke the 300-goal mark. Until they make the nets bigger, 12 teams will never break the 300-goal mark again.
Gartner is the rare Hall of Famer who has more career goals than assists (708-627). Kessel will also retire with more career goals than assists. Will he make the Hall of Fame? Whoa, Nellie. Kessel will need to play until he is 37 and score 30 goals every season with a few 40-goal seasons sprinkled in. But this season could be one of those 40-goal campaigns. He has six goals and nine points in four games so far.
He has Hall of Fame speed and release. If he plays through age 40 and averages 27 goals a season, he will break Mike Modano's goal-scoring record among U.S.-born players. Just a thought.
Some more quick notes:
• Despite Paul MacLean's prodigious facial lettuce and Jason Spezza's under-the-radar production, Ottawa looks to be the favorite for the league's worst record this season and the odds-on favorite for the first pick of the NHL draft. It might be a good time to deal Spezza. He will be 29 after this season and has three years left on his $7 million cap hit ($17 million in real money, which puts all teams in play if he waives his no-trade clause). Islanders?
• Stay up late and watch the Oilers' kid line of Taylor Hall, Jordan Eberle and Ryan Rodham-Clinton-Newton-John-Ted-Nugent-Hopkins. Hall turns 20 in November and is getting stronger and more powerful by the month. Nugent-Hopkins, 18, is an effortless skater with gobs of hockey sense and velvety hands.
There are 1,000 more things to talk about. Hopefully we will get to them all by season's end on the video blogs, blogumns and podcasts. It's going be a great season with a great ending.
The Mother of All Mini-Mailbags
Hey John,
Just wondering with this being the summer of the lockout, how aware [are] both sides of the upcoming CBA? Going into another lockout would destroy all the momentum the league has built up since the canceled season.
Matt
California
I would not be overly concerned. Things are good financially for the league. Things are good for the players. First-round picks can make good money early on. Restricted free agents are getting paid big money at a young age without offer sheets. Dustin Pedroia made just $5.5 million this past year in his sixth season -- a career that's included a World Series ring and an MVP award. Kings defenseman Drew Doughty is making $6 million a year in his fourth NHL season, with no major hardware and for a far less profitable team and league. Unless the owners unforeseeably try to rein in salaries with term limits or revised restricted free-agent rules, I think there won't be a problem securing a long-term collective bargaining agreement.
---
Bucci,
Can you offer some balance here? Explain to the Rick Reillys of the world why wearing a Hakan Loob jersey just feels right. You've already got people across the country following your rules on office cleanliness, voice mail etiquette, baby names and backyard rinks; why not lay down your rules for the donning of jerseys?
Eric Van Tassell
A Red Wings fan behind enemy lines in Chicago
I will wear my Hakan Loob jersey while on my backyard rink. I won't wear it to the mall, Olive Garden, Bed Bath & Beyond, or when conducting a one-on-one interview with Marty McSorley. I'm not big on prescribing "rules" on anything to adults unless it involves youth hockey. I do offer voice mail tips. (Give your number in the second sentence of your message and then again at the end. There's nothing worse than getting a two-minute phone message and having the number at the end of it.)
---
Hey Bucci,
I am an avid Bruins supporter and I know that the team feeds off the energy it gets from hits and fights. Do you think it is possible teams realize this and are declining the Bruins' invitations to scrap? So far, I have noticed that Shawn Thornton has asked to go with guys three times and has been rejected every time. Is this a form of strategy by the other team?
Sam Bernstein
No, the Bruins' issue has been goal scoring. Since the lockout, you have to be a top-10 goal-scoring team to win the Cup. The Bruins were eighth overall last season. They lost some offense over the summer and that has to be replaced.
View from the Twitterverse
Here are a few pictures you've sent me via Twitter. You can hit me up at @buccigross, tweeps!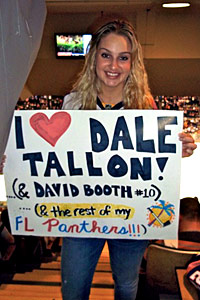 Made a sign for my current favorite Panther, our GM. This was from their season opener last Saturday on the road against NYI, which luckily for me and my lack of allies, was a shootout win. -- Gabby Kiger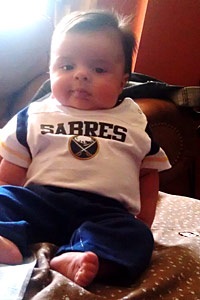 This is my son, Gavin David Roach, 11 weeks old. He has a shirt that says, "I've been told I'm a Sabres fan," but as his dad, I can tell you, he definitely loves the team. The first present I bought him was an autographed Tyler Myers photo that hangs in his room. He told me to tell you, "I hope Dad makes a rink in our backyard just like yours, Bucci!" -- Bob Roach (Lockport, N.Y.)
Lovely Baby Romaine salad on that boy's dome. Good things are in his hockey future. #saladdays
Stay tuned ...
Coming next week, we'll have the first vlogumn of the season. No word yet if Ken the Otter will make a guest appearance.
John Buccigross' email address -- for questions, comments or crosschecks -- is john.buccigross@espn.com.