I hope you all had a Happy Thanksgiving weekend. Let's ease back into things with a Q-Tweet, old-fashioned email bag edition of the blogumn. We can hit on a wide scope of subjects, including a Life of Podes update.
---
@f_wood09: Brian Elliott for the Vezina??? Why not, kid's a stud.
That is a good Q-Tweet, Frank. In fact, here are my quarter-pole awards for this season:
Hart Trophy: Jonathan Toews. Catch me on another day, and I might say Phil Kessel or Claude Giroux. It's very close. Giroux and Toews are just about in a dead heat. Toews is so dominant in the faceoff circle (61 percent) and is such a strong and proven leader that I give him the edge. Giroux is a top-10 faceoff guy who can finish and create, an absolute star. He also plays in all situations. Kessel is the most electrifying player so far this season, supplanting Alex Ovechkin.
Vezina Trophy: Brian Elliott. The Blues goalie and Boston's Tim Thomas are close, but Elliott's numbers are too good to ignore, and he is close enough in games played to get the slight edge. Pittsburgh's Marc-Andre Fleury and Detroit's Jimmy Howard are also off to good starts. Howard likely will lead the NHL in wins because he has an excellent chance to lead the league in games played. Howard's numbers regressed last season, so I'm sure the Wings are glad to see them improve to career-best levels so far.
Norris Trophy: Zdeno Chara. Between the Nashville duo of Ryan Suter and Shea Weber, Chara and even Dion Phaneuf (he leads all D-men in ice time), among others, I look for D-men who play a lot and play in all situations, including against the other team's top line. Making a good first pass, using one's skating to get out of danger, creating offense and shots on goal are also parts of an important skill set. Chara plays all situations, plays a lot, gets pucks on net and has the added leadership quality. A lot of great blueliners are having good seasons. This is a wide-open and exciting race to watch.
Calder Trophy: Ryan Nugent-Hopkins. The Nuge gets a slight nod over the Flyers' Matt Read. Read is having an excellent all-around season, playing in all situations, staying out of the box and finishing his plays. Also in the mix is the Devils' Adam Henrique, who is playing in all situations and is better than 50 percent on faceoffs. No one, however, matches the skill of Edmonton's Nugent-Hopkins. There are times he looks like a mini-Malkin to me. Although he is struggling in the faceoff circle, he is a boy producing offensively in a man's league. When he grows up, he'll have the chance to be special, and I think his upside is greater than Taylor Hall's if the Nuge adds size and just a little sandpaper to his game.
Jack Adams Award: Kevin Dineen. Aided by fantastic personnel moves by GM Dale Tallon, Dineen has passed on his greatest skill -- energy -- to the Florida Panthers. He is the kind of coach you want to impress and win for. Hockey is largely a selfless act (that's why it will never have mass appeal in America), and players crave a coach they believe in, trust and know would be the first one to defend them in a restaurant fight. Dineen is that man. There is no more subjective award than coach of the year. Every season, it can go to about 10-12 coaches for a variety of reasons. But, right now, Dineen is the man. Minnesota's Mike Yeo, who won a Stanley Cup as an assistant coach with Pittsburgh in 2009, would be second in the running for me.
---
@Josh_Burton1: Do you agree with the Caps firing Boudreau? I thought it was a little too soon.
I think Bruce Boudreau's fate was sealed when he did the interview for HBO's "24/7" with barbecue sauce on his cheek. Hockey players crave sauce on their stick, that moment of purity when the puck is on a string and spins with clarity and integrity off one's blade like a box cutter through butter. Hockey coaches should avoid sauce. That barbecue blotch became his scarlet letter accompanied by a rainstorm of F-bombs. One hiccup, and that was it. He survived last postseason (I'm not sure why), but at the first sign of problems this season, that bucket of wings was cooked. Here are some numbers to chew on (courtesy of ESPN Stats & Information):
• The Capitals started with a 7-0-0 start but are 5-9-1 since.
• The Capitals were 10-for-41 on the power play in their first 11 games but are just 4-for-45 since.
• Since Boudreau took over as Capitals coach on Nov. 23, 2007, the Capitals have had the best record in the Eastern Conference, and the Sharks are the only other team to win at least 200 games in that span.
• Despite reaching the 50 wins mark twice, the Capitals did not advance past the Eastern Conference semifinals under Boudreau's guidance.
That last stat certainly means the most. But it is clear that Alex Ovechkin is not the same player this season, for whatever reason. He is the reason this franchise is profitable and why the Capitals have had such a buzz. If he is not happy, the coach goes. I'm still not a huge fan of this roster and wonder whether it's enough in new coach Dale Hunter's image to make it work, but I'm sure some roster changes are coming to try to add more sandpaper and less sauce to this roster.
---
@elgranCapitan3: whats your favorite bon iver song?
Bon Iver was founded in 2007 by singer/songwriter Justin Vernon. I will take one song from each of his/their two albums. From 2008's "For Emma, Forever Ago," I will take the "re: Stacks" track. From this year's self-titled album, it's "Towers" over "Holocene" by a Wisconsin snowflake.
---
@RedwingKyle19: Who do you feel got the better deal in the Turris signing? Management or Turris?
Well, a $1.4 million cap number for a player of that skill and potential is a very good number, making it very easy to trade him. And $2.8 million guaranteed is a good wage for a 22-year-old player with 46 points in 131 NHL games. There is a good chance Turris will outperform that contract next season, and then it will be up again. I think the Coyotes managed this perfectly. They have an asset making a low wage (by NHL standards) who, one would assume, is looking to prove himself. If the Coyotes aren't sure he is a hubris case or a late bloomer, it will not cost them much and/or will be someone else's problem. Time will tell.
---
@Sschulz45: in the rumors of Parise for Rask trade which team comes out on top?
In my preseason blogumn on my 16 playoff teams, I gave a bold prediction for each club. I had Boudreau not lasting the season in D.C., Tyler Seguin leading the Bruins in scoring and New Jersey's Zach Parise being dealt by the trade deadline or leaving via free agency during the summer. If Parise won't sign an extension before the deadline, trading him is the smart thing to do, because once he gets to free agency, he is gone.
A Parise-for-Tuukka Rask trade is very intriguing. Rask is a 24-year-old goalie with huge upside. Bruins players are convinced that Rask will win a Vezina someday. Tim Thomas is a well-preserved 37-years-old who could have three seasons left as a starter. Picturing a Parise/Seguin duo for the next 10 years is a juicy image, but I think the Bruins will keep Rask and slowly make the goalie transfer.
The Bruins have some big decisions to make on how to manage the salary cap over the next two seasons. Adding Parise not only would rid the roster of a long-term goalie solution but also likely would mean losing a top-six forward on the current roster. That's not worth it to me.
---
@FilamentDesigns: Any chance Snow lets Capuano go and brings in one of Therrien, Crawford or Hartley -- or is Doug Weight the new head coach?
It sure looks as though the Islanders are grooming Doug Weight. But I would be nervous about giving anyone an NHL head-coaching job without him spending time in the minors and making line changes at home and away games. I would need to see anyone in action before giving him the keys.
---
@91Brooks: Way to mention Maine on SC today. All 12 of us Mainers with a TV appreciated that. #BestAnchorAlive
Who says "SportsCenter" doesn't talk about hockey?! #goingrogue
---
@jhm5150: any good books or web pages to build your own winter rink?
There are a few to choose from. I buy my stuff here. Good Wisconsin folk.
---
Mr. B,
Podes playing for the Flyers in the alumni game ... discuss.
Don Magee
I sent Shjon Podein, aka. Podes, a text and instructed him to give us an update on his life's rich pageant. He constructed the following:
Oh, Bucci, how do I even begin to start on life today. I can describe it in one word: Awesomeness! Crazy kid busy. OK just the facts, ma'am:
Kids are eight and five. Anna will never be able to date and Junior is naked A LOT.
Coaching high school and love it. Keep your eyes out for the 2-26 St. Louis Park Orioles.
Sherry is rockin' in the mommy world and we have a cat and dog that wrestle.
Some other seldom known facts:
1. It is not only OK but considered cool to watch SpongeBob at 43 even if kids are not home.
2. Chicken nuggets are their own food group and should be eaten 6-7 times a week.
3. It is possible for a kid to say "Mommy" 86,400 times a day. That's once a second for math majors.
4. 9 p.m. is officially late.
5. Country music is not only awesome but is life.
6. Thanks to my daughter, I know more trivia about Carrie Underwood than Mike Fisher.
7. In Minnesota true winter rules on the golf course is when you land in a snow bank.
8. I would marry my pickup truck if socially acceptable.
9. Why can't my boy land anywhere else but right between my hips just below the belt when he jumps on me?
10. Mascots fighting mascots = Funny.
We are very blessed and fortunate back here in God's country, and to top it off, I was invited to play in the alumni Winter Classic hockey game. Still don't know how, but very humbled to be part of such a special event. I loved every minute of being in Philly and never wanted to leave back then.
Well that's it my friend. I hope that little sports station you are working at catches on one day, but to be honest, I don't really see this "TV" fad catching on.
Peace,
Shjon Podein
President, Integrity Sports International
CCO/Octagon Hockey
Head coach, St. Louis Park [Minnesota]
---
View from the Hockeyverse
Here are some pictures you've sent me via email. You can also hit me up via Twitter at @buccigross!
John,
Here's a pic of my 3 month old after watching another "thrilling" NY Islanders loss. Enjoy!
Larry Lutz
Seaford, N.Y.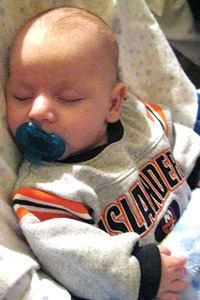 Bucci,
I have been reading your columns for years and I always said to myself, as soon as I had one of my own (kids, not columns), sending a pic to the blogumn would be one of my first moves. Here she is, all decked out in her new Pens gear, Ava Marie Viola.
Mike Viola
Pittsburgh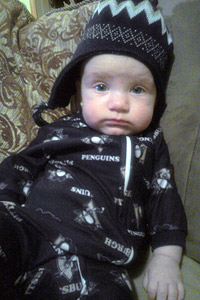 John,
Attached is a photo of my new puppy Bufflin (named after one of my favorite bruisers, Dustin Byfuglien); but as you can see, we are actually big Penguins fans, so my question for you is who ya got, Big Buff or Letang?
Dew Kipple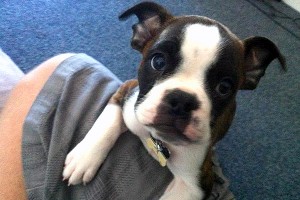 John Buccigross' email address -- for questions, comments or crosschecks -- is john.buccigross@espn.com.