The following are facts (or my view as facts).
There are many passionate pockets of hockey, but Minnesota is the heart of hockey in the United States.
Not only does the state of Minnesota have the No. 1-ranked college hockey team in the country in Minnesota-Duluth, it also has the No. 2-ranked team in the Minnesota Golden Gophers.
The fact that Minnesota, of all places, has not hosted a Winter Classic game is beyond comprehension. Outdoor hockey (pond hockey) in Minnesota is as pure as basketball at Rucker Park, baseball in Williamsport and football in Green Bay.
When the sun came up on Dec. 6, 2011, the NHL team with the most points was the Minnesota Wild.
I took my two boys to Minnesota this past summer for a four-day June vacation. Minnesota is a big state, 12th-biggest by size. It borders Canada to the north, the Dakotas to the west, Iowa to the south and Wisconsin to the east.
Former Minnesota-born NHL player and nine-term mayor of awesome Shjon Podein has an emotional golf tournament/charity event in the idyllic big-small town of Rochester, Minn., and that was the impetus to go. The mission of Shjon Podein's Children's Foundation is to improve the quality of life and create an environment of caring and community support for children facing extraordinary difficulties in their lives. And like his NHL career, Podes is all in.
My goal as a parent is to give my kids a jump start on life's little checklist, so when I die they can look in the box and say, "That sock puppet was OK."
I'm not Clark Griswold and plan every minute of a vacation. "This is no longer a vacation. It's a quest. It's a quest for fun. I'm gonna have fun and you're gonna have fun!!" My style is to make arrangements for one thing a day, then read and react to the energy level of the group for the rest of the day. It's like building a top-shelf NHL team; build slowly with solid pieces and be patient.
So the four-day "Feeling Minnesota" lineup card read: 1. Jet ski on Lake Minnetonka. ("You have to purify yourself in Lake Minnetonka.") 2. Play golf in Minnesota (27th state I've played in). 3. Go to a Twins game at Target Field. 4. Play street hockey in front of Shjon Podein's house.
The highlight of jet skiing was tipping over the three-man unit with my cellphone and digital camera in my pocket. I tried the ol' cellphone-in-a-bag-of-rice trick in attempt to dry it out, but while we were out of the hotel room later that day for dinner, the hotel staff saw the bag on the table, thought it was garbage and threw it away. "Can you hear me now?" No, I'm waterlogged and in a hotel Dumpster.
The golf was blue-skied and emerald-green-grassed. (We just missed the late-June Minnesota heat wave.) The quality of street hockey at Podes' block party was legit, and Target Field is stunning. Counting the cathedrals of Wrigley and Fenway, Target Field is in my top three ballparks. It's an all-around beauty.
If you are looking for a three-to-four-day minivacation, I recommend the jet ski/golf/Target Field/Podes street hockey travel package. Anglers probably could add a day of fishing. Prince, Apollonia and Morris Day & The Time sold separately.
The NHL draft was being held in St. Paul while we were there on holiday, which added unintentional texture for us hockey dudes. A few of the players who were drafted and NHL front-office people were staying at the hotel I randomly chose in Minneapolis. On our way to Lake Minnetonka, I ran into Panthers rookie coach Kevin Dineen. Competent people want competent bosses, people they respect. That's one reason the Panthers are off to a good start. Dineen is the real deal.
In all, it was one of those four-day trips that felt like two weeks, and I left Minnesota with a good feeling. I also remember having a good feeling about the Wild at the time. I liked both trades they made with San Jose and felt they made the team better. But no one predicted that the Wild would have the most points in the NHL at the one-third pole.
I'm guessing you probably don't know much about this season's Minnesota Wild or probably Minnesota Wild history in general. So with the help of me, Bucci Mane and then 10 tweets from Wild fans I asked for Monday night on the Twitter, this should help your knowledge of the NHL's best team right now.
• The head coach of the Minnesota Wild is Mike Yeo. As in Mike Yeo, MTV Raps. As in Mike Ne-Yeo. As in Yeo-Yeo Ma. As in Yeo, Ding-Dong, Man. Ding-Dong. Ding-Dong Yeo. He is 38 years old and from North Bay, Ontario. He was a Penguins assistant coach when Pittsburgh won the Stanley Cup in 2009. Coach of the year, Yeo.
• The Wild's leading scorer is Mikko Koivu with 21 points. At the beginning of the week, the Wild had five guys tied for the team lead with eight goals.
• Minnesota's starting goalie is Niklas Backstrom. He is not related to the Capitals' Nicklas Backstrom. In fact, they are from two different countries. Niklas the Wild goalie is from Finland. Nicklas the Capitals center is from Sweden.
• The Wild haven't made the postseason in four years. In fact, the only year they won a playoff series was 2003, when they won two series to reach the Western Conference finals. (They were swept by the Ducks after back-to-back Game 7 wins.)
• They are doing it with defense -- fourth-lowest goals-per-game average. Their power play is 23rd in the NHL. Their penalty kill is 11th.
• The Wild average the fewest shots on goal per game in the NHL this season. They are 20th in shots against. They have the best record when giving up the first goal of the game. In fact, the Wild have a better record after giving up the first goal than when they score the first goal.
• They are a good faceoff team, fourth in the NHL behind Boston, San Jose and Vancouver. They are tied with Boston for fewest goals allowed in the third period.
What about the Wild fan base? What do they think of the team? Monday night on Twitter (I'm @Buccigross), I asked Wild fans to send me informative and creative tweets on their team to further help out Minnesota Wild education. I said I would publish the 10 best tweets here, as promised:
jklock Great goaltending, unrelentless forechecking, belief in coaches system, shootout success, and playing multiple games vs Flames.
Ajmaho04 leipold allowing fletcher to bring in big names, 2x stellar goalies, young d core that is playing up to pro level + role-players
BlazingDuck dmen sacrificing the body. Harding playing like a #1 while Backs is hurt. Good leadership and timely scoring #stateofhockey
Biggsteve24 Wild are good because of the play from the commitment to the forecheck, and the best third line in hockey. Kouvi is the glue.
actualBrentBoyd Wild outshot nearly every game but shot charts reveal their young D keep huge % of shots outside the dots. Goalies love that.
AO_F_Baby Cal Clutterbuck: First in the NHL in Shorthanded goals, second in hits, and the best mustache in the Northwest division.
amisonklein in a tough time for minn fans, the #wild give their hockey state some pride, scrappy in corners. Teams got a lot of CHARACTER
ogan20newman there is no one big star with a big ego. 5 players share the lead for most goals on the team. Their C has 17 assists. #sauce
codyupcraft 4 road victories after being down 2-0 says enough to me as to how serious they are. #mnwild
mattbishop2 The Wild are good because of goaltending and everyone contributing. Brodziak has been key for the team. 3rd line C contributing!
So, there we go. Your NHL-leading Minnesota Wild. The state of hockey has a lot going for it, which is nice. Next up, the San Jose Sharks, Tuesday night, 10:30 ET.
Peace out, Yeo.
Mother of All Mailbags
Bucci,
From the fun but unrealistic category, this attempt to name next year's NHL conferences:
Gretzky
Howe
Orr
Lemieux
It will never happen, because Montreal would riot if their conference were named after a Bruin, but it sure is entertaining to debate.
Doug McKinney
Pittsburgh
Naming the new conference's after NHL greats is difficult for the reason you state, Doug. Plus, naming conferences after dead guys in suits is also not appealing to me. We could go with vernacular names: Sauce, Bardown, Salad, Lip Sweater. They could sponsor the conferences. Ten year, multi-multi-million-dollar deals. Geico, Just For Men, Cocoa Puffs and the Shakeweight divisions.
I like how the current format is working from a hockey atheist point of view. I watch all the games and like looking at the top eight in each conference as the months progress. I have a macro view of the league and the game, so it doesn't matter to me as much. We need to see how it plays out, how it feels, before we can say for sure what is best. Not much will change. Only the Los Angeles Kings would have missed the playoffs last season if this new format was used. Dallas would have qualified.
The best teams will still make the playoffs, and the best team will still win the Stanley Cup.
---

Bucci!
You nailed it. Yeah it's only at the quarter pole, and don't want to jinx it, but Tyler Seguin is leading the Bruins in scoring, much to the delight of my fantasy team. Though as a Sabres fan, not especially thrilled. Anyway, had to give you a nod for your great call on this.

Nick in Pegulaville

Hockey writers need self-esteem boosts, too, you know. I made 16 bold predictions before the season, and one was Seguin leading the Bruins in scoring. Another was Bruce Boudreau not lasting the season in D.C. We will revisit the 14 other "bold predictions" later this month with an updated percentage of how likely they will happen.
---

Hey John,
Do you see Tampa getting a goaltending upgrade? How about trying to get Schneider from Vancouver?
Thanks,

Van

Tampa cannot get to the Stanley Cup with the goaltending it has right now. The Lightning might not be able to win a playoff round with the goaltending they have. And yes, the playoffs might not be made with the goaltending they have. I reluctantly included the Lightning in my top eight playoff teams in the preseason. This is a portion of what I wrote: "Roloson is 42 years old. The Lightning don't get a lot of offense from their defense. I almost picked them to miss the playoffs, but they have Alaska's Nathan Thompson, so I gave them the nod." Obviously, they need more than No. 44 to get it done. The Lightning have some assets to get Cory Schneider, but it would impact their organizational depth, something they have been trying to build. It is something >Steve Yzerman probably wakes up and thinks about every day.
---

John,
Please stop kissing the Bruins' collective backside. In your most recent article, you mention Chara for the Norris and then go on to mention how Dion Phaneuf leads the league in ice time. Checked the stats today (11/30) and it was the same as it has been pretty much all season. The NHL lead in ATOI (Average Time on Ice) is (drum roll please) … Dan Girardi. (Wait a minute he's not one of the NHL's poster boys. Isn't he a teammate of Sean Avery's? That's got to be two for unsportsmanlike, which moves him back to 3rd or 4th.) Come on, John, I expect, nay, we all deserve better than your unabashed love of all things Bruins. Oh I know you love all teams equally. You only give mouth and tongue service to the Bruins.

Matt Barrett

I thought I was a Penguins fan. But I have a Maple Leafs hat. I went to high school and college in Ohio. I thought I rooted for the Blue Jackets. I did a podcast with Ryan Whitney. I must love the Oilers. I do love the Oilers. I hated the Wild before this week, right? I follow Matt Carle and Kevin Shattenkirk on Twitter. So I clearly pull for the Flyers and Blues. I'm so confused. Somebody hold me.
---

Mr. Buccigross,
What do you suppose the chances are for the Coyotes to stay in Phoenix? After going to a game, my fiance is now hooked, and I would love to be able to go to more games with her down the road. Is this just a summer romance that will be going back to Canada as soon as the summer is over, or is there a chance that we might have something real for a while longer?
Steve H.
Tucson, Ariz.

My position hasn't changed. I think hockey teams produce NHL fans, like you, Steve, and I don't like to see the U.S. lose hockey teams. But I would expect a team to move to Quebec City soon, and the Coyotes are certainly a strong candidate.
View from the Hockeyverse
Here are some pictures you've sent me via email. You can also hit me up via Twitter at @buccigross!
Hey John,
As a Pens fan living in the nation's capital, it is always fun to wear the Pens gear out in public. Attached you will find a picture of my 15-month-old son Ryan decked out in Crosby Winter Classic jersey and his Pens winter cap. Our Mini Sid may have been born in the Caps' backyard but sooner or later he will be destroying our dryer too! Let's Go Pens!
Dan Duffy
Manassas Park, Va.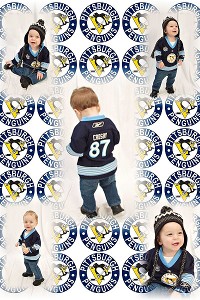 Hi Mr. Buccigross,
Being a lifelong Bruins fan and season-ticket holder, it gave me great pleasure to have my firstborn child, a son no less, to be born on the day that the Bruins won the Stanley Cup. And being truly considerate, he was born in the morning to allow us to watch the game together later that night as our first bonding activity as father and son. Attached is a photo of Jake Kellen Gordon, born to be a Bruins fan!
David Gordon
Winning baby formula.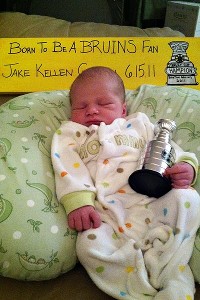 Hi John,
I had been watching my BU Terriers flounder out of the gate this season. The worst of which was a 7-1 beating at UMass Lowell. I had finally had enough and decided to stop flying the colors at home games and opted for my game-worn (and second favorite to my autographed Chris Drury) John Buccigross jersey. I figured that it's got Drury's number on it, you love Drury, I love Drury, it's good fit for a non-Terrier option. Well, since I switched, the team is 4-0 with the most recent win coming at Red Hot Hockey last weekend. My friends refuse to let me switch back at this point. Who knew this jersey was so full of good karma? Maybe we can ride it all the way to another NCAA title! Send my best to Ken.
Jason MacMore
Boston University is ranked No. 11 in the NCAA rankings. Sweater update since your email: BU did lose at home to Boston College this past Saturday. If you want to destroy my sweater, hold this thread as I walk away. But I would ride it out, Jason. Bucci Mane sweaters have a lifetime .818 winning percentage.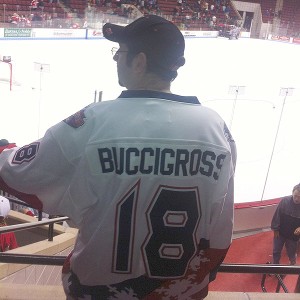 John Buccigross' email address -- for questions, comments or crosschecks -- is john.buccigross@espn.com.