There is no more emotional sport than hockey.
Those who have played the game, at any level, understand the sweeping emotional swings that take one from frustration to rage to euphoria. It is a frustrating, often low-scoring game that is out of balance. The payoff often does not equal the amount of work that goes into it. Most people will have nothing to do with such a venture.
Perhaps a baseball player in a batting slump or a golfer with the driving, chipping or putting yips can empathize with the mental prison in which a hockey player can find himself or herself. But, baseball players and golfers don't play on a rock-hard surface while getting slashed on the wrists and ankles. Hockey's fighting stems from not just supporting a teammate, but often reaching a breaking point of frustration and failure.
Hockey is a hard, difficult game with constant physical confrontations. There is a lot of traffic, and we all know how we feel in traffic jams. The game requires emotion and a certain level of ice rage just to get from one end of the ice to the other. When a goal does go in it is almost always a lottery scratch ticket surprise. That's the hook of hockey, to deal with all the obstacles and have that feeling of instant euphoria.
The emotion of the game is shared by all involved. Players, coaches, fans and, yes, the front office. This is what makes the week leading up to the NHL trade deadline so awesome: the emotion that's often involved in trades. The pressure from fans, coaches and players to do something to help the difficult and arduous cause is real for general managers. Standing pat and doing nothing is akin to not providing the proper support.
GMs are lying in bed at night listening to Enya and staring at the ceiling conducting a rhythmic dialogue inside their sleepless heads: "Should I make that deal? Am I getting enough? Is this guy cheating me? Will this help us win the Cup? If this doesn't work out, will it cost me my job? Why is my nose bleeding?"
It's trade deadline season. Welcome to their nightmare.
Programming note: On Monday, Feb. 27, follow all the NHL trade deadline action with instant analysis from our team of experts, live on ESPN.com/NHL. Our team of experts will provide in-depth instant analysis all day. It's a great day to be unproductive at work and follow all the deals.
I will then host a trade deadline wrap show on ESPN.com with Barry Melrose, Pierre LeBrun, Scott Burnside and the rest of the hockey crew. I'm really excited to be hosting an NHL show again.
Mother of All Mailbags
JB,
A while back I recall you pointed out how most forwards statistically reach their peak around age 23. To what do you attribute the dominance of 33-year-old Pavel Datsyuk?
Patrick Scheff

Conifer, Colo.
Before Pavel Datsyuk had his knee scoped this week, he was having an outstanding season. I wouldn't quite call it dominant but he would certainly be in the top five for MVP. His points per game is 1.0, which is 13th in the NHL. Also, Datsyuk is not the goal scorer he used to be. He has only 16 this season and his goals-per-game average (0.27) is the lowest of his career since he began getting a regular shift. His assists per game has jumped back up a bit this season (0.73), just a shade below his peak of 0.80 per game when he was 29 and 30. Datsyuk's peak years were as a 29-year-old and 30-year-old. One reason for that is that he was scrawny as a young man. Another is that his NHL career did not get going until he was 25. He didn't have hard miles on him until his late 20s.
Datsyuk is a terrific all-around player, a certain Hockey Hall of Famer. He should be able to stick around a point per game for a couple more seasons. But like other centers his age (he turns 34 this summer) and size, he will miss games and his goal scoring won't be what it used to.
By the way, my top five MVP votes would be:
1. Evgeni Malkin -- 1.38 points per game leads the NHL. Plus he is a volume goal scorer and a playmaker. With goal scoring going down every season since the lockout, goal scoring is ultra-valuable.
2. Steven Stamkos -- If the Lightning make the playoffs and Stamkos wins the Art Ross and Rocket Richard Trophies, he has to receive strong consideration for the Hart Trophy.
3. Claude Giroux -- Giroux had only two goals in January and was a minus-8. He's warmed up a bit in February but is still a minus-3. He will need a strong kick, as will the Flyers to give Giroux a shot.
4. Pavel Datsyuk -- All-around game and the heartbeat of the Wings right now. His knee injury will make it tough for him to get his first MVP.
5. (Tie) Jason Spezza, Henrik Sedin, Ilya Kovalchuk and Jonathan Toews.
Bucci,
Why doesn't Alex Pietrangelo get more consideration in the Norris discussion? He's the best player on the league's best defensive team, is top 10 in defensive scoring and plus/minus, the highest scoring D-man of 2012 and an emerging force in the league. What does he have to do to be considered for the Norris THIS YEAR?
Aaron R.

Mississauga, Ontario
Got size, can skate, can shoot, but I don't think he will be a Norris Trophy candidate. One negative is Pietrangelo's home-road splits. He has 28 points at home and six on the road. I think the finalists will be Shea Weber, Erik Karlsson (37 equal-strength points, 12 points clear of anyone else) and Alexander Edler.
Dan Williams (@DancanndWill)
@Buccigross, Whose your favorite team in the NHL... I'm thinking you're a wings kinda guy
Hear that Detroit?!?!?!?! Dan, I love all 30 teams equally.
Chris Lotzey (@sctvfan)
@Buccigross, If you were the Caps owner, what would you do before next season?
Sell the team, try to lure Kate Upton with my blue eyes, 5 handicap and 500 million dollars.
Matthew Janos (@mattjanos)
People gotta realize. I love Duby as much as the next fan. He epitomizes this franchise right now but Nash = HUGE UPGRADE
I think there might be a few Rangers fans who wouldn't trade Brandon Dubinsky for Rick Nash straight up. Dubinsky has clearly made a connection with Rangers fans and it's not hard to see why. He plays with his heart, fights and is loaded with passion. However, it's not a matter of if the Rangers will trade Brandon Dubinsky but when. He has a $4.2 million cap hit, has six goals this season and is not among the Rangers' top six forwards right now. You don't pay third-liners $4.2 million.
Now that could change come playoff time or with injuries. Dubinsky could get hot and be a guy who could become a difference-maker. But the players on the Rangers know they have a real shot at a Stanley Cup this year. And they also know they can increase the probability of that by acquiring a little more offensive help. As we said in last week's Vlogumn, it is very rare when a team outside the top 10 in goals scored wins the Stanley Cup. Now, the Rangers' defense is so good maybe they can collapse and shot-block their way to a Stanley Cup, but that is really rolling the dice.
@ThePlymouthJim
@Buccigross is the Gatling gun of thoughtful, original and relevant sports tweets. #differentiates
I don't know if that is a compliment or a slam.
Luke Davidson (@Poof614)
@Buccigross, What are you predicting happens with Rick Nash and Columbus with deadline approaching quick?
I'm predicting he probably will be traded because of the emotion I talked about it in the preamble above. Maybe the Rangers (Dubinsky and stuff), Flyers (Schenn and stuff or JVR and stuff), Sharks (I don't see how Columbus doesn't demand Pavelski) or really any team that can make the math add up makes a deal happen. I hope Nash goes to Columbus and says, "I want to stay. I like Ohio, I like wearing a 'C,' I want to play with the No. 1 overall draft pick we're gonna get next year, and I love me some Steak 'n Shake."
Jimmy Trifonoff( @Trif14)
@Buccigross, Think (Nash) still wants New York after having 18,000 chanting "we don't want you!"??
After he scores 40 goals playing with Brad Richards next season, they will be chanting, "Do you want our shoes?!"
Josh Schwarz (@J_Schwarz08)
@Buccigross, Still think the #njdevils aren't one of the 10 teams that can win the cup?
I like their top six forwards but not a fan of their bottom six, and I just don't think they have the blue line and goaltending to win multiple, vigorous and exhausting playoff series.
Reno J Tarquinio (@renotarq)
@Buccigross, Is it fair to compare Detroit's home win streak to streaks before shootouts?
Yes! Detroit didn't make the rules. The Wings are abiding by them. This is the salary cap, non-expansion era. The intensity of NHL regular-season games has never been higher in the history of the game. Each of the streaks came in extremely different conditions and rules. There wasn't TV during the Bruins' streak and there weren't VCRs during the Flyers'. The Red Wings' home winning streak is a testament to their talent, coaching, focus and drive. It's a tremendous achievement.
View from the Hockeyverse
Here are some pictures you've sent me via email. You also can hit me up via Twitter at @buccigross.
Bucc:
You are the man. Got this tattoo last summer after they won the Cup. Left lots of room for the Bruins to send me back to that tattoo parlor and add more years. Appreciate any shout out you give me in a world that goes crazy over Twitter followers. Go B's and go BC Eagles!
Derek Robinson
Boston College undergraduate student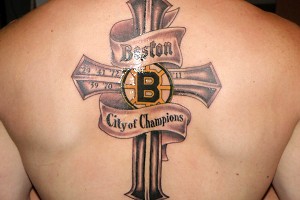 Hey, Buccigross:
Got my nephew, Humza Mujahid, his first Penguins gear. Since he'll be growing up in D.C., I'm gonna make sure he knows it's Crosby > Ovi, all
day, any day.
Ali
Pittsburgh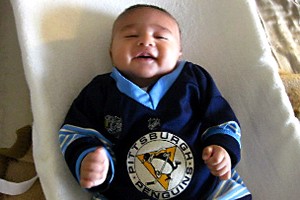 Bucci:
Attached is a photo of my now one-year-old grandson. He's already survived a sewing needle imbedded in his foot and has no problem getting manhandled by a black lab, all with a smile on his face. Now learning how to blow kisses.....dare I say he could be the next Brian McGrattan?? :)
Dave Manes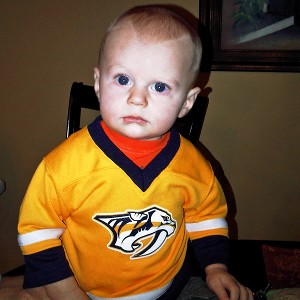 John Buccigross' email address -- for questions, comments or crosschecks -- is john.buccigross@espn.com.