Twenty-first century corporate America is about developing, marketing and then protecting the brand.
Car companies, computer/technology manufacturers, media companies, banks, clothing lines, entertainers/musicians, politicians (run for president to increase speaking fees or sell books) and, yes, sports teams want to: invest, succeed, maintain that success, grow and then simultaneously reap the profits while increasing the value of the stock price/franchise/company/person.
With lots of competition for people's dollars and an intelligent customer base that has numerous options and very high expectations, a brand better be alert, agile, true to its core and yet always looking forward. That's a 24/7/365 job.
I am lucky and fortunate to work for one of those brands. I arrived at ESPN in 1996 and the place hasn't stopped growing since I walked through the doors with my mid-'90s third member of Wham! flow.
People have written books about ESPN's brand history and development, so you don't need me to go into detail. I measure the success by how many construction cranes I see around "campus." They haven't stopped building buildings since I got here. The grounds at ESPN have gone from a depressing, muddy, brown-building, three-vending machine complex out of 1977 Russia to an amusement park for sports with a gym, cafeteria and lots of mulch and shrubbery.
We also identify our buildings with signs that bear images of uniform numbers. You would think the Building 4 sign at ESPN would be a Bruins sweater or a Yankees jersey. Nope, it's you, NHL referee, No. 4, Wes McCauley. ESPN's brand is catering to the sports fanatic. One way ESPN does that is by hiring sports fanatics, and I can assure you most of us are. (Although only three people know Building 4 is named after Wes McCauley. Me, Scott Clark -- a man we call "Business," as in all business -- and Judson Burch -- a man who can quote Bible verses, the Phillies' schedule and Motown lyrics.)
Sports teams also strive to create that successful "brand." Anybody can sell tickets when you win, but branding helps; it creates fans for life, keeps you afloat when times are a little down, keeps the merchandise stores humming and keeps the ticket prices at profit-making numbers.
Then when times are really good, Stanley Cup-good, well-branded teams become local phenomena and huge money makers.
When I think of well-branded NHL teams in the U.S., the Bruins and Flyers come to mind immediately. Both brands were forged in the 1970s with their rough, charismatic, personable rosters and the Stanley Cups that came along with the rock 'n' roll shows. Those teams were really good and really entertaining. That is the secret to long-term profit and fun.
Both the Flyers and Bruins have done a remarkable job of sustaining that image/market niche for 40 years and have created huge amounts of equity and loyalty despite not being a part of the daily media conversation in those cities. Hockey fans' media interests in the U.S. are vastly underserved. It takes a strong and distinct brand to survive and advance.
The Red Wings came from nothing in the 1970s and '80s, and were resurrected with Steve Yzerman, Scotty Bowman, the wallet of Mike Ilitch and the foresight of GM Ken Holland and their prescient scouts. The Winged Wheel moves merchandise, even if the style has gone from Kocur/Probert to Hudler/Filppula.
The Blackhawks staged a remarkable rebranding through the luck of the draft (Patrick Kane and Jonathan Toews) but now have to beware they don't flatline under the weight of their own hubris.
When it comes to teams that struggle with public branding, one team stands out above the rest: the New Jersey Devils.
Obviously, warm-weather-climate teams with little playoff success struggle with minuscule television ratings, ticket sales at healthy prices and cultural significance. Those brands have very little national impact and the local impact might be passionate but it is small. Their arenas are overrun with fans from the visiting teams when culturally significant opponents play in their rinks. They become puck pinatas.
But the Devils have been in New Jersey for almost 30 years, play in the 11th most populated state in the U.S. and skate in a beautiful arena that is all theirs. High school hockey sweaters hang in the hallways. When the Nets move to Brooklyn next year, the Devils will be the only big-four professional sports team named "New Jersey." There is plenty of youth hockey in the state and New Jersey is starting to produce high-level NHL players (Bobby Ryan, James van Riemsdyk). The Devils have won three Stanley Cups since 1995 -- only the Wings have won more. They have had legendary players, have a Hall of Fame goalie, a Hall of Fame broadcaster in Mike Emrick and before last year they had made the playoffs 19 out of 20 years.
Yet the Devils fight the brand of boring and stodgy. For years, they were tagged as trap-happy assassins of entertaining hockey while doing it all in a depressing, dark venue. This passive, low-scoring scarlet letter ("T" for "trap") was alive and well even while the 2000 Stanley Cup Devils scored the second most goals in the league, and the 2001 Stanley Cup Devils team that lost Game 7 in Denver scored the most goals in the NHL. Even then the label stuck.
Why did this happen?
Were the Devils bullied by the New York, Canadian and other jealous media markets? Was there not enough pushback from Lou Lamoriello and the notorious pre-lockout frosty Devils PR people? (This was not uncommon from many teams in the late 1990s.) Or was the biggest problem that the Devils were just too old school?
The Devils and Lamoriello didn't care what you thought about them. Yet the fact of the hockey matter is, businesses and sports teams should care. They have to care. You can't market a team in the GM's image. You have to market it in the image of the fan base. And if those fans enjoy screaming "You suck!" at opposing goalies or when the Devils shine a "Studio 54" spotlight on Henrik Lundqvist after giving up a third-period goal, then you have to give the people what they want. Even if it you makes you cringe. Even if that never would have been done in 2003.
And so the current Devils brass is trying to play catch-up with forward thinking and a variety of mechanisms, like using social media and focusing on customer service. In Newark, they want your seat to be clean and comfy. At the Meadowlands, one was happy if their chair didn't break.
Yet the old attitudes about the Devils from NHL fans remain. So much so, I recently tweeted that this season's New York Rangers resemble the 2003 New Jersey Devils in how they are winning. I didn't look at it as an insult but just as someone who hosted a nightly NHL highlight show and was around the Devils team for all seven games of their Cup finals, covering them for ESPN.
I couldn't have offended Rangers fans more had I claimed that Ron Duguay's legendary Jon Bon Jovi flow was surgically enhanced. Since I was limited to 140 characters, this is what I was thinking.
• At the time of the tweet, the Rangers were 14th in goals scored and first in preventing goals. The identical positions the 2003 Devils finished the regular season with. (The Rangers are currently 12th in goals scored and second to the Blues in prevention.)
• Both shared demonstrative head coaches, Pat Burns for the Devils and John Tortorella for the Rangers. Media beware. (Although I think, deep down, Tortorella is a ham who loves the spotlight while at the same time needing to upgrade his tie selection. It's inconsistent.)
• Both teams had/have poor power plays and excellent penalty kills.
• Both teams were/are carried by goalies who wear No. 30. Martin Brodeur had nine shutouts in the '02-03 season. Henrik Lundqvist has eight so far this season. Brodeur was even better in the playoffs: seven shutouts in 24 playoff games. Lundqvist will have to do the same if the Rangers are to go deep.
• Both teams' leading scorers were/are wingers. Patrik Elias for the Devils, Marian Gaborik for the Rangers.
• Jamie Langenbrunner = Ryan Callahan. Mike Rupp was on the 2003 Devils and is on the 2012 Rangers.
• And, yes, both teams fore checked and both teams played a passive 1-2-2 trap, depending on the situation.
But despite the Rangers' limited success (three Cups in 79 years to the Devils' three Cups in the past 17 years), they have a strong brand and the Garden is sold out and mostly alive despite the Rangers' limited offensive game.
The Rangers cover that with a charismatic goalie, a collapse on the goalie defense and gritty homegrown players. Rangers tickets are expensive, Madison Square Garden signage is expensive and with the salary cap the Rangers are a very profitable team powered by the heartbeat of Manhattan. This is what the Devils are up against.
Despite their creative and persistent efforts, and despite a very attractive team with exhilarating/unique players such as Zach Parise and Ilya Kovalchuk, legends such as Martin Brodeur and interesting young players such as Rookie of the Year candidate Adam Henrique (rookie scoring leader), the Devils don't hum the turnstiles for a team on its way to the playoffs
.
This must be terribly frustrating for the Devils. But they say the numbers are slowly improving, the infrastructure continues to grow in the forms of restaurants and hotels surrounding the rink, the team is aggressive in its social media approach and the organization is confident their efforts will result in fewer empty seats and louder, more "Jersey"-like fans and attitude. Less by the book-y and more by the Snooki.
Different is good: NCAA hockey
This weekend is a big weekend in U.S. college hockey as conferences will conclude their tournaments and crown conference champions. The NCAA hockey selection show is this Sunday on ESPNEWS, and I will host. I then will be doing the Bridgeport, Conn., regional play-by-play with Barry Melrose next week. Always the highlight of my year.
The NCAA hockey tournament is a four-region, 16-team tournament. The Frozen Four is where? Tampa, you got it. If some of you are just tuning in now to college hockey, I thought you might want to know some of the more important differences between college and NHL hockey.
Key differences in NHL/NCAA rules
Source: NCAA
Hybrid icing: The NCAA uses a system of icing that combines the best elements of touch-up icing and the safety aspects of automatic icing. The officials make a determination on which player would reach the puck first -- and by no later than the attacking-zone faceoff dots make the call.
Goal scored during delayed penalty: If a team scores a goal during a delayed penalty call, that call is still enforced. The ensuing faceoff takes place at center ice.
Contact to the head: Any time a player targets the head or neck of an opponent, it is a major penalty and game misconduct at a minimum. The responsibility lies with the player making the hit to avoid contact with the head and neck area of an opposing player.
No trapezoid: There are no restrictions on where a goaltender can handle the puck behind his goal line.
Pucks shot directly out of play in defensive zone: There is no automatic penalty for clearing the puck over the glass in the defensive zone, although a delay-of-game penalty can be called at the discretion of the officials if the action was deemed to be intentional.
Pucks directed/deflected off the skate: The NCAA rules committee made a distinction between pucks that are deflected (e.g., after a shot from the point) and pucks that are directed (e.g., player controlling the puck with the skate) into the net. When in doubt, officials will err on the side of the puck being directed with the skate and therefore disallow the goal. It should be noted that the committee did make a distinction of the situation in which a player is in the act of stopping; in these rare situations, this can be considered a deflected puck. "Kicking motion" is not part of the NCAA rule.
Fighting: Fighting is penalized with a five-minute major and a game disqualification, meaning that the offending player is out of that game and the next game.
Plays where a defender dives, knocks the puck away, then trips an attacking player: This is a penalty for tripping, regardless of what happens to the puck.
Goaltenders: Teams may dress up to three goaltenders in a game.
View from the Hockeyverse
Here are some pictures you've sent me via email. You also can hit me up via Twitter at @buccigross.
Bucci:
Just wanted you to know that the game is alive and well in the Santa Clarita Valley! My 9-year-old son, John Patrick, has been fortunate enough to catch on with a talented group of Flames for his first hockey experience at Ice Station Valencia. We have discovered that John Patrick is to the Flames what Bob "The Bear" Hite was to Canned Heat. We are hoping he will follow Joel Otto's path to Bemidji State and beyond.
Big fans in Stevenson Ranch,
John Patrick & Bill Seward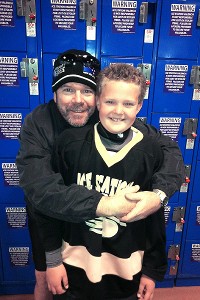 Bucci:
Say hello to Audrey Kate Healy, the Rangers' newest fan. She was born 3 weeks before the Giants won the Super Bowl and her Rangers currently sit in first place in the Eastern Conference, so she's truly living a princess life. Here's to more good news on the horizon.
Proud parents,
Andrew and Katie,
Westbury, N.Y.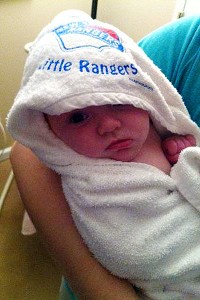 John Buccigross' email address -- for questions, comments or crosschecks -- is john.buccigross@espn.com.