Less than two weeks to go and the Stanley Cup playoffs and all that includes: the tension, the nervousness, the sleepless nights and North America's favorite Twitter game show, the #bucciovertimechallenge. (A Stanley Cup playoff game goes to overtime and you tweet me one player from each team you think will score the winner. Winners get retweeted and/or a lovely prize. I will not be available for every playoff game. I ballroom dance from time to time.)
In the coming weeks, we will pass out the regular-season hardware, look back at the predictions and look ahead to the playoffs.
I've always said this is the best time of year to be a hockey fan. State and provincial championships are played as well as games for high school and prep school titles. The NCAA is down to its Frozen Four and the Stanley Cup playoffs are right around the corner.
Let's hit the email and Tweetbag for some different topics.
Mother of All Mailbags
Nick Jones: @Mr_JonesAndMe
@Buccigross Who you got taking the Frozen Four? Regardless of semifinal, it will be david-goliath matchup. I got Ferris+ my boy @J_Binkley7
Once again, the highlight of my year was calling NCAA hockey games on ESPNU. This year, I was in Bridgeport, Conn., to call the East Region. Union College won the East. It will play Ferris State in one semifinal game, while Boston College meets Minnesota in the other semi. All four teams are worthy, and with 11 days off until the teams meet again, momentum could be lost. Boston College and Minnesota certainly have the most depth and will be tough to handle. It makes for an amazing semifinal matchup. If I had to bet Jay Bilas' swag, I would give BC a slight edge.
Bucci,
Big-time fan of the vlogs and blognums, your morning tweets and stats, and of course the overtime challenge. But my question to you:
Which player currently in the Frozen Four do you think has the best NHL potential and why?
Thanks, buccimane
Henry Williams (@HW06)

Chris Kreider is the most complete player I have seen in terms of NHL-ready skill. He has good size (6-foot-3, 225 pounds), is a very good skater and shoots quickly and powerfully, like a man. Plus, he turns only 21 on April 30. Of course, other things make a hockey player like the Boston College junior. How fast will he figure out the NHL game? How confrontational will he be and how much sandpaper will he have? Will he dedicate himself to the game with fervor and passion like a Steven Stamkos does? Only time will tell on those factors. Also, defensemen are hard to forecast. They have either reached their peak, can't adjust to the faster/bigger players of the NHL or they keep getting better.
It's also hard to judge a player in college because they don't play with players who match their talent, thus either not making the player as good as he can be or the player gets a little bored. Put Chris Kreider with Brad Richards and he might score 25-30 next season.
Bucci,
I haven't laughed that hard in a long time. What's amazing to me is hearing a friend (a native New Yorker, mind you) say: "Come on, boys!" sounding like he grew up with the Broten brothers on some farm near Roseau. It really does cross linguistic boundaries.
And as a goalie, forgive me if I pass on the dangle sauce. I prefer biscuit a la trapper.
Regards,
Kyle Harms
Indianapolis (transplanted from Chicago)

I got a lot of nice reaction from the hockey lingo video last week on ESPN.com. If you missed it, here it is.

Bucci,
You failed to include one essential in your Vlogumn on hockey lingo: the practice of creating nicknames by adding "y" (or "i," in your case), as in the sound of "ee," to a players' last name. For example, "Gravey" for Adam Graves, "Duby" for Brandon Dubinsky and "Cally" for Ryan Callahan. I've heard nicknames like these my whole hockey-playing life.
Cheers,
Chris
New York
That's a great point, Chris. Not only is the "ee" sound employed with a "y" at the end but also the popular "-er," as well. These traditional hockey suffixes are especially used with one-syllable last names. Brett Hull is "Hully." Adam Graves is "Gravy." Patrick Kane is "Kaner." Taylor Hall is probably "Hallsy." Rick Nash could be "Nasher." Shane Doan is "Doaner." Matt Carle can be "Carlesy." Steve Ott is "Otter."
Bucci,
I'm really sick and tired of fighting being blamed for all of hockey's popularity woes, especially in a country that embraces boxing and MMA with massive PPV revenue. Bottom line, if the U.S. was full of frozen ponds and lakes all winter long, where kids skated to have fun regularly, all across the nation, like Canada, Russia, Sweden, Finland, etc., the U.S. too would embrace hockey, fighting or not.
Jason,
Brooklyn, N.Y.

I agree that if fighting is viewed as a reason for some not watching hockey, it is a very small number. The physical aspect of the game is actually why the demo skews young and why the sport is vibrant, healthy and exciting. A few games a year, I drive to Boston (80 minutes away) and sit in the 300 level with my cousin Eddie, who has season tickets. This is where you feel the soul of the fan. It always enriches my fandom and my work covering the NHL. It's invaluable.
The possibility of fighting gives NHL games an edge, especially in person, and a possibility of machismo and justice served. Some hockey people also view fighting as an ethic and value of either protection or support of a teammate. It is practically a political view. This "protection" could be for the star of the team or those who can't physically protect themselves, whether it's their size or because they were injured. Some feel this is very important, that it actually makes us more human. I think they have a point. How many people in your life do you think would actually put themselves in harm's way to fight for you or with you? And not just to fight for you or with you, BUT DO IT WELL. No offense, but if you got my back I prefer you are very good at distributing "justice."
Part of the fighting dynamic is also a romantic Canadian image of the farm boy making it to the NHL with blue-collar toughness, and staying there with selfless acts of courage and charm. What other blue-collar job pays the $1.2 million salary that the Bruins' Shawn Thornton pulls in? It's part prize, part role model. It's why fighters are often the most popular players, especially among the young adult fans. Most people aren't rich. And most young people are in debt. I know I was in my 20s. I charged milk and bread and wondered how in the world I was going to fix the clutch on my '87 Maxima.
That's why Cam Neely was my favorite player in my 20s -- because he could score with Hall of Fame frequency but also ferociously fought with the anger of a street kid. I strived to improve on any skill I had and lived vicariously through Neely's anger when he fought Scot Kleinendorst. When Neely was punching Kleinendorst, he was punching the credit card company operator calling my house every day looking for the minimum payment. I felt better.
That being said, I called three NCAA hockey games last week and there was no fighting and, being college hockey, no threat of fighting. There were no cheap shots and I was thoroughly entertained by fast, hard-hitting hockey. Hockey doesn't have to have fighting to be entertaining, especially in a playoff situation like the NCAA East Regional.
The NHL's dilemma is that the regular season is so long, wayyyy too long, that fighting keeps the arduous six-month regular season energized and on edge. And that's the beauty of the Stanley Cup playoffs -- so much just washes away. The rule debates, the rumors, the moral dilemmas and, yes, the need for fighting. It's just the objective scoreboard and series standing.
The curtailing of fighting has been slowly legislated and it will continue. Even if fighting eventually results in ejection and/or suspension, there will always be a fight now and then like there is in baseball, basketball and football. But the standout characters like Shawn Thornton and Colton Orr will vanish. And that's kind of like eliminating one of your favorite characters from one of your favorite television shows. You might still watch the show, but it will never be the same.

Bucci,
Here is my little hockey guy:
Ronan McBaen, 20 months old.
Robert McBaen
Looks like little Ronan is in a swing state.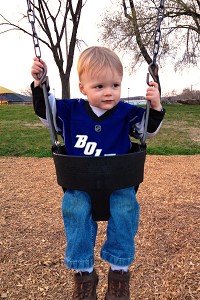 Bucci,
Our handmade beer pong table. "
Whyd you wanna play cawlidge hockey??"
Thanks,
Ethan Shibutani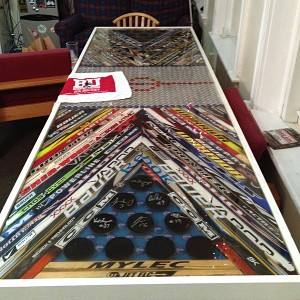 Bucci,
The self-titled "pancake line" from the squirt B state (CO) champs Arapahoe Maize! Bryce, Tanner and Grant. The joy of hockey.
Eric Brummond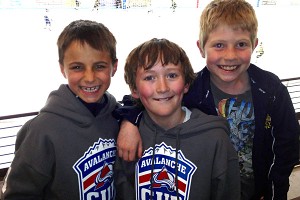 Bucci Baby:
Here's a pic I took when I was in Vancouver with the Wild in October. It's his shrine in the arena in Vancouver. Hope it's useful to you!
Enjoy, my friend!
Robby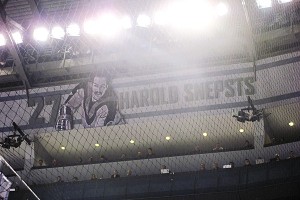 John Buccigross' email address -- for questions, comments or crosschecks -- is john.buccigross@espn.com.