In late January, I put together a list of the top 100 current players in the NHL.
Steven Stamkos came in at No. 6 behind Sidney Crosby, Jonathan Toews, Evgeni Malkin, Pavel Datsyuk and Claude Giroux. This is what I wrote at the time:

Steven Stamkos: Doesn't kill penalties and is poor on faceoffs but he is otherwise an all-world talent, has another skating gear this year. Tom Brady-off-the-charts people skills. Keeps getting better. Much better 5-on-5 and not just a left-circle one-time machine. Already has as many even-strength goals this year as he did in his 51-goal season two years ago. The new lettuce look has him looking like Jeff Spicoli, which is unfortunate.
Let's break down that synopsis.
1. Doesn't kill penalties. Stamkos is actually up to 40 minutes of shorthanded ice time this season. Way more than John Tavares (7:42), Henrik Sedin (7:07), Patrick Kane (5:57), Brad Richards (13:59) and Evgeni Malkin (3:05). A few centers who play all situations and produce offense for their team this season include Anze Kopitar, Patrice Bergeron and, when healthy, Jonathan Toews. Ryan Kesler was my NHL MVP last season because he did EVERYTHING well. Best faceoff guy (home and road splits were awesome), 41 goals (what's more important in life than finish?), 14th in scoring, played the second-most minutes at center to Eric Staal, blocked shots, lots of penalty-killing time and power-play time, had more power-play points than Ovechkin and Toews, and energized with agitation and effort. Stamkos' PK time is actually probably about where it should be. You don't want him getting hurt blocking shots. But if he tells Guy Boucher he wants to play more on the penalty kill, he will.
2. Is poor on faceoffs. 45.6 percent is poor. On the road, Stamkos' faceoff percentage is a paltry 42 percent. (Patrice Bergeron's road faceoff percentage is 57 percent.) This should become a focus for Stamkos. The Lightning did not make the playoffs this season because they are a rancid road team. Only Columbus is worse. Road faceoffs, of course, aren't the only reason the Lightning had a terrible road record. Matchups, lack of blue-line scoring and even Stamkos' line have to improve on the road. No. 91 is a plus-11 at home and a minus-5 on the road, although that is probably more of a function of the Lightning team than of Stamkos.
3. Has another skating gear. Players make jumps in speed as they create space from their teenage years. Stamkos turned 22 in February. But Stamkos augmented his natural accumulation of man strength through intense offseason workouts and eating well. Gary Roberts had him chewing bark off trees.
4. Tom Brady off-the-chart people skills. This is a natural gift that some have and some don't. It usually reflects good parenting as well. Steven Stamkos would be a great quarterback because he has a competitive and optimistic energy. Joe Montana had that. Terry Bradshaw had that. Bart Starr had that. Brady actually has more of a fire/anger response to success than those three quarterbacks and Stamkos. I like how Stamkos celebrates. He doesn't "anger" celebrate. His cellies are happy and joyful. I wish there was more of that in sports. THAT being said, Montana had Lott, Bradshaw had Greene and Lambert, Starr had Lombardi and Nitschke. One reason Brady perhaps acts with such celebratory indignation (besides his Michigan/Drew Henson battle and draft selection experience, which emboldened him) is because he is also the emotional leader of the Patriots, especially since Tedy Bruschi and Rodney Harrison left. Stamkos might have to take more of an overall intense, "anger" role on the Lightning because he gets little help from the rest of the roster. He will need to lift everyone up because the roster cannot match other teams in the East. Steve Yzerman has to address the Lightning's roster in that regard. They are an easy team to play against, especially on the road.
5. Keeps getting better. Much better 5-on-5 and not just a left-circle one-time machine. We talked about some of the things Stamkos needs to improve on but he has improved 5-on-5, obviously fueled by his more explosive skating. When Stamkos had his 51-goal season two years ago, only 26 were even strength. This season, Stamkos has 46 even-strength goals and only 12 power-play goals.
6. The new lettuce look has him looking like Jeff Spicoli, which is unfortunate. Stamkos even showed his intellect in regard to his salad and trimmed it a bit. That is excellent turf management.
So, in the end, is the No. 6 ranking still about right for Stamkos? Well, the top six are very close, and the five I had ranked in front of Stamkos play on much more complete teams. Stamkos has some help but not like the top-five group does. But, as we see, Stamkos still has parts of his game he could improve and I'm still comfortable with him at No. 6. If you made a top 100 list and had him higher, I wouldn't be mad atcha either.
Finally, a bigger issue for Stamkos and GM Steve Yzerman is getting Stamkos help. The No. 1 priority is clearly a franchise goaltender. Cory Scheider of Vancouver is a restricted free agent and will be dealt this summer but the price will be high, as other teams will have an intense interest.
Also, $13.3 million of the Lightning's cap space will be eaten up by Martin St. Louis and Vincent Lecavalier over the next three seasons. That is less than ideal. How they age and how healthy/productive they can be will go a long way toward determining whether the Lightning can join the elite in the East. Otherwise, so much of the Stamkos brand will be muted. That would be sad. He is one of the brightest emerging stars not just in the NHL, but in the entire North American sporting scene.
Mother of All Mailbags

Bucci,
Most of the "new" lingo you mention in your vlogumn applied to everyone but the goalies. You do mention 5-hole and sieve, but we don't need to go there. Here's some more lingo off the top of my head:
Heard here in the Northeast (add your best Boston accent): netmindah, goaltendah. Stoned, brick-wall, robbed, larceny, sponge (one of my defenseman will say "Sponge, baby" if there's no rebound), snagged.
We don't need to go into the negative ones like Swiss cheese, sunburn, red-neck, etc.
Keep up the great work.
Andrew Dickinson
It's all your fault. It's all your fault.
Buc,
Love reading your columns on ESPN and I desperately miss NHL2Nite.
The wife and I are having a baby boy at the end of May and are struggling with a name. Our last name is Blum (pronounced Bloom). We are die-hard Penguins fans, even when they were terrible post-Lemieux/Jagr, pre-Crosby/Malkin.
Help?!?
Brad,
Pittsburgh
I also miss NHL 2Night, especially this time of year. It was such a glorious routine: Watch hockey all night with Melrose, Ferraro, Jones and Pang. Sleep till 10 a.m. Have breakfast. Read paper (yeah, we did that back then). Nap. Shower. Drive to ESPN around 3:30 p.m. Have show meeting. Go to the local Gold's Gym with Ray Ferraro. Do 50 sets of biceps and 1 set of squats. Order the chicken parm and sit in front of our bank of 6 televisions and watch hockey all night. Do the show. Drive home. Rinse. Nap. And repeat.
Baby Boy Blum (pronounced Bloom)? Kristopher Andre Blum

Bucci,
I am one proud dad. At eight months old, Ava is already showing signs of loving hockey. I took her to her first game and I don't think she even blinked for three hours. What a great memory this was for our family. Hopefully, come this summer Ava can have her picture taken with the Cup. Go Pens!
Mike Viola,
Pittsburgh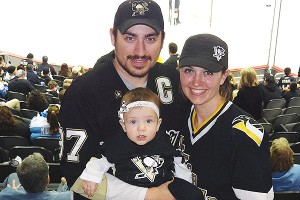 Bucci,
Although the Sabres lost 4-1, William still enjoyed watching Ryan Miller (we didn't have the heart to tell him Jhonas Enroth was in
net). He capped off his 5th b-day by whacking a taunting Rangers fan
with his new foam sword and promptly informing us, "I bet Ryan Miller
would be really proud of me."
Brian Pawloski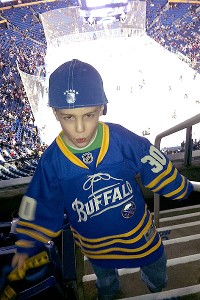 John Buccigross' email address -- for questions, comments or crosschecks -- is john.buccigross@espn.com.