It's been awhile, but Bucci hasn't forgotten about you. On the contrary! So, without further ado, let's get into this.
Mother of All Mailbags
Bucci:
If the Pens don't land Shane Doan (seems unlikely) and can't trade for Bobby Ryan, who might be available at the deadline? Who are the big 2013 free agents?
Perry Cunningham
Waynesburg, Pa., via Steubenville, Ohio
I was told Tuesday night, as was first reported by The Buffalo News, that the Sabres' four-year, $30 million deal ($7.5 million a year) offer to Shane Doan is real. No other team would come close to that offer. This means it likely will come down to the Sabres or the Coyotes. Or Doan could take a discount with the Penguins, Canucks, Rangers or anyone else he thinks has the best chance to win the Cup. I think it's most likely he stays unless the allure of the Stanley Cup military press is too inviting to ignore.
I was told Phoenix was thinking more in the two-year contract range. So, the situation probably will come down to Doan taking the Sabres' deal or using it as leverage and at least getting the Coyotes to at least three years and at least $5 million a year. That still would leave $15 million a year on the table, a lot of money for Doan to bypass as he negotiates what will be his last contract. But if I'm the Coyotes, there is no way I offer more than three years for $15 million. If he doesn't accept that, I let him walk. His game will only deteriorate, and they've won only two playoff series with him (both this past season). He's a tremendous man who plays with every cell in his body, and it would be great if he finished his career and enjoyed his ranch in the desert, but $30 million over four years? Wow. I still say he somehow stays in Phoenix.
As for 2013 free agents, this status can change at any moment because of contract extensions, but as of now: Ryan Getzlaf, Jarome Iginla, Corey Perry, Nathan Horton, Val Filppula and Alexander Edler are a few who come to mind.

---
Hi, John,
If there is any progress in the talks, are there any indicators that the two sides will agree to continue negotiations on the CBA and start the season? Or are the owners adamant for a lockout?
Thanks,
P. Munzing

Question No. 1: That will not happen. Gary Bettman is an agent, the owners' agent, and a Scott Boras win-at-all-costs kind of agent. (They were born exactly five months apart in 1952.) It is what he is best suited for. A person or entity gets the best deal only when he or she has leverage. The more leverage, the better the deal. You will never get the raise you think you deserve at your job unless you threaten to leave. When you are willing to live out that threat, you have even more leverage. Remember, Bettman works for the owners. He has to deal with 30 of them and their various fiscal concerns, and Fehr.
When players start losing paychecks, Gary Bettman and the owners' leverage will accelerate no matter what unified front they put up. Players are rich, owners are wealthy, and there is a big difference. Boras' clients almost always test the free-agent market because that is the best way to make the most money, and as we know, the money scoreboard is the one some people are most interested in. Bettman-produced lockouts are designed to give his "players" (the owners) the best deal they can get. The "partnership" word he likes to throw out there during interviews is pure marketing and mostly fraudulent. As Fehr pointed out last week, the players don't have a say in marketing, promotion, franchise location, etc.
Bettman lives for this. He is a confrontational person who enjoys that battle. It's his Trivial Pursuit board game. Acquiring big-ticket corporate partners and negotiating CBAs are his primary jobs. His job is to increase the franchise value of the owners. That's it. He's largely done that, especially for the top-tier franchises, as is reflected in his salary. He has a high salary because he has been good for the owners; otherwise, he would be commissioner of the Arena Football League.
Bettman has the charm of a heavily starched shirt, but he is smart and relentless. He organized and professionalized the offices of the NHL, increased revenues and helped oversee the new-media infusion that has made this the best time, in terms of media access and information, to be a fan of the NHL. The NHL has an excellent website that is much better than the NBA's, an affordable Center Ice package, and excellent television partners in the U.S. and Canada. (I will let others debate the "The NHL should be on ESPN" argument.) The Winter Classic, the presentation of the Stanley Cup (excluding his involvement, which has to stop -- it's a distraction), "24/7" on HBO, and, yes, the expansion of the game in the U.S. are all good things, in my feeble mind, that have put the game in a good place.
There are those in the media who hate Bettman, and that certainly has contributed some to fans mostly despising him. There are others in the media, as Ray Ferraro (@rayferrarotsn) tweeted last week, "some media are totally in GMs' pockets and will parrot whatever they want." I'm not one of those media types. Just last week a former NHL player professed his hatred for Bettman to me in person, a common theme. When he asked me my opinion, I told him what I tell everyone: "None of us is perfect. I actually think he's been good for the game." Certainly the work stoppages are troubling, and from that perspective Bettman deserves criticism. But he deals with some interesting owners, especially among the high-revenue teams. NHL players are not unreasonable people. I think we all understand that.
Any on-ice problems that you might have with the league really can't be directed at Bettman. He has largely delegated that part of the job because his knowledge and understanding are limited. We all know deep down that he doesn't LOOOOVE the game like you do. He can appreciate the fans singing "O Canada" in Vancouver or the passion of the Stanley Cup playoffs, of course. But does he get that Christmas Eve feeling of a Bruins-Canadiens game in the middle of January? Probably not. He entrusts pretty much everything on the ice to other people. It's not his ball of tape.
At some point, owners might want to consider hiring a hockey person who can help lead and grow the game in terms of passion over currency. I'm willing to admit that the expiration date on Bettman's tenure might be arriving or has arrived. His lack of an on-ice connection seems to be growing. He is more comfortable at a climate-controlled, giant, corporate negotiating table than a cozy, cold rink. But again, this lockout is about the NHL figuring out how to help out teams that are bleeding money. The floor is too high for a lot of teams.
Question No. 2: Are owners adamant for a lockout? No way. It's obvious the big-revenue teams don't want one. The Rangers can charge more than $300 for a ticket and high rates for restroom advertising that smaller-revenue teams cannot. Low-revenue teams can't get to the salary floor. There is no way you can tell me the economy is better now than it was in 2005. Revenues might have gone up, but not $30 million a year for a team like the Blue Jackets. U.S. teams like the Rangers, Bruins, Blackhawks, Red Wings and Flyers have extremely high franchise values. And certainly other U.S. teams that have very strong fan bases and must be doing pretty well -- Buffalo, Pittsburgh, San Jose, Minnesota, Washington to name some -- certainly see the negatives in it for them.
The issue is one that goes back to the values at kindergarten. How much of the pie will owners share, and what is good for the game? I always have been in favor of as many NHL teams in the U.S. as possible (within reason) because NHL teams manufacture NHL fans, and that's how the game is grown. I believe there is enough talent in the world. It can be slower growth in some places than others, but it's a fact. And lack of traction is usually due to lack of success. Southern California and South Florida are now both producing high-end hockey talent. The game of hockey deserves to be everywhere; it's great enough to be everywhere. Will it not work in some places? Only if it is run into the ground by poor or unlucky management.
Are the Jets better off in Winnipeg than Atlanta? Of course. Would the Coyotes produce more revenue in Quebec City? Absolutely. Could things have been different in Atlanta? Well, the city had two chances. But the Thrashers made the playoffs once in their 11 seasons in Georgia. You know what the Atlanta Flames' career playoff record was? 2-15. Two and frickin' 15. That's not a fair measurable as to whether hockey would ever work in Atlanta. It took Phoenix 15 seasons to win a playoff series.
I know the NHL isn't a charity, but Bettman and the owners are stewards of the game. They have to recognize this, and the richest teams have to do a better job at sharing. The players know they have it good and know teams are struggling. They will probably give in to some salary rollback (10-15 percent) if that money is given to the struggling franchises. Hockey participation took a huge hit during the 2004-05 lockout. This week I called to sign up my son Jack for the annual readiness camp our rink in Connecticut has every late August. Canceled: not enough participation. The game is again being vaporized from the consciousness of American fans.
Hockey is a third-line grinder itself. That's why it has continued to survive, and really thrive, all these years while being led by suits who don't have the game's best interest in mind. But they are competitive. Too competitive, in fact. Flyers owner Ed Snider never wants to see the Penguins or Rangers win a Stanley Cup, but especially not before his Flyers. The Blackhawks did everything they could to pry Marian Hossa from the Red Wings. The players are trained to be selfless. Some NHL owners selfishly flex their false bravado with their regional checking accounts.
The NHL's problem is more about overzealous competitiveness than greed. Or maybe it isn't. Players know that they are nothing without a strong core. The best athletes have a strong core. That's true of any entity; a person, a company, a country. The selfish, rich teams have bludgeoned the middle-class teams with their opulent signing bonuses, end-around tactics and firm belief that their "success" is more skill and providence than it is geography, luck and accident of birth. Sound familiar?
---
Matt Frields: ?@mfrields

Bucci,
@Buccigross What is the effect on the coaches if the @NHL does lock the players out again?

I was told by an employee with one organization that there is a 20 percent cut (80 percent value of salary collected). Come Dec. 31, it drops down to 50 percent, and then after March 1, it's an 80 percent cut. I imagine these things vary from club to club.
Also, don't forget marketing, PR and support staffs that lose their incomes. The same reductions are applied to coaching and training (medical and equipment) staffs. It's a scramble for those people to find other work because other pro sports teams already have full staffs.
When you look at the lockout through this lens, it seems even more cruel, unusual and unnecessary.
---

Christopher: ?@cslap134
@Buccigross: What's the impact both on and off the ice of the Red Wings losing out on the big-name free agents, since they usually land 1-2?
I think it's pretty significant. The Red Wings are obviously not the championship team they were. A year ago, they certainly had visions of Shea Weber and/or Zach Parise. And then when Ryan Suter took his game to another level last season, he quickly got on their radar more intensely. In 2011-12, Henrik Zetterberg had the lowest points-per-game average of his career since he became a regular. Pavel Datsyuk (he'll turn 35 next July) had the lowest goals-per-game average of his career. Nicklas Lidstrom is gone. Zetterberg and Datsyuk certainly could bounce back with strong seasons, and any kind of lockout might actually aid them come playoff time. There are plenty of other nice players on the roster, too. Still, the questions for Red Wings fans are, "Are we still a championship team?" and "What will we be in three to five years?"
---
Bucci:
What teams do you see as potential destinations for Tim Thomas? Will teams use him to reach the salary floor and, if so, what could the Bruins get in return?
Nicholas R. Pacitti
I don't believe there is any way Tim Thomas sacrifices $3 million this season. Now, if we miss two months in a lockout and there is a 10 percent rollback, that $3 million would become about $1.5 million, so maybe he would sit out the whole season. But if the salary floor is still an issue after the new CBA is negotiated, one could imagine a team trading for Thomas' $5 million cap number/$3 million combo. It wouldn't have to pay for a player who is becoming a free agent and would get a $5 million cap number. I still stay Thomas will play this coming season.
Bucci:
Glass half-full: What concessions will the players and owners each make to ensure hockey starts on time?
Someone knocked the glass off the counter and all my teal Kool-Aid is all over the place: What are we going to do between late September and early June without the NHL, again?
Thanks,
Jordan "sirsharkie" Dodge
Union City, Calif.

As I said above, the players know they have it good and understand that some teams are not doing well. They need help from the rich teams via revenue sharing and/or a lower floor. The players would agree to a 50-50 split and a small rollback if that money went to lower-revenue teams and a stronger revenue-sharing program.
The rich teams have to help support the smaller teams. If the teams not making money and the teams around the break-even point all band together, something can get done. I don't know why we have to wait until December to get this done
NHL owners have to infuse more revenue sharing, and the players have to allow certain salary restrictor plates like term limits and perhaps signing-bonus limitations as well to help level the playing field. The NFL employs socialism, and that league has done quite well, although it is easer to share billions of television revenues than it is to share the NHL's hundreds of millions.
---

Hey, John!
The question for you is: Which teams will make the 2013 Frozen Four?
Brandon
Long Island
Boston College, Western Michigan, Minnesota and North Dakota.
---

Bucci,
1. Top 5 chicken parm in North America?
2. Have you ever been to a Gopher hockey game in Mariucci Arena?
Charles Neff

1. Bucci's, Bucci's, Bucci's, Bucci's, Bucci's. No one makes better parm than I do because no one uses my secret ingredient: LOVE.
2. Yes. When all was well in the world and ESPN aired the NHL games, I covered the 2004 NHL All-Star Game in St. Paul, and while I was there I attended a Minnesota-Bemidji State game. Great rink.
---
John:
If the NHL lockout does last months into the regular season, will college games get more TV coverage, etc.? And if so, how much more?
Thanks Bucci,
Danny D
I would imagine most of the schedule is already set. There could be a few games added to the schedule if there is no hockey in October and November. But with college football taking up so much airtime, if we had a one-to-three-month lockout, I don't think we would notice much difference.
---

Bucci:
Two questions:
1. What is the back story to the "Famous" Bucci chicken parm that you and players/coaches refer to? What is the secret that makes it famous?
2. Do the Blue Jackets have the ship finally going in right direction or should I get ready to watch them lose the lottery again?
Phillip Buerk
Columbus
1. There is no back story to my chicken parm. It's just awesome. If you are referring to the Ray Ferraro story, you can probably Google "Buccigross Chicken Parm Ferraro" and probably come up with something.
2. The Blue Jackets likely will be in the lottery again unless they surprise with good goaltending. They are constructing a nice defensive corps and have decent depth among their forwards. What if Cam Atkinson scores 15-20 goals? What if Ryan Johansen suddenly emerges with 20 goals? Columbus should have only two focuses this upcoming season: 1. Be a hard team to play against. That should be the case. 2. Goal prevention. Everything else is secondary.
---
Bucci:
What could the Blackhawks do to really become serious contenders in the West this season? They are still looking like a 6 seed that will get bounced in the first round.
Thanks,
Michael Moran
Goaltending. Goaltending. Goaltending.
---
John:
What does the addition of Notre Dame (and UConn, I guess) do for Hockey East?
Sam Zorfas
Notre Dame expands the skate ruts of Hockey East and is always good for any televised games. Selfishly, I'm pumped UConn is joining Hockey East because it will play most of its games 10 minutes from my house. I will get season tickets and see great college hockey without traveling an hour or so. The tickets will be affordable, and I know there will never be a lockout. It also enhances Connecticut as one of the finest hockey states in the union. From youth to high school to prep school to multiple D-1 NCAA programs, it's an excellent, cozy state to be a hockey fan.
---
Hey, Bucci,
With the addition of Rick Nash, another spectacular year from King Henrik and the further development of our young studs, do you see the Rangers as the favorite heading into the upcoming season? If not, then who is, and where would you rank the Rangers?
Jay
Bloomington, Ind.
The Rangers had the most points in the Eastern Conference last season. They added Rick Nash and will have Chris Kreider from the get-go. These are two big men who can really skate. They aren't the confrontational, mean type of players, but they should get 50-60 goals between them, which is exactly what the Rangers need. If they can get their goals above 250 (they had 236 last season) and keep their goals allowed under 200 (187 last season), they will win the Presidents' Trophy.
I heard from a very good source that the Rangers were close to a Dan Boyle-for-Marian Gaborik trade. This makes sense from the John Tortorella-Dan Boyle Tampa Bay Stanley Cup connection. And it would help improve the Rangers' below-average 15.7 percent power play.
Trading Gaborik for Boyle would deepen the Rangers' defense and give them a top-six forward group of Brad Richards, Nash, Ryan Callahan, Derek Stepan, Carl Hagelin and Kreider, which is pretty strong if Kreider develops into the NHL force he appears destined to become. Keeping Gaborik would give them a little more depth and allow one of those players to drop to the third line. I suppose that would be Kreider, but he looked like one of the Rangers' better players in the playoffs and is a horse who needs to run and play with good players. It will be interesting to see. The scoring really drops off after the first two lines for the Rangers.
But certainly the Rangers are right there with the Bruins and Penguins as the Eastern Conference big three. When the Bruins are healthy, they clearly have the most depth. The Penguins probably have just a shard more than the Rangers but with Jordan Staal now in Carolina and the Rangers getting Nash, it certainly is a little closer between the Rangers and Penguins. A slew of team could be right on the heels of the big three that should make for an exciting conference: the Flyers, Senators, Sabres, Caps, Lightning and Hurricanes.
If we ever get to play.
---
Mike Altieri
Los Angeles
"Always remember there was nothing worth sharing like the love that let us share our name."--"Murder in the City," by the Avett Brothers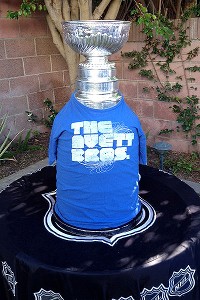 Bucci,
I'm a bit late on the draw, but I am using these pictures as
inspiration to get a CBA completed. At age 6 weeks, Quincy (no
relation to the defender with a similarly pronounced but
arguably misspelled last name) was present for the Wings' home victory
over the Flyers to tie the record for most consecutive home wins.
Brad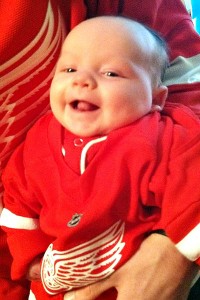 Bucci:
Me and my bud, Karl, created T-shirts just to wear to every game in hope Nathan Horton would score.
Kevin Nisbet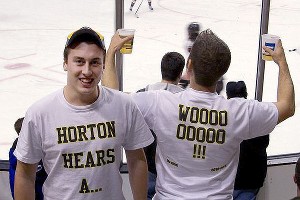 Bucci:
Mike Richards' hometown is Kenora.
Best regards,
David Spencer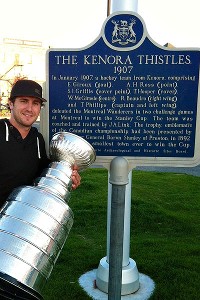 Hi, John:
This is a picture of my family last year. Both of my parents attended
every Coyotes game with me since 1996. I lost them both recently,
within 9 months of each other. Daddy was 99, Mom was 96. They gave
me my love for the game. I miss them so much.
Thank you,
Sharon Conover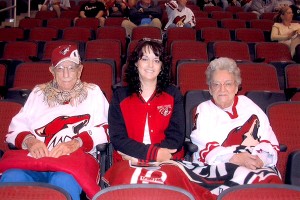 John Buccigross' email address -- for questions, comments or crosschecks -- is john.buccigross@espn.com.