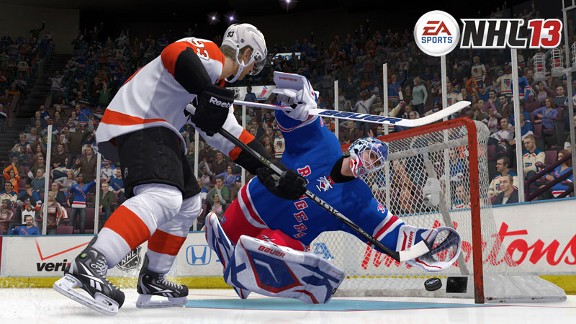 EA SPORTS
The first meeting this season between the New York Rangers and Philadelphia Flyers ended in a 2-1 win for the Flyers at home with Jakub Voracek scoring the game-winning goal. This time the teams head to Manhattan for the second of five meetings between the Atlantic Division rivals. Watch the Flyers take on the Rangers at Madison Square Garden on Tuesday at 7 p.m. ET.
After goals from Rick Nash and Kimmo Timonen in the first and second periods, respectively, there wasn't much action for the remainder of the game until the shootout. If the simulation holds true, Voracek will once again be the hero, scoring the only marker in the shootout to seal the deal for the Flyers.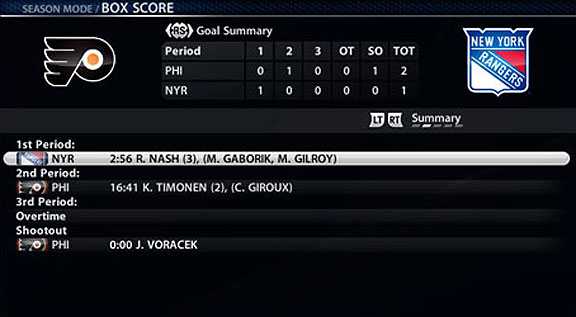 EA SPORTS
Three Stars
In a 1-all game, it is fitting that the goaltenders score the first two stars. Ilya Bryzgalov came out on top, making 36 saves plus five in the shootout to lead the Flyers to the victory. Defending Vezina Trophy winner Henrik Lundqvist was the game's second star after making 32 saves over regulation and overtime, letting only one goal squeeze by him in the shootout. New Rangers sensation Rick Nash was the game's third star.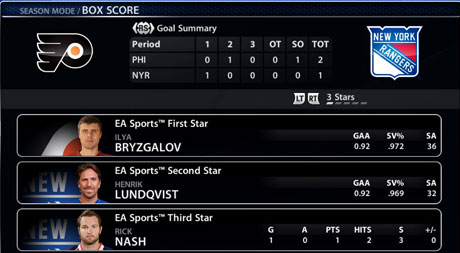 EA SPORTS
For more information about "NHL 13," visit EA SPORTS.