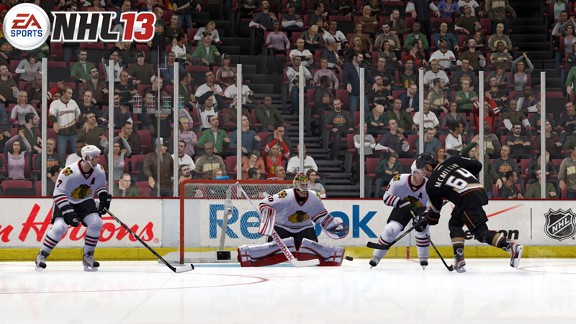 EA SPORTS
The Anaheim Ducks have quietly gone about their business this season, overshadowed by the performance of the record-setting Chicago Blackhawks. Last year, Anaheim finished near the bottom of the league but now sits second in the NHL, an astonishing return to form for a franchise that has missed the playoffs only three times over the past decade. In their only meeting thus far, the Ducks outlasted the Blackhawks 2-1 in a shootout at the United Center. Wednesday's game takes place as the Honda Center where the Ducks have lost only once this season. The Ducks will be put to the test at home by the Blackhawks, who have an impressive road record of 13-1-2.
Blackhawks' keys to the game

• The Incredible Patrick Kane: Kane's season so far has been nothing short of incredible. In the last four games, he's been on fire, scoring 10 points (4 goals, 6 assists) across that span. The Blackhawks will need all of Kane's offensive flair against the Ducks, who have seen a resurgence in play lately from Jonas Hiller. Hiller is 7-0-2 over the past nine games and has only allowed more than two goals in a game twice during that time.
• Staying out of the box: Chicago has the best 5-on-5 goal differential in the league, so playing even strength hockey is never a bad thing for the Blackhawks. To add to that, Anaheim has the league's top-rated power play at 25 percent, so staying out of the box should be Chicago's top priority.
Ducks' keys to the game

• Beating Crawford: With a .929 save percentage and a sparkling 1.79 goals-against average, the Ducks' forwards need to use their speed to create chances and get shots on Corey Crawford early. Ryan Getzlaf and Bobby Ryan need to make life difficult in front for the Blackhawks' netminder.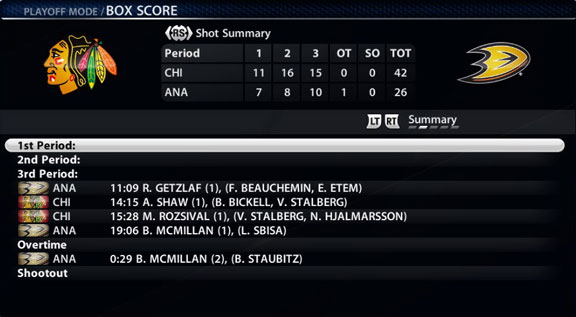 EA SPORTS
Three Stars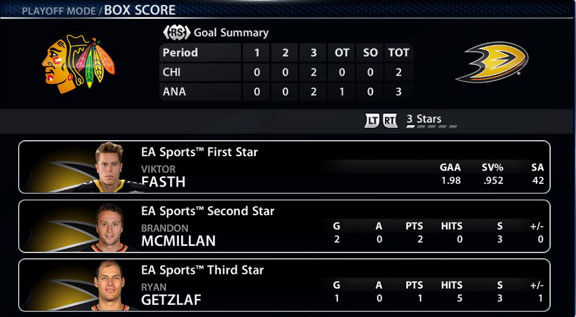 EA SPORTS
For more information about NHL '13, visit EA SPORTS.