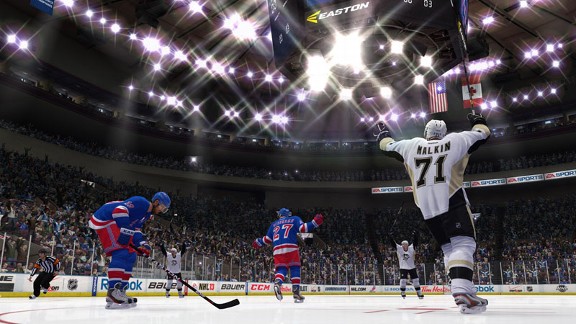 EA SPORTS
The Penguins' winning streak was stopped at 15 games Tuesday by the unlikely Sabres, who mustered up a 4-1 victory. The Penguins, who are without Sidney Crosby, looked out of sync against the Sabres and gave up four goals on 13 shots. The Rangers added forward Ryan Clowe ahead of the trade deadline and are hoping that the added depth will help them secure a playoff spot. Friday's matchup is the fifth of five meetings between the teams; on Wednesday in New York, the Rangers beat the Penguins 6-1 -- quite a reversal from this simulation, which was for that game.
Penguins' key to the game

• Malk-a-Mania: The Penguins will need Evgeni Malkin to continue his red-hot play in the absence of league-leading scorer Sidney Crosby. Malkin has six points in five games since he has returned from injury.
Rangers' key to the game

• Leaning on Lundqvist: Henrik Lundqvist has been the consistent bright spot on a team where expectations were high for the season after acquiring Rick Nash. "The King" has allowed only two goals in each of his last five games and his play is a big reason the Rangers are still in the playoff hunt.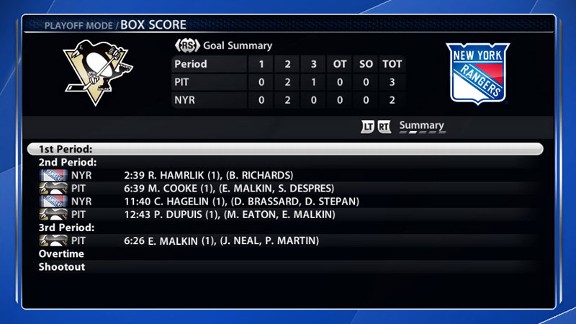 EA SPORTS
Three Stars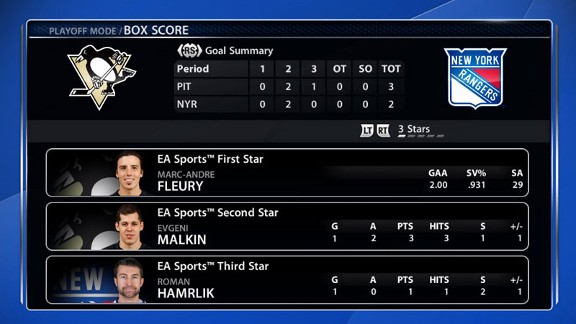 EA SPORTS
For more information about NHL '13, visit EA SPORTS.