Laszlo Papp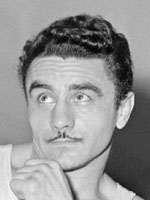 Laszlo Papp
Date of birth

1926-03-25
Birthplace

Budapest
Categories

middleweight, light middleweight
Olympic Games (3 medals - 3 gold)
Middleweight: 1st (1948)
Light middleweight: 1st (1952, 1956)
European Championships (1 medal - 1 gold)
Amateur European Championships (2 medals - 2 gold)
Middleweight: 1st (1949)
Light middleweight: 1st (1951)
Triple gold for the masterful Magyar
Hungarian Laszlo Papp was the first ever boxer to win three Olympic gold medals following consecutive victories in 1948 (middleweight), 1952 and 1956 (light-middleweight).
Since then, only Teofilo Stevenson and Felix Savon both of Cuba have repeated this feat, Stevenson in 1972, 1976 and 1980 all at heavyweight level while Savon won consecutive titles between 1992 and 2000 also in the heavyweight division.
In Papp, Hungary produced one of its all-time boxing successes. Out of a total 312 fights, he lost only 12. His "undefeated" record speaks for itself: between 1957 and 1964 he fought in 29 title bouts, won 27 (15 by KO) and drew 2.
Coach at 66
His first Olympic victory came in 1948 following a points decision defeat of Briton John Wright.
In 1952, the little powerhouse's victory was also a close call.
South African Theunis van Schalkwyk was equal to the task until, in the final round, Papp dropped Schalkwyk to his knees with a right hook.
The South African was counted out for eight and Papp collected his first light-middleweight Olympic title.
Four years later in Melbourne Papp continued his winning form, beating American Jose Torres in the final to become the first ever boxer to win three consecutive Olympic golds.
In 1957, the 31-year-old pride of Hungary, again entered the record books.
He was given permission from the government to become the first boxer from a Communist country to fight professionally.
Subsequently, Papp fought in 32 professional bouts, winning the European middleweight championship - he successfully defended this title five times. However, the government refused him permission to fight for the world title and he retired undefeated in 1965.
He was later appointed coach to the Hungarian Olympic team, elected to the boxing Hall of Fame and named the third greatest Hungarian athlete of the 20th Century. A film was even made about him titled "Valley of Punches: the unbeatable Laszlo Papp".
He died in Budapest in October 2003 after a long illness. He was 77.
Copyright 2008 Agence France-Presse.