Alexander Popov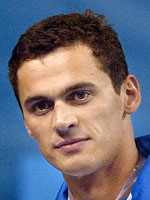 Alexander Popov
Date of birth

1971-11-16
Birthplace

Sverdlovsk (USSR)
Height

200 cm
Weight

87.0 kg
Disciplines

50m, 100m freestyle, relays
World records

2 (50m, 100m freestyle)
Olympic Games (9 medals - 4 gold, 5 silver)
50m freestyle: 1st (1992, 1996), 6th (2000)
100m freestyle: 1st (1992, 1996), 2nd (2000)
4x100m freestyle relay: 2nd (1992, 1996)
4x100m medley relay: 2nd (1992, 1996)
World Championships (11 medals - 6 gold, 4 silver, 1 bronze)
50m freestyle: 1st (1994, 2003), 2nd (1998)
100m freestyle: 1st (1994, 1998, 2003)
4x100m freestyle relay: 1st (2003), 2nd (1994), 3rd (1998)
4x100m medley relay: 2nd (1994, 2003)
European Championships (26 medals - 21 gold, 3 silver, 2 bronze)
50m freestyle: 1st (1993, 1995, 1997, 2000, 2004), 3rd (1999)
100m freestyle: 1st (1991, 1993, 1995, 1997, 2000), 2nd (1999, 2002)
4x100m freestyle relay: 1st (1991, 1993, 1995, 1997, 2000), 2nd (1999)
4x100m medley relay: 1st (1991, 1993, 1995, 1997, 2000, 2002), 3rd (1999)
World Short Course Championships (2 medals - 2 bronze)
50m freestyle: 3rd (2002)
4x100m freestyle relay: 3rd (2002)
The natural
When swimming, Alexander Popov looked so at ease that it was hard to imagine his natural habitat was not water.
His style, and above all, his unerring ability, gave the Russian sprinter unprecedented results in the shape of the Olympic "double-double" 50m/100m.
He even had his sights on a rare treble at Sydney 2000 but had to settle for silver in the 100m freestyle behind Dutchman Pieter van den Hoogenband, while he was a distant sixth in the 50m race.
Adding a third 100m world gold to his collection and reclaiming his world 50m gold at Barcelona 2003, Popov also captured his first gold in the 4x100m freestyle relay.
Born in 1971 close to the Ural mountains, Popov got his first taste of the water in Volgograd, the city where his parents both worked.
His swimming exploits began in the backstroke event, but with the Soviet Union looking to put an end to American domination in the freestyle sprints, Popov was offered the chance to train with reputed coach Gennadi Touretski.
Popov also won two silver medals in the 4x100m freestyle and 4x100m medley under the banner of the Community of Independent States in 1992.
Impressive numbers
An interesting Olympic anecdote: his results at Atlanta 96 would turn out to be exactly the same as those achieved in the previous Olympiad.
However, falling victim to an attack while out and about in Moscow with his wife, swimmer Darya Chmeliova, and some friends, the subsequent two weeks spent in hospital resulted in the loss of seven kilos.
A year later, the multiple world and European champion retained his European 100m title and also retained his 100m world title in 1998.
After becoming a father he lost all four of his European titles to the new kid on the block, Van den Hoogenband during the 1999 world championships in Istanbul, and the Dutchman deprived him in Sydney as well despite a new 50m world record just months prior to the Games.
His haul of over 40 medals (Olympics, world's and European's) may have been even greater if he had not picked up an infection while attending an IOC meeting to determine the host city for the 2008 Summer Games and consequently finished well out of the running at the 2001 world championships.
After ten years training in Australia, he decided on a move to Switzerland in January 2003 in order to improve his preparations for Athens 2004 and also be better positioned to attend business interests.
Retirement appeared on the horizon after he failed to reach either the 50m or 100m freestyle finals in Greece and he hung up his trunks for good in February 2005.
He is still an active member of the International Olympic Committee.
Copyright 2008 Agence France-Presse.