Hitoshi Saito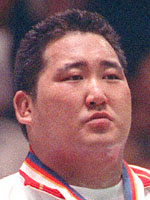 Hitoshi Saito
Date of birth

1961-01-02
Birthplace

Aomori
Height

180 cm
Weight

140.0 kg
Categories

heavyweight, open category
Olympic Games (2 medals - 2 gold)
Heavyweight: 1st (1984, 1988)
World Championships (2 medals - 1 gold, 1 silver)
Heavyweight: 2nd (1985)
Open category: 1st (1983)
Asian Games (1 medal - 1 gold)
Golden tears
The sight of Hitoshi Saito on the Seoul Olympic podium at the 1988 Games will long be remembered as the massive-framed fighter screwed up his eyes and wept like a boy after defending his heavyweight judo crown, thereby becoming the first Japanese to claim a second Olympic judo gold.
It's fairly certain nobody teased Saito about his tears for he weighed in at 145 kilos, and was swift and enjoyed impressive balance for such a rounded giant.
His first international success came in Moscow at the age of 22 when he won the Open category gold in the 1983 world championships. Despite this and his excellent technique though, he was widely held to be second in skill to his countryman Yasuhiro Yamashita.
But Saito and not Yamashita, was to be the man to win consecutive Olympic titles.
Saito carried his brilliant world championship form of 1983 into the Los Angeles Games of 1984 where a flurry of throws took him to a tight final against Frenchman Angelo Parisi.
Timely reminder
As a warm up for the Seoul Olympics the 1985 world championships were held in the South Korean capital and to serve notice defence of the title would be no small feat Saito lost in the Open category final after injuring an arm as local man Jong-Chul Cho went on to claim the gold.
Though his form at the 1988 Games was less scintillating than at Los Angeles, a steady campaign carried Saito onto the heavyweight title and to those famous tears on the podium as he saved a little pride for Japan by claiming what was their only gold medal there.
Now given the respect he fought so hard to achieve, Saito retired from top-level competition and became coach of the national team.
He guided Shinichi Shinohara to the final of the heavyweight competition at Sydney 2000 only for French star David Douillet to end Japanese hopes of a gold medal.
Copyright 2008 Agence France-Presse.