Daley Thompson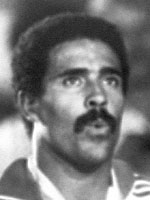 Daley Thompson
Date of birth

1958-07-30
Birthplace

London (England)
Height

185 cm
Weight

84.0 kg
Discipline

decathlon, 4x100m relay
World records

4 (decathlon)
Olympic Games (2 medals - 2 gold)
Decathloon: 1st (1980, 1984), 4th (1988)
4x100m relay: 7th (1984)
World Championships (1 medal - 1 gold)
European Championships (4 medals - 2 gold, 1 silver, 1 bronze)
Decathlon: 1st (1982, 1986), 2nd (1978)
4x100m relay: 3rd (1986)
Commonwealth Games (3 medals - 3 gold)
Decathlon: 1st (1978, 1982, 1986)
A great talent
If anyone could be described as Britain's most recognised and successful all-round athlete of the last half-century, Daley Thompson's name would certainly spring to mind.
The son of a Nigerian father and Scottish mother, Thompson, born in Notting Hill, has been feted by many specialists within athletics for his consistent supremacy in the decathlon - something which allowed him access to the highest podium at two consecutive Olympiads.
Yet for the two-time Olympic, European and world champion, life did not begin so positively. Thompson was already in a school for needy children and only twelve-years-old when his father died.
At 14, his mother impressed upon him the importance of finding a job, but by this time, English literature and biology were his main preoccupations.
From desk to decathlon
Stockily built and strong for his age, a trip to a running track in the London suburbs led to a meeting with his eventual coach, Bob Mortimer, who proceeded to give the 17-year-old trials in various track and field events.
Mortimer struck gold. Thompson, though rough around the edges, excelled in most events. The 1976 Games in Montreal soon followed. Thompson qualified for the decathlon - though still a relative beginner, he finished in 18th place.
Time to mature
His subsequent exploits simply reinforced the fact that the 18-year-old was a young novice in Canada.
Emulating Bob Mathias, the only other decathlete to have recorded the Olympic double, Moscow and Los Angeles, bore witness to the flight of the Great British hope.
Yet natural talent was not the only decisive factor in Thompson's success. The often coolly-portrayed and outspoken athlete worked hard.
At the same time, he was choosy when it came to competing, preferring not to risk unnecessary injury.
Thompson remained at the top and continued to set records in his profession, his last being the 8847 points recorded in Los Angeles (which lasted 11 years), until his fall from grace at the world championships in Rome (1987).
A year later, at the Seoul Olympic Games, injured, Thompson came in fourth.
Not one to give up the exertions of exercise easily, however, he became a fitness coach at Wimbledon football club and later Luton Town.
Awarded a CBE in the New Year's honours list, Thompson also acts as the unpaid recruiting officer for the Laureus Awards, a charitable sporting foundation set up with the aim of using sport as an aid to education.
Copyright 2008 Agence France-Presse.