Jennifer Thompson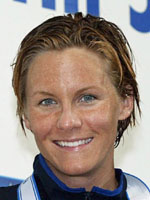 Jennifer Thompson
Date of birth

1973-02-26
Birthplace

Dover
Height

176 cm
Weight

69.0 kg
Disciplines

freestyle, butterfly
World records

6 (100m freestyle, 100m butterfly, 4x100m freestyle relay, 4x100m medley relay)
Olympic Games (12 medals - 8 gold, 3 silver, 1 bronze)
50m freestyle: 7th (2004)
100m freestyle: 2nd (1992), 3rd (2000)
100m butterfly: 5th (2000, 2004)
4x100m freestyle relay: 1st (1992, 1996, 2000), 2nd (2004)
4x200m freestyle relay: 1st (1996, 2000)
4x100m medley relay: 1st (1992, 1996 -did not participate in the final-, 2000), 2nd (2004)
World Championships (14 medals - 7 gold, 5 silver, 2 bronze)
100m freestyle: 1st (1998), 3rd (2003)
50m butterfly: 2nd (2003)
100m butterfly: 1st (1998, 2003)
4x100m freestyle relay: 1st (1991, 1998, 2003), 2nd (1994)
4x200m freestyle relay: 2nd (1998), 3rd (1994)
4x100m medley relay: 1st (1998), 2nd (1994, 2003)
World Short Course Championships (17 medals - 9 gold, 6 silver, 2 bronze)
50m freestyle: 2nd (1997, 1999)
100m freestyle: 1st (1997, 1999), 2nd (2000)
50m butterfly: 1st (1999, 2000, 2004)
100m butterfly: 1st (1997, 1999, 2000), 3rd (2004)
4x100m freestyle relay: 1st (2004)
4x200m freestyle relay: 2nd (2000)
4x100m medley relay: 2nd (1997, 2004), 3rd (2000)
Pan Pacific Championships (32 medals - 24 gold, 6 silver, 2 bronze)
50m freestyle: 1st (1989, 1991, 1993, 1999, 2002), 2nd (1995, 1997)
100m freestyle: 1st (1993, 1995, 1999), 2nd (1989), 3rd (2002)
100m butterfly: 1st (1993, 1997, 1999), 2nd (1995), 3rd (2002)
4x100m freestyle relay: 1st (1989, 1991, 1993, 1995, 1997, 1999), 2nd (2002)
4x200m freestyle relay: 1st (1993, 1995, 1997, 1999)
4x100m medley relay: 1st (1993, 1997, 1999), 2nd (1995)
Pan American Games (1 medal - 1 bronze)
100 m freestyle: 3rd (1987)
One of America's greats
Jenny Thompson did not win the elusive individual Olympic title in her career but her haul of 12 medals including 8 gold (all in relays) is now a new American record for swimmers.
She badly wanted an individual gold at Sydney 2000 in either her specialty 100m freestyle or 100m butterfly races. However, she could only manage third and fifth respectively.
Athens in 2004 was another chance to end her career with this one missing achievement but her two silver medals in Greece (4x100m freestyle and 4x100m medley) took her past Shirley Babashoff and into the American history books.
At the 2003 world championships in Barcelona, she won the 100m butterfly, silver in the 100m free and bronze in the 50m free as well as two relay golds.. All that despite her 30 years.
If American critics are to believed, the girl who because of her impressive frame was nicknamed the "Incredible Hulk" at school was "robbed" after she arrived in Barcelona for the 1992 Olympics as the world 100m freestyle record-holder (established March 1, 1992) - the first non-east German to dominate the distance for 20 years.
But in the Olympic final it was China's Zhuang who touched home first after leading the pack from start to finish. A gold medal-winner whose "pumped" physique and deep voice gave rise to widespread doping suspicion.
Quiet though determined
Continuing her harvest of medals, titles and world records, Thompson returned to the fray at the 1999 Pan Pacific Games in Sydney when she set a new world 100m butterfly record in a time of 57.88 secs, the record that had been set by compatriot Mary T. Meagher and had remained unbroken for 18 years.
Thompson subsequently left the Pan Pacs with six titles.
She has now broken speed skater Bonnie Blair's record for the most number of Olympic gold medals won by an American woman (8, all in relay events).
She also won five medals - two of which were gold - at the world short-course championships in Athens in March 2000 just months before Sydney.
Following the Olympics in Athens, she swam her last major competition at the 2004 short-course world championships and still showed she could match it with the best in the business.
Her four medals including two golds in Indianapolis came in the same pool where she won three medals at the Pan American Games in 1987.
She was honoured by the International Swimming Federation for her achievements and returned to medical school to pursue a career as a doctor.
She finished her career with 83 medals in global competitions.
Copyright 2008 Agence France-Presse.